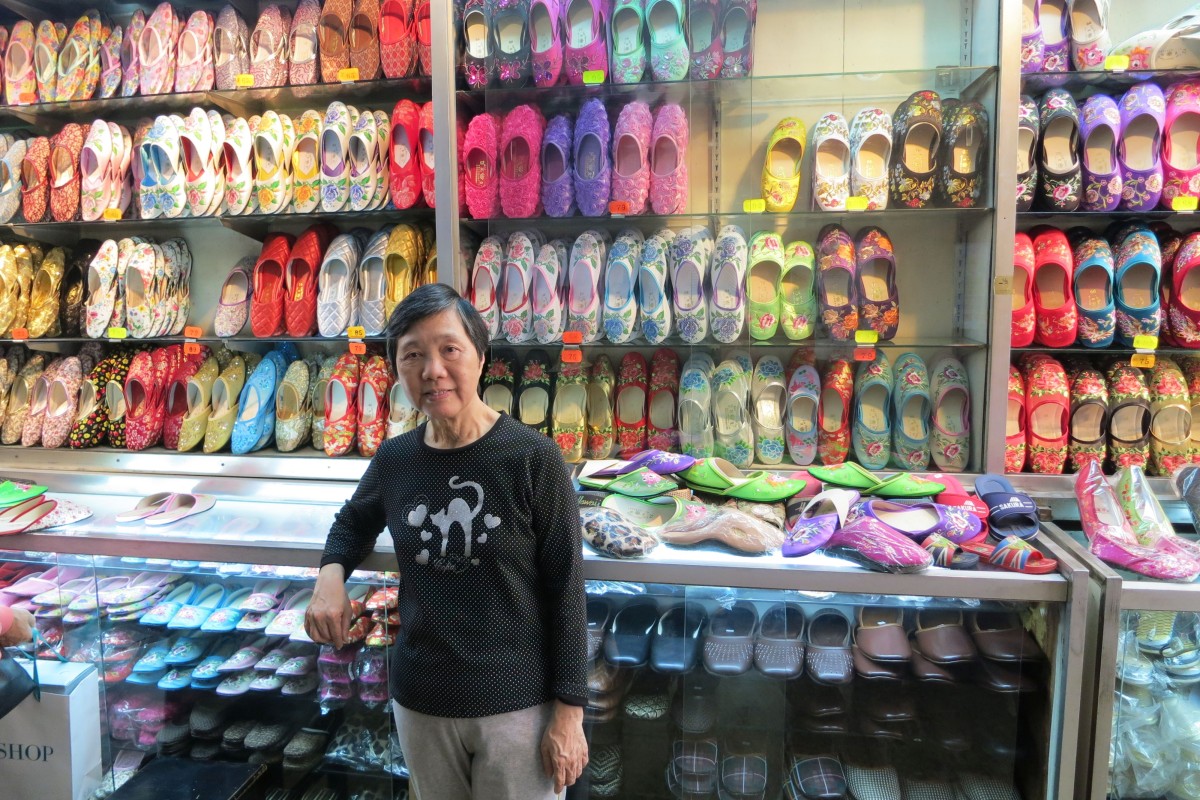 This story was part of Elephant Community Press' 2015 exhibition, "Beyond the Storefront".
Mrs Lee always has a beautiful smile.
Located in a Hokkien building in Fortress Hill, King's Slippers Company has survived as one of the best-known slipper stores on Hong Kong Island for around 50 years. Some tourists holding their travel guidebook pass by the store and come back quickly, saying, "Yeah, it is right here!"
Unlike other stores, King's Slippers is not exactly a "store": slippers of red, yellow, azure, green and purple, with flowers and Chinese totems like dragons, are neatly placed in the 1970s-style glass showcase right in the hallway of the building.
Lee, a traditional Hong Kong lady in her 70s and the owner of the store, has been sitting in this hallway for 20 years. She discontinued her studies when she was in the third year of secondary school. However, life was not as hard as she imagined. After she left school, she started to do some work with her father. A few years later, she married her husband, the owner of King's Slippers.
In the evening, she usually finishes her work at 6 p.m. and goes home. "My life is simple… I enjoy having tea with my neighbours. That is the only time when I can chat with people who have had similar experiences as me," she says.
Unlike the new generation, Lee didn't have a big dream when she was young. She grew up in a poor family. It was not her interest that drove her to do the business. "When I was young, people just wanted to make a living," she says.
A mother of two sons, one of whom is now helping her in the store, Lee is happy with her life. "The most important thing is that my son listens to me carefully," she said. "I didn't expect him to be excellent or perfect, but I wanted him to be a well-behaved, patient and respectful person." Lee fully devoted herself to her family and educating her children. Thus, her value of having an optimistic attitude and being satisfied can also be seen in her children.
She says, "It's important to be optimistic, to realise that as long as you can satisfy yourself, you will have a happy life."
To Lee, happiness is not something that she dreams of; instead, it is something that she already has. "There is no need to be famous, excellent or successful. Living in a healthy condition, being safe and sound, are the best things for me," Lee says.
Sign up for the YP Teachers Newsletter
Get updates for teachers sent directly to your inbox
Sign up for YP Weekly
Get updates sent directly to your inbox