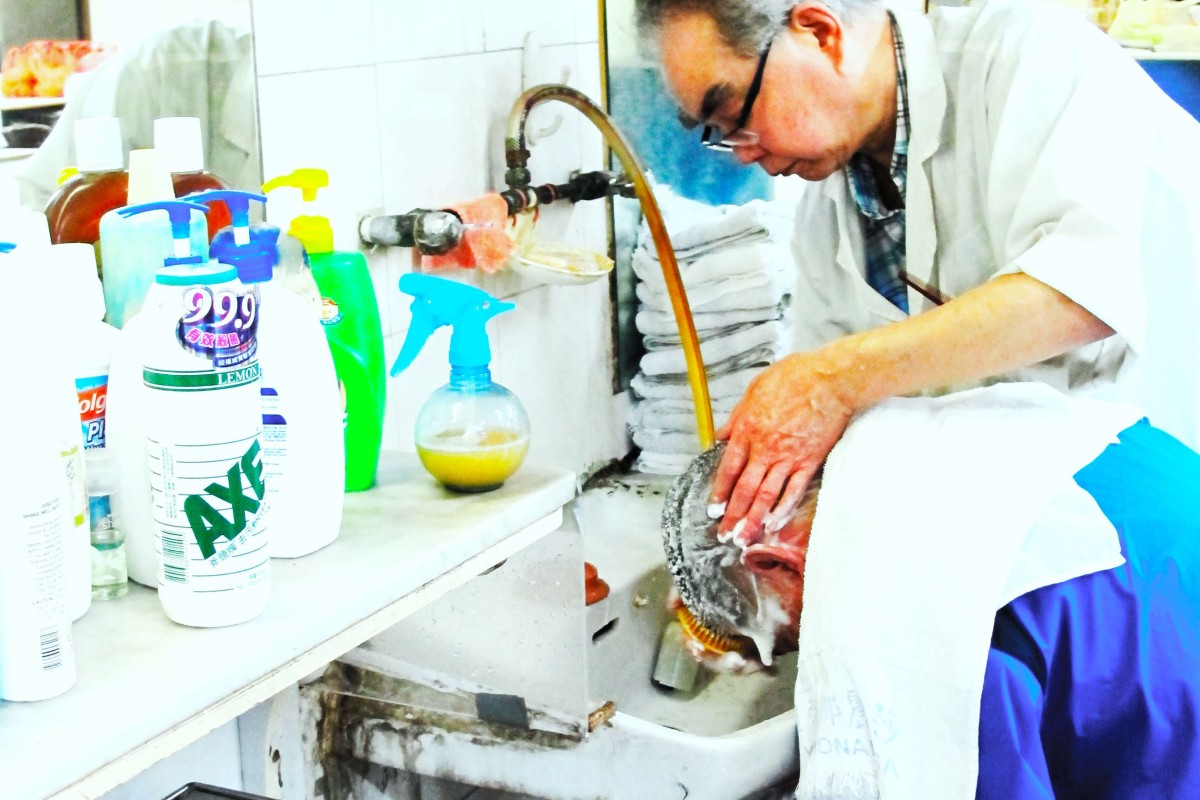 This story was part of Elephant Community Press' 2015 exhibition, "Beyond the Storefront".
Teenagers are getting trendy "Wild Mane", classy "Johnny Bravo Redux" and cool "Modern Pompadour" hairstyles from modern salons nowadays. However, they may have never heard of a Shanghai-style barbershop.
Located on historic Reclamation Street in Mong Kok, Shanghai Sun Ngah Monaliza Hair Salon has a large glass front door along with the signature "red, white, blue" rotating light tubes.
The 50-year-old business brings customers back to the 60s, when Shanghai-style barbershops prospered in Hong Kong. Its nostalgic owner, Mr Ngan Wai-kwok, 71, has been working since 1966 to carry on his profession – top-notch Shanghai hair styling and shaving services.
During the 40s, numerous Shanghai immigrants settled in Hong Kong, bringing with them their specialties in all fields. "I came to Hong Kong in 1958," Ngan says. "I didn't speak Cantonese, therefore I struggled to fit into the society." However, when he was young, he "feared nothing, not even the sky falling". Consequently, he became an apprentice for four to five years to a Shanghainese barber, who taught him distinctive barbering techniques.
Ngan preserves Shanghai-style traditions that distinguish his barbershop from modern salons, like barbers dressing in tidy plain-white uniforms. There are radios playing old-fashioned Cantonese music and hairdryers producing whirring sounds which contrast with the white furnishings that stress simplicity in their composition.
Ngan nostalgically recalls the "good old days" when there was substantial demand for the business. "There were 70 to 80 customers for each barber every day, and we were not free to have lunch and dinner!" he says. "During the 60s, four to five families lived in a flat, sharing one toilet. They visited the barbershop to avoid queuing up every morning for shaving."
Barbering was a part of people's daily lives during the latter half of the 20th century. Therefore, Ngan took the risk to purchase luxurious red barber chairs that were made in Japan, and which symbolized the quality and standards of Shanghai-style barbering. "We bought eight chairs during the 1960s, each of them costing us HK$3,800 to HK$4,800," he says. "A barber's income was HK$300, a good-sized flat cost HK$10,000, and we were paying over HK$3,000 for these chairs!"
He speaks longingly about the public's lack of awareness of the business and the different attitude held by young people when compared with his time, which have caused the business to decline a "sunset" situation. "Old barbers are retiring without any capable young barbers to perpetuate their jobs," he says. "Young apprentices lack the patience to work more than 11 hours a day. They need excitement."
Although younger generations' disinterest in the business affects his income, Mr. Ngan shows a nostalgic understanding of youth as he recalls a story from his own childhood with a deep, emotional tone. "Excitement is needed during those years. My buddies and I challenged ourselves to work endlessly without sleeping, and the person who slept was the loser," he says. "I decided to put the electric hair trimmer standing on the table so that every time I fell asleep, my forehead would knock the trimmer. I ended up losing some hair on the front."
At the age of 71, the hardworking senior still continues to work, as he sees barbering as his source of happiness. "A person will get disenchanted when he retires, and such emptiness will lead to illnesses," he says. "I am getting old, but I am not retiring until the day my body does not function properly."
Sign up for the YP Teachers Newsletter
Get updates for teachers sent directly to your inbox
Sign up for YP Weekly
Get updates sent directly to your inbox