At Ocean Park's International STEAM Education Conference, Professor Peter Taylor explains why combining art and science is so important
By YP cadet Hanna Hipwell-Serfaty
|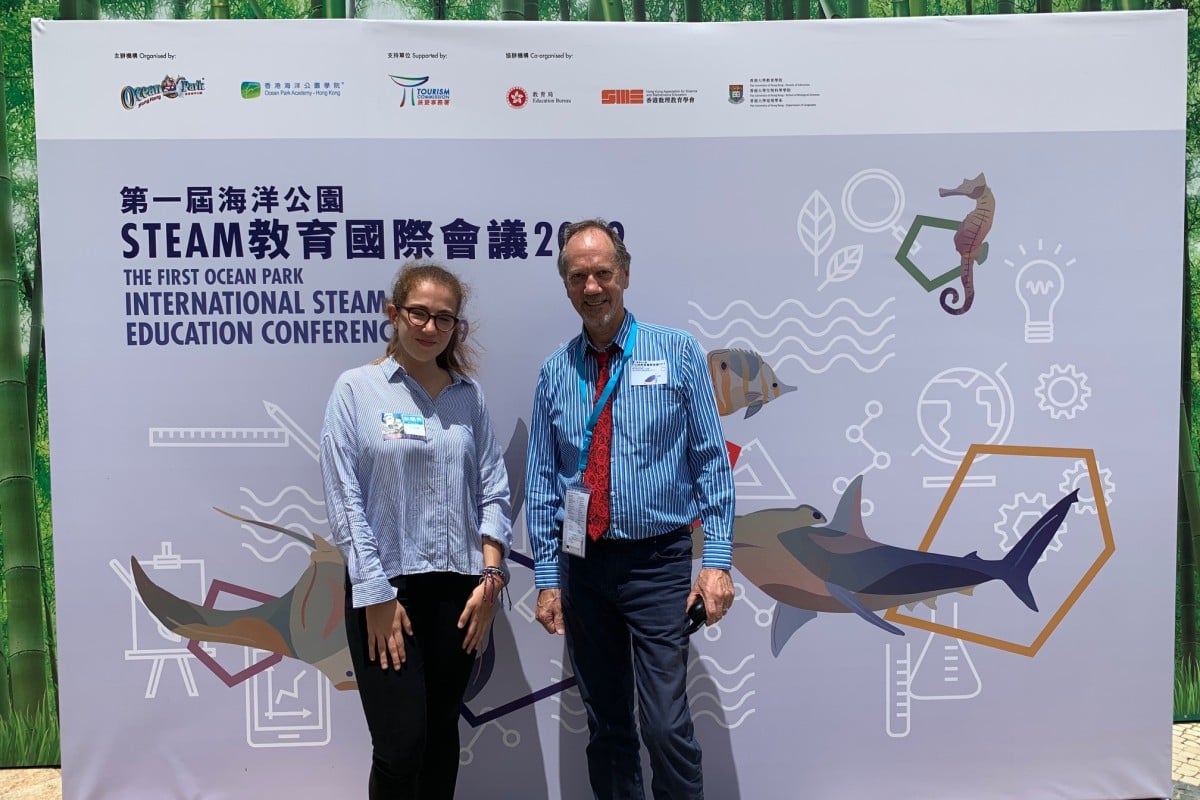 The STEAM Education Conference was held at Ocean Park in Hong Kong.
Science teaches us about global problems like climate change, but what gives us the drive to solve them? The answer is art, according to Professor Peter Charles Taylor.
Taylor is a professor of Steam (science, mathematics, engineering, art, and technology) Education at Murdoch University in Perth, Australia. He is passionate about the environment, and believes that we shouldn't just be taught the facts about it at school, but the moral issues, too.
On June 22, he joined 59 other professionals at Ocean Park's first International Steam Education conference, where he spoke about how Steam subjects can be used to teach young people about environmental conservation.
Professor and educator Brian Cox on youth standing up and speaking up for humanity, political activism and why science is helpful for all careers
Before his giving his speech, Taylor spoke to Young Post about the importance of not only being educated, but motivated. He strongly believes that the "a" in "Steam" is the key to getting students' emotions involved. "Art opens many more learning faculties," says Taylor.
He adds that art doesn't have to be visual; creative writing, for example, can help us feel more engaged with the subject we are learning.
"Language arts open up new possibilities for communication," says Taylor. He explains that the language of science is typically very detached and impersonal. "There's no 'I' or 'we' in science. It is as though the researcher does not exist." But as well as being objective, Taylor believes science should also be emotive.
Take Taylor's own particular area of passion: sustainability. "[It] is traditionally taught very objectively, therefore students are taking it at arms' length."
But if teachers incorporated narrative writing in science lessons, you could write about your own scientific experiences and research using the first person, helping you relate to what you're studying.
Theatre is another great option. Taylor suggests students are given scenarios to act out.
What is creativity? Art and design experts weigh in at fireside chat with Hong Kong teens at first ever Young Post EdTalk
For example, he says, "you might take on the role of an animal under stress in the environment".
Such activities might encourage you to imagine the kind of emotions that sea animals may be experiencing, making it easier to connect the subject on an emotional level, not just an intellectual one.
And there is good reason to get emotional, says Taylor. "We have a global crisis on our hands – the World Economic Forum predicts that by 2050, there will be more plastic in the ocean than fish in [terms of] weight."
How to win at Monopoly by using the power of maths
Currently, it is much easier to implement environmental education in primary schools than secondary schools, where the curriculum is often too rigid, says Taylor. Much like the HKDSE, the High School Certificate in Australia "does not allow students to explore anything outside their compulsory subjects". Taylor believes it is up to the world's governments to redesign secondary school curriculums to reflect our current state of climate emergency.
Events like the Steam conference at Ocean Park give Taylor hope that schools are realising the importance of Steam, but there is still a long way to go, as most curriculums around the world are still only geared towards Stem.
"Schools [in Australia] are pushing Stem because the government wants to produce students who are Stem-literate for the future workforce," he says. "There are definite economic motives behind this curriculum structure, implemented by the government," he adds.
Face off: Should students take part in social movements?
A Stem education gives us objective, yet impersonal, knowledge that we may or may not use in later life. But by adding the "a", we can create personal and emotional connections with the world around us, and even start discussions at home.
"Students can teach their parents, by encouraging them to examine their own recycling patterns," says Taylor.
"We all have a moral imperative."
Edited by Charlotte Ames-Ettridge
Sign up the YP Teachers Newsletter
Get updates for teachers direct to your inbox
Subscribe to YP Weekly
Get updates direct to your inbox