Joanna Kwok has succeeded in the maritime industry by overcoming outdated gender stereotypes; now she hopes other girls will do the same
By YP Cadet Natalie Kainz
|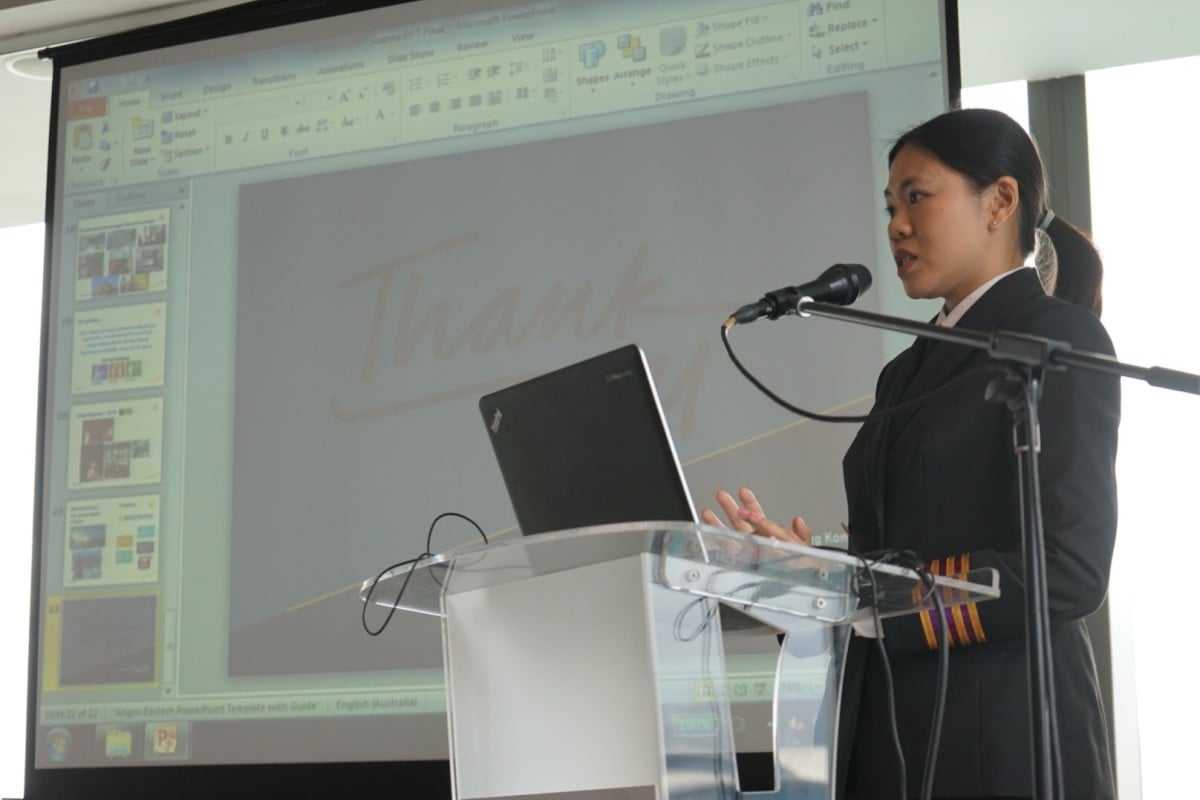 Joanna Kwok wants more young people to consider a seafaring career.
Standing proudly in her uniform, the purple and gold bands around each cuff denoting her status, Hong Kong's first female marine chief engineer Joanna Kwok Wing-yan could pass for one of the exhibits that surround her in the Maritime Museum.
The 32-year-old seafarer joined her first ship's crew 10 years ago. Driven by a sense of adventure, and an uncertainty about what to do after graduation, she boarded her first-ever flight, bound for Iceland.
Her journey since then has taken her from a young cadet who suffered motion sickness on ferry rides to Macau, to fearless trailblazer for women in the maritime industry. Now, she recounts these experiences to a captive audience of fellow crew members, corporate partners, and journalists, all of whom have gathered to celebrate her achievement.
Hong Kong needs greater gender equality, and it's going to take more than just education
Though she looks very much at home now, seafaring was never an obvious career choice for Kwok. Before landing a role with ship management company Anglo-Eastern and heading to Iceland, Kwok had struggled to find employment. And shipping companies weren't exactly crying out for female recruits.
As Marso Law Kun-pan, convenor of the Maritime Professional Promotion Federation, said in an interview with the South China Morning Post, "only three out of the 14 shipping companies hiring in Hong Kong will take on women".
The problem isn't confined to Hong Kong, either; according to the 2018 United Nations conference on trade and development, female employees in the maritime transport industry are few and far between, and the majority are in junior positions. It's a worrying sign of a lack of opportunities for women to progress to senior levels.
Kwok thinks the issue is made worse by outdated gender norms that discourage women from choosing fields like engineering, as well as misconceptions that the job is too physically demanding for them. She brushes these concerns aside, explaining that "nowadays a lot of things are automated. You don't need to be superwoman to do [this job]". On a ship, where everyone works as a team, Kwok feels it's "more important to be able to give ideas … than show off physical strength".
She adds that the industry can benefit from having a wider range of voices and viewpoints. "Males and females always have slightly different points of view on the same thing so if there are more women … there might just be an easier way to find … a solution when a problem appears".
The shortage of local maritime professionals also means that young people like Kwok are needed if Hong Kong is to keep its status as an international maritime centre. Despite facing hardships on board – from suspicious crew members wondering if she was a spy from the head office, to being cut off from the comforts of family, friends, and high speed internet – she believes that more people should give it a shot.
How STEAM education can inspire students to act on the climate emergency
"They will never know whether they find it tough or not" if they never try, she says. "Maybe they will just enjoy going around the world, or seeing the sunrise and sunset on a daily basis."
As her parents watch, teary-eyed, from the front row, Kwok thanks the "iron triangle" of family, friends and colleagues who have supported her throughout her career, even when she "called home and cried for hours, complaining about the hardships [she] faced". Without them, she says, she wouldn't have been able to grow from her experiences, ultimately becoming "much stronger, more flexible, and mature as a person".
Her final piece of advice to women looking to join male-dominated fields is simple: "If it's what you want to do, just go for it. Don't be scared because you'll never know unless you try".
Edited by Charlotte Ames-Ettridge