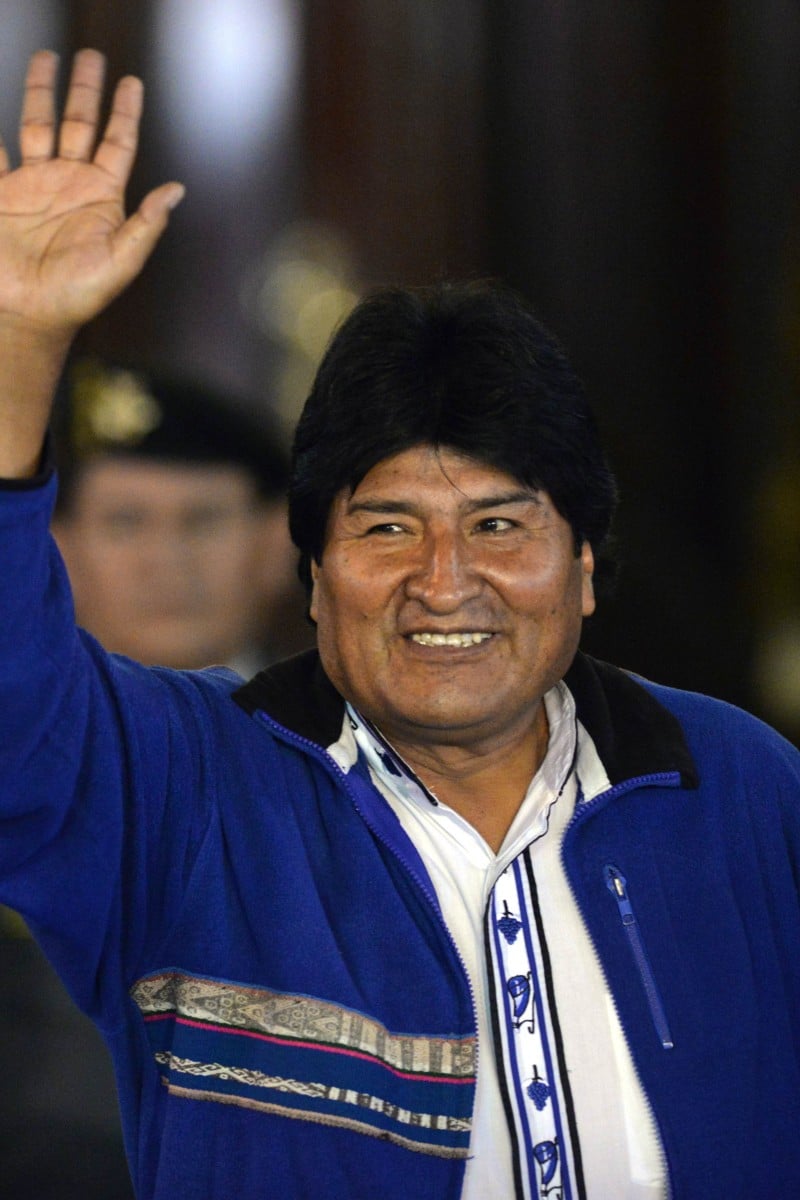 Until he was 14, he had never heard of underwear, four of his six brothers and sisters died of hunger, and he grew up herding llamas. Now Evo Morales is a beloved leader of his nation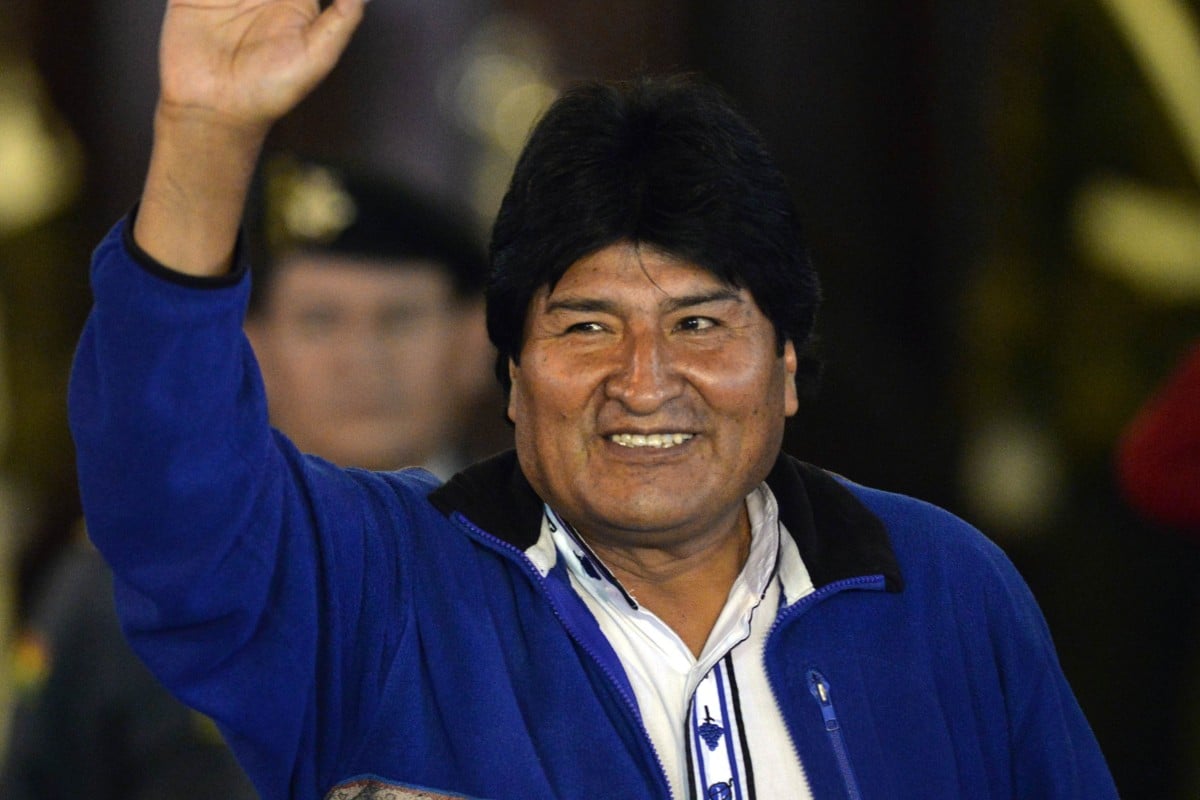 Evo Morales salutes his supporters on October 12, 2014
Evo Morales grew up in poverty on Bolivia's high plains and was a llama herder, musician, footballer and coca grower before rising to become the country's first indigenous president. 
After overseeing almost nine years of nationalisations, pro-poor policies and an economic boom that has transformed Latin America's poorest country, the 54-year-old won re-election by a landslide on Sunday, according to exit polls, giving him a third term in power.
He may be the region's longest-serving sitting president, but Morales remains immensely popular with Bolivians - 65 per cent of whom are indigenous - for feats like building the world's highest cable car and launching the country's first satellite, as well as landmark gains against hunger and poverty.
It is all a very long way from his childhood herding llamas and helping his parents in the fields in a small, arid village in western Bolivia's Oruro department.
"Until I was 14, I had no idea there was such a thing as underwear. I slept in my clothes... (which) my mother only removed for two reasons: to look for lice or to patch an elbow or a knee," he said in a recent, very honest autobiography.
Four of his six brothers and sisters died of malnourishment and disease before age two.
Morales grew up speaking the Aymara language and attended school only briefly, struggling as a young man to fully master Spanish.
He was forced by drought to move to a coca-producing area in the early 1980s, where he played trumpet in a band and football, both of which allowed him to travel around the country.
He soon became a union leader for the coca farmers and led a number of protests that raised his profile and his politicisation.
He argued passionately against the US-led campaign against coca farming, which Washington brands a drug-trafficking activity because of the leaf's use in cocaine.
Many Bolivians chew the leaf or brew it as a tea, and Morales has argued it is part of the country's cultural heritage.
In 2002, he ran for the presidency but narrowly lost. The winner, Gonzalo Sanchez de Lozada, lasted only a year before handing power to his vice president, party because of pressure from Morales's union movement.
In 2005, Morales ran again, and won with nearly 54 per cent of the vote.
He quickly established his "anti-imperialist" credentials and his affinity with Latin American leftists like Fidel Castro of Cuba and the late Hugo Chavez of Venezuela.
He dedicated his victory on Sunday to the two men and to all "anti-imperialist and anti-capitalist" leaders.
He cites Castro as a hero, alongside Tupac Katari, the leader of an Aymara revolt against Spanish colonial rule in the 18th century.
Sticking steadfastly to his style, he stands out at international meetings in his striped sweaters or tie-less jacket and shirt among the costly suits.
Known for pouring everything into his job, he often starts his work day at 5:00 am and crisscrosses the country constantly.
"El Evo," as Bolivians know him, is discreet about his private life but is known to be a bachelor with two grown children from different mothers, Alvaro and Eva Liz.
"I'm married to Bolivia," he has said.
But he makes time for his passion for football and was even signed this year to play for a local club, Sport Boys, which says he will appear for them when his schedule allows.
His critics accuse him of clinging to power and failing to rein in crime, drug trafficking and corruption.
He has said he plans to give up the presidency by age 60, and wants to open a restaurant after his time in office.
Sign up for the YP Teachers Newsletter
Get updates for teachers sent directly to your inbox
Sign up for YP Weekly
Get updates sent directly to your inbox