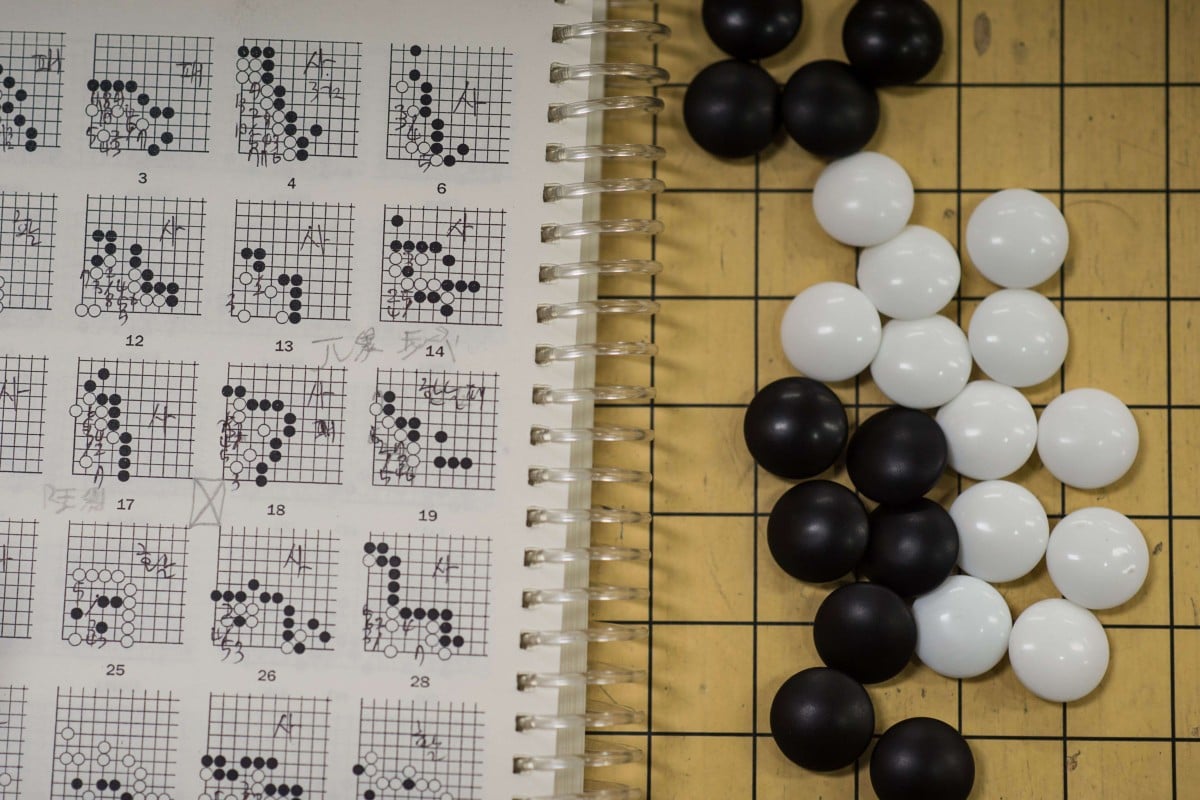 Strategic diagrams and stone pieces are displayed on a 'Go' board at the Lee Se-Dol School for 'Go' in Seoul. Photo: AFP
For the past two years, 12-year-old Cho Sung-Bin has spent nearly all his waking hours focused on a wooden board covered with black and white stones, honing the skills he hopes to translate into a lucrative career as a professional Go player.
"It's fun. I never get tired," said Cho, one of dozens of students sitting at rows of desks topped with playing boards at the Lee Se-Dol School of Go in central Seoul, South Korea.
Many spend 12 hours a day practising match play with each other in the small, neon-lit, largely windowless rooms of the school named after the grandmaster they all hope to emulate.
Already well known in East Asia, Lee achieved global recognition earlier this month when he took on Google's artificial intelligence AlphaGo programme in a five-match showdown. The 33-year-old lost the series, but the battle gave an unprecedented boost to the ancient board game's international profile.
Go originated in China 3,000 years ago and has been played for centuries mostly in China, Japan and South Korea, with more than 40 million fans worldwide.
The rules are simple – two players take turns placing black or white stones on a square board with a 19x19 grid. Whoever captures the most territory wins.
But the strategies needed to secure victory are complex, with reportedly more possible move configurations than atoms in the universe.
"Go is not just an entertainment. It's an art form and a natural philosophy as much as a sport," said professional player Seo Kon-Woo.
The game is also seen as a tool to help children improve their focus, with hundreds of private Go schools across South Korea offering after-hours tuition.
For those who show a special skill and affinity for the game, Go also offers a possible career path which, in the case of top players like Lee Se-Dol, can lead to fame and fortune.
"Many talented kids are discovered when they are five or six, and turn pro before they're even 12," said Kim Jung-Youl, a veteran coach and head of the Lee Se-Dol School.
Considered one of the greatest Go players of the modern era with 18 international titles, Lee started playing at the age of five and turned pro seven years later.
South Korea has around 300 professional players certified by the national Go association, and even those who don't become star names can make a decent living from tournaments and teaching.
Dozens of competitions – both for individuals and "professional teams" sponsored by companies – are held in East Asia each year, with star players earning millions of dollars.
Joining the professional tour requires at least a decade of tough training and the Korean Go Association, which only accepts 15 new members each year, estimates there are around 1,000 children currently studying in schools specialising in the discipline.
Potential professionals are usually identified when they are very young, and then pushed hard through a relentless streaming system that quickly ejects those not considered up to the mark.
Those who have failed to break through by the end of their teenage years are generally dropped from consideration by the association.
"It becomes nearly impossible to go pro once you're aged over 20," Kim said.
Cho Sung-Bin said he had been on "temporary leave" from his normal school for two years, after begging his parents to let him go full-time at Lee's school.
"I meant to stay here only during school break, but playing Go is so much fun ... much more than computer games," he said.
When his parents gave their consent, he swapped his home for a school dormitory he shares with dozens of other Go-playing children.
All major Go schools in the South Korean capital run their own dormitories, allowing them to attract the best students from around the country.
Cho has already taken a big step forward after being selected by the Go Association for an elite league, in which 132 students compete on a weekly basis and are ranked on their performances.
Those at the top of the table are on course for professional status, while the lower ranked players – or those who turn 19 – are unceremoniously replaced by better or younger players every two months.
For Jo Min-Soo the expectation to perform was so great he almost had a mental breakdown after he joined the elite league aged 12.
"I couldn't handle the stress so didn't play well," he said.
Even a prodigy like Lee Se-Dol suffered from the pressure – which brought on temporary aphasia when he was 12, leaving him with a high-pitched shrill voice that made him reluctant to speak in public for years.
Jo has dreamed of being a professional player since he was six, dropping out of school in 2013 to focus on his training.
But at 18, time is running out – a point brought home every day by the younger kids like Cho he shares a dormitory with.
"Compared to them, I'm too old ... I'm feeling a bit desperate," Jo said.
"I started this because I love playing the game so much," he said. "Now I'm not entirely sure ... but this is the only thing I can do."
Sign up for the YP Teachers Newsletter
Get updates for teachers sent directly to your inbox
Sign up for YP Weekly
Get updates sent directly to your inbox