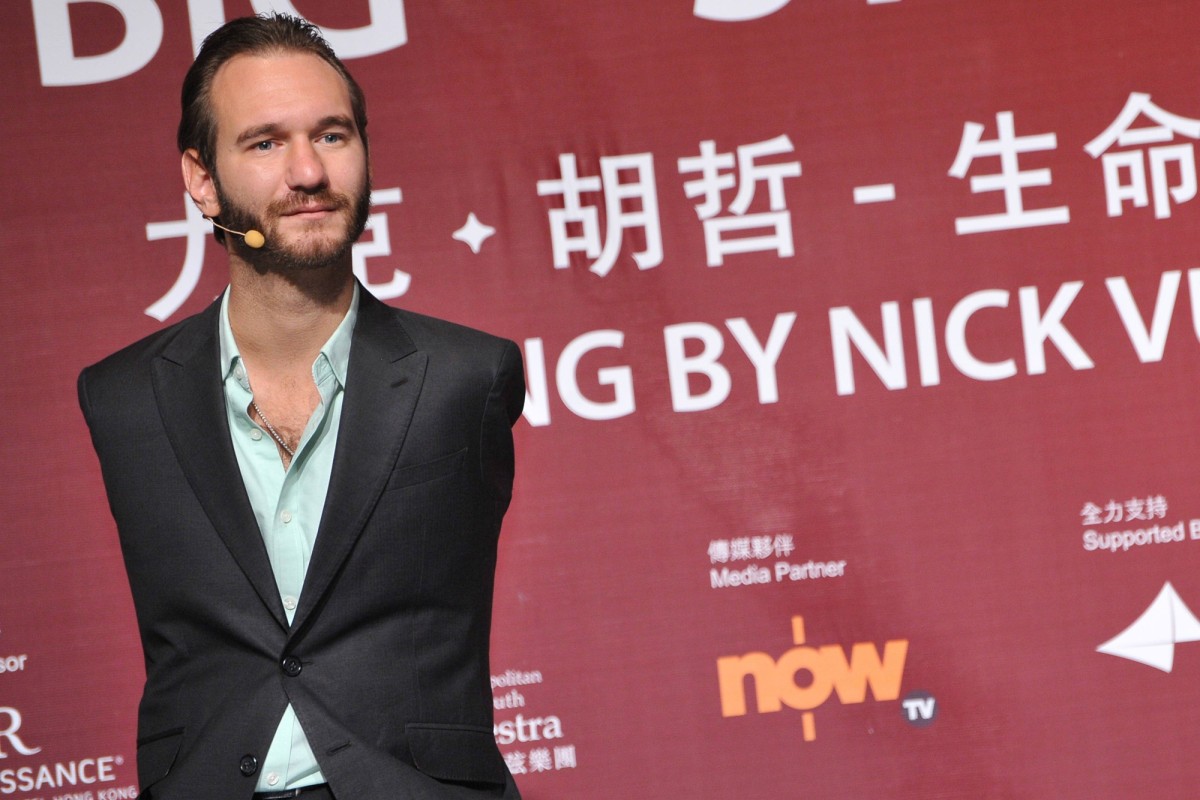 Nick Vujicic encouraged local youngsters to stand strong, dream big, and never give up.
If you were born without arms and legs, would you be able to embrace happiness?
Nick Vujicic faced that situation and never thought he could be happy. He even tried to end his life when he was eight years old. He was ready to give up on his life and dreams, thinking he'd never get married or find a job.
At the last minute, his love for his parents stopped him.
Today, Vujicic, 32, is a husband and father, a motivational speaker who travels around the world. A Christian, he tells his life story to inspire others, even change their lives.
Earlier this month, he stopped in Hong Kong. He met 100 local youngsters at Youth Square for a sharing session, encouraging them to stand strong, dream big and never give up. He also conveyed the message of anti-bullying.
Growing up in Australia, Vujicic was a bully's dream. To stand strong against all the name-calling and bad-mouthing, it's crucial to know the truth of one's value.
"They might tease you for your hair, for your clothes … they'll pick on anything," he says.
"But that doesn't define your value. You're beautiful just the way you are. You don't need others to affirm your value."
He also hopes that the victims can find forgiveness in their heart: "They [the bullies] don't know what they are doing. They have the issue, not you … But don't pay back evil with evil."
He says people bully others for many reasons. Maybe they are being bullied at home themselves, or maybe they feel like they have no freedom in life. But putting someone down to elevate themselves is the sign of a bad person.
His message to the bullies: "Your words and actions really affect other people's lives. Some people think it's fine. It's very serious, not just a game. It's a matter of life. So find something else to do."
And if you're a bystander - someone who watches it happen, laughs along but does nothing - go and be friends with the victim, he says.
"When you see someone getting bullied, I'm not saying put your face in front of the punch, but stand by the victim, so that the bully knows they are not alone."
Sadly, there's no formula to end bullying. "Nothing works perfectly, but we have to try, so I encourage every school to try something," Vujicic says.
When he was in school, he was bullied for being different. Vujicic's parents used to tell him: "It's OK, you're just special" - the one thing no one in that situation likes to hear.
"I didn't want to be special; I just wanted to be normal. I wanted arms and legs. Everyone had arms and legs but me," Vujicic says.
Vujicic's wake-up call came when he was eight years old. It made him realise he needed a change of heart. It led him to start being thankful for what he did have. His attitude is summed up by a meeting with a six-year-old a few years ago. He looked up and down Vujicic's body and said: "Well, at least you have a head."
"It was beautiful to see a child's perspective, of seeing the cup as half full instead of half empty," says Vujicic.
He visited Hong Kong towards the end of the Umbrella Movement, and said he'd been following the news since it started in September.
"With the perspective I have, seeing 54 countries, speaking to 13 governments and presidents, I'm very hopeful for the future of Hong Kong … I love your courage. I love you dreaming big," he says.
"And in a time of uncertainty, with emotions going everywhere, keep calm. Stick to the basics, do your best and be the change that you can be. It's a wonderful debate; it's a healthy debate. It's a season of growth, so keep calm and take one day at a time."
Sign up for the YP Teachers Newsletter
Get updates for teachers sent directly to your inbox
Sign up for YP Weekly
Get updates sent directly to your inbox