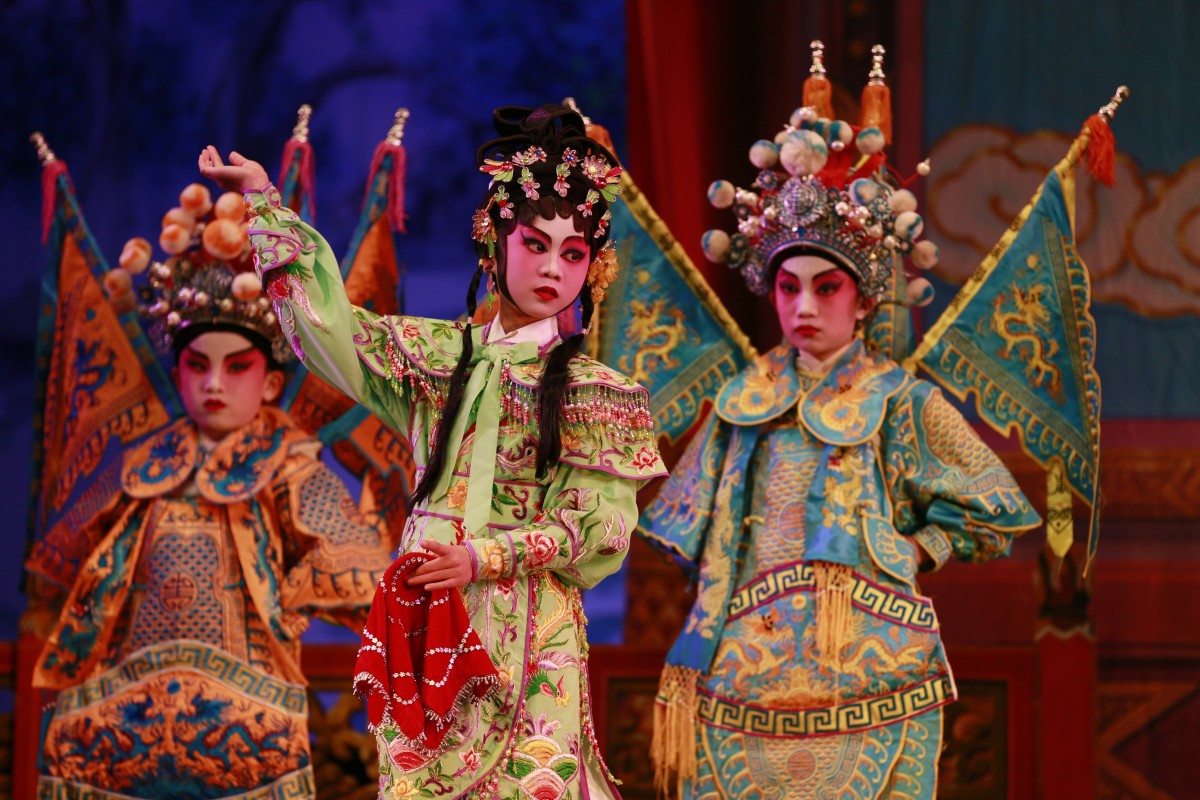 Cantonese opera is not yet forgotten.
The swell of music fills the theatre. On the bright, colourful stage two painted faces stand out as they whirl around singing about honour, valour, and love. Out of all the artistic activities in Hong Kong, perhaps none is more overlooked than Cantonese opera.
Yet there may still be hope for this forgotten art. A small but dedicated bunch of students are working hard to ensure the continuation of Cantonese opera through the next generation. But how can an art form so ancient inspire our young people?
Houston Chan, 15, says he first became interested in Cantonese opera when he was a child.
"I lived in a village when I was growing up, and there were many opportunities to watch opera. When I was young, I was afraid of the drums and loud noises, but after watching a few times, it slowly grew on me. The songs started becoming more enjoyable, and when I got older, I began to appreciate the lyrics more."
Jade Wong Cheuk-laam, 10, grew up watching Cantonese opera with her grandmother."When I watched Cantonese opera with my grandmother, I thought the headpieces, costumes, and songs were all very special, so I started to like it."
The main audience for Cantonese opera is still mostly older generations. Therefore, many people working in the field, such as Alisa Shum, chief executive of the Cantonese Opera Academy of Hong Kong, believe that appealing to the younger generation is important to preserve the viability of the traditional Chinese art form.
She says they are "constantly facing this problem, how to increase the amount of youth viewers … but before you invite kids into theatres to watch opera, you have to make them aware of it first".
"There are so many things you can do as a kid, why Cantonese opera?"
Shum's vision for Cantonese opera is more than just attracting the younger generation. She believes Cantonese opera helps preserve our cultural heritage.
"We are actually preserving a lot of the traditional mindset and manners. More than just protecting the messages in the opera itself, [we want to] also [preserve] the whole tradition and culture of performing Cantonese opera."
Stella Ma, director of the Cha Duk Chang Children's Cantonese Opera Association, agrees. But Ma believes more must be done to make the subject matter relevant to teens.
"Cantonese opera is supposed to mirror real life, but our lives today differ greatly from the stories in the opera," she says. "The older generation used to read the same historical stories, listen to them on the radio, and at night there would be an operatic performance on the same theme; it was truly a part of their life. That's why Cantonese opera is like pop music to them."
"Now, 50, 60 years later, I'm still watching the same operas as my grandparents did! Is it missing something? I believe there are many things about Cantonese opera the public can enjoy, but we don't have a good tool to introduce it to the younger generation."
Ma's organisation writes Cantonese operas that have themes and messages that connect with kids, such as an opera about a fairy who fails his exams, and must be exiled to Earth to learn from human children.
Kiki Wong, 16, says there is much to gain from watching Cantonese opera."If you don't have patience, it's very hard to sit through an entire performance that you don't understand. The first time I watched an entire opera, I was like, 'what are they talking about ...', because there weren't any subtitles, so I didn't understand a single word. But my patience gradually got better. And, of course, my Chinese, too."
Despite these positive traits, perhaps the best way for Cantonese opera to survive and thrive might simply be for us to give it a chance.
"My classmates might think it is very lame [...] they just assume it's going to be very boring, and would rather sleep through it," Houston says.
"In fact, some are really funny and interesting. But they say it's boring without even giving it a chance."
Edited by Nicole Moraleda
Sign up for the YP Teachers Newsletter
Get updates for teachers sent directly to your inbox
Sign up for YP Weekly
Get updates sent directly to your inbox