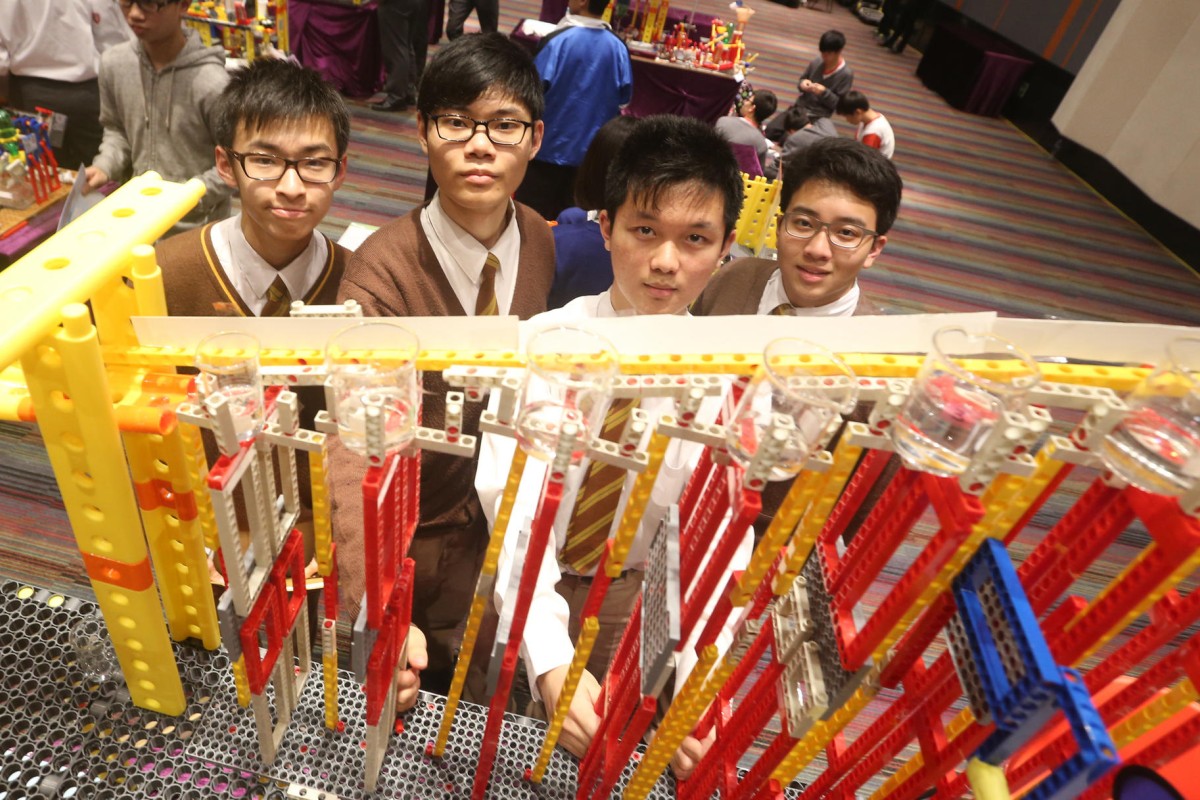 Cheung Hin-bon, Wong Yi-shing, Sze Wing-ho and Ho Ho-yin from Sha Tin Government Secondary School
Last Saturday, students from across the city showed off their engineering skills at the Hong Kong GreenMech Contest. Hosted by the Hong Kong Federation of Youth Groups, the competition asked primary and secondary students to build Rube Goldberg machines.
These machines are named after a cartoonist, who used to draw very complicated machines that did simple tasks. While the cartoons were fun, the task of actually making one of the machines is no laughing matter. Pre-made kits for the machines were ordered in October and teams had to design a machine, using the kit material, that they could put together in 2.5 hours.
The complicated solar or wind-powered creations had to eventually move a ball, about the size of a marble.
One of the judges, Polytechnic University adjunct professor William Liang Wei-yuen, said he admired the students' creativity, given that they had use the materials provided to make their machines.
The process was not without its frustration. Chris Pong Ying-ho, maths teacher and robotics team coordinator at The Chinese Foundation Secondary School, said scheduling was the most serious problem. "My students showed great passion but they often don't have the time. With homework and projects, it can be hard to have a full group working together."
The students agreed. Ho Ho-yin, a Form Five student at Sha Tin Government Secondary School, said finding the time to work on their projects was tricky.
"We are not full-time scientists," he said. "We had to sneak time … coming to school early, skipping lunch and leaving school late." His teammate Sze Wing-ho said: "The whole thing was deceptively simple. It turns out Rome wasn't built in a day. The 2D draft and the 3D product were completely different. There was a lot of trial and error." When asked about the inspiration for their gizmo-heavy device, Wing-ho responded: "Tom and Jerry. We mimicked Jerry's ingenuity in dealing with Tom by making gadgets."
Other teams, like Junior Secondary Division champions Pok Oi Hospital Chan Kai Memorial College, found the planning more challenging than the time limits. Form Three student Kola Lai Ho-ki, said their team tried to stick closely to their idea of making a volcano warning system. It needed a lot of blinking lights and they had battled with a short circuit.
Kristy Zhuang Zi-yi, a Primary Six student at Fuk Wing Street Government Primary School, said building their machine took trial and error. "Patience is essential. We had to practise repetitively."
Teammate Destiny Chow Tsz-nok found putting everything together was the hardest part. "The time limit and the complexity of the machine didn't help," she said.
But the students managed to please the judges.
University of Hong Kong associate professor Vincent Tam Wai-leuk, was impressed by how the contestants were able to think outside the box. "They showed great initiative by adding many themes of daily life into their creations, such as farming or environmentalism," he said.
Guest speaker and Legislative Councillor Lo Wai-kwok said the event showed promise for the science, technology, engineering and maths (Stem) fields in Hong Kong. "I am pleasantly surprised at the number of girls here at this event," he said. "To see them interested in Stem fields is a good thing."
Lee Kau Yan Memorial School's assistant principal, Ronnie Yeung Ting-pong, was on the judging panel for the fifth year. "This contest requires knowledge beyond what is in textbooks," he said. "[The competitors] have to be able to apply their knowledge to real life."
The students from the three winning schools - Tin Shui Wai Methodist Primary School, Pok Oi Hospital Chan Kai Memorial College and Queen's College - will travel to Taiwan in July to represent Hong Kong in the World GreenMech Contest.
Sign up for the YP Teachers Newsletter
Get updates for teachers sent directly to your inbox
Sign up for YP Weekly
Get updates sent directly to your inbox