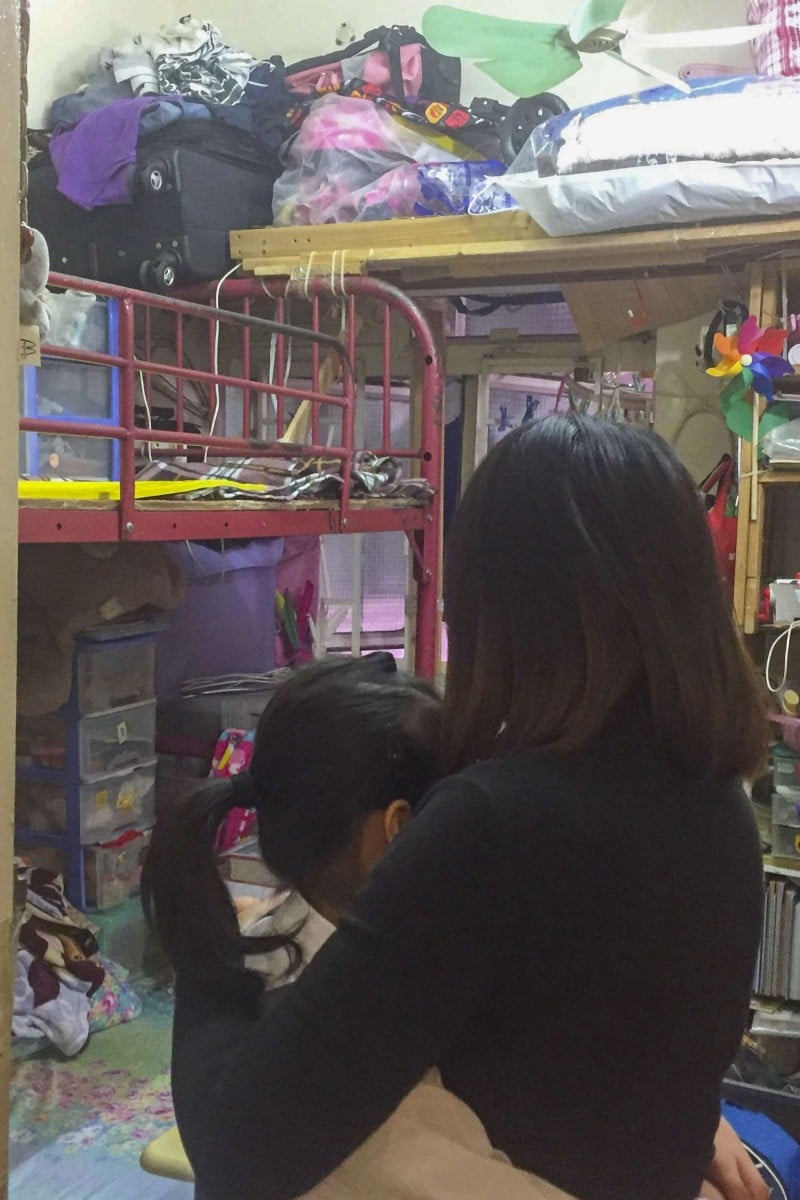 A YP cadet spends the day with Alice, whose home costs nearly all her mum's income, and who dreams of a home with room for a dog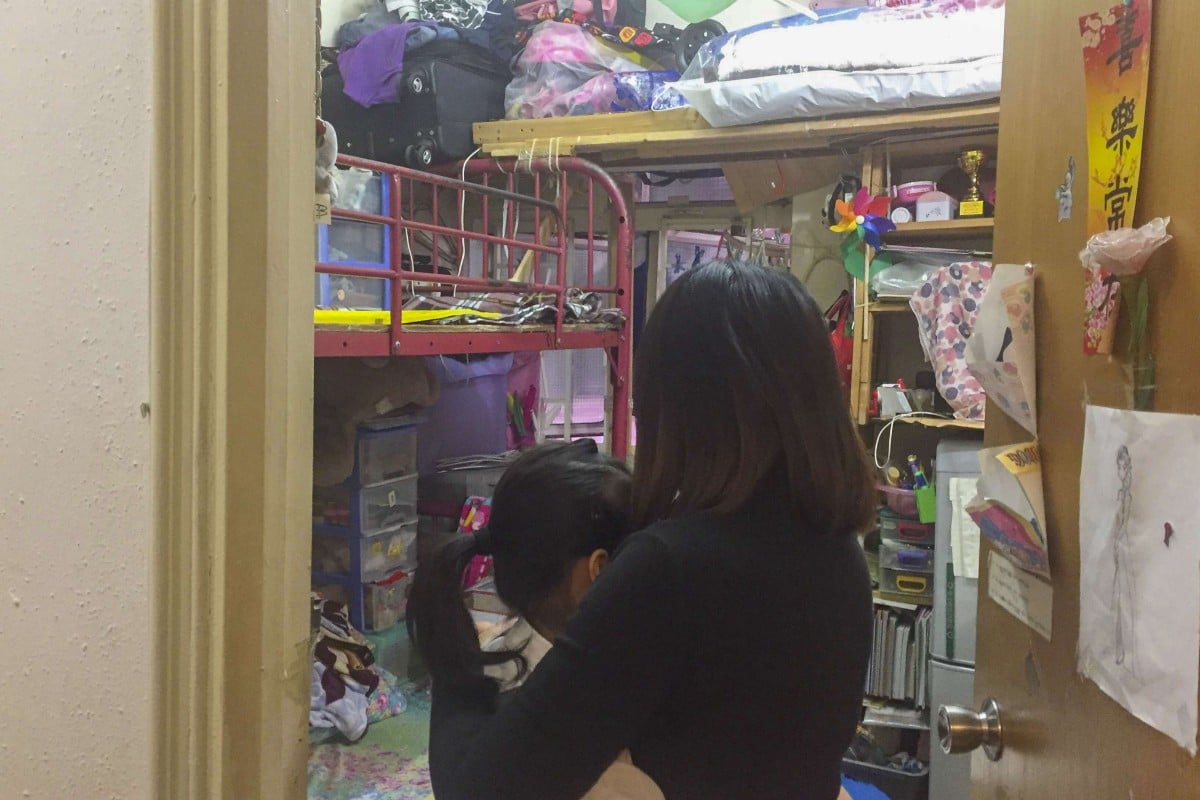 Alice and her mum live in a subdivided flat in Mong Kok.
After a restless night on a tiny bed that's no bigger than a door, surrounded by towering bags, books and suitcases, eight-year-old Alice is woken up by her mother at 6am. It's her birthday. Alice lives in a tong fong, one of Hong Kong's infamous subdivided flats, in Mongkok.
As her mother prepares breakfast for her – a slice of bread and a small carton of milk – Alice gets dressed in the bathroom-slash-kitchen. Wires precariously hang down from the ceiling and the gas stove sits alongside the toilet. The flat is 55 square feet, and the rent costs Alice and her mother HK$3,500. This is the fourth flat that mother and daughter have stayed in since Alice's parents divorced.
"Alice has never complained about how often we've moved around," her mum tells Young Post. They sleep together on the bottom bed of a bunk bed fighting with suitcases, bags and books for space. More of their belongings are crammed on the top bunk. Posters and handwritten couplets adorn the walls, and are proof of Alice's love of God and her ability to keep the faith.
While she sits on the bed, munching her bread, Alice talks about her dream home. Despite her mother's doubtful head shaking as she talks, Alice clearly likes her vision.
"It would have two separate bedrooms, a patio, a dog, a big TV and a big bed," she says. Her mum is unconvinced – they've been living here for two years and it doesn't look like they will be moving anywhere else soon.
They get welfare from the government, but Alice's mum is from the mainland and is not allowed to work as she holds no Hong Kong identity card (HKID).
Having finished her breakfast, Alice and her mother head out towards Alice's school in Prince Edward. At school, Alice has a group of friends that she hangs out with. Occasionally, she invites them over to her home to play, but the lack of space inside the flat means that the kids must play in the corridors. Like most children her age, Alice has a pretty good idea of what she wants to do when she leaves school.
"I want to be a police officer," she says. "I want to catch bad guys and help people." When Alice is at school, her mother goes on courses provided by the Society for Community Organisation (Soco). She hopes to learn something from them that will help her gain employment.
"I'm still young. I want to work, and I want to be able to start a career for myself," she says, but more than anything, she wants to be able to get her daughter out of this flat and into a proper home. "I can't live like this forever," she says, fighting back tears. "Sometimes, it feels like it's too much and I won't be able to handle it. But there's nothing I can do. I'm stuck."
Each month, Alice's mum says, she gets HK$4,000 in government welfare. She can afford to provide HK$2,900 towards her rent, but it's not enough, so Soco pays for the rest. After that, she's left with just HK$275 a week, and this needs to cover food and clothing for Alice and herself. They typically spend around HK$30 on food for the day – dumplings, veggies and sometimes meat. She says that when she goes home to Hainan, she stocks up on instant noodles because they are more expensive in Hong Kong. Alice's mum usually skips lunch, and Alice eats hers at school. Alice hates being left alone in the flat, so her mother will head out to buy groceries while she's still at school.
"Sometimes, there are noises outside, but I don't know where they come from," Alice tells us after school. As it's her birthday, Alice and her mum get to eat out with some friends from church. As they walk home from school, they talk about the upcoming dinner.
"Will jie jie [big sister] from church be with us?" Alice asks. "Because last year she drew me the prettiest picture of Elsa." Frozen is her favourite film – even though her mum tells us that they have never actually watched the movie, just photos of it. Afterwards, at home and sitting on the bed, Alice talks about happier moments in her past: "When I first learnt how to ride a bike. Back then, I rode my bike whenever I wanted."
Birthday or not though, Alice can't chat for long – she still has homework to do. The little girl folds herself up on the bed and pores over her books, leaning across to write on the dinner table.
When her mother laments the lack of a proper chair – "She already has enough problems with her back from this bed, and she's only eight," – Alice is quick to comfort her.
"Mum! I'm used to it, so don't worry."
"We're not the only ones that are stuck in this situation," her mum says. "There are so many families out there just like us. I want the government to give people like me the right to work. I want to earn money for Alice and myself."
Sze Lai-shan a social worker at Soco has the statistics to show that it's bad for children to live this way.
"Various studies have shown how detrimental living in such tight places can be to children. Even sleeping can be a problem. Many children say that they can't even sleep well because of bed bugs and the bad air," she says.
Alice says that this home is the cleanest one they've had. Her mother keeps things scrupulously clean with bucketloads of cleaning supplies. Their tiny flat is a blessing in some ways, says Alice's mum, as at least they don't have to share their bathroom and kitchen as some of the tenants in the bigger flats have to do. Does Alice consider this flat her home? She thinks about it for a while, before nodding. Yes, she says, but not forever. Her mum doesn't know what else she can do to change their lot in life right now, but she knows this is not the life she wants for her daughter.
"She's been living like this for almost all her life," Alice's mum says. "She needs a proper home, with a room to herself where she can share secrets with her friends, talk to her first boyfriend on the phone and just have her own life." Alice assures her mother that she really doesn't mind if it's just the two of them here in this flat, as long as they're together. Her mum doesn't say anything, but gives her daughter a hug.
"What I really want," she says eventually, "is for the public to know about us – our situation and the situations of people like us. I just want the government to be able to do something to help us."
Sign up for the YP Teachers Newsletter
Get updates for teachers sent directly to your inbox
Sign up for YP Weekly
Get updates sent directly to your inbox