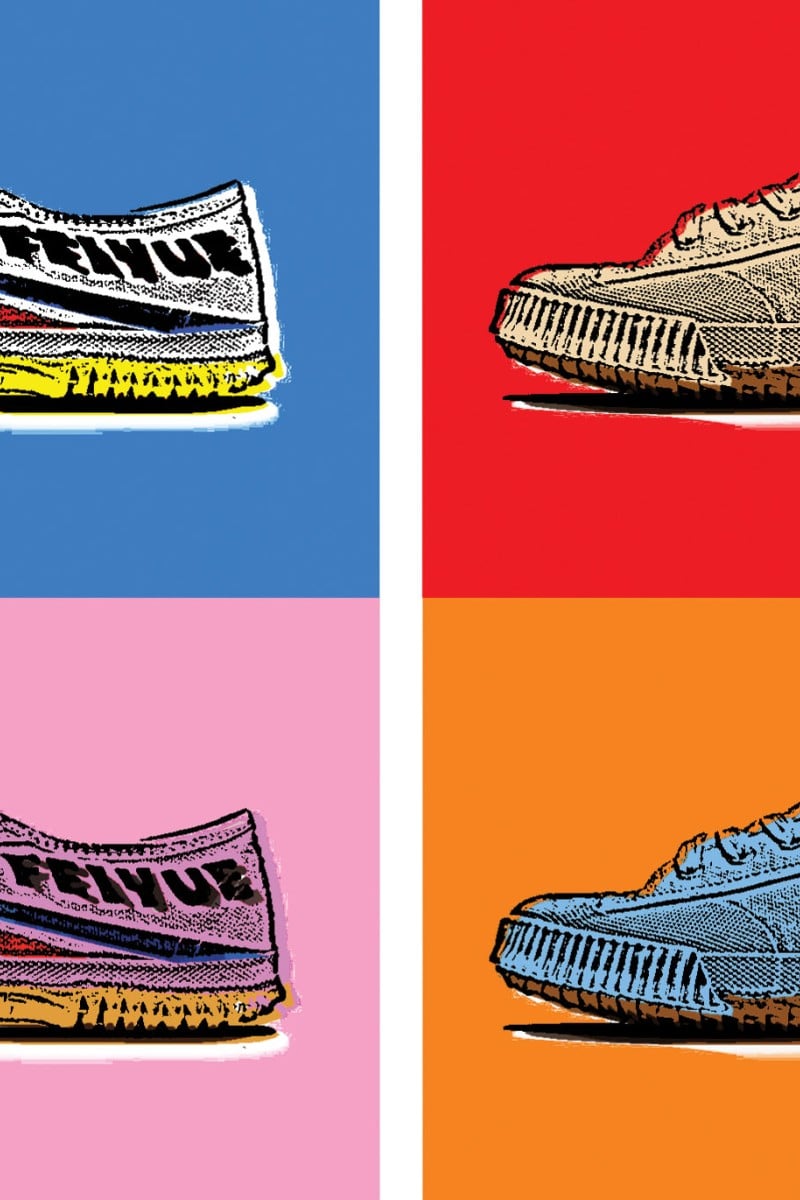 Feiyue: how authentic Chinese trainers became fakes, thanks to France
We're used to thinking of China being the land of knock-off goods – but now, thanks to a French company, the shoe is on the other foot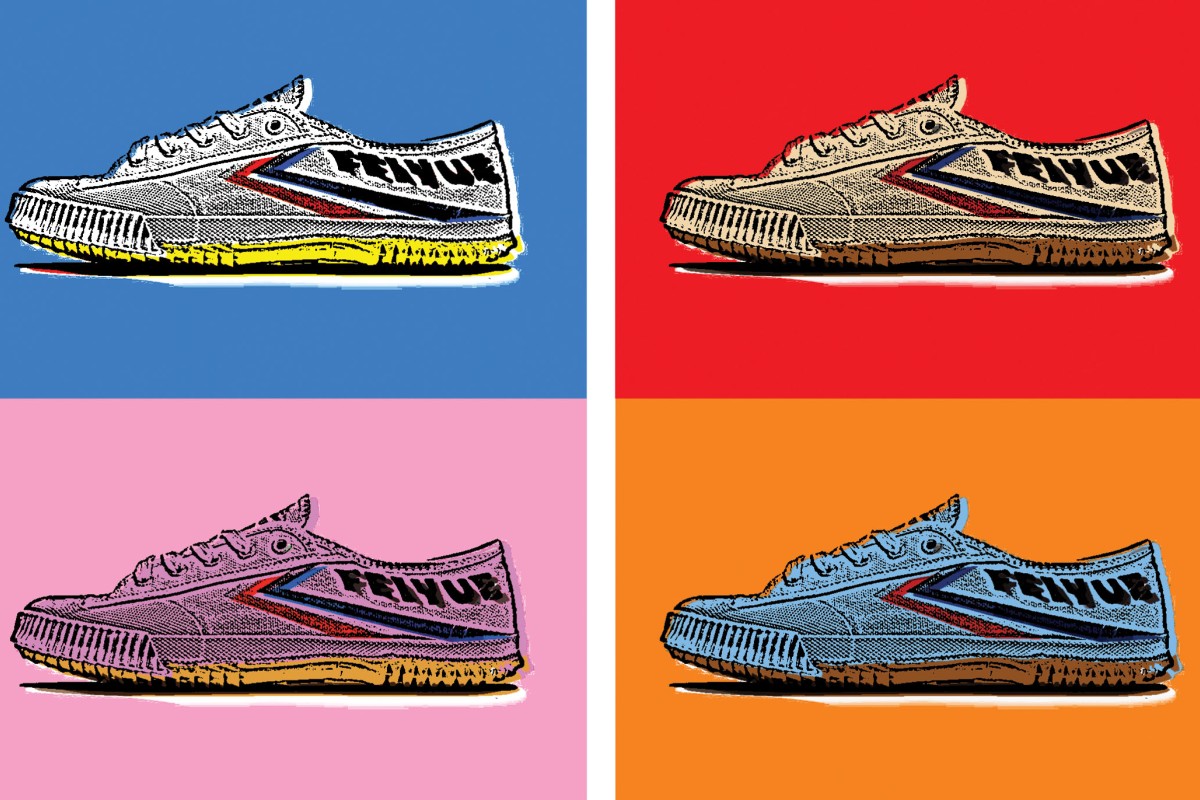 When it comes to fakes, China can be considered a pioneer. From the enduringly popular fake handbags, replica Rolls Royces, and even counterfeit KFC, there is nothing China won't duplicate. But now the tables have turned, and the imitation nation is getting a taste of its own medicine as other countries start to copy Chinese products. Feiyues are a brand of trainer that began life in Shanghai in the 1950s as a humble shoe favoured by monks and martial arts students. Known for their durable properties, they gained a cult following, and in 2008, at the Beijing Olympics, all 2008 martial arts performers wore Feiyues. Today, they are the shoe of choice for secondary school students in their PE lessons.
However, until recently, the plimsoll was only popular in China. In 2005, Patrice Bastian, co-founder and creative director of French company Feiyue, had a pair himself for practising martial arts while living in Shanghai. In 2006, he realised that there could be a market for these shoes outside of China. In the same way that Vans, Converse and Superga have evolved from their original roots to become more of a fashion shoe, Bastian wanted to transform Feiyue into a trendy must-have for the French market.
So in 2006, he began working with a factory in China that manufactured the shoes. Bastian, 45, says he didn't know exactly who owned the factory, but he believed it was Double Coin, a company generally considered to be the original manufacturers of Feiyue according to AJ Donnelly, co-founder of CK Martial Hearts, a martial arts shop and martial arts travel company in Beijing.
The factory happily produced the shoes for him. However, as a small start up, the French version couldn't keep up with the huge order demands of the factory, and in 2007 the factory said they could no longer continue to produce the shoes for them in such small quantities. Bastian, who had invested his life savings into the business, was reluctant to give up so easily, so he asked if he could buy the brand registration to produce and sell Feiyue in France. The manager of the factory at that time agreed, and Bastian went on to trademark the Feiyue brand in France.
The French company also signed the rights for the US market. Bastian says at that time it was hard figuring out who was in charge of the Feiyue brand in China. He says the factory that they worked with was an affiliate of Double Coin, but at the time, they didn't know that.
Since then, the French version has grown exponentially and on a global scale. Bastian, a former marketing and events manager, has harnessed the power of social media and marketing to turn the shoe into a chic, sought-after brand, claiming www.feiyue-shoes.com and racking up more than 250,000 likes on Facebook. In the past few months, they have opened shops in Israel, Taiwan and Korea.
But while a fake Gucci handbag will cost you a fraction of the price of the real one, the French Feiyues will cost you even more than the original. And not just a little bit more – instead of costing between 20 and 60RMB (HK$23-68), the French version retails for upwards of 55 euros, or 400RMB (HK$450).
Bastian explains that the difference in price reflects the quality.
"The quality is very, very different." He says they met a lot of factories and they proposed a lot of different prices. Some of the factories would offer a very low price, but the quality of the fabrics, the rubber, the glue, the canvas and the working conditions for employees would be very poor.
"In Europe or the US, you can't provide something bad. There are a lot of things out of our control here [in Europe and the US] – the glue matters, the canvas, the rubbers … all the chemicals that they can sometimes use in China that we can't use here," says Bastian. "Maybe you can't see it, but actually in the end, the quality is very different. Also, if you buy it in China, there is no taxation, no importation costs, and no transportation costs."
The shops here also add a margin on the products, so the company gets 55 euros. There are a lot of intermediary people in business."
By extension, these differences are why he feels he hasn't just copied the Chinese product.
"For us, our shoes are original in our countries where the registration is there. It's another version of the Chinese I would say. For example, we have brand registration in the US. [Our] Feiyue in the US are the original ones, because we have the brand registration," says Bastian.
Others, however, are not convinced.
"They're robbers!" exclaims Liu Qinglong, manager of Shanghai Da Fu Rubber Co Ltd, speaking to Young Post from Shanghai in a phone interview. He has worked with Da Fu, the parent company of Double Coin, since 1979. Liu claims the French company took advantage of the Chinese at a time when China was still grappling with capitalism, and transitioning from all factories being state-owned assets, to devolving some rights to individual businesses.
"No one in China knew about commodity intellectual property rights at the time and it wasn't until 2007-08 that we found out the French had registered the trademark," says Liu.
In a strange twist of irony, this now means that if the Chinese company tries to sell the original shoe in France, French customs will intercept them and declare them fakes – copies of the "authentic" French version.
[Referring to the Chinese Feiyue in France] "It's counterfeit," says Bastian. When asked if he sees the irony in this, Bastian is matter of fact about it all.
"Ultimately, it comes down to business. We have the brand registration," said Bastian.
He says when he initially tried to get the rights, there seemed to be multiple factories in China that produced similar styles of the Feiyue plimsoll, so it was hard to determine who was the "original" manufacturer.
"We're very respectful of the legal issues. For us, it's two very different products," says Bastian.
But Liu asserts that Da Fu rubber have legally registered the trademark in China, and are the rightful owners.
"We have overseas Chinese and foreigners come to buy our shoes, but we don't take overseas orders, as we're in a standoff with the French," says Liu.
Dr Yahong Li, associate professor and director of LLM Program in IP/IT in the law faculty at the University of Hong Kong, and a specialist in intellectual property rights, says that from a legal perspective, it doesn't look good for the Chinese company, because trademark is protected territorially, and on a first-to-file basis.
"As long as the Chinese company has not registered its Feiyue mark in France, the French company can register it in France without getting anyone's approval, and its registered mark is protected in France," says Li.
The situation becomes even more twisted as Bastian explains that some factories in Shanghai have recently started copying his designs. Originally, Feiyue came in white or black. As Bastian has grown his company, he has expanded to include new designs and styles, such as blue canvas, or patterned pairs and collaborations with Peanuts. These are now being replicated in factories in China.
Part of this is a cultural difference. In Europe, if someone trademarks something, they can expect to claim individual authorship and ownership of it. In China, however, it's more common to replicate a product if it's popular, as everyone wants to capitalise on the success.
So far, neither company has had serious issues, as both are content selling in their respective markets, with no plans to move into the other's territory. However, feiyue-shoes.com have recently expanded into Australia, New Zealand, Korea and Taiwan, so the chances of China being able to grow their brand on a global scale seems unlikely.
Li says the Chinese company could be sued by the French company if they try to sell their product in markets where the French company has registered the trademark.
The rise of online shopping only complicates matters further, as the global marketplace means physical boundaries are no longer a barrier, and this case raises a lot of questions about the future of intellectual property.
Uniting the two brands would be one way around the problem. So could there be a collaboration in the future? Bastian is open to the idea of a partnership, but Liu isn't as keen.
"Why would we work with them? They just came to take our stuff away," says Liu.
This article has been amended to reflect the correct name and description of the shop co-founded by AJ Donnelly. This should be: CK Martial Hearts, a martial arts shop and martial arts travel company in Beijing. Young Post apologises for any confusion caused.
Sign up for the YP Teachers Newsletter
Get updates for teachers sent directly to your inbox
Sign up for YP Weekly
Get updates sent directly to your inbox