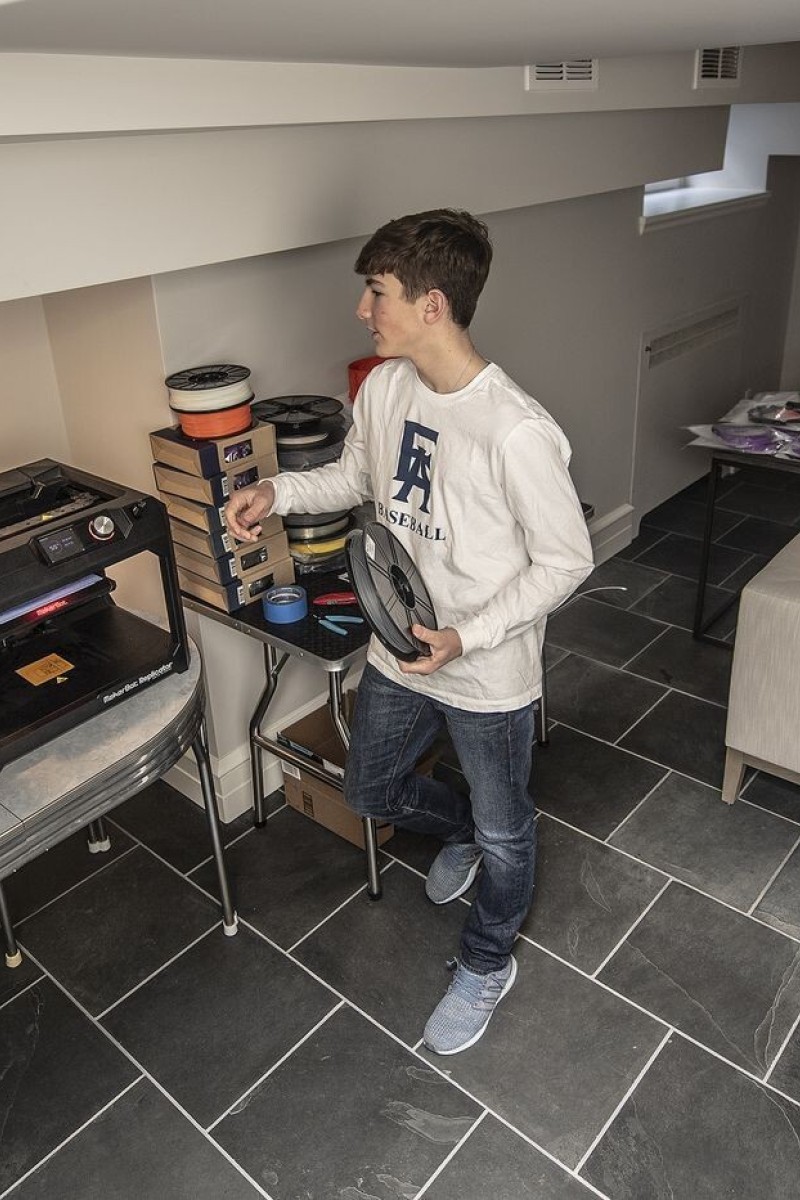 14-year old Louie Beardell aims to donate 1,000 face shields to medical workers fighting against Covid-19.
Louie and his parents have been making the shields from their basement in the US.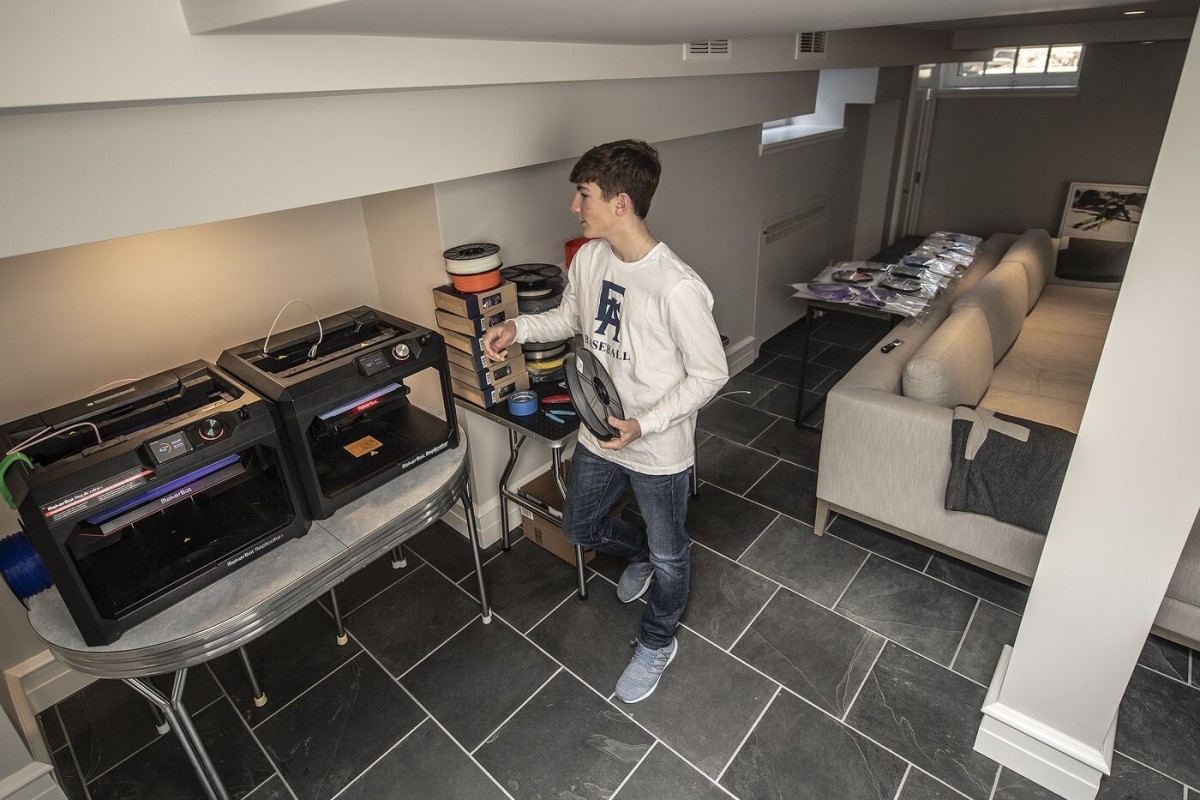 Louie Beardell, who uses 3D printers to make face shields to donate to area medical workers, at his home's basement.
Skiing season was over. Golf courses were closed. Baseball was on hold. Louie Beardell was feeling bored as school was on spring break and there was no chance to get outside and play sports with his friends.
Instead, he decided to try to save the world. Or one person, anyway. Or maybe 50. Or 100.
"My goal is to make 1,000," said Louie, 14, of the face shields he has been producing for hospital workers using 3D printers in the basement of his home in Philadelphia, in the United States.
Coronavirus: First autopsy of Covid-19 patient highlights how illness targets lungs
Louie and his parents dropped off 25 face shields to Chestnut Hill Hospital last week and 50 to Einstein Medical Centre on Monday. By the end of the week, they planned to donate 25 more, to the Children's Hospital of Philadelphia. They hope to keep producing the personal protective equipment for the foreseeable future.
"It feels great to be able to do something good," Louie said.
"So many people sit and watch the news and you feel like there's nothing you can do about it. It feels really good to try to do something about it."
Coronavirus outbreak: Vaccine in very early stages of development
Louie is in his first year at his school, Episcopal Academy. He is a top athlete, a top student, and such a technology whizz that school officials ask him to fix the photocopiers and printers before they call in a repairman.
"He doesn't get that from us!" said Louie's mother and father, Donna and Lou.
Louie is not alone in using 3D printers to make personal protective equipment for medical workers in response to the Covid-19 outbreak. Trans Lualhati, a materials engineer, borrowed four printers from his former university to create face shields in his flat.
Coronavirus outbreak: Epidemic, pandemic, and other key terms about contagious diseases explained
Lualhati has donated one batch of 30 face shields to a nursing home in Philadelphia and plans to supply more to the University of Pennsylvania Hospital, Temple University Hospital and Abington-Jefferson Hospital.
"As long as the cases keep coming, I'm going to keep rolling with it," said Lualhati.
Louie had his own 3D printer, a Christmas gift from his parents in 2018. He had used it to create a working hovercraft and some model cars, as well as household items such as a holder for kitchen utensils.
[Liberal Studies] World Health Organisation tackles global 'infodemic' amidst coronavirus
"He brought the hovercraft to school – it was so cool," said Matt Memmo, the chair of Episcopal Academy's computer science and engineering department.
A 3D printer works by pushing out liquid plastic through a tiny nozzle that is controlled by a computer. It prints one layer, waaits while it dries, then prints the next layer, eventually creating a physical replica of a digital design.
Louie said his inspiration for making face shields "came out of boredom, pretty much".
Seeing their very own designs come to life with 3D printing
He began researching online, finally settling on a design for face shields from a 3D printer company in the Czech Republic.
"They donated a bunch to the Czech Republic Health Ministry, so I figured if it went to a government it must be reliable," Louie said.
He made a few using his own 3D printer, and then decided to dream big. He approached Memmo and asked to borrow three of the school's 3D printers.
"It's really amazing, what Louie is doing," said Memmo.
Coronavirus: How Chinese International School's Free Clinic gives medical supplies to the underprivileged
"We're super proud of him."
Now there's a "little factory" in the basement, according to Donna Beardell. She said it runs 24/7, makes a lot of noise, and has an assembly line of workers.
"My husband punches the holes, since that was starting to hurt Louie's hands," Donna said. "I cut the acetate sheets using a blade."
The Beardells estimate it takes about three and a half hours and about US$4.50 (HK$35) to make each face shield. The family has spent around US$2,000 on materials and shipping costs.
Coronavirus: Museums in England, France, Italy and more offer virtual tours
Louie is a ski racer who recently took part in the state championships. He is a member of the golf team and the baseball programme at his school. Those activities make his parents proud. But this project feels different.
"It's gratifying to see Louie take an interest in something like this," said Lou Beardell. "There's so much negativity, with school closed and no sports, and he can't hang out with his friends. But he's found a way to focus on something positive."
Chestnut Hill Hospital's CEO, Dr John Cacciamani, praised Louie's contribution, which "speaks to the generosity and innovation that represents our community and the way they are pulling together to defeat Covid-19".
Coronavirus: I am a 14-year-old girl in a Hong Kong government quarantine centre, all by myself
Dixieanne James, president of Einstein Medical Centre, said the efforts are inspiring.
"It's often in difficult times like these that we can be the best for each other," she said.
"I see that, every day, in the tireless dedication and devotion of our staff … I also see it in the generosity and, in Louie's case, ingenuity, of the public who are finding ways to pitch in.
Sign up for the YP Teachers Newsletter
Get updates for teachers sent directly to your inbox
Sign up for YP Weekly
Get updates sent directly to your inbox