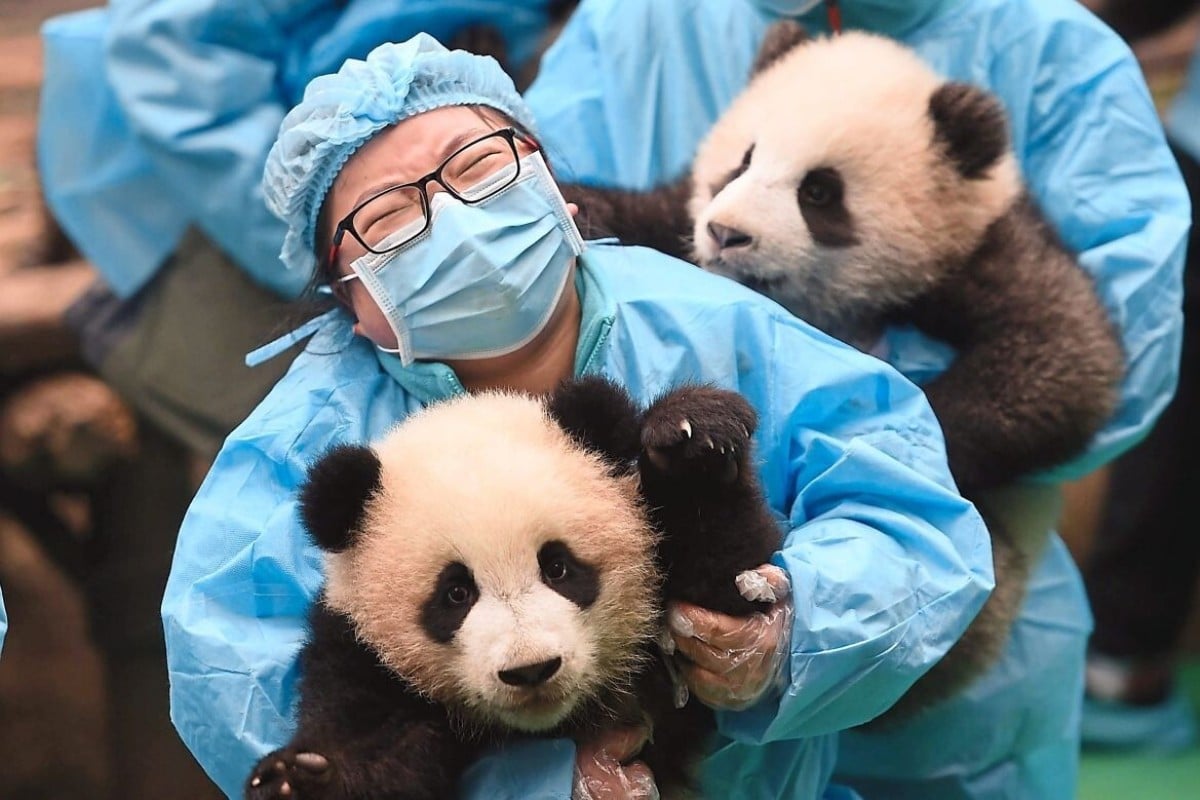 Giant panda cubs and their keepers attend an event to celebrate upcoming Chinese New Year in Chengdu Research Base of Giant Panda Breeding in Chengdu, capital city of southwest China's Sichuan Province.(Xinhua/Xue Yubin)
Clutching some bamboo shoots, Yao Xin, dressed in a mask, gloves and a dark green suit, rambled on the outdoor playground in a panda house and tried to find a perfect place to hide these delicacies from her "babies" -- four giant pandas.
Shortly after, panda He Xing wandered into the field, sniffed around, spotted and crunched the fruits of its labour.
Yao, 23, is a panda keeper working at a panda house in the Xining Wildlife Park in Xining, capital of northwest China's Qinghai Province. The panda house has four giant pandas born at the Chengdu Research Base of Giant Panda Breeding.
To provide a safe environment for the pandas and help them adapt to the climate of the Qinghai-Tibet Plateau, the house has everything in place for them, especially fresh bamboo airlifted from Chengdu every two days.
Yao and her colleagues take shifts to clean the pandas' outdoor and indoor fields, make tailored cakes and prepare bamboo for them.
Do you love Totoro? Learn how to draw Studio Ghibli's most famous character!
For Yao, becoming a panda keeper was a delightful but unexpected experience.
After graduating with an advanced nursing degree in 2017, Yao worked at a physical examination centre. But when she saw the want ad in 2018, she was touched but hesitant.
"All that time I had been caring for people; taking care of these precious animals was a whole new story. I was afraid that I would be unable to complete the task well," said Yao.
In time, however, her self-doubt was dispelled.
"Yao excels in her work with due diligence and her will for lifelong learning," said Bai Tao, who is in charge of the panda house.
Don't judge a book by its cover... or in this case - a country
Yao competed against nearly 100 people for the same post. Although Yao had not received professional training in animal science, her internship experience in a hospital and medical experience at a physical examination centre got her the position, and her attitude earned her extra points, Bai recalled.
Yao and her colleagues went to the Chengdu Research Base of Giant Panda Breeding for professional and systematic training for about six months before they actually took on the job. Yao learned to be a professional panda keeper by helping take care of panda cubs there.
Now Yao can correctly tell the difference between different kinds of bamboo and knows every single detail about pandas.
"It seems like a very interesting job, but it's also tiring," said Yao. Normally, Yao works from 9 a.m. to 7 p.m. When on night duty, she works from 9 a.m. to 4 p.m. the next day. During the night, she needs to get up every two hours to refill the water and add bamboo shoots for the pandas.
"Most of the time they are adorable, but they sometimes become troublemakers. On March 16, a tree in the outdoor playground was snapped by the panda He Xing," Yao recalled.
Cat cafes are so last decade. This coffee shop in China has quacked the code on what people want to pet when they order their latte
To take better care of the pandas, Yao keeps not only a working journal, but also her own log with more than 400 sheets full of sweet memories and tips on raising them.
Every time she gets off work, she stays by the window and gazes at the pandas for a little while. When she takes a day off, she asks her colleagues how the pandas are and watches short videos about them on social media.
"Only through constant learning, patience and persistence can we excel in our jobs, and the more we do, the more comfortably and happily the pandas will live," said Yao.
Sign up for the YP Teachers Newsletter
Get updates for teachers sent directly to your inbox
Sign up for YP Weekly
Get updates sent directly to your inbox