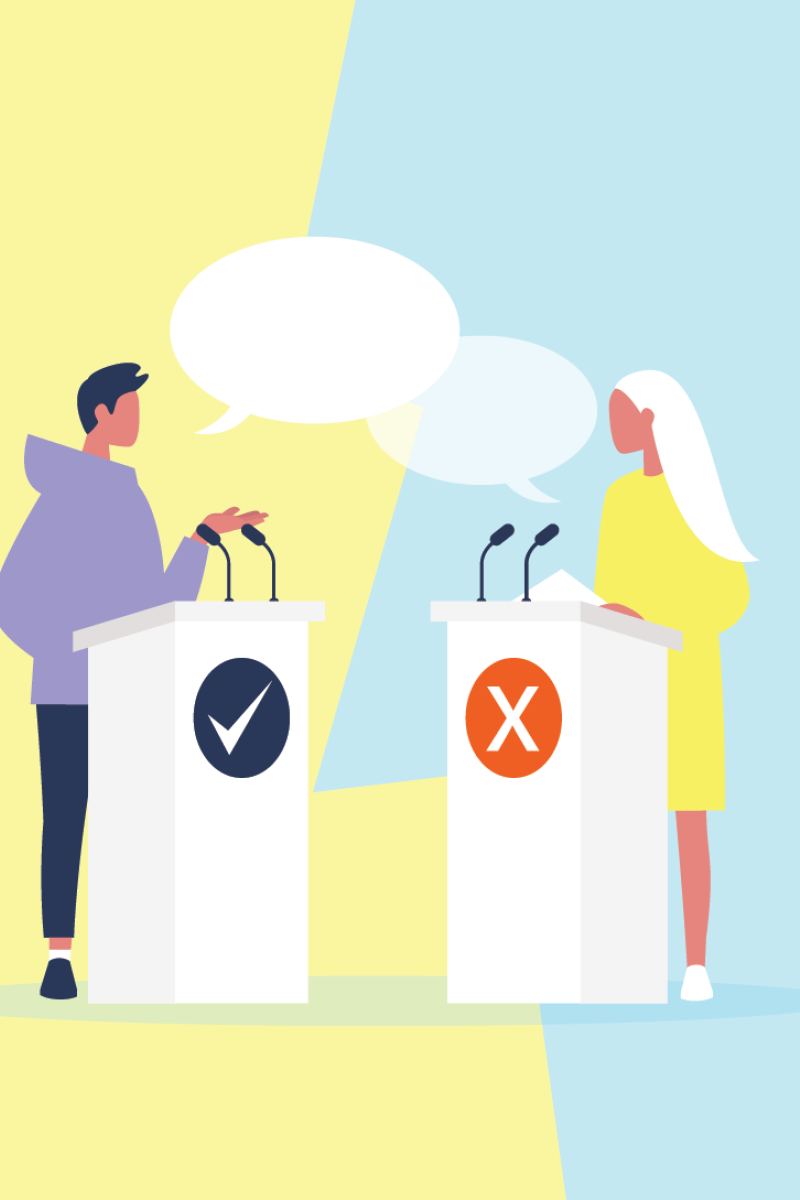 Secondary students from more than 60 countries and territories battled it out in the English-language debate competition held on Zoom

The city's team received coaching from internationally-acclaimed debaters and one student won the title of 'World's Best'
Junior reporter Markandeya Karthik
|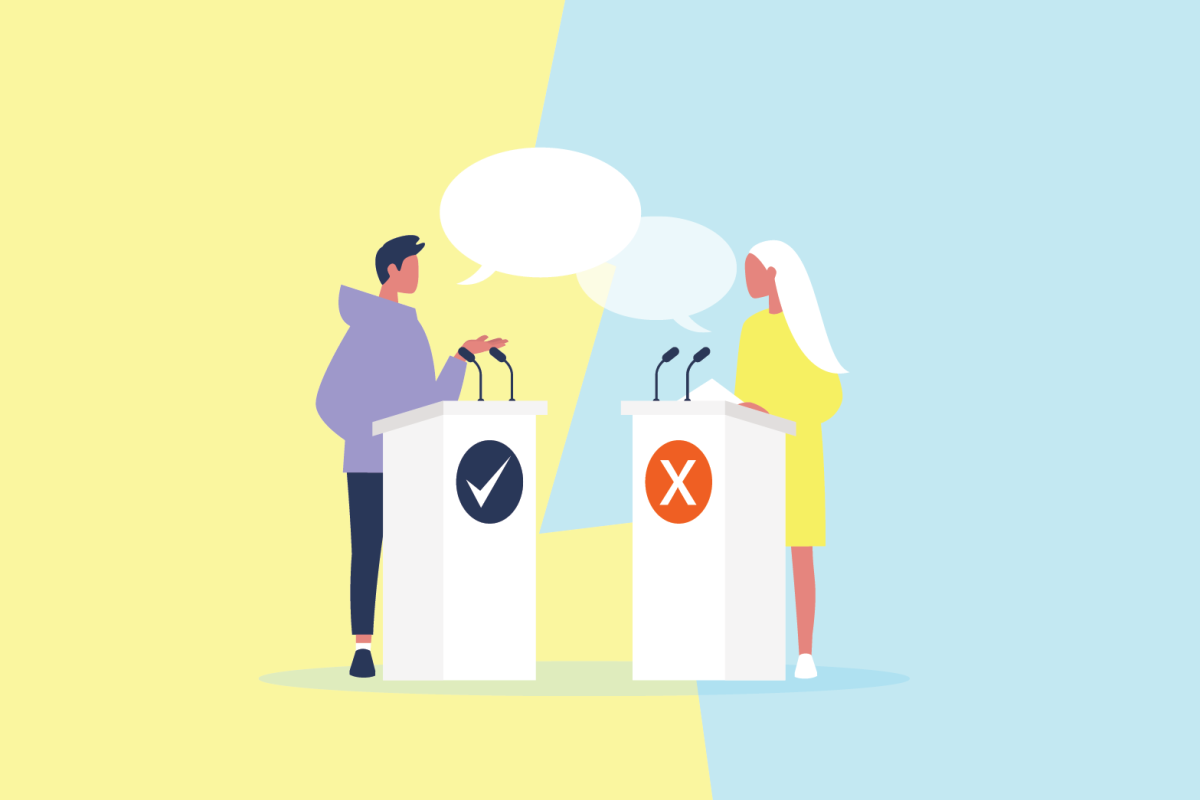 The World Schools Debating Championships were held online this year, but that doesn't mean they were any less challenging. Photo: SCMP graphics
The World Schools Debating Championships (WSDC) may have been a virtual competition this year but it was no less intellectually challenging and nerve-racking.
Secondary school students from more than 60 countries and territories battled it out with words and ideas at the annual English-language debating tournament held via Zoom from July 19 to August 3.
Despite the disruption caused by the pandemic, the Hongkongers  had trained hard for the contest. The team consisted of Jenna Hong, from German Swiss International School; Daniel Sheremeta (Hong Kong International School); Alan Fan and Evelyn Howe (Chinese International School); and Angus Li (Sha Tin College). They were ranked first in their division after winning all six preliminary rounds, and advanced to the quarter-finals before bowing out after a narrow loss to the Sri Lankans. 
Despite that disappointment, it was an encouraging performance by the Hongkongers: Jenna was crowned the world's best debater, while Daniel wasn't far behind, ranking sixth.
The teens driving the important conversations
With the topics ranging from social justice to politics, they were well-prepared for the challenge.
"I've been debating for a ridiculously long time," says Jenna, who had her first taste of debate in Year Six. She chose to pursue debating because it exposed her to countless ideas and opinions she otherwise would have never explored.
"Debating has forced me to support these ideas, deconstruct these ideas, and engage with these ideas in a way that took the vague and abstract and made it real," she explains.
According to Jenna, a combination of things helped her become the world's best debater. "Hard work and perseverance were a part of that, but my coaches and teammates were undoubtedly a huge factor as well."
Evelyn Howe, Daniel Sheremeta, Jenna Hong, Angus Li, Alan Fan, Hong Kong's debate team. It was a fantastic team effort, she emphasises, adding "The arguments in my speeches were derived from the cases we collectively built in the prep room and the ideas we shared on the bench". 
Angus, who also represented Hong Kong at the WSDC held in Thailand last year, said things were very hectic in the run-up to the competition.
"Due to limitations stemming from the pandemic, our coaches could only train us online. We probably got two or three months' worth of solid training for the competition, although we nominally had about eight months after the final team line-up was announced."
However, regardless of the challenges of virtual training, Angus and his teammates were well-prepared. "In general, quality far outweighs quantity with regard to debate training," he says. 
Students create innovative ideas for learning during Covid-19
Harish Natarajan and Thomas Simpson, both internationally acclaimed debaters, coached the Hong Kong team this year.  
Natarajan points out that "online training cannot replicate the experience of in-person training", and the team needed to tackle the "unique challenge of developing a style that persuaded a panel of judges" who were watching debates in front of a computer screen. 
However, he says that "all members of the team were dedicated – which made it a little easier to organise weekly four-hour training sessions via Zoom for several months". This is a good omen for the team's future success, he adds. "Given the problems in training, we are very proud of what Hong Kong achieved this year. But it's only the start – and it's only a matter of time before Hong Kong wins the world title." 
It's been a difficult year, says Sandeep Chulani, chairperson of the Hong Kong Schools Debating and Public Speaking Community. "Organising training and securing venues has been tricky, with most schools closed and social distancing in place," Chulani says. "It's a testament to the team's work ethic and drive that has taken them to these new heights. Training online was something new to us all, and I am really proud of how they've performed."
Student-founded Class of 2021 provides support for university applicants
The team faced tough competition. "After winning the first few rounds, we were quickly matched against some of the strongest teams in our division: Pakistan, Singapore, India, and the Philippines," Daniel says.
But the stronger the opposition, the more we will improve, Angus says. "I like WSDC, because it really encourages in-depth interaction between teams, and draws out arguments to their full potential – especially when the teams are strong." 
So what's next? Both Jenna and Evelyn are in their last year of secondary school, while Angus, Alan, and Daniel are at university – where they'll take their skills to the next level and have the opportunity to represent their institutions at the prestigious World Universities Debating Championships. 
Sign up for the YP Teachers Newsletter
Get updates for teachers sent directly to your inbox
Sign up for YP Weekly
Get updates sent directly to your inbox