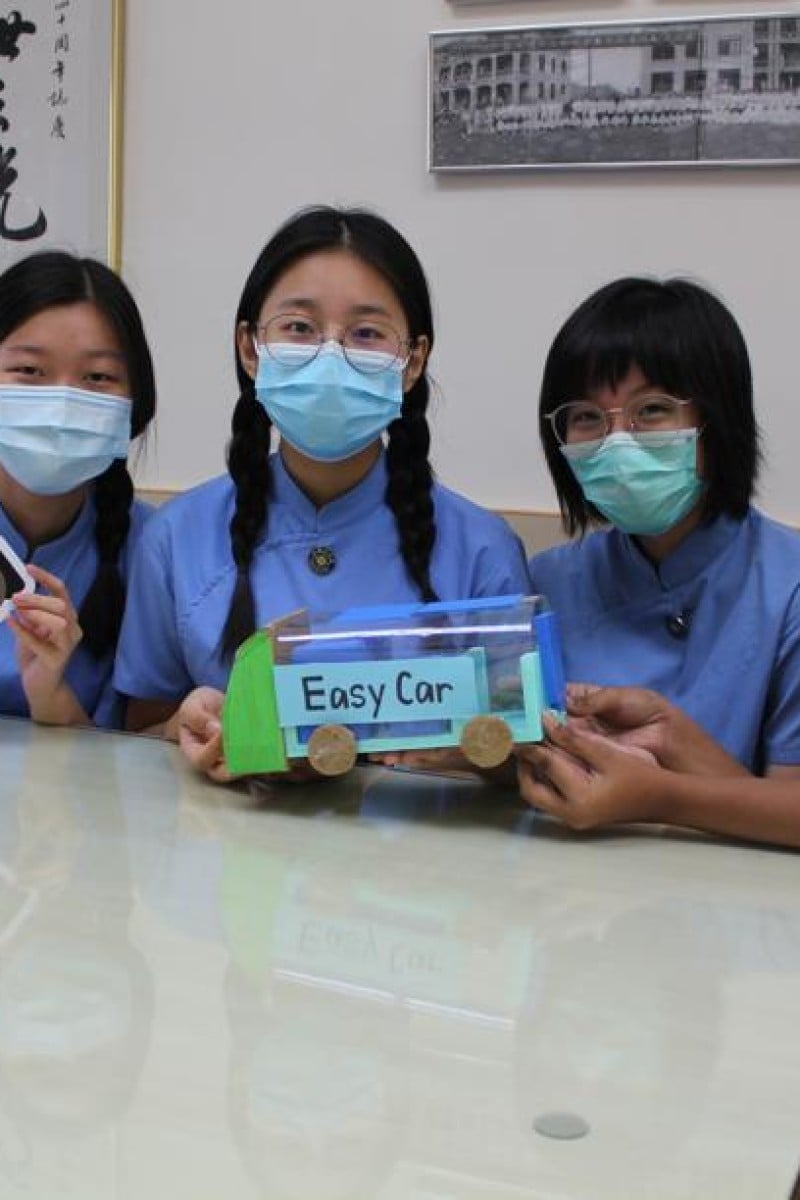 The team from True Light Girl's College designed a collection vehicle that can convert leftovers into fertiliser for farms 

Food waste can cause environmental and hygiene problems, especially when rubbish is left on the streets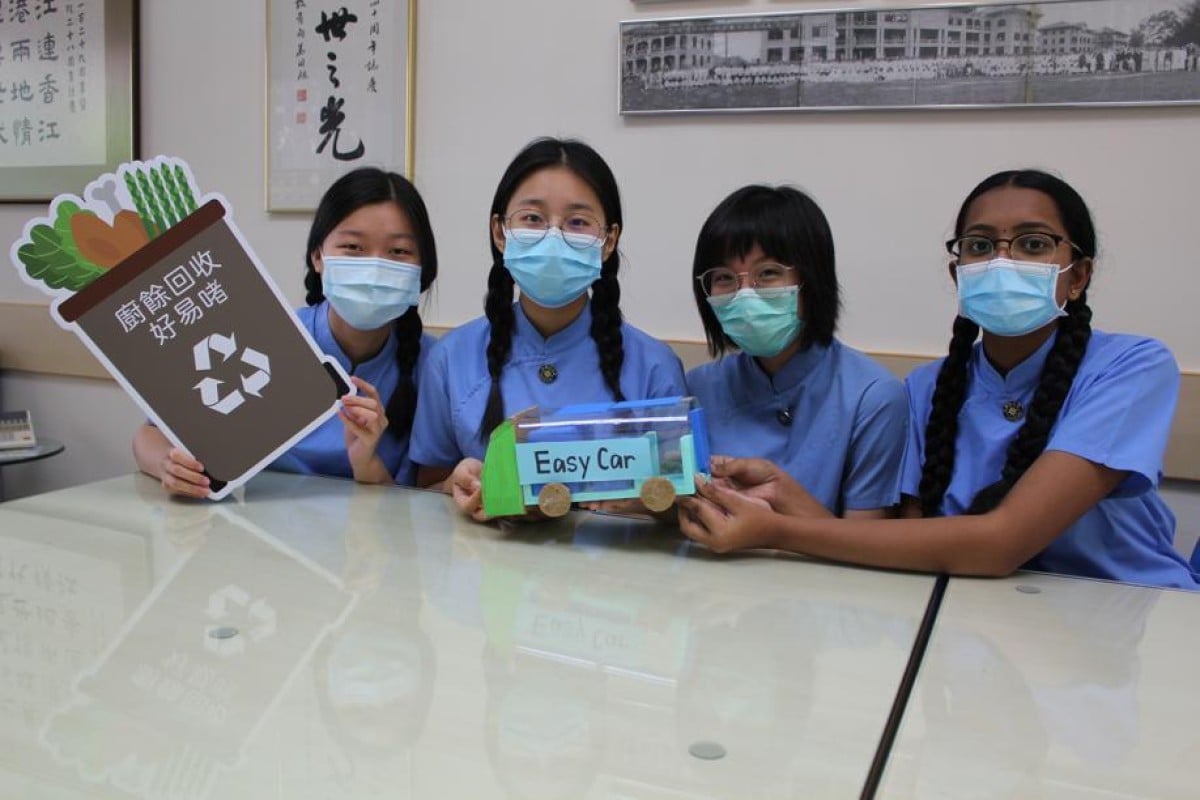 Helen (from left), Nimsing, Ceci and Mirnaali designed Easy Car to tackle the problem of food waste in the city.
Food waste, compared to waste from paper, plastics, metals and other electrical appliances, is often overlooked because people believe it will break down naturally and quickly. In the search for hygienic and eco-friendly solutions to the problem of food waste, which accounts for 31 per cent of all solid waste sent to Hong Kong landfills in 2018, Easy Car just might be heading in the right direction.
Easy Car is a food waste collection vehicle that transforms leftover food into fertiliser for farms. It was designed by a team of four S5 students, Ceci Chui Mei-yan;  Helen Kan Hei-lam; Thebe Nimsing and Natanakumar Mirnaali, from True Light Girls' College,  It's equipped with two dryers, which take water out of  food waste to cut down on the smelly and lengthy composting process. After being left to dry overnight, the waste is transformed into agricultural fertiliser and delivered to farmlands in the New Territories. 
"The main purpose is to convert food waste into something useful and prevent it from going straight into Hong Kong's fast-filling landfills," Helen explained. "We were mainly concerned about how to eliminate its odour and rot, so we installed dryers in the vehicle."
Single-use face masks pose an environmental problem for Hong Kong
They also hope Easy Car can solve the hygiene problems that arise from food waste. The team conducted a series of field trips to Kowloon City and discovered many rubbish bags full of food on the streets. These bags could create health and hygiene issues, as the rotten food was smelly and a breeding ground for germs and pests. The team hopes Easy Car will encourage people to reduce the amount of rubbish on the streets and make the city look more beautiful. 
Their creative design helped them win the championship in the Social Innovation‧Community 4.0 Competition (2019-20) organised by The Hong Kong Council of Social Service. 
The girls used an app called Tinkercad to design the model, and a 3D printer to create it.
The name Easy Car comes from the fact that it is flexible and functional, Ceci said. "Not surprisingly, recycled food waste isn't always welcome in the city, as it's too inconvenient to take care of. Food waste collection points are mainly situated in Kowloon and New Territories. Those living on Hong Kong Island won't commute to these areas to recycle food."
Inspired by food trucks and mobile libraries, Ceci and her team considered designing a vehicle to collect food waste from restaurants in different districts. "The vehicle can move between these areas easily. When something is highly accessible, more and more people will use it. Ultimately, we wish to reach their homes, too," she said.
Take care of your mental health by spending time in nature
Teams working on inventions are bound to face a problem or two. The first problem the group had was communication, as they were unable to meet face-to-face due to the ongoing coronavirus, said Mirnaali. "It's never easy to share ideas with other members. Luckily we were able to conduct Zoom meetings," she said. 
The team also encountered some technical issues when they used the app Tinkercad to  create the model for the Easy  Car, which they then printed out on a 3D printer. At first, they were confused about how to use the app and printer. "We tried to watch YouTube videos and ask teachers for advice on how to use these devices," Nimsing said. "We also carried out many experiments, as these apps require a lot of measurements."
Science teacher Tong Wing-yun (from left), the TLGC girls and their Principal Tam Kim-hung celebrate their community-based achievements.
Easy Car still has its limitations, one of them being energy consumption. Since it uses an enormous amount of energy, the vehicle contradicts its principles of sustainability. 
Between driving, drying and storing food waste for a long time, the car can consume a lot of energy," said Helen. " We hope to install some solar turbines in the vehicle to make it generate renewable energy, make it more efficient, and reduce its carbon footprint."
Sign up for the YP Teachers Newsletter
Get updates for teachers sent directly to your inbox
Sign up for YP Weekly
Get updates sent directly to your inbox