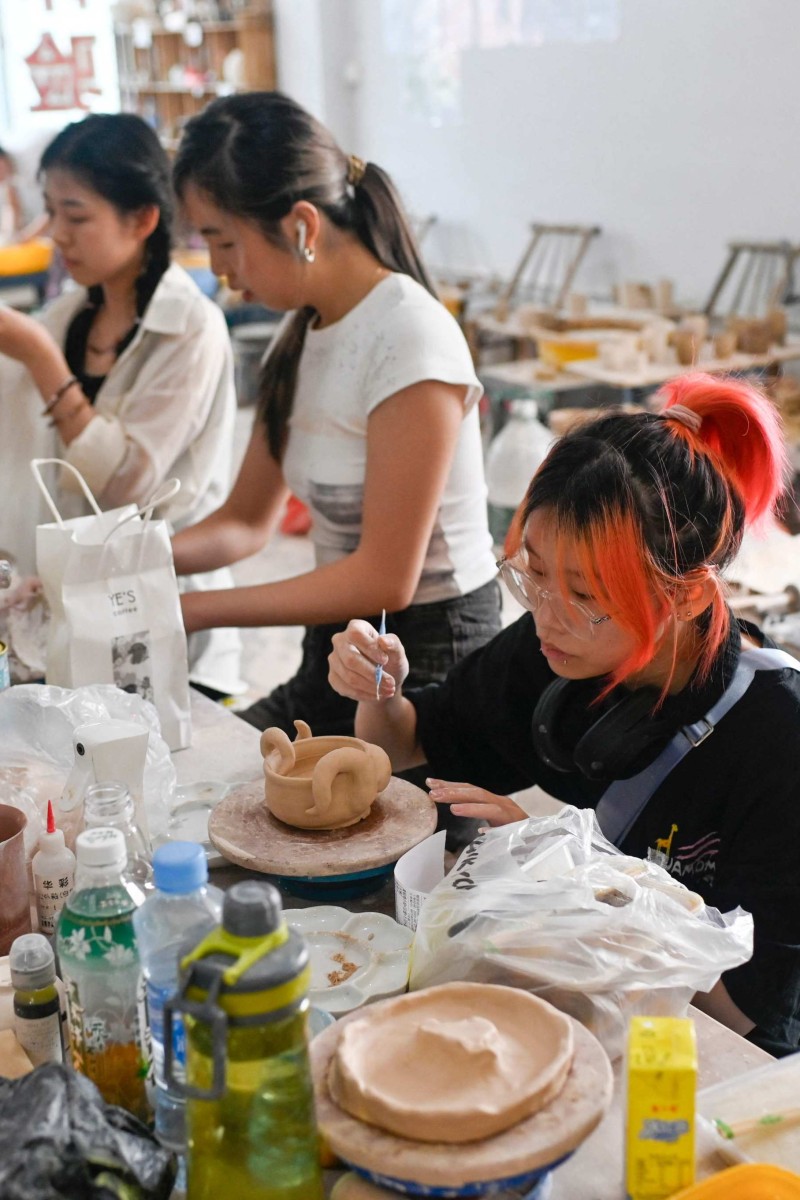 Chinese youths trade city living for ceramics
China's 'Porcelain Capital' Jingdezhen has seen an influx of young professionals eager to escape the rat race

Sluggish economy means fewer opportunities for Chinese millennials, who face low pay and unemployment rates of more than 20 per cent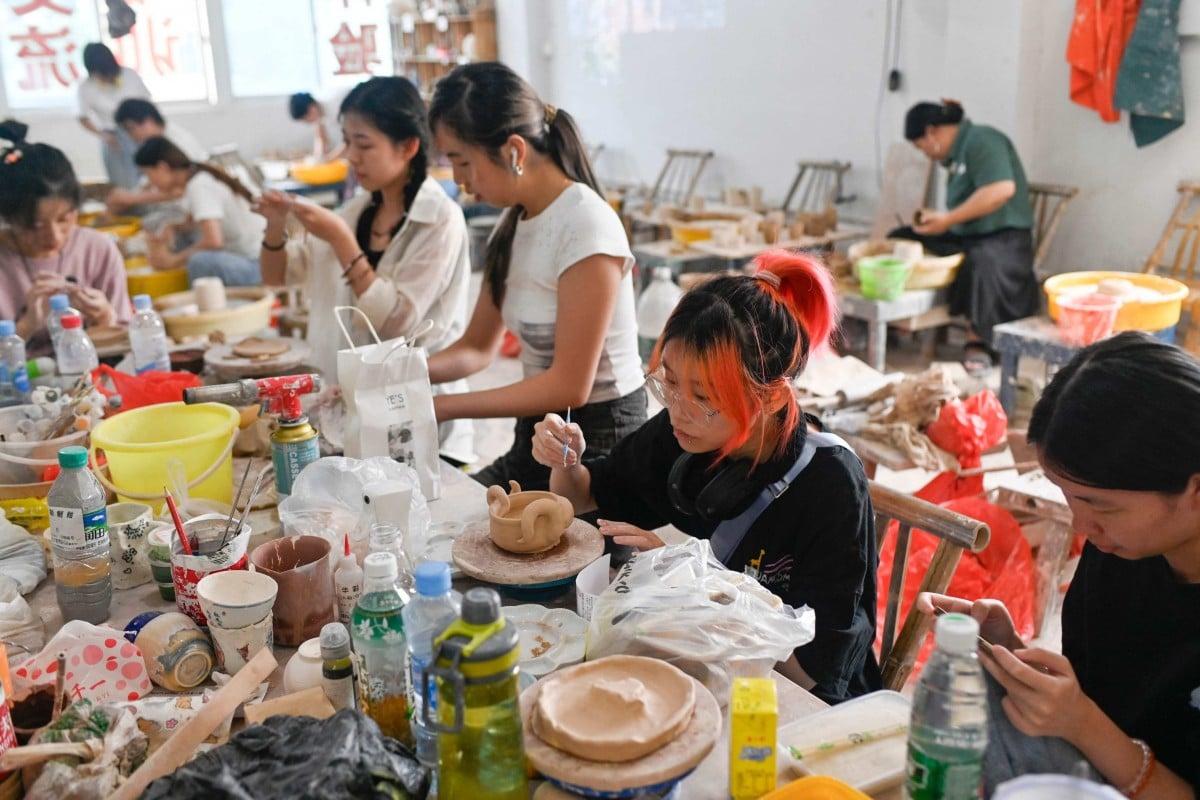 This picture taken on August 25, 2023 shows a group of people learning to make pottery at a workshop in Jingdezhen, in China's Jiangxi province. The city has attracted droves of young people drawn in search of an escape from the urban rat race among its ceramics workshops. Photo: AFP
China's "Porcelain Capital" Jingdezhen is attracting droves of young people drawn to the city of artisans in search of an escape from the urban rat race among its ceramics workshops.
The picturesque eastern city home to China's best-known porcelain has seen an influx of young professionals seeking to learn an ancient art taught there for more than a thousand years.
Times are tough for young people in China, with youth unemployment at record highs, sluggish economic growth and, for many, the opportunities their parents' generation enjoyed are simply not attainable.
How China's lowest birth rate ever could affect the economy and what the government is trying to do
But in Jingdezhen they find something different: low rent, a slower pace of life and a proximity to nature in a city of just 1.6 million inhabitants, very small by Chinese standards.
From her one-bedroom flat on the seventh floor, He Yun, a 28-year-old illustrator, enjoys a panoramic view of the surrounding green hills for just 500 yuan (HK$546) a month.
She arrived in Jingdezhen in June after being laid off and found a place where she didn't feel "any pressure".
He Yun makes pottery at her workshop in Jingdezhen. Photo: AFP
"I came because on social media everyone was saying that it was a great place for craft fans, like me, and that there was a scent of freedom," she said.
"When I lost my job, I stayed at home and got depressed. But once I arrived here, I found that it's super easy to make friends."
"No more need to set the alarm in the morning," she smiled.
"I have zero pressure now!"
China's population shrinks for first time in more than 60 years
A typical day for He starts with a laid-back breakfast, before heading to a workshop to make her ceramic candle holders and necklaces, which are then fired in one of the city's many kilns.
"At the end of the afternoon, we go to the surrounding villages and swim in the streams to relax," she said.
"I put my work on Xiaohongshu" – a Chinese app similar to Instagram – "where people contact me to buy. But we mainly sell at the market," she said.
Between trendy cafes, boutiques and stands offer glasses, bowls, cups, teapots, plates, necklaces or earrings.
People sell their pottery at a night market in Jingdezhen. Photo: AFP
Chen Jia, 24 with dyed red hair, makes feminist pendants in the shape of sanitary napkins.
A music graduate who arrived in June, her first jobs as a piano teacher and in a milk tea shop and cafe weren't to her liking.
"I am looking for meaning in my life," she said.
"Many young people today no longer want to clock in at work at a fixed time."
No more 'lying flat' as frustrated Chinese youth 'let it rot' in new stage of disillusionment
China's transformative economic rise was built on the backs of a growing middle class, who were promised they could enjoy the trappings of prosperity and give their children a better life if they worked hard enough.
But the country's millennials and Gen Z have faced altogether different prospects: youth unemployment has reached a record level, exceeding 20 per cent according to official figures, and pay is low.
It's in that context that the "tangping" counterculture has thrived.
Literally meaning "lying flat", it's come to represent a general rejection of society's expectations, giving up a great career and money to concentrate on a simple life and pleasures.
Pink hair unites women in fight against cyberbullying in China
And Jingdezhen has become a haven for those seeking just that.
At the Dashu pottery school, around 20 students work with clay on their pottery wheels or chat as they sip iced lattes. Training costs 4,500 yuan a month (HK$4,912), a very affordable price.
"Many young people cannot find work" explained the 39-year-old director who calls herself Anna.
"They come here to reduce their anxiety."
A tourist learns to make pottery at a workshop in Jingdezhen. Photo: AFP
"Ceramics are very accessible. In two weeks, they can produce simple works and sell them at markets."
One of them, Guo Yiyang, 27, resigned in March from a well-paid job as a computer programmer.
After working overtime for years, he said he wanted to "take a breather".
Nearly 1 in 4 young Hongkongers from low-income families 'lying flat', while some feel hopeless about the future
"In big cities ... you just work. You don't have your own life," he said, adding he "never again" sees himself working that way.
"The desire for another way of life" is also what motivated Xiao Fei, 27, a former interior designer who resigned and came to Jingdezhen in June.
"I didn't have time for myself," she said. "I came home tired and I didn't want to talk to others."
Xiao Fei (L) speaks to people who want to learn to make pottery. Photo: AFP
"I feel happier, more free and I meet people who have the same ideals."
According to Chinese media, 30,000 young urbanites lived in Jingdezhen in 2022.
Few stay long-term but Xiao already knows that she doesn't want to go back.
"After tasting this new life, I don't want to go back to an office job at all."
Sign up for the YP Teachers Newsletter
Get updates for teachers sent directly to your inbox
Sign up for YP Weekly
Get updates sent directly to your inbox