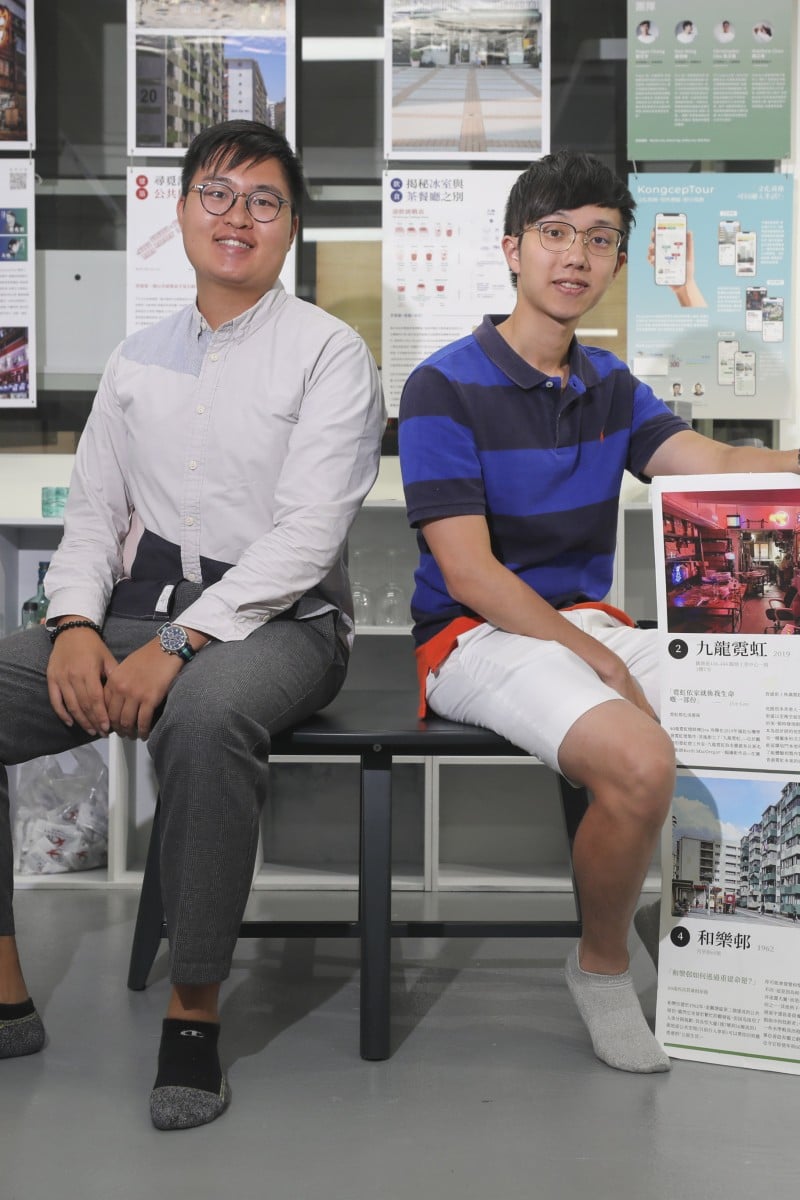 From Hong Kong dai pai dong to army green paint, Kongcept's tours, Instagram posts are sharing city's culture
Platform's founders discuss why they are so passionate about educating Hongkongers about the city's unique elements

Every week, Talking Points gives you a worksheet to practise your reading comprehension with exercises about the story we've written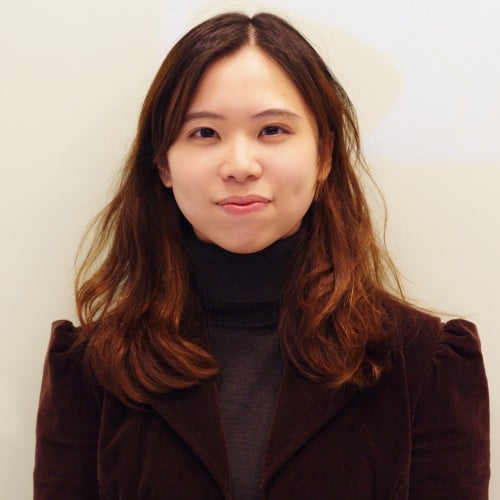 Charlotte Kwan is a journalism student currently pursing a Bachelor of Journalism and double majoring in Marketing at the University of Hong Kong. She is interested in exploring society and culture.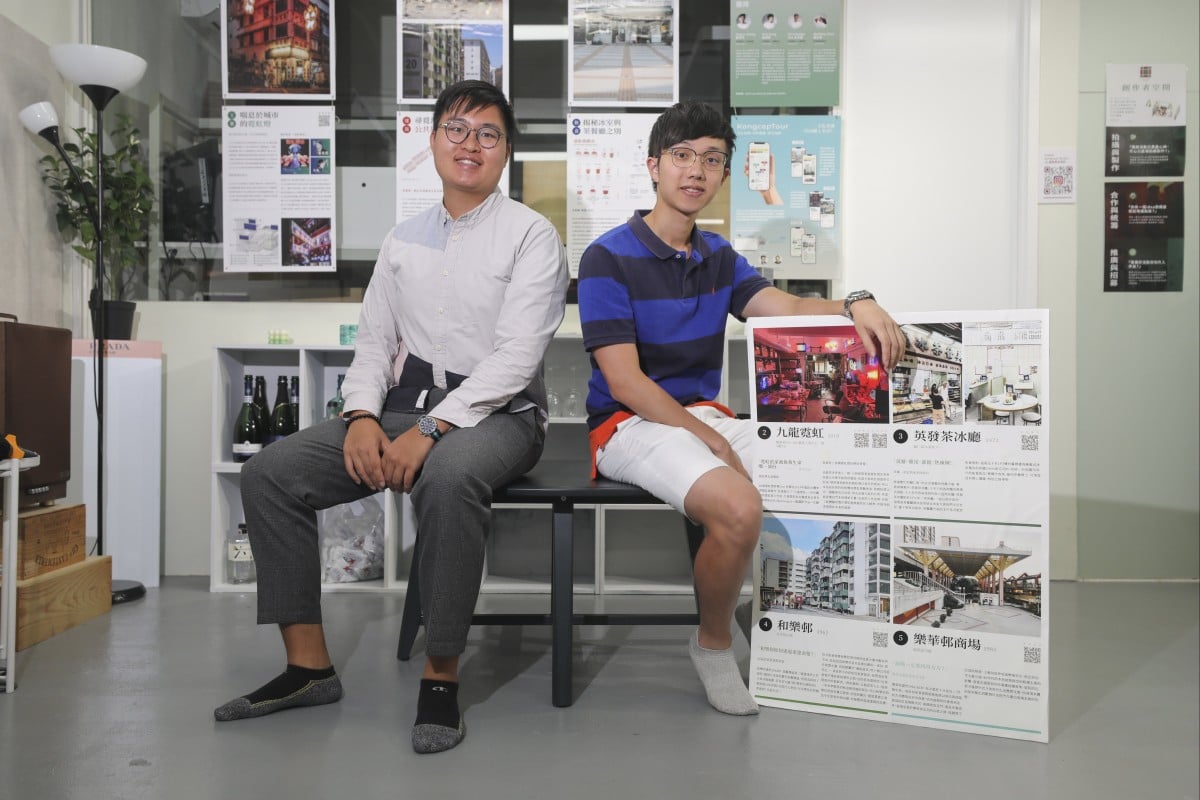 Christopher Chu (left) and Hogan Cheng are two of Kongcept's founders. Photo: Xiaomei Chen
When Hongkonger Hogan Cheng Ho-hang was studying in Britain, he struggled to describe his love for the culture of his home city.
"When I got to talk about Hong Kong, I felt like I didn't really have much to share and didn't know how to describe it," the 27-year-old recalled. "I felt like I knew nothing even though I'd been living here for so long."
When he returned to Hong Kong, Cheng felt an urge to know more about local culture. So three years ago, he and his secondary school friends, Christopher Chu Man-fung and Don Hong Ching-wah, formed Kongcept, a platform for digging deep into the city's culture.
Kongcept's Chinese name, ngo gong, carries a double meaning: it translates to "I say" and sounds like "my Hong Kong".
Teen artist Nomkakaii showcases Hong Kong food culture on Instagram
"When people pay attention to more details of Hong Kong, they will be more confident to tell others about what Hong Kong is like in their own way," said Chu, 27.
Since launching in October 2020, the group's Instagram page, @Kongcept852, has garnered more than 20,200 followers.
The page examines a variety of topics related to local culture, such as traditional arts, architecture, the use of public space, and people's everyday lifestyles.
As Kongcept has grown its scope, offering city tours, workshops, talk shows and more, Chu said he hoped the platform could become "an archive of history".
Starting from zero is never easy. Cheng, who previously worked in retail and tech, shared that no one in the group had studied anything related to culture or history, before starting Kongcept. Chu studied public policy and politics in university and used to work in marketing.
"We have very little foundation ... We didn't immediately know whether the content [online] was factual," shared Cheung, who is now in charge of background research for Kongcept.
He added that they had to spend a long time fact-checking their information by reading academic papers.
But Cheng said their lack of background knowledge had a silver lining: "We can easily put ourselves in the majority's shoes and present the content in a more accessible and easy-to-digest way."
One of Kongcept's Instagram posts from February 2021 looks into why Hong Kong's open-air food stalls are named dai pai dong and explains why these are disappearing.
They have also explored the rise and fall of the city's iconic neon lights, which were a key part of the urban landscape in the 1980s.
In 2021, the group established a physical space in Kwun Tong called Kongcept Studio. They envisioned this being a gathering place for anyone enthusiastic about local culture.
"We want people to experience culture not only online," Chu noted.
Chungking Mansions tour teaches students about Hong Kong's diversity
That same year, the group extended their cultural programming to YouTube with a series of talk shows and interviews.
In their first video, posted in October 2021, they interviewed the founder of Kowloneon, a neon light workshop trying to keep this trade alive in Hong Kong.
Chu emphasised that their content only "scratches the surface" and was meant to inspire people to further explore Hong Kong culture.
"When audiences are interested, they will take the initiative to look up more cultural topics, do more research and discover more content on their own," he shared.
For the members behind Kongcept, their main sources of income are from organising cultural tours of the city and making advertisement posts for artists.
But it is not easy for them to make a living through this platform.
"Many people in Hong Kong are not willing to spend money on cultural content," Chu sighed.
Still, they find pockets of hope.
Chu recalled one of the first posts that attracted a lot of attention on Instagram.
Young fans use social media to bring new life to Hong Kong's old stars
With nearly 1,000 likes, it explains why Hong Kong has so much green paint, from its postboxes to ferries. The reason that army green paint was so widely used was that it was cheap and accessible after World War II.
"The feedback was quite impressive to us," Chu said.
Cheng added that he was motivated by the trend of younger generations getting involved in preserving and promoting the city's culture.
After running Kongcept for three years, Cheng firmly believes that culture is "ordinary" – something that should be accessible to everyone.
Next year, the group plans to launch an app that provides real-time notifications about the history of nearby buildings and cultural workshops in the area.
Chu hopes to remind Hongkongers to pay attention to and treasure the city's unique elements while they are still around.
"We can't really preserve [culture] with our own ability, but at least we can make a record of it," he said.
To test your understanding of this story, download our printable worksheet or answer the questions in the quiz below.
Sign up for the YP Teachers Newsletter
Get updates for teachers sent directly to your inbox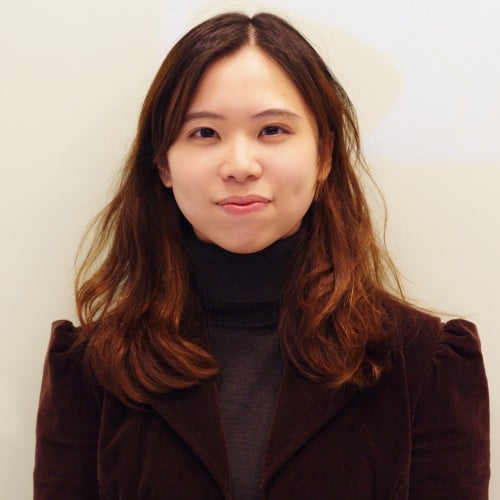 Charlotte Kwan is a journalism student currently pursing a Bachelor of Journalism and double majoring in Marketing at the University of Hong Kong. She is interested in exploring society and culture.
Sign up for YP Weekly
Get updates sent directly to your inbox