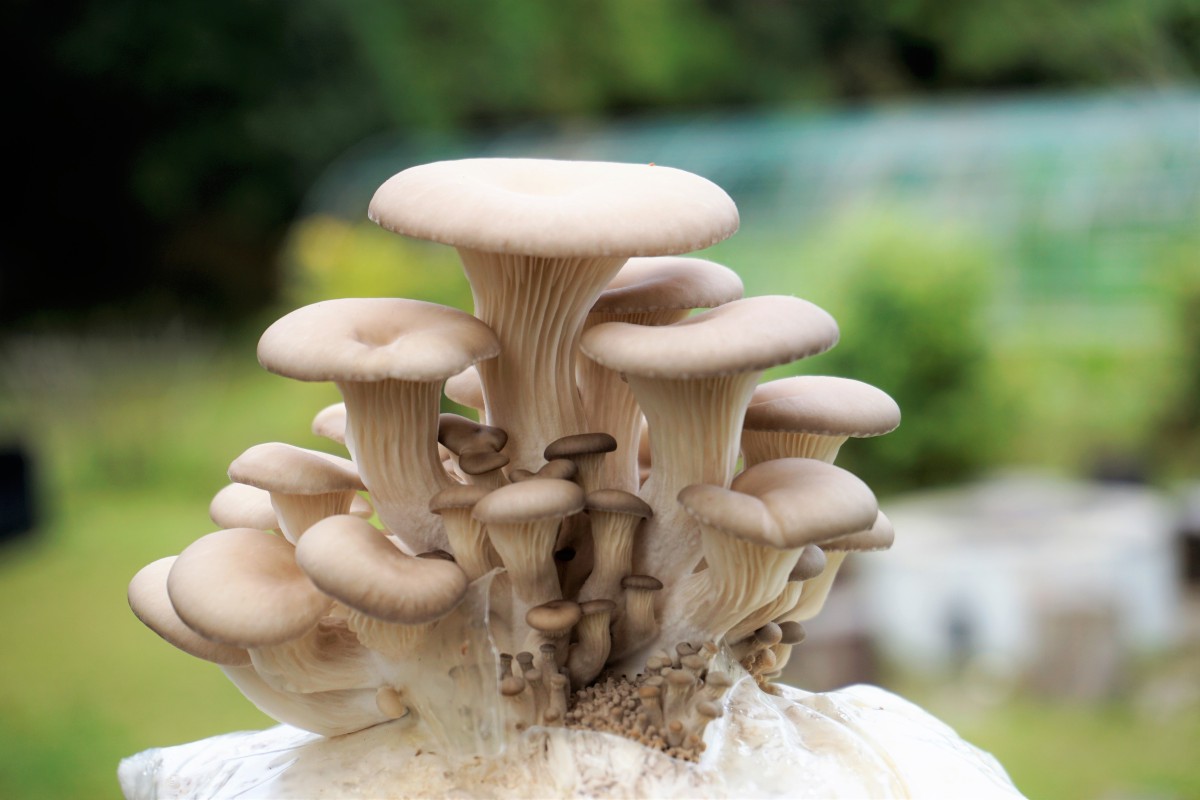 Organic waste is used to grow edible mushrooms at Trash2Treasure.
Super typhoon Mangkhut might have ripped through Hong Kong more than a month ago, but parts of the city are still recovering from the damage.
Many trees were uprooted by the storm, and there are still plenty that have been left where they fell. It has become clear to the Hong Kong government that garden waste is an issue that needs to be urgently solved.
Long before Mangkhut, though, Jessica Yau Sze-nga saw potential in something that others thought of as waste. She founded the Trash2Treasure Association in 2016 to make use of garden and food waste, rather than sending them to sit in overflowing landfills.
Meet the HKU graduate making vegan treats to promote a plant-based lifestyle
She mixes organic waste materials, including processed food waste, woodchips, and coffee grounds, to grow mushrooms you can safely eat.
Rafael Lei Yin-cheung, a project officer at Trash2Treasure, told Young Post about how they prepare a mushroom spawn. This is a mixture of organic waste that has been sterilised (cleaned of bacteria), to which mycelium – fungus cells – is added. The mushroom spawn is then put in a well-aired room where the temperature and humidity are controlled. Yau said it normally takes seven to 10 days for edible mushrooms to grow.
The non-profit association's mushroom farm is currently growing lingzhi mushrooms, which is said to lower blood pressure and reduce allergies.
The organisation is trying to teach the public about alternative ways to handle organic waste in the city, through workshops, setting up booths, and running programmes in schools.
Last year, the group received funding from the Tai Po District Council to promote organic waste upcycling in five primary schools. Students were given mushroom spawn to take home to grow, and were taught different ways to cook these mushrooms. Yau was pleased to see how much the students
were looking forward to this.
"It was an eye-opening experience for them and they were excited to show their parents the mushrooms they grew. I was told that many other schools are interested in getting mushroom spawn from us and setting up their own mushroom farms."
HK eco-festival GreenFest will change the way you think about food and the environment
Yau said schools could do more to reduce food waste, such as setting up a central kitchen to prepare lunch for students instead of ordering lunchboxes from outside companies.
Many citizens in Hong Kong are aware of the food waste problem, but Yau, who has worked in the environmental industry for more than 10 years, says a lot more has to be done to draw people's attention to garden waste.
She hopes the government will set up a way to help organisations like Trash2Treasure process more garden waste, because right now they do not have the money or the facilities to take in a lot of waste trees, flowers, grass and so on.
Grassroots Pantry's Peggy Chan dishes on how she founded one of HK's most successful vegetarian restaurants
"It is not easy to work with damp organic waste because it becomes unusable quickly. We are basically competing with time," Yau said. "My association wants to expand our upcycling project, but it will need more resources and collaboration with the Environmental Protection Department."
Yau will be at this year's GreenFest by Hysan, which will be held on November 10 and 11. She said her aim is to promote her edible mushrooms, and to remind students to take note of the huge amount of garden waste made in the city on a daily basis.
"In addition to introducing alternative organic waste management methods, I hope more students will learn about our association and become volunteers, because we rely on these efforts to promote our cause."
Jessica Yau and many other foodies and change leaders will be speaking at GreenFest by Hysan which runs over November 10 and 11. GreenFest is a festival, co-organised by Rooftop Republic, especially aimed at secondary students, jam-packed with talks and workshops about rethinking our food. Tickets for each day can be bought through Pelago.
Edited by Nicole Moraleda
Sign up for the YP Teachers Newsletter
Get updates for teachers sent directly to your inbox
Sign up for YP Weekly
Get updates sent directly to your inbox