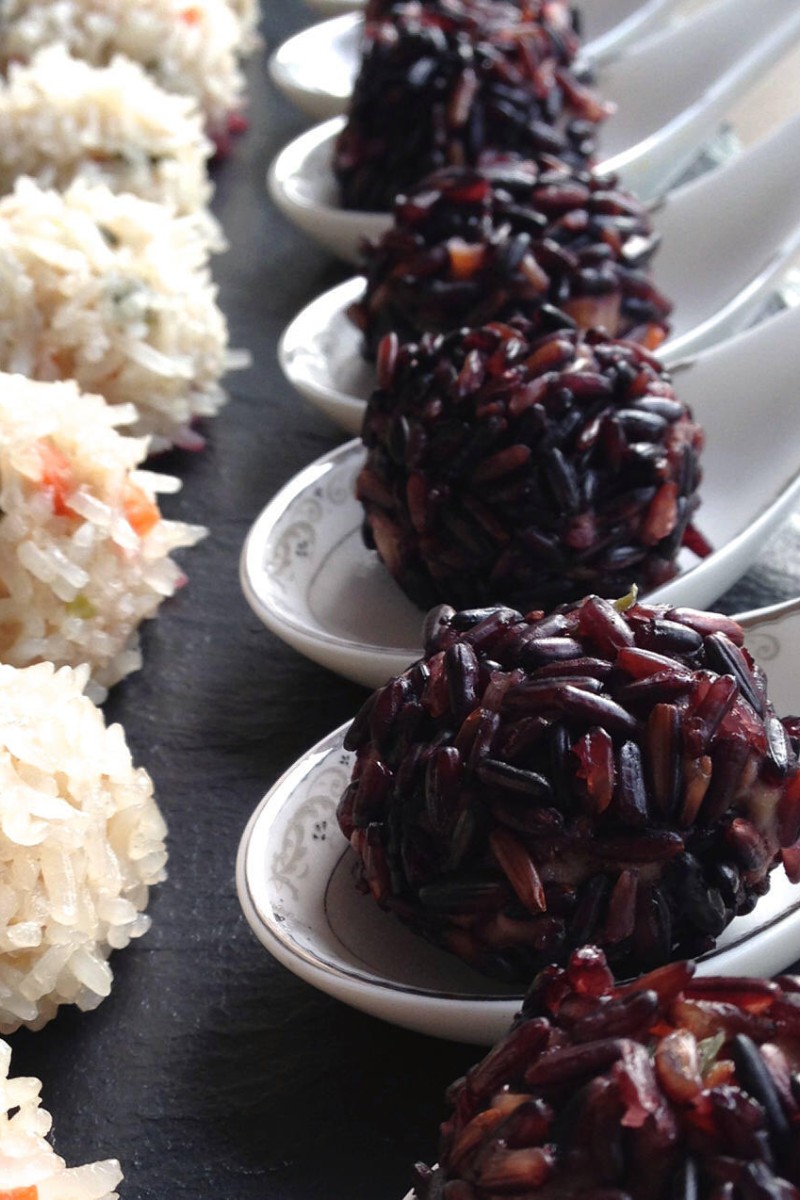 Tired of serving the same old nibbles? Chomp on these super-easy-to-make snacks instead

Take a look at these recipes for spring onion pancakes, stuffed red dates and more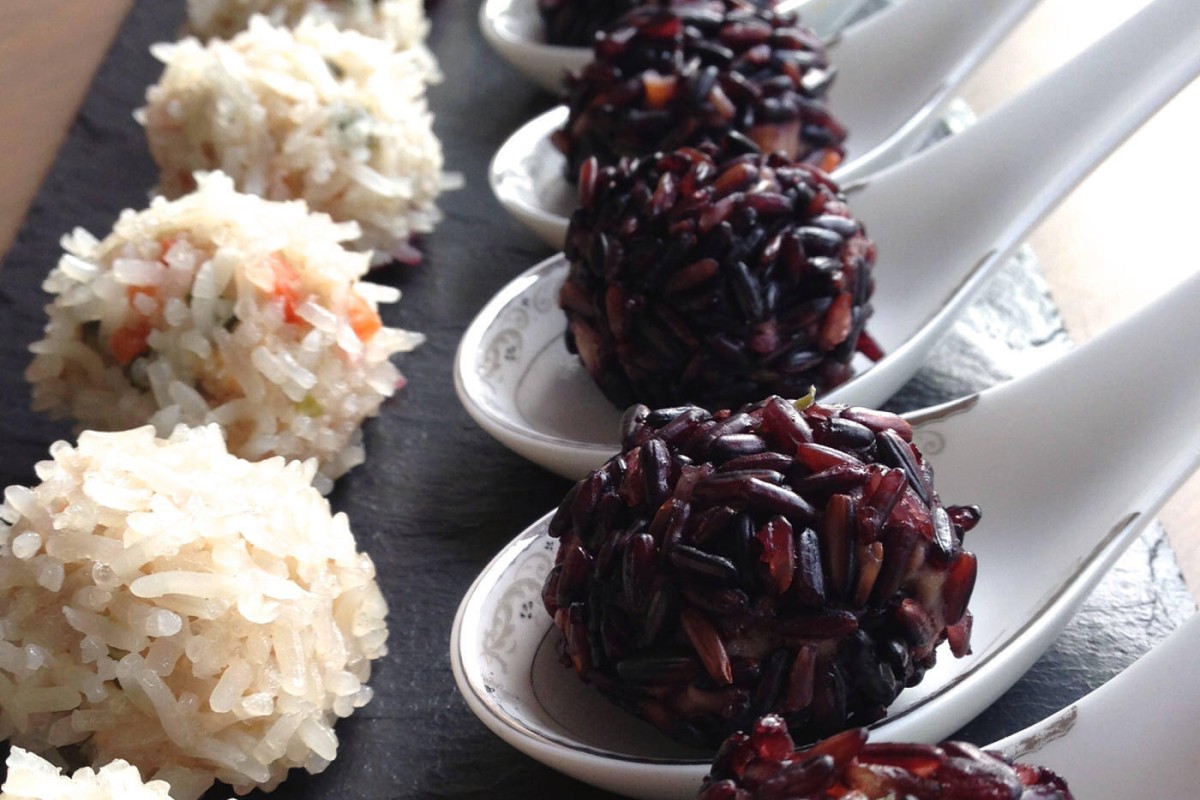 Steamed pork balls with sticky rice
A mixture of black and white glutinous rice can be used for this recipe, which is pictured above. If you like, you can also add chopped rehydrated Chinese mushrooms and water chestnuts. 
Ingredients (makes around 20)
150g glutinous rice
200g lean minced pork
1 tbsp cornflour
2 spring onions, finely chopped
thumbsize piece fresh ginger, peeled, finely chopped
1 small carrot, peeled, finely chopped
1 tbsp soy sauce
1 tsp sesame oil 
1 tsp ground white pepper
Method
Rinse the rice in two or three changes of water, or until the water is no longer milky. Drain. Place the rice in a large bowl, cover with plenty water and allow to soak for at least 2 hours. Drain and spread the rice out on a clean tea towel to dry.

Combine the pork, cornflour, spring onions, ginger, carrots, soy sauce, sesame oil and pepper in a large bowl. Shape heaped teaspoons of the mixture into balls. 

Roll each ball in the rice, pressing gently so that the rice sticks to the meat. Place on a lightly greased heatproof plate. 

Set a rack in the bottom of a large saucepan or wok, fill with water to within 2cm of the bottom of the rack, cover the pan and bring to the boil. 

Carefully set the plate on the rack, cover and steam for 20 minutes over a medium-high heat. 

Place each ball in a ceramic rice spoon, arrange spoons on a plate, and serve immediately.
Nutritional information per 100g: 88kcal, 373kJ, 7g protein, 1.7g fat, 11.9g carbohydrates, 0.5g fibre
Tips for filling up your CNY candy box
These chewy morsels can be prepared in advance and steamed when your guests arrive.
Ingredients (makes 20)
20 large dried red dates, washed
100g glutinous rice flour
1 tbsp sugar, optional
pinch salt
90ml hot water
10 walnuts, toasted
Method
Soak the red dates in a large bowl of warm water for 20 minutes. Drain.

Using a pair of scissors, carefully make a vertical slit in the dates - but don't cut all the way through - then remove the seeds. 

Combine the rice flour, sugar and salt in a mixing bowl. Stir in the hot water, then mix well to form a soft dough. 

Take a small piece of dough and stuff it into the date. 

Arrange the dates, stuffed side up, in a heatproof dish.

Set a rack in the bottom of a large saucepan or wok, fill with water to within 2cm of the bottom of the rack, cover the pan and bring to the boil. 

Carefully set the dish on the rack, cover and steam over a medium heat for 15 minutes. 

Serve warm topped with toasted walnuts.
Nutritional information per stuffed date: 56kcal, 232kJ, 0.9g protein, 1.8g fat, 0.3g fibre, 9.4g carbohydrates
Healthy Chinese New Year recipes everyone will love
Ingredients (Makes 24 biscuits)
50g walnuts, roasted
100g light muscovado sugar
100g butter, softened
1/4 tsp salt
150g plain flour
75g wholemeal flour
1 small egg
12 walnut halves
Method
Preheat the oven to 190C/ 170C fan/ Gas Mark 5.

Line a baking tray with greaseproof paper and set aside.

Coarsely blitz the walnuts in a food processor or bash with rolling pin inside a sealed plastic bag. Set aside. 

Beat butter and sugar together with hand blender until light and creamy, then keep mixing, and gradually add the egg. Sift in the salt, plain and wholemeal flours, and walnuts, and combine to form a stiff dough.

Roll teaspoonfuls of dough into balls. Set the balls about 3cm apart on the baking tray and press a walnut half onto the top of each.

Bake for 15-20 minutes until lightly golden, then let cool on wire rack. Store in airtight container at room temperature for up to five days. 
Nutritional information per biscuit: 112kcal, 469kJ, 3.0g protein, 7.0g fat, 11.3g carbohydrates, 0.6g fibre
Lucky foods to eat for Chinese New Year
Ingredients (Makes 16 pieces) 
200g plain flour
1/2 tsp salt
pinch sugar
100ml hot water
1 1/2 tbsp grapeseed oil
50g (about 4-5) spring onions, finely sliced
Method
Sift flour, salt and sugar into a large bowl. Slowly pour in the water and mix with a fork until a dough is formed. Bring the dough together and knead until firm. Wrap with clingfilm and let rest at room temperature for 30 minutes.

Place the dough on a lightly floured surface, and divide into two. Roll out each piece into a circle about 17cm diameter. Brush top with about 1 tsp oil, but not too close to the edges. Sprinkle half the spring onions over each, then roll up tightly so you have a "rope" of dough. 

Starting at one end, coil the rolls into spirals and flatten, then roll out to circles roughly 15cm diameter. 

Heat a non-stick frying pan over a medium-high heat, pour in 1/2 tsp of the remaining oil, lower the heat, slide in one cake, cover and fry for 4-5 minutes. Turn over and fry the other side. Slide onto kitchen paper to blot off any excess oil. Repeat with the other cake.

Cut each cake into eight pieces and serve hot with a dipping sauce made with equal quantities of balsamic vinegar and soy sauce, sprinkled with chopped spring onions.
Nutritional information per piece: 52kcal, 220kJ, 1.2g protein, 1.1g fat, 9.9g carbohydrates
Sign up for the YP Teachers Newsletter
Get updates for teachers sent directly to your inbox
Sign up for YP Weekly
Get updates sent directly to your inbox