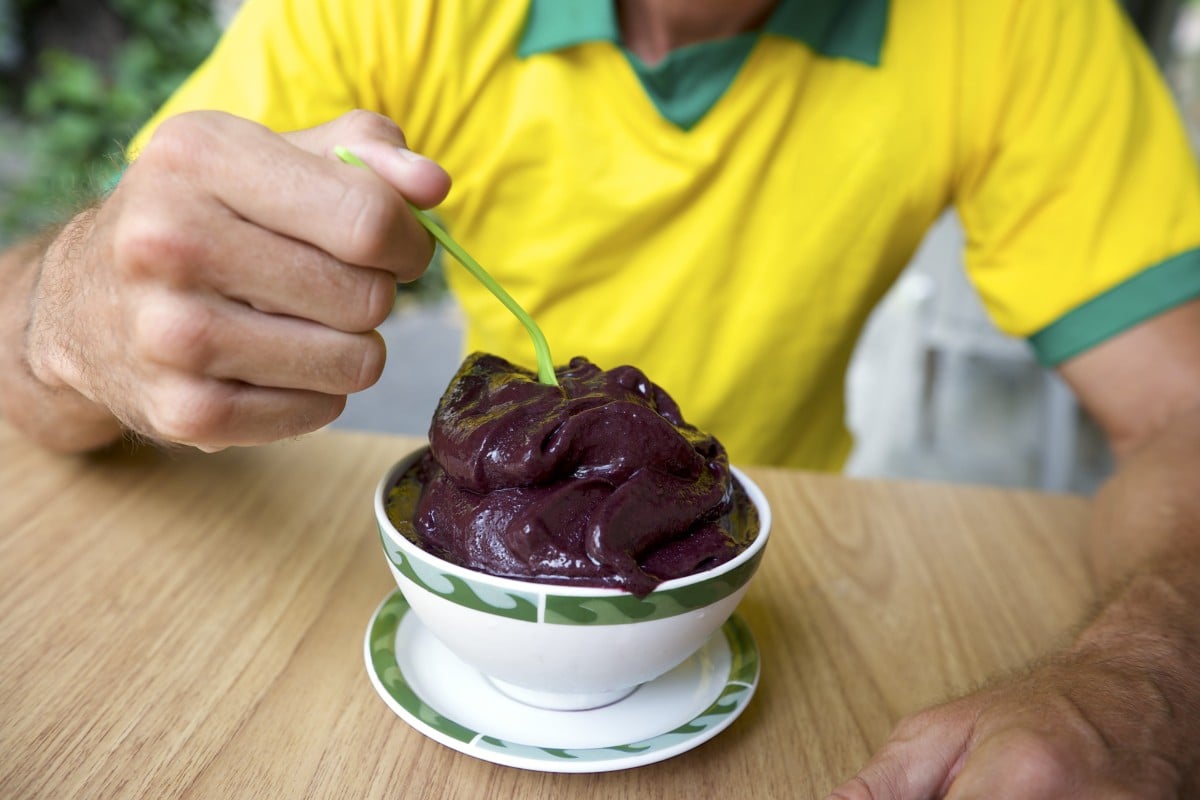 On a hot day, a bowl of fresh frozen açai is a top choice.
We may know them for their talented football players and their sturdy rubber flip-flops, but how much do we know about what Brazilians eat?
One thing's for sure: they love their meat. And they eat rice and beans almost every day. But did you know pizza is a big thing in Brazil? Today we're exploring the South American country and the diverse food culture of its two largest cities.
The word for breakfast in Portuguese – the official language of Brazil – is cafe de manha, which translates literally to "morning coffee". Many Brazilians enjoy a cup of pingado, a sweetened coffee with warm milk, similar to a cappuccino or macchiato, to wake them up. If one were hungry for something more substantial, though, they might pass by their local bakery and grab a couple of pao de queijo, or cheese rolls, which are made with tapioca starch.
On a hot day, people gravitate towards an icy açai bowl instead, topped with fruit chunks or crunchy granola. Just a couple of blocks away from Ipanema Beach, in Rio de Janeiro, is Amazonia Soul, which is famous for its no-frills açai. Their bowls don't come as cheap as the other açais found at the corner juice bars, but they're the closest you'll get to an authentic taste of Amazonian Brazil.
Lunch
If all you had time for in the morning was a cup of coffee, you don't have to worry too much because the biggest meal of the day will soon follow around noon. Many locals will head to what they call a "self-service" or "per kilo" restaurant, which sells a wide variety of homestyle dishes by the kilogram. You can find these restaurants on almost every street in Rio. People fill their plates with rice, beans (usually in the form of feijoada, a traditional black bean stew), meat, vegetables and salad.
For a more special occasion, try a Brazilian steakhouse, or churrascaria, where waiters will carve meat from giant skewers at your table. A popular joint is Porcao, which has one of the largest buffets in the city and only serves meat of the highest quality. Remember to flip the disk on your table from the green side to red when you've reached your limit, or the meat will keep coming.
The 2010s: Avocado toast, matcha, and other foods Hong Kong couldn't get enough of
In Brazil, dinner is widely considered a family meal and is typically enjoyed at home. The meal might consist either of leftovers from lunch, or something similar very similar to lunch – rice, beans and meat.
Those coming home from work might just pick up a sandwich or slice of pizza on their way home. Pizza is particularly popular in the south, and the best in the country is said to be in Sao Paulo. This is no surprise considering the large number of Italians living in the region. Since the boom of Italian immigration between 1880 and 1900, the locals have been creating their own versions of the dish.
When it comes to pizza in Italy, the home of pizza, less is more. But in Brazil, people take quite the opposite approach. Brazilian pizzas are usually packed with toppings and have a very thin crust, which explains why they're usually eaten with a knife and fork. If you pass by an Italian restaurant during your stay, keep an eye out for a Brazilian or Portuguese pizza on the menu. Be warned though: in some parts of Brazil, ketchup is used as a pizza sauce.
Edited by M. J. Premaratne
Sign up for the YP Teachers Newsletter
Get updates for teachers sent directly to your inbox
Sign up for YP Weekly
Get updates sent directly to your inbox