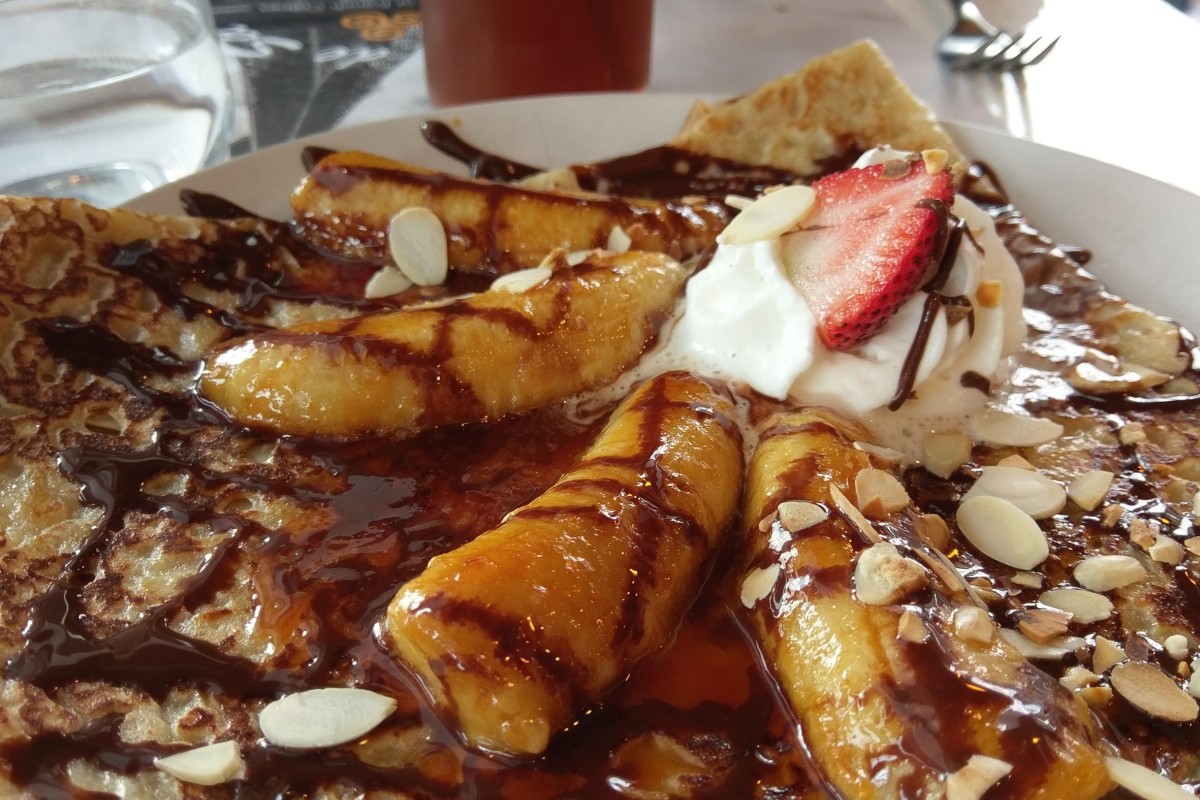 Caramelised banana and chocolate crêpe.
Fleur de Sel
Shop 2J, Po Foo Building, 1-5 Foo Ming Street
Causeway Bay
Tel: 2805 6678
Grub: French crepes
Vibe: Cheery, danceable, stereotypical-cafe-style music plays in the background of this relaxed and cosy spot. It's very small and tucked away – it's in a small commercial building on a side street, so you need to know what you're looking for.
There's a cute terrace with high chairs and lots of potted plants where it's fun to sit if it's not too hot, although the view of concrete and graffiti is less than appealing.
Red Idea Cafe is a cosy place to sit, eat and relax with friends
Who to take: Friends who want to try something new, anyone who loves sweet food, or European acquaintances bored of Asian food. It's a good first date place, as it's quiet enough to converse, and chairs are placed quite close together. It's not for large groups of friends – tables seat up to four maximum.
What's hot: Though there are plenty of French crepe places in Hong Kong, Fleur de Sel stands out, as the overall atmosphere is very pleasant and comfortable. The service was great – our waitress was very kind and patient, and pointed out popular specials, including the weekly special that we tried: tuna and onion savoury crepe.
Samsen offers a taste of Thailand that's well worth the wait and cramped quarters
This combo might not sound that appealing, but the canned tuna doesn't taste like it came from a can, and the onions are slightly sweet, which balances the flavour.
The sweet crepe we tried was caramelised and chocolate. This may sound a little heavy or overly sweet, but the combination worked well.
What's not: There was only one waiter when we went (a weekday), despite it being lunch hour and there being quite a lot of people filtering in. If it had been packed, our food presumably would've taken much longer.
Despite its homely set-up, there isn't really the opportunity for outgoing diners or foodies to speak to the chef, which would be interesting.
Cost: Starters (salads, soups, very fancy French fare) are expensive, savoury crepes between HK$90 and HK$160, sweet crepes between HK$50 and HK$90. Set lunches (starter, crepe, dessert or drink) are HK$98-HK$118.
Sign up for the YP Teachers Newsletter
Get updates for teachers sent directly to your inbox
Sign up for YP Weekly
Get updates sent directly to your inbox