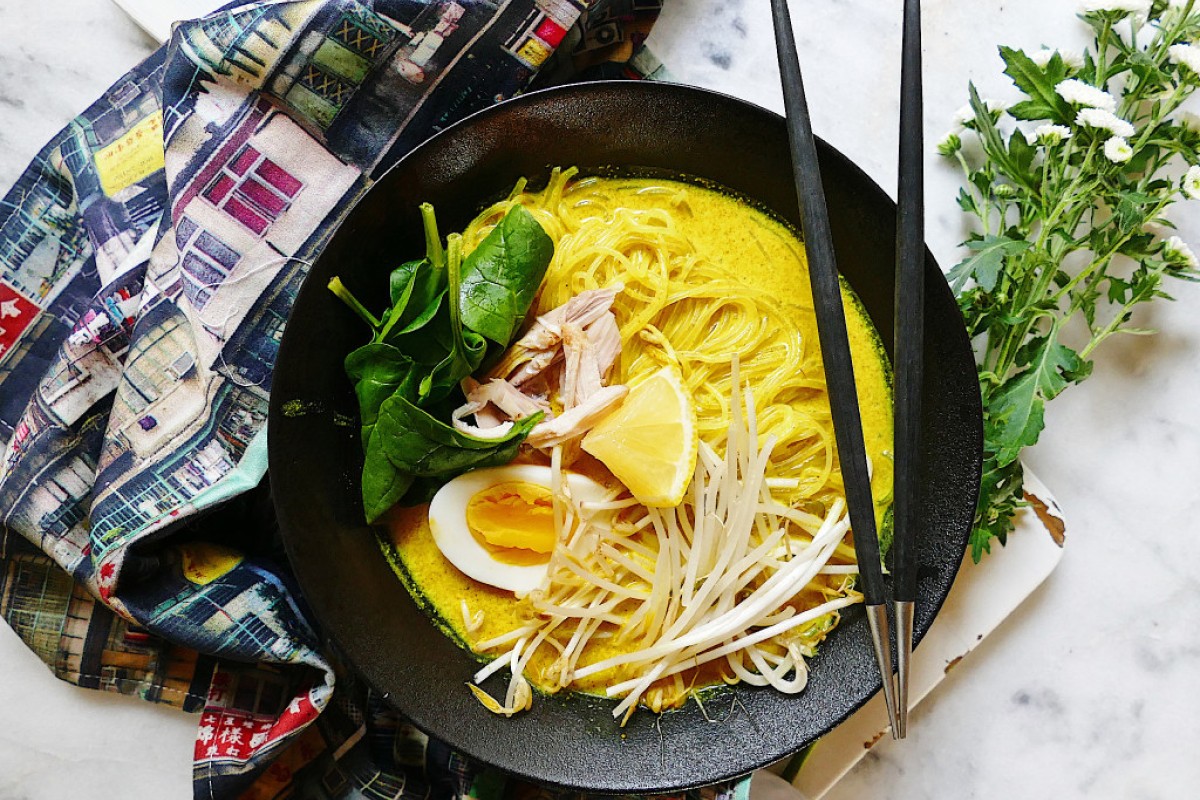 This recipe is based on Soto Ayam (soup chicken), a spicy noodle soup popular throughout South East Asia. Here, spinach is added for extra nutrients and fibre.

Ingredients (serves 4)

6 chicken legs

2 stalks lemongrass, quartered

4 Kaffir lime leaves

6 cloves garlic, peeled

pinch of salt

6 shallots, peeled, roughly chopped

thumb-sized piece ginger, peeled, chopped

2 tsp cumin seeds

2 tsp ground coriander

1 tsp whole black peppercorns

1 tsp ground turmeric

1 tbsp grapeseed oil

200ml coconut milk, optional

salt and freshly ground black pepper

To serve: 100g bean noodles, cooked; 75g fresh beansprouts; handful fresh spinach leaves; 2 boiled, peeled eggs and lemon wedges

Method

1 Place the chicken in a large saucepan, with 1.5L water, lemongrass, lime leaves, garlic and salt. Bring to the boil over a medium-high heat then cover and simmer for 20-25 minutes.

2 Meanwhile, toast the cumin seeds, coriander and peppercorns in a dry pan over a medium heat for a couple of minutes until fragrant. Then pound the spices to a paste together with the shallots, ginger and garlic in a pestle and mortar. Stir in the ground turmeric.

3 Remove the chicken. Cool slightly, then discard the skin and bones, and shred the meat.

4 Remove and discard the lemongrass, lime leaves and garlic from the poaching liquid.

5 Heat the oil in a saucepan over a medium heat, then sauté the spice paste for a couple of minutes. Add the poaching liquid and coconut milk, if using. Bring to the boil, then simmer over a low heat for 10 minutes. Season to taste.

6 Divide the noodles between four bowls. Top with the chicken, beansprouts and spinach.

7 Divide the soup between the bowls, top with egg and serve with lemon wedges on the side.
Nutritional information per serving: 219kcal, 919kJ, 22.8g protein, 13.9g fat, 9.2g carbohydrates, 2.0g fibre
Sign up for the YP Teachers Newsletter
Get updates for teachers sent directly to your inbox
Sign up for YP Weekly
Get updates sent directly to your inbox