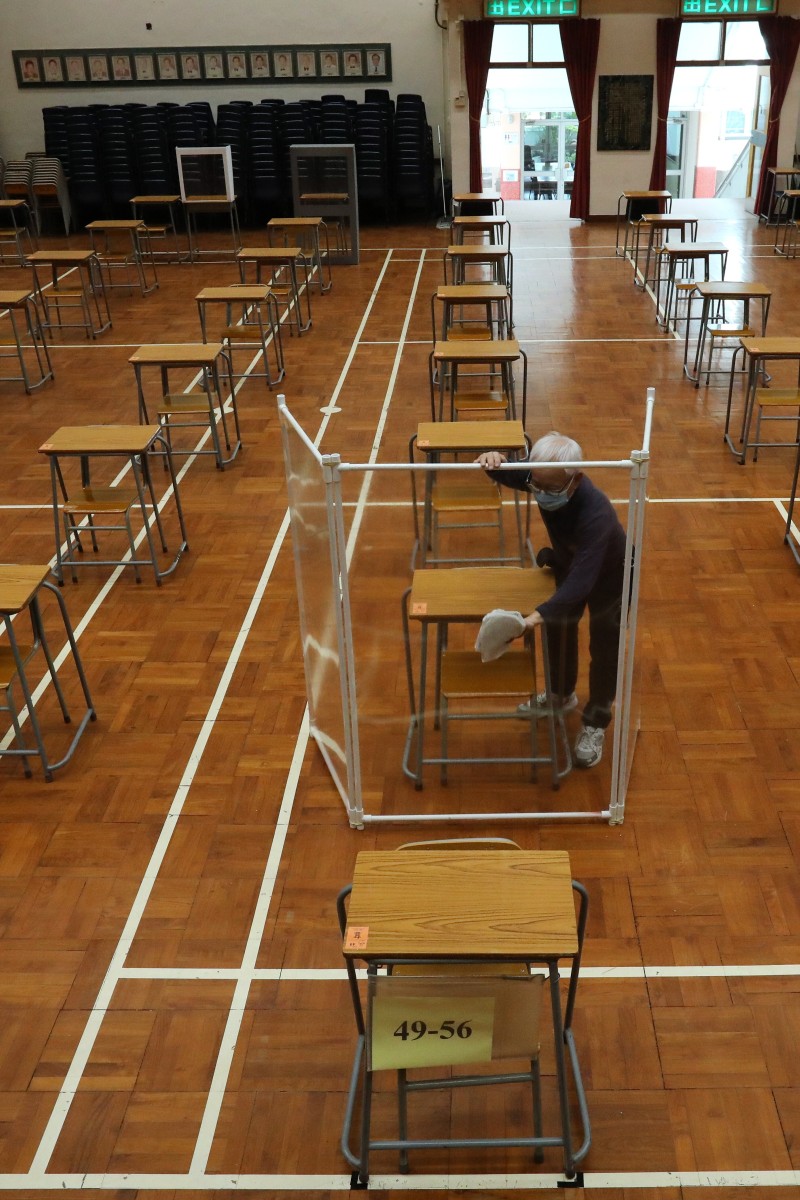 Coronavirus: Hong Kong schools to get thousands of gowns and other protective gear ahead of DSE university entrance exams
About 52,000 students expected to sit Diploma of Secondary Education tests that start next week

Officials to distribute 3,500 items to schools and staff will be specially trained to handle those that fall ill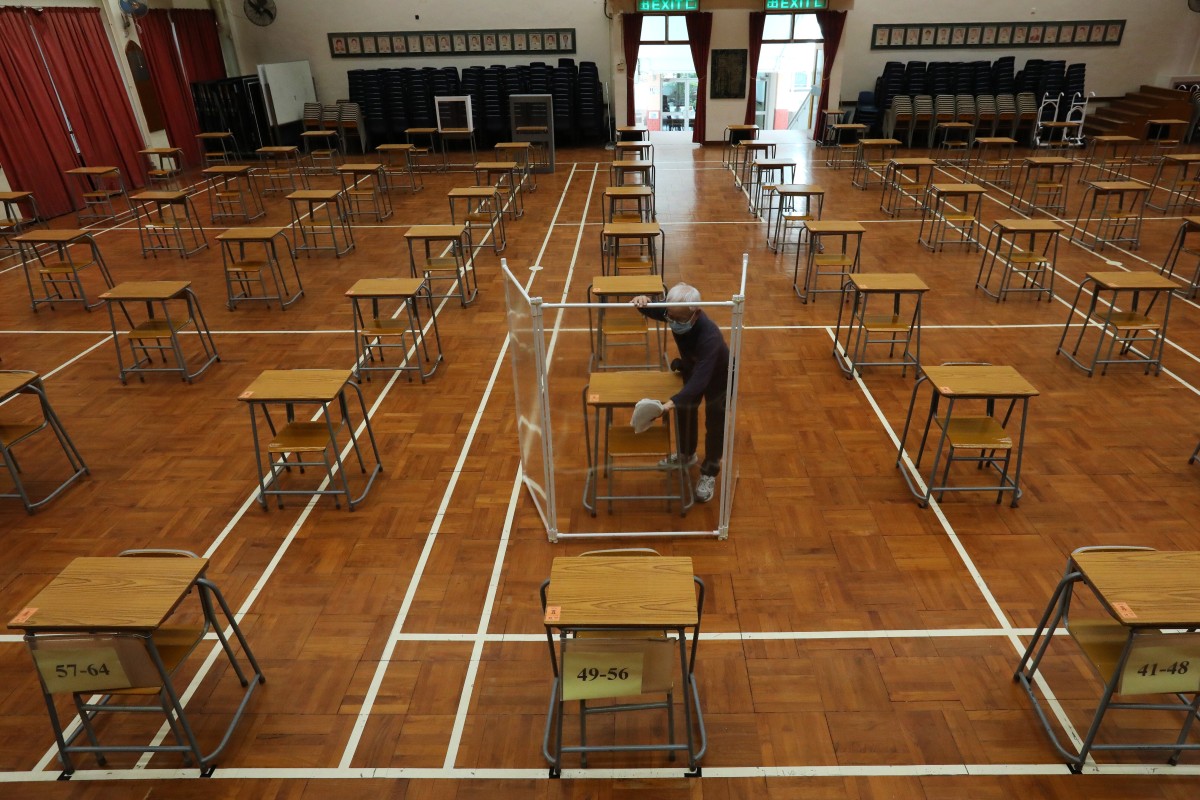 A staff member erects a protective screen around a desk at Lions College in Kwai Chung ahead of the Diploma of Secondary Education exams next week. Each desk will have its own screen. Photo: Felix Wong
Hong Kong schools will receive 3,500 disposable gowns and face shields to protect staff when students begin taking university entrance exams next week, after prolonged uncertainty over whether holding the tests was too risky during the coronavirus pandemic.
About 52,000 students will take the Diploma of Secondary Education exams across 350 secondary schools from April 24 amid unprecedented social-distancing measures in the city that organisers were told to follow carefully.
Hong Kong government says HKDSEs will likely go on as planned, starting April 24
For weeks, teens across the city have been anxious to know when or even if the sessions would happen.
The exams were first scheduled for March 27 and on Wednesday officials announced they would now go ahead, while the government had also prepared three backup plans in case the pandemic worsens, including postponing them until June or cancelling them entirely.
A school representative collects a box of protective face masks for DSE candidates at the Hong Kong Examinations and Assessment Authority office in San Po Kong. Photo: May Tse
Each school will be provided with 10 gowns and face shields when handling any students who become unwell, on top of providing masks and latex gloves already pledged.
The Hong Kong Examinations and Assessment Authority has reserved HK$20 million (US$2.58 million) for emergency purchases of items needed to ensure the infection risk is minimised, and the protective gear will be available for schools to collect from Friday.
In a letter to principals, the authority reminded them to track how many gowns and face shields were used and whether they would have enough to last until the end of the exams on May 25. The Education Bureau will also hand out about 200,000 bottles of hand sanitiser.
At Salesians of Don Bosco Ng Siu Mui Secondary School, one of the exam centres, school management bought 20 sets of disposable gowns and face shields last month.
Top tips for tackling the Maths HKDSE
Principal Li Kin-man said the Kwai Chung school spent more than HK$2,000 on the items and had assigned a senior teacher to act as safety officer during the sessions.
That person would lead a team of about five teachers and janitors to handle any cases of sudden illness, such as vomiting, or any situation that might involve bodily fluids, such as accidental scrapes or cuts.
"Apart from Covid-19, there are also other incidents or infectious diseases which could be risky to handle. It would be best if we could have the protective gear ready," Li said, adding the safety team was being trained in how to properly use the materials.
The school would even have two to three robots patrolling the exam area to dispense hand sanitiser, as well as display electronic messages of support for the students.
A staff member demonstrates the temperature test DSE candidates will have to take at Lions College in Kwai Chung. Photo: Felix Wong
A number of preventive measures would also be put in place by schools, including spacing tables 1.8 metres apart, requiring all candidates and invigilators to wear face masks, and asking any candidates with a temperature higher than 38 degrees Celsius to leave.
Veronica Yau Kit-ying, principal of Fanling Kau Yan College, said candidates would be asked to observe physical spacing when lining up to use washrooms and during breaks.
Reading made easier with tips for the HKDSE English exam
"Janitors would also be standing by outside washrooms to remind candidates during breaks to close the toilet lids before flushing," she said.
Yau said the school hall, which could hold up to 200 candidates, would have just 90 seats. Five extra classrooms with 16 seats each will also be put to use.
About 80 exam candidates living on the Chinese mainland who crossed the border for school every day moved into a study camp last month as part of a 14-day mandatory quarantine rule, said Yau, who is also vice-chairwoman of the North District Secondary School Principals' Association.
Two students who spoke to the SCMP said they would have at least three face masks handy for their sessions, and would avoid eating during the breaks so they could keep them on.
Form Six student Ming Chiu, 18, said he was worried about potential health risks when using the bathroom.
"That's especially worrying in the boys' toilets. I feel like the risk of [infection] is quite high when there are many candidates who share a few washrooms," he said.
The top study tips for your DSE chemistry exam, straight from an expert
But Victor Mui, 19, believed the risk of infection was still low at the venues.
"During exams, candidates are distanced from each other and will wear masks. Compared to dining in restaurants, it seems to me the risks are relatively low," he said.
Exam authority chief So Kwok-sang has warned candidates to be truthful when completing health declaration forms beforehand, warning failure to do so could lead to penalties including a deduction of marks or even disqualification.
Sign up for the YP Teachers Newsletter
Get updates for teachers sent directly to your inbox
Sign up for YP Weekly
Get updates sent directly to your inbox