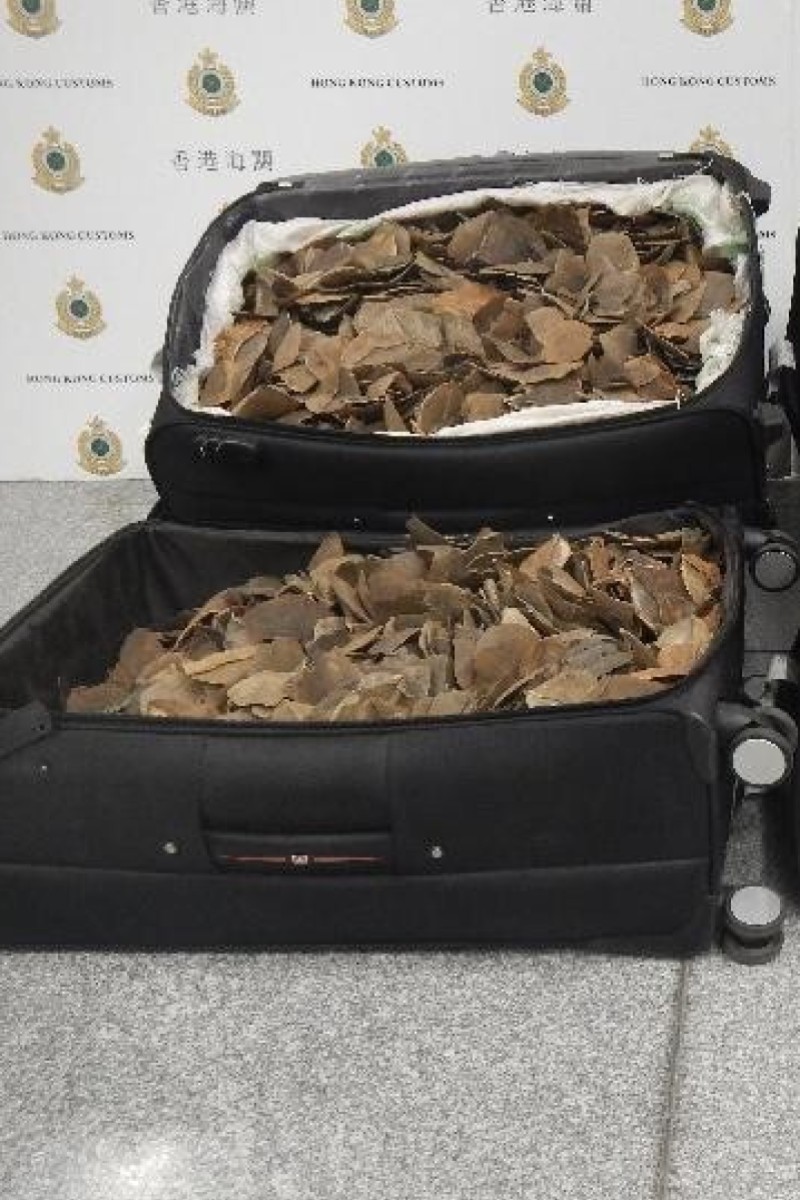 Hong Kong government hands down its harshest sentence yet for pangolin scale smuggling
Two mainland Chinese men given 21 and 27 months in jail for trafficking in the critically endangered animal

They were found at the airport with 100kg of scales worth an estimated HK$400,000
The 100kg of pangolin scales seized from the two mainland Chinese men. Photo: Handout
Two mainland Chinese men were sentenced to jail for 21 and 27 months for trafficking 100kg of pangolin scales, Hong Kong's harshest punishment yet for the activity,
The outer layer of the critically endangered animal is highly prized in traditional Chinese medicine, despite the lack of proof of its effectiveness in treating ailments.
Zhang Guozhu, 47, from Fujian province, and Ding Wei, 21, from Zhejiang province, pleaded guilty to smuggling pangolin scales worth about HK$400,000 (US$51,610).
"Although the defendants did not kill the mammals with their own hands, they played an important role in the commercial activities in selling pangolin scales," Deputy District Judge Ernest Lin Kam-hung said in handing down the sentences. "Their responsibilities are the same with those who killed these mammals."
Customs officers intercepted the two men at Hong Kong airport on July 17, 2019. They were arrested for violating the Protection of Endangered Species of Animals and Plants Ordinance after failing to produce the requisite permit.
Ding, who was working in the Democratic Republic of Congo as a gold trader, had arrived from Kinshasa and was carrying about 100kg of scales in four suitcases. He said he was instructed by another man who promised to give him 12,000 yuan (US$1,690) for bringing the luggage to Hong Kong, and upon arrival was asked to hand over two suitcases containing 50.02kg in scales to Zhang, who had arrived from Xiamen in Fujian.
Zhang said he was to receive 1,000 yuan for flying into Hong Kong to pick up the bags. The men, who claimed they did not know each other, were planning to take the suitcases out of the airport's restricted area and over the border to mainland China.
The international trade of pangolin scales was banned in 2017. Photo: Reuters
In sentencing, the judge used 36 months as the starting point, taking into account the guilty pleas and personal mitigation factors. Ding received the longer sentence of 27 months.
The maximum penalty for illegally importing pangolins, which in November 2018 were moved into the highest Appendix I category of Hong Kong's endangered animal and plant law, is a HK$10 million fine and 10 years in jail.
Letter to the Editor: Animal smugglers should face tougher punishments
The international trade of pangolin scales was banned in 2017, but smuggling has persisted, mostly into mainland China, with Hong Kong a key route. City authorities seized more than 62 tonnes of scales valued at more than HK$100 million between 2014 and last year, according to customs data.
In May last year, a Chinese traveller – also from Fujian province – was sentenced to 20 months in jail for smuggling 48kg of pangolin scales.
Sign up for the YP Teachers Newsletter
Get updates for teachers sent directly to your inbox
Sign up for YP Weekly
Get updates sent directly to your inbox