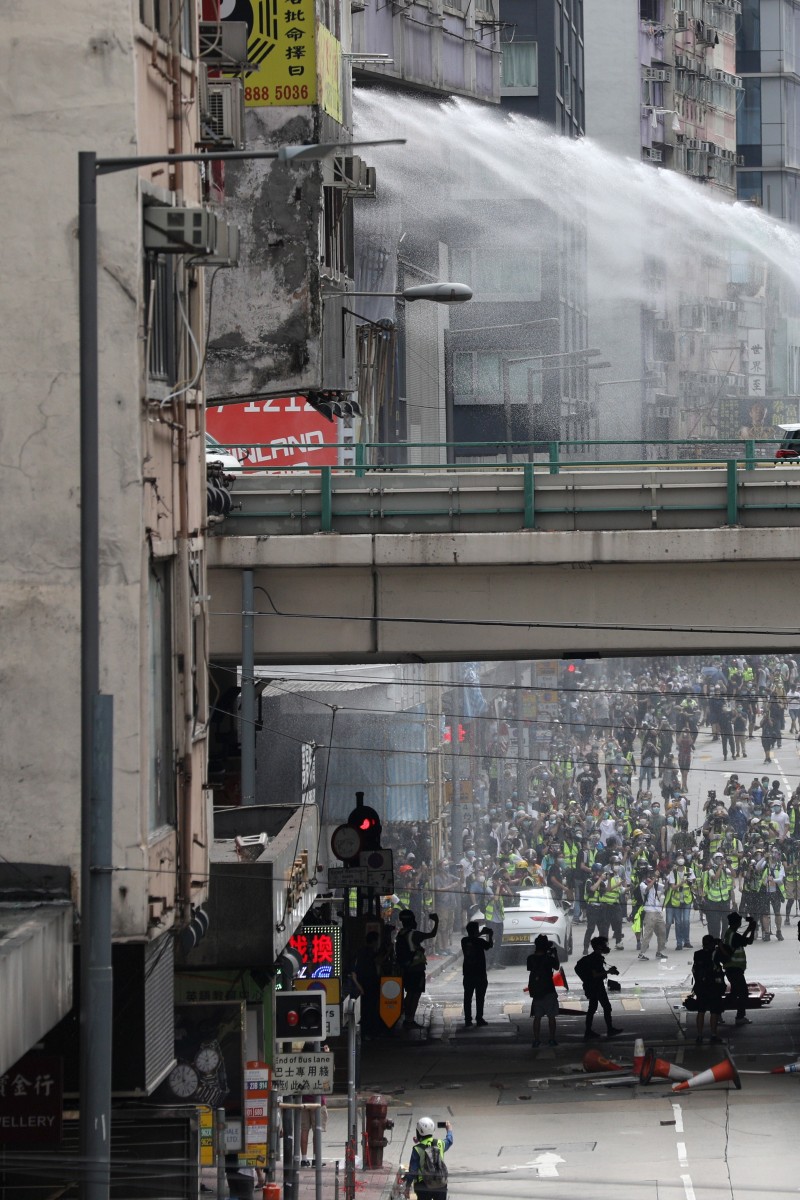 Hong Kong protests: At least 180 people arrested as police deploy water cannon and tear gas
Demonstrations on Sunday protested against the proposed national security law and national anthem bill.

10 people were admitted to hospital, with one in critical condition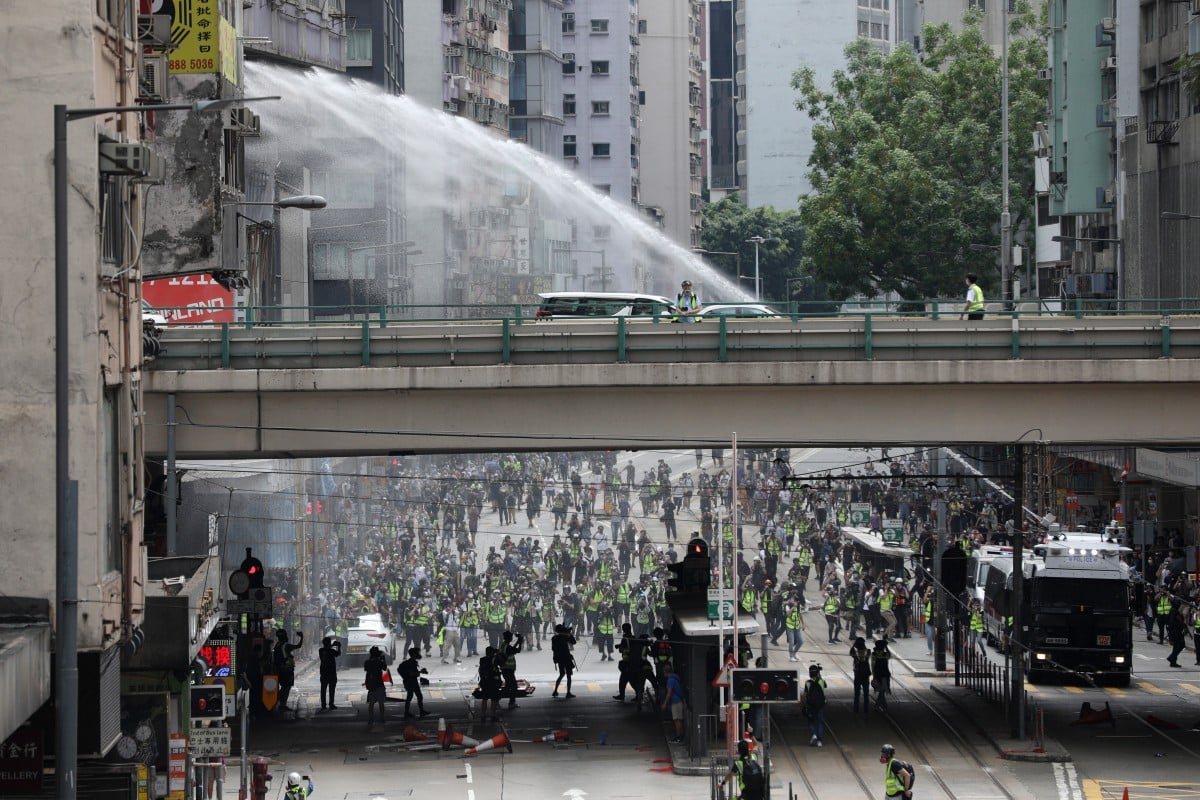 Police water canon trucks spray water to disperse protesters during a rally against the implementation of a new national security law in Causeway Bay.
Police fired multiple rounds of tear gas in Causeway Bay on Sunday as thousands took to the streets to protest against Beijing's proposed national security law for the city.
Police said at least 180 people were arrested – mostly on suspicion of unauthorised assembly, unlawful assembly and disorderly conduct in a public place – in a crackdown as protesters spread out along streets of Causeway Bay and Wan Chai.
A water cannon truck was used and tear gas was fired in a series of confrontations as some protesters defied the government's coronavirus crowd restrictions and blocked multiple roads, smashed traffic lights, lit small fires and hurled bricks dug up from pavements at police.
Pro-democracy student groups express concern over national security bill
Some also vandalised shops, while at least two people objecting to the roadblocks were severely assaulted by black-clad groups.
Ten people were admitted to hospital, including a 51-year-old woman in critical condition, the Hospital Authority said. The other nine were either in stable condition or later discharged from hospital. The woman, reportedly a cleaner with underlying heart problems, had suffered a panic attack and collapsed as a group of people rushed into a toilet where she was.
The protests erupted just hours after Chinese Vice-Premier Han Zheng, Beijing's top leader in charge of Hong Kong, told local delegates to the national legislature that Beijing's determination to push through the national security law should not be underestimated, and that mainland authorities would "implement it till the end".
What does the national security law entail?
At the ongoing National People's Congress session in Beijing, Chinese Foreign Minister Wang Yi sought to ease concerns about the new law, saying it would not damage the city's autonomy or freedoms.
The proposed legislation was aimed only at a "very narrow category of acts that seriously jeopardise national security", such as "treason, secession, sedition or subversion", he said.
The law would have "no impact on Hong Kong's high degree of autonomy, the rights and freedoms of Hong Kong residents, or the legitimate rights and interests of foreign investors in Hong Kong", Wang said. "Instead of becoming unnecessarily worried, people should have more confidence in Hong Kong's future. This will improve Hong Kong's legal system and bring more stability, a stronger rule of law and a better business environment to Hong Kong."
What to expect at China's National People's Congress
During the Sunday clashes, police raised blue flags warning protesters converging outside the Sogo department store to disperse before tear gas was first fired near the junction of Hennessy Road and Percival Street at 1.24pm.
Behind the store, a group of four clad in black was stopped and searched as protesters nearby chanted: "Liberate Hong Kong; revolution of our times."
A 15-year-old secondary school student at the protest said social media posts had convinced him to "stay and fight" rather than move to another country over the legislation.
"When I first heard about Beijing's plans to introduce the national security law, my desire to emigrate grew bigger," he said. "But then I saw how many people were saying on social media that we need to come out and fight this law, so I decided I needed to stay and fight."
A protester waves a flag which reads "Hong Kong Independence" in Hennessy Road near Sogo department store in Causeway Bay during a march in protest against the government's proposed enactment of national security law.
At 2pm, protesters occupied Gloucester Road, while others holding a banner reading "heaven will destroy the Chinese Communist Party" began marching towards Wan Chai. There were also displays of American flags. Others could be heard cursing at riot police, with some yelling, "Hong Kong independence. The only way."
Police later said some protesters had vandalised shops in Causeway Bay, breaking their windows, while others had dug up bricks from the street.
An armoured vehicle and water cannon were deployed along Hennessy Road, with members of the police's Special Tactical Squad on top of the armoured car pointing their weapons at surrounding crowds.
At Canal Road, the situation grew tense as police raised the blue flag ordering the public to disperse several times, warning off reporters and district councillors with threats to use pepper spray. The water cannon was later fired at protesters as they attempted to place barricades on the street, while more tear gas was used outside the Hysan Place shopping centre.
VPN downloads spike after national security law news
Student activist Joshua Wong Chi-fung, who was at the scene early on, said he planned to continue lobbying for support from other countries, even if that meant falling afoul of the looming national security law.
"When Beijing announced the law, it was time to fight back," Wong said.
In a statement on Sunday night, the Hong Kong government said it strongly condemned rioters' illegal acts and supported the resolute enforcement actions of police.
Sunday's demonstration was also called to protest against a bill that would criminalise abuse of the Chinese national anthem in Hong Kong. The anthem bill, which city leader Carrie Lam Cheng Yuet-ngor has called a top priority, provides for jail terms of up to three years.
The Legislative Council will debate the bill on Wednesday.
Sign up for the YP Teachers Newsletter
Get updates for teachers sent directly to your inbox
Sign up for YP Weekly
Get updates sent directly to your inbox