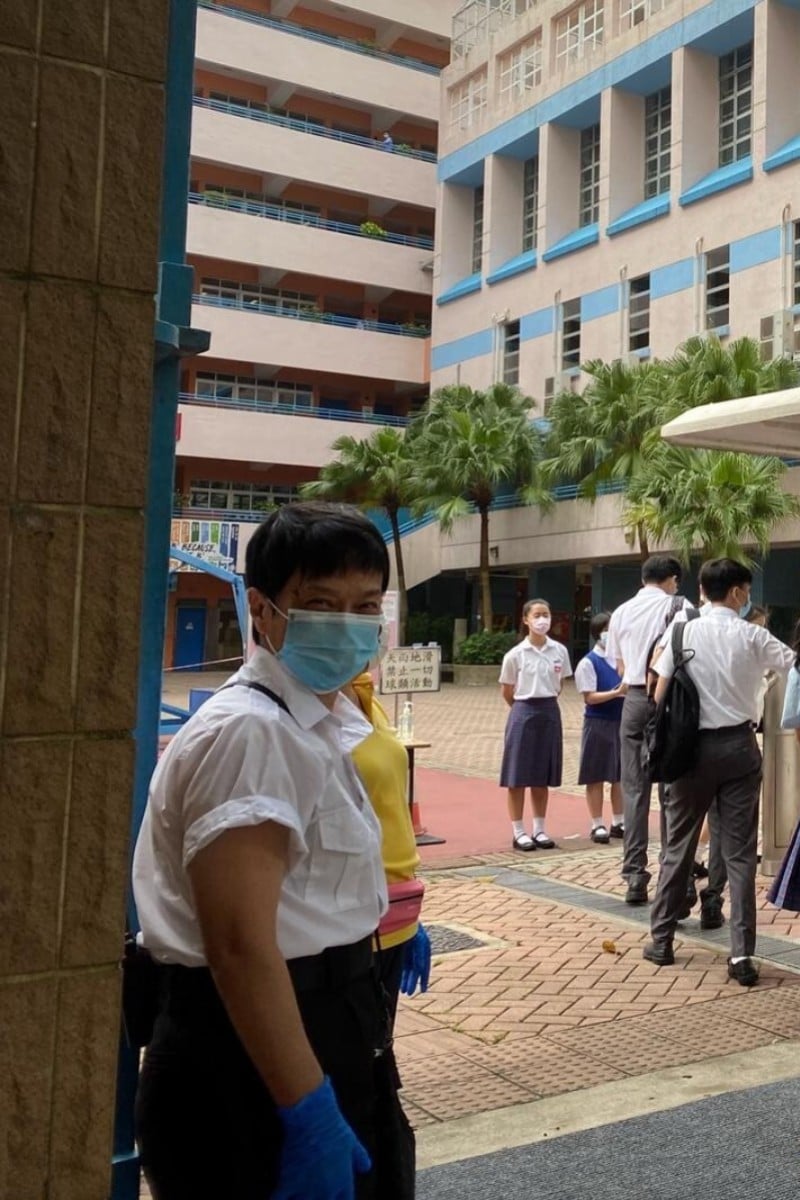 Hong Kong students express their worries about their studies, Covid-19, protests and national security law as classes resume
Temperature checks and social distancing measures await students as the return to school after months of online learning

Teens expressed concern over exams, another wave of the virus, and the ongoing demonstrations in the city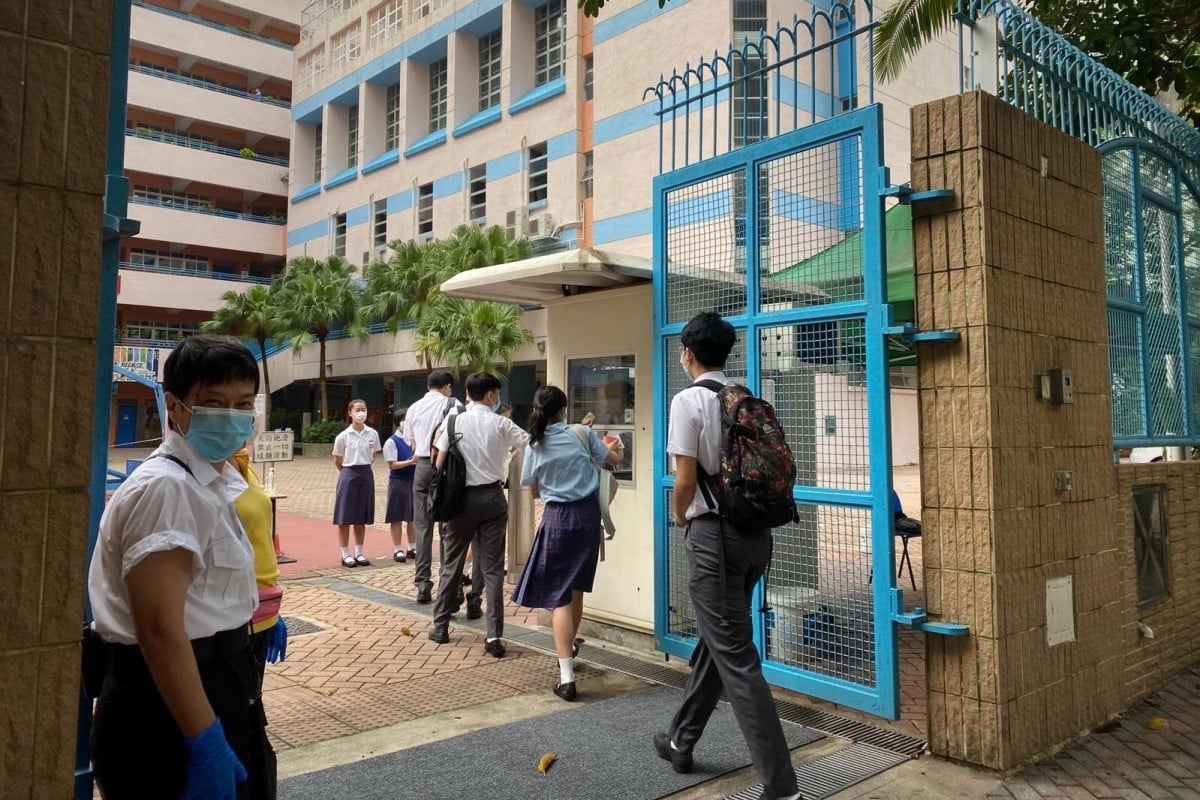 Students return to the Chinese Foundation Secondary School after online learning since Lunar New Year.
Form Three to Form Five students expressed mixed feelings about returning to school today, with many worried not just about coronavirus, but the ongoing social unrest in the city.
Chan Ho-yan, a 14-year-old Student at the Chinese Foundation Secondary School in Siu Sai Wan, said he was very excited about going back to school.
"I'm thrilled because I haven't seen my friends and teachers for a very long time," he said. When asked about the general strike today, he said he did not think of joining because he wanted to focus on his studies.
Another 14-year-old student from the same school, Isaac Li, also expressed his excitement, although he said he was stressed about not being able to get into his desired subjects next year. "I really want to study science but because of the pandemic, I feel like I'm lagging behind. And now I totally feel the pressure to catch up," the Form Three student said.
Five students arrested for possession of petrol bombs, gas masks
Holly Mak, a 14-year-old student, waited for her friends at the gate just so they could enter the school together this morning.
Her concern now is an exam set to take place in mid June. She said their learning schedule had lagged due to the limitations on Zoom, such as shorter class periods. Her biggest struggle was Mathematics, as she had a lot of questions she did not have the opportunity to ask during online classes.
She said she was also worried about some of her friends who would be at the city-wide protest today. "I'm anxious because some of them were already physically hurt and hospitalised at other protests, and yet they're still going today."
In an adjacent school, Fukien Secondary School (Siu Sai Wan), students were welcomed by care packages prepared by some parents at the school entrance.
Should teens be banned from reporting during the Hong Kong protests?
"It'll take me some time to get used to being back to school, as so many things are different now, with the single row seating and the daily temperature check," said Angel Chong, a 15-year-old student.
Meanwhile in Causeway Bay, teachers from St. Paul's Convent School on Leighton Road stood inside the building to greet students. A temperature check booth was also set up by the entrance of the building.
"I'm definitely excited [to be back]," said Joanne Yau, 15. "I am just so over Zoom classes, but I will admit that I am a little worried about a second outbreak, since close contact between some classmates will be inevitable."
Despite her worries, Joanne thinks the EDB made the right decision in letting students resume classes.
"Senior students need to prepare for public exams," said Joanne. "I myself will be taking IGCSE exams next year and I have been feeling insecure about my learning over the past few months of Zoom classes and self learning."
Ying Wa College student Tai said he is nervous about going back to school and said that lessons will be more intense.
The school has implemented various precautions in response to the pandemic, including temperature checks and mandatory face masks. Before the outbreak, students would have their lunch on the ground in the playground, but the school has installed desks and chairs in these areas now. They have also introduced social distancing rules inside classrooms, with desks and chairs spaced out.
Students at Ying Wa College were excited to see their classmates again after a four-month school closure, but some worried about the potential spread of Covid-19 in classrooms.
Tai, 16, felt it was inappropriate to go back to school even though he's relieved to see his classmates in person again.
"We are all sitting in the same classroom and the droplets wont go away, and we might get the disease."
He adds that as schools are now half day, lessons will be more intense, since they are shorter and the school may continue to conduct some after-school lessons using Webex, Zoom or Google Meet.
Pro-democracy student groups express concern over national security bill
Another student surnamed Yiu, from Kwun Tong Maryknoll College, said he felt ready for school, yet the social unrest made him worried and helpless.
"The Hong Kong government has been ignoring the voices of its people; I see no democracy here."
He is also worried about today, as there will be protests against the second reading of the National Anthem Law. "I'm worried about those who will get hurt today."
Chan, also from Kwun Tong Maryknoll College, shared such helplessness and concerns. He told Young Post that he supports students going on strike.
180 people arrested in weekend protests
"Students have the right to strive for a better future," he said, adding that he has planned to attend a protest later today after a discussion with friends, saying, "People who take to the streets have already prepared for the consequences."
Mavin, a Chinese History student from NLSI Lui Kwok Pat Fong College, said that everything seems to be back to "normal", including the way the government is trying to brush off its wrongdoings. Studying Chinese History for DSE, she hopes circumstances will be better next year and said she believes that Secretary for Education Kevin Yeung is over-censoring too much. "Scrapping the History question was like making a mountain out of a molehill," she said.
What does the national security law entail?
Not all students expressed excitement about returning to school after months of suspension.
A Form Four student at S K H St. Simon's Lui Ming Choi Secondary School, who did not wish to be named, joked he came five minutes earlier in case of bad traffic due to disruption caused by this morning's planned protests.
"I'm not nervous about going back to school, but I prefer e-learning. It is more convenient."
He also said he stopped caring about politics. "It's become too complicated and I don't want to take the wrong stance among my classmates."
Sign up for the YP Teachers Newsletter
Get updates for teachers sent directly to your inbox
Sign up for YP Weekly
Get updates sent directly to your inbox