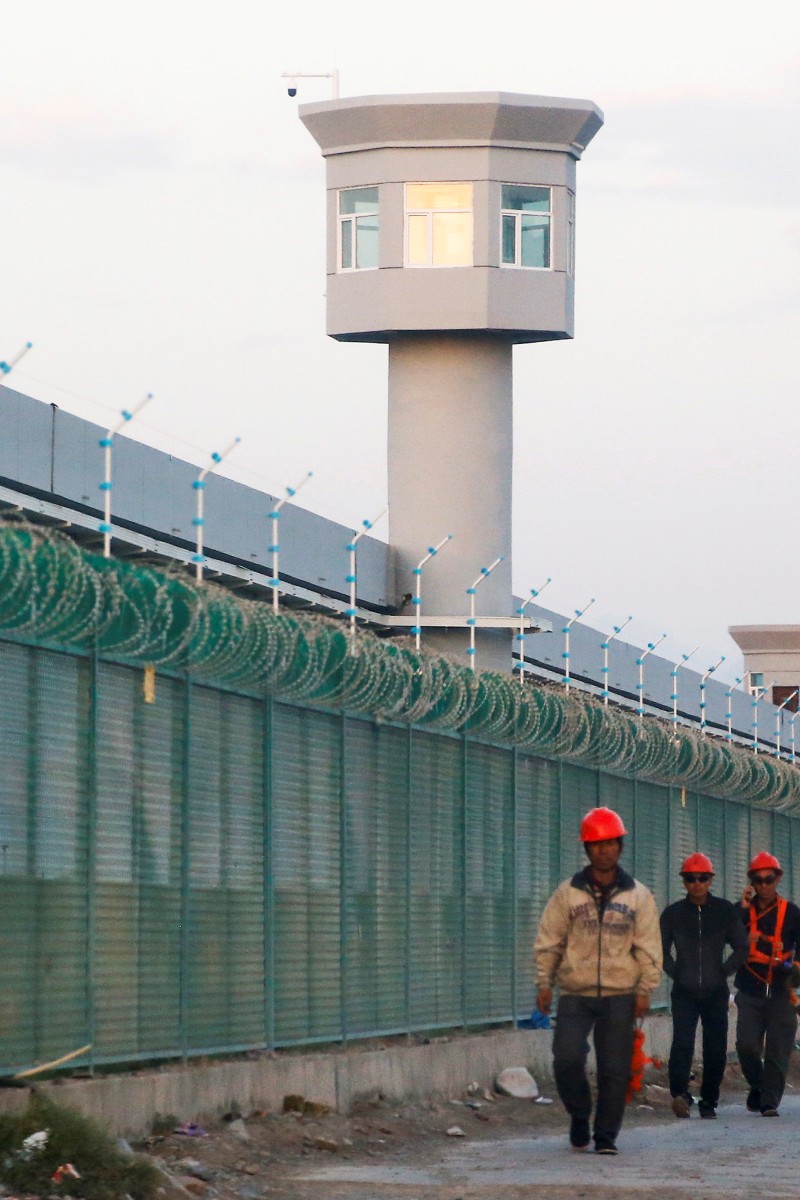 Part 2: China forces birth control on Uygur minority to curb Muslim population in Xinjiang
Many members of the ethnic minority have been sent to detention camps for having too many children

China is encouraging intermarriage between Uygurs and the Han majority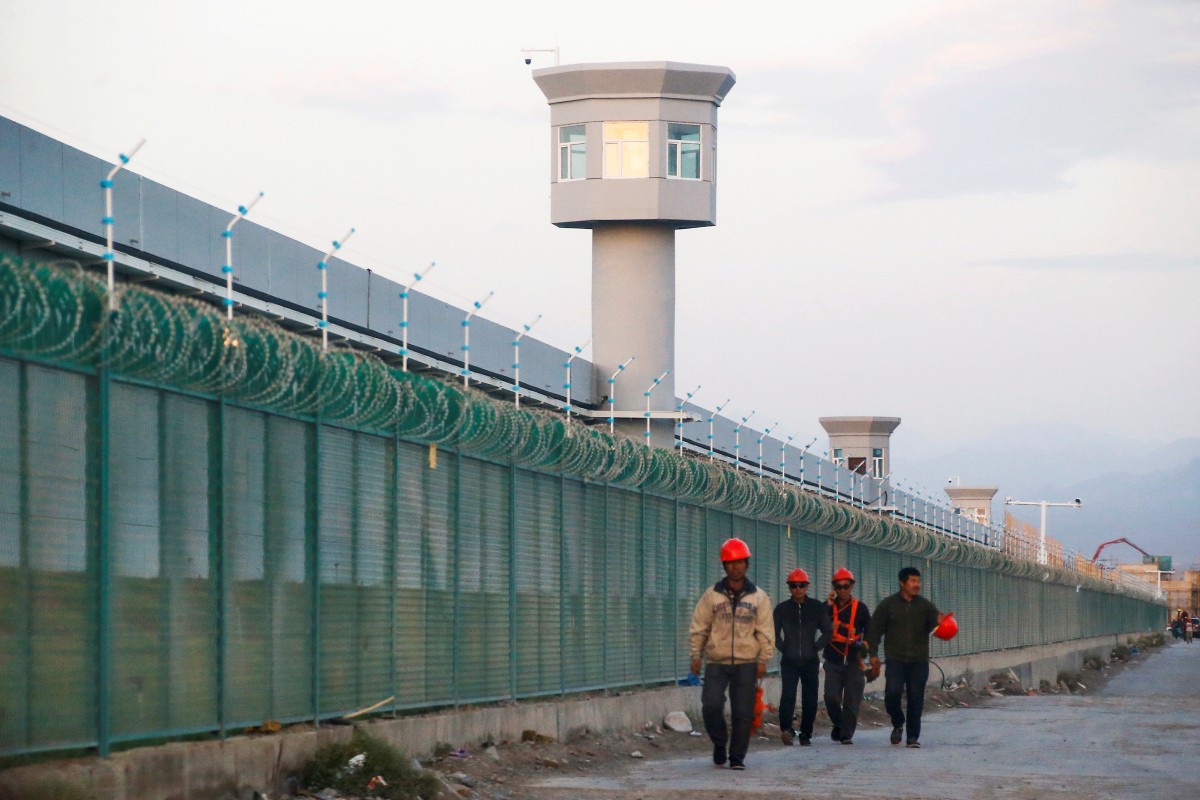 Workers walk by the perimeter fence of what is officially known as a vocational skills education centre in Dabancheng in Xinjiang. Photo: Reuters
This is Part 2 in our series. For Part 1, click here.
For centuries, the majority was Muslim in the arid, landlocked region China now calls "Xinjiang" — meaning "New Frontier" in Mandarin.
After the People's Liberation Army swept through in 1949, China's new Communist rulers ordered thousands of soldiers to settle in Xinjiang, pushing the Han population from 6.7 per cent that year to more than 40 per cent by 1980. The move increased anxiety about Chinese migration that persists to this day. Drastic efforts to restrict birth rates in the 1990s were relaxed after major pushback, with many parents paying bribes or registering children as the offspring of friends or other family members.
TikTok used by Chinese Uygurs to raise awareness of detention camps
That all changed with an unprecedented crackdown starting in 2017, throwing hundreds of thousands of people into prisons and camps for alleged "signs of religious extremism" such as travelling abroad, praying or using foreign social media. Authorities launched what several notices called "dragnet-style" investigations to root out parents with too many children, even those who gave birth decades ago. 
"Leave no blind spots," said two county and township directives in 2018 and 2019 uncovered by China scholar Adrian Zenz, who is also an independent contractor with the Victims of Communism Memorial Foundation, a bipartisan non-profit based in Washington, D.C. "Contain illegal births and lower fertility levels," said a third.
Officials and armed police began pounding on doors, looking for kids and pregnant women. Minority residents were ordered to attend weekly flag-raising ceremonies, where officials threatened detention if they didn't register all their children, according to interviews backed by attendance slips and booklets. Notices found by the AP show that local governments set up or expanded systems to reward those who reported illegal births.
In some areas, women were ordered to take gynecology exams after the ceremonies, they said. In others, officials outfitted special rooms with ultrasound scanners for pregnancy tests.
A man holds a sign asking about his missing relatives during a protest against the Chinese government in Istanbul, Turkey. Photo: EPA
"Test all who need to be tested," ordered a township directive from 2018. "Detect and deal with those who violate policies early."
Abdushukur Umar was among the first to fall victim to the crackdown on children. A Uygur tractor driver-turned-fruit merchant, the proud father considered his seven children a blessing from God.
But authorities began pursuing him in 2016. The following year, he was thrown into a camp and later sentenced to seven years in prison — one for each child, authorities told relatives. 
"My cousin spent all his time taking care of his family, he never took part in any political movements," Zuhra Sultan, Umar's cousin, said from exile in Turkey. "How can you get seven years in prison for having too many children? We're living in the 21st century — this is unimaginable."
Fifteen Uygurs and Kazakhs told the AP they knew people interned or jailed for having too many children. Many received years, even decades in prison. 
New book says Trump supported camps for China's Muslim minority
Leaked data obtained and corroborated by the AP showed that of 484 camp detainees listed in Karakax county in Xinjiang, 149 were there for having too many children - the most common reason for holding them. Time in a camp — what the government calls "education and training" — for parents with too many children is written policy in at least three counties, notices found by Zenz confirmed. 
In 2017, the Xinjiang government also tripled the already hefty fines for violating family planning laws for even the poorest residents — to at least three times the annual disposable income of the county. 
While fines also apply to Han Chinese, only minorities are sent to the detention camps if they cannot pay, according to interviews and data. Government reports show the counties collect millions of dollars from the fines each year.
Teen starts media club about racism after death of George Floyd
In other efforts to change the population balance of Xinjiang, China is dangling land, jobs and economic subsidies to lure Han migrants there. It is also aggressively promoting intermarriage between Han Chinese and Uygurs, with one couple telling the AP they were given money for housing and amenities like a washing machine, refrigerator and TV.
"It links back to China's long history of dabbling in eugenics ... you don't want people who are poorly educated, marginal minorities breeding quickly," said James Leibold, a specialist in Chinese ethnic policy at La Trobe in Melbourne. "What you want is your educated Han to increase their birth rate."
Sultan describes how the policy looks to Uygurs like her: "The Chinese government wants to control the Uighur population and make us fewer and fewer, until we disappear."
This is Part 2 in our four-part series.
Sign up for the YP Teachers Newsletter
Get updates for teachers sent directly to your inbox
Sign up for YP Weekly
Get updates sent directly to your inbox