Part 4: China forces birth control on Uygur minority to curb Muslim population in Xinjiang
While members of the Han Chinese majority have been encouraged to have children, the use of IUDs and sterilisation has gone up for Uygurs

Women are forced to have examinations every month or risk being sent to detention camps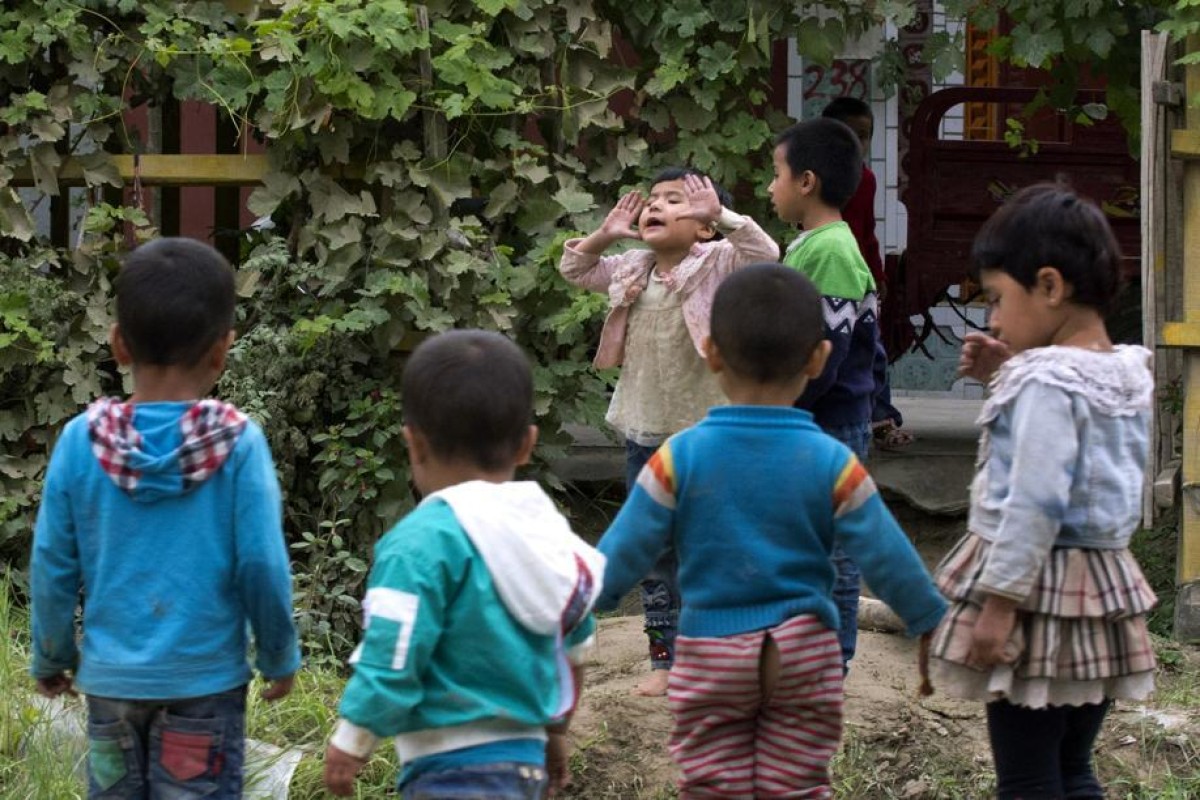 Uygur children play outdoors in Hotan, in western China's Xinjiang region. The Associated Press has found that the Chinese government is carrying out a birth control program aimed at Uygurs, Kazakhs and other largely Muslim minorities in Xinjiang, even as some of the country's Han majority is encouraged to have more children. Photo: AP
This is Part 4 in our series. Click here for Part 1, here for Part 2 and here for Part 3. 
The success of China's push to control births among Muslim minorities shows up in the numbers for IUDs and sterilisation.
In 2014, just over 200,000 IUDs were inserted in Xinjiang. By 2018, that jumped more than 60 per cent to nearly 330,000 IUDs. At the same time, IUD use tumbled elsewhere in China, as many women began getting the devices removed. 
A former teacher drafted to work as an instructor at a detention camp described her experience with IUDs to the AP. 
It started with flag-raising assemblies at her housing compound at the beginning of 2017, where residents were forced to chant: "If we have too many children, we're religious extremists ...That means we have to go to the training centres." After every flag-raising ceremony, police rounded up parents with too many children – over 180 – until "not a single one was left," she said. Officers with guns and tasers hauled her neighbors away at night, and from time to time pounded on her door and swept her apartment for Qurans, knives, prayer mats and of course children. 
Chinese Uygurs use TikTok to raise awareness of those detained in camps 
"Your heart would leap out of your chest," she said. 
Then, that August, officials in the teacher's compound were told to install IUDs on all women of childbearing age. She protested, saying she was nearly 50 with just one child and no plans to have more. Officials threatened to drag her to a police station and strap her to an iron chair for interrogation.
She was forced into a bus with four armed officers and taken to a hospital where hundreds of Uygur women lined up in silence, waiting for IUDs to be inserted. Some wept quietly, but nobody dared say a word because of the surveillance cameras hanging overhead.
Her IUD was designed to be irremovable without special instruments. The first 15 days, she got headaches and nonstop menstrual bleeding.
Facebook and Twitter suspend thousands of fake accounts from the Chinese government
"I couldn't eat properly, I couldn't sleep properly. It gave me huge psychological pressure," she said. 
"Only Uygurs had to wear it."
Chinese health statistics also show a sterilisation boom in Xinjiang. 
Budget documents obtained by China scholar Adrian Zenz show that starting in 2016, the Xinjiang government began pumping tens of millions of dollars into a birth control surgery programme and cash incentives for women to get sterilised. While sterilisation rates plunged in the rest of the country, they surged seven-fold in Xinjiang from 2016 to 2018, to more than 60,000 procedures. The Uygur-majority city of Hotan budgeted for 14,872 sterilisations in 2019 — about 34 per cent of all married women of childbearing age.
A guard tower and barbed wire fence surround a detention facility in the Kunshan Industrial Park in Artux in western China's Xinjiang region. Photo: AP
Even within Xinjiang, policies vary widely, being harsher in the heavily Uygur south than the Han-majority north. In Shihezi, a Han-dominated city where Uygurs make up just 2 per cent of the population, the government subsidises baby formula and hospital birth services to encourage more children, state media reported.
Zumret Dawut got no such benefits. In 2018, the mother of three was locked in a camp for two months for having an American visa.
When she returned home under house arrest, officials forced her to get gynecology exams every month, along with all other Uygur women in her compound. Han women were exempted. They warned that if she didn't take what they called "free examinations", she could end up back in the camp.
One day, they turned up with a list of at least 200 Uygur women in her compound with more than two children who had to get sterilised, Dawut recalled. 
Fake news risks polarising the city 
"My Han Chinese neighbours, they sympathised with us Uygurs," Dawut said. "They told me, 'oh, you're suffering terribly, the government is going way too far!'"
Dawut protested, but police again threatened to send her back to the camp. During the sterilisation procedure, Han Chinese doctors injected her with anesthesia and tied her fallopian tubes — a permanent operation. When Dawut came to, she felt her womb ache.
"I was so angry," she said. "I wanted another son." 
Looking back, Gulnar Omirzakh, who was forced to pay a large fine for having a third child, considers herself lucky.
New book says Trump supported camp for Uygurs 
After that frigid day when officials threatened to lock her up along with her husband, Omirzakh called relatives around the clock. Hours before the deadline, she scraped together enough money to pay the fine from the sale of her sister's cow and high-interest loans, leaving her deep in debt.
For the next year, Omirzakh attended classes with the wives of others detained for having too many children. She and her children lived with two local party officials sent specially to spy on them. When her husband was finally released, they fled for Kazakhstan with just a few bundles of blankets and clothes. 
The IUD still in Omirzakh's womb has now sunk into her flesh, causing inflammation and piercing back pain, "like being stabbed with a knife." For Omirzakh, it's a bitter reminder of everything she's lost — and the plight of those she left behind. 
"People there are now terrified of giving birth," she said. "When I think of the word 'Xinjiang,' I can still feel that fear."
This is the final part in our four-part series.
Sign up for the YP Teachers Newsletter
Get updates for teachers sent directly to your inbox
Sign up for YP Weekly
Get updates sent directly to your inbox