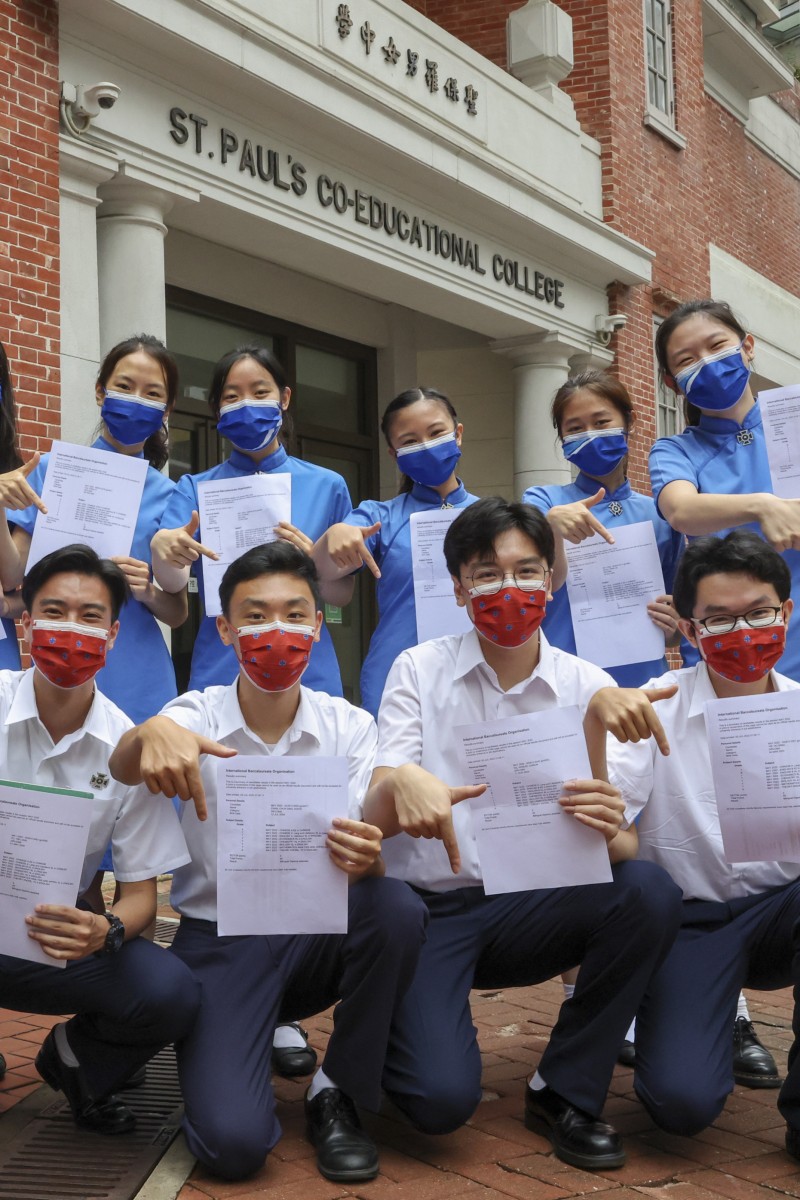 Hong Kong's IB top scorers share study tips for exam success
City saw 93 students receive full marks on the International Baccalaureate this year, with some aiming to study in universities such as Cambridge and Harvard

Students from St Paul's Co-educational College, Diocesan Boys' School, and Victoria Shanghai Academy say they shared notes and made time for rest while studying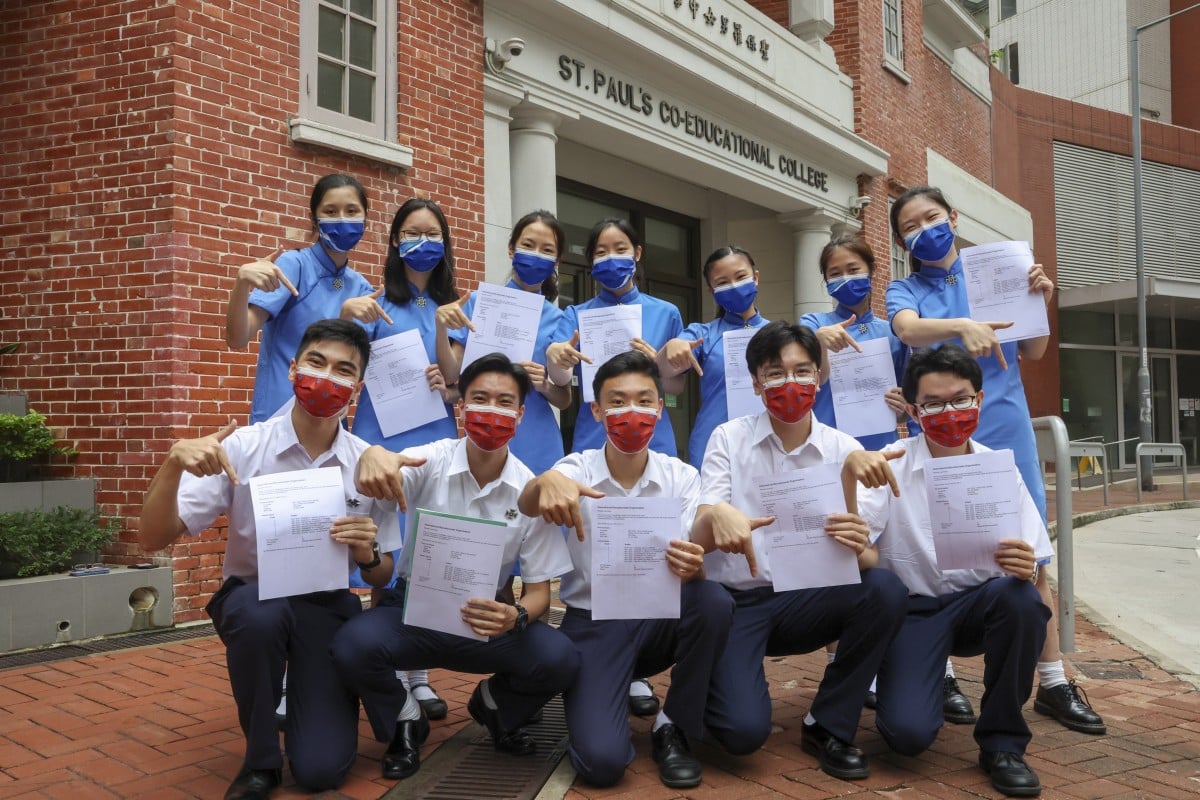 St Paul's Co-educational College students celebrate getting top marks on their International Baccalaureate (IB) exams. Photo: Edmond So
This year, Hong Kong saw 93 high-flyers attain top grades on this year's International Baccalaureate (IB) exams. Wondering how you can secure a good grade and maybe be a top scorer someday? We've got you covered.
Young Post spoke to a few perfect scorers from St. Paul's Co-educational College (SPCC), Diocesan Boys' School (DBS), and Victoria Shanghai Academy (VSA) on Wednesday, when they learned their results, for some pointers on how you can incentivise your revision and better prepare for your exams.
10 tips to stay productive when you don't feel motivated or can't focus
The 12 top-scorers at St Paul's Co-educational College unanimously agreed that studying together helped them ace their exams.
"We would share Google drives and folders. Each of us would do our fair share of inputting information, such as writing down definitions of terms. That way we could get comprehensive notes really quickly," said Grace Tai Tzu-chun, who will attend the University of Pennsylvania in the US.
Zoe Shu Yulan, who is also planning to study abroad, said that although English wasn't her strong suit, being able to read and revise her classmates' notes and analysis on the shared document gave her the confidence she needed to tackle the subject.
Most importantly, "you need your friends for moral support," said Patrina Hui, who aims to study medicine in Hong Kong. She said that having someone by her side who is going through the same battles – the pandemic and exams – was crucial and helped her get through the process.
5 tips to help your last minute exam prep stick
Don't be afraid to ask your teacher any questions you may have.
"Teachers are patient and willing to help," said SPCC student Ally Lin Lok-yiu. "Even when we weren't having lessons at school, we could message them or even do extra work."
Give yourself plenty of time to prepare
Since the IB also consists of non-exam components, start working on them as early as possible.
"Look at work from former students, save them in Google drive and don't be afraid of trial and error," Jasmine Hui Ching-yi from SPCC said about essay-based subjects like history.
Anson Ieung Ho-kwan, a top-scorer from DBS, said doing practice exercises and past papers was helpful as well.
"I would do different exercises to make sure I could remember the content of the textbook and be prepared for the exam," said the 18-year-old, who will study aeronautical engineering at Cambridge University in Britain.
Top scorers at Diocesan Boys' School celebrate their achievement. Photo: Xiaomei Chen
Explore extracurricular activities
Jason Huang Junsong, from Victoria Shanghai Academy, said that taking part in extracurricular activities is key to achieving academic excellence. As a non-native English speaker, he credits debate for his improvement in English.
"By doing debate, I was able to practise my English language skills," said Jason, who is the captain of the VSA English Debate team, and who led the team to win the Senior Grand Final Championships of the Hong Kong Secondary Schools Debating Competition. "Debate also helped me acquire more critical thinking skills so I could analyse historical matters in my history course and write my extended essay."
Students at Victoria Shanghai Academy celebrate their IB scores. Photo: KY Cheng
Another top student from DBS, Enoch Li Yui-chung, stressed the importance of having a pastime to deal with the pressure of the exams.
"For me, the most effective way to relieve stress is to play violin and piano. When I felt unmotivated and didn't want to study, I would just play my instrument," said the student, who is struggling to choose between philosophy or economics at Harvard University.
"Even though studying and music both require me to pay full attention, focusing on a non-academic activity can calm me down and help me relax."
7 productivity tips for people with ADHD
Keep your private life and academics separate
Jason, who will be pursuing law in University College London in Britain, said another way to keep the momentum going without feeling burned out is to have clear boundaries between your personal and academic life, especially when social media has become an integral part of life. He recommended setting aside time in which you don't think about your studies at all, sharing that he would head outdoors to clear his head in nature.
Set a timetable for study and rest
Another important thing to remember, Anson said, was not to stress yourself out too much. "You should make a timetable and revise according to the schedule. And the key is to not let stress affect your performance."
Meanwhile, Lloyd Chan Tsz-long stressed the importance of self-discipline, not only in following a study schedule, but also in setting aside time to rest during revision.
"Take a break at the right time so you can manage your stress," he said. "I would set aside certain time slots for rest and time myself to make sure I had enough energy to continue studying," said the DBS student, who will study medicine in Hong Kong.
Make your revision way more effective with this simple tip
Students were often stuck at home during the pandemic, making it easy to lose the motivation to study. However, it's important to find a way to stay strong, said SPCC student Jason Chan Chun-sing.
"Studying is important, but more importantly, how do you find the strength to continue facing challenges the next day?" the incoming student at Cambridge University said.
Make HKDSE, IB, or any exam less scary: 12 simple study tips to level up your grades
Seize the moment at school
One last piece of advice from the cohort who lost most of their final years of secondary to the pandemic? "Treasure the times when you can still create memories with your classmates on campus," Jasmine said.
"When we look back after graduation, I think our biggest regret will be missing out on so much of our vibrant school life."
Sign up for the YP Teachers Newsletter
Get updates for teachers sent directly to your inbox
Sign up for YP Weekly
Get updates sent directly to your inbox