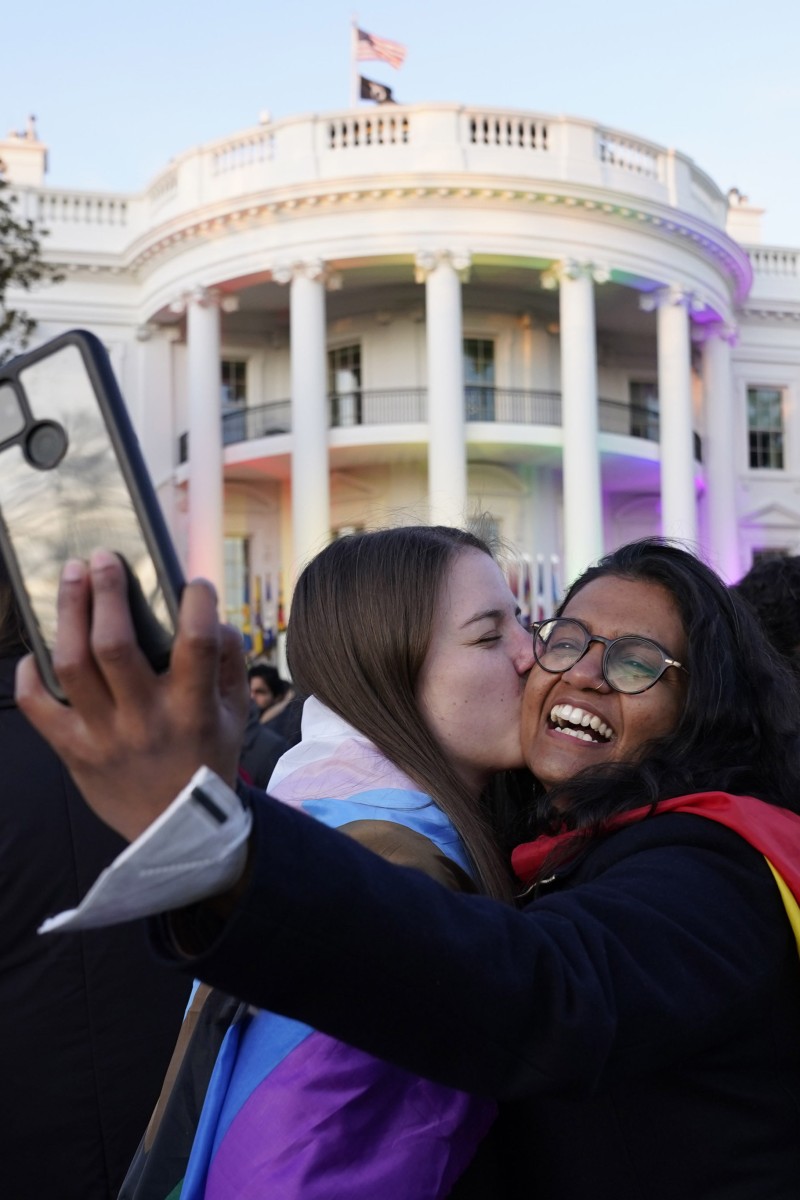 The Lens: US President Biden signs Respect for Marriage Act into law, protecting same-sex unions
After the Supreme Court overturned Roe v. Wade earlier this year, LGBTQ activists called on the president to pass a bill for marriage equality

Each week, we choose a picture from the news and provide questions to help you dive deeper into the topic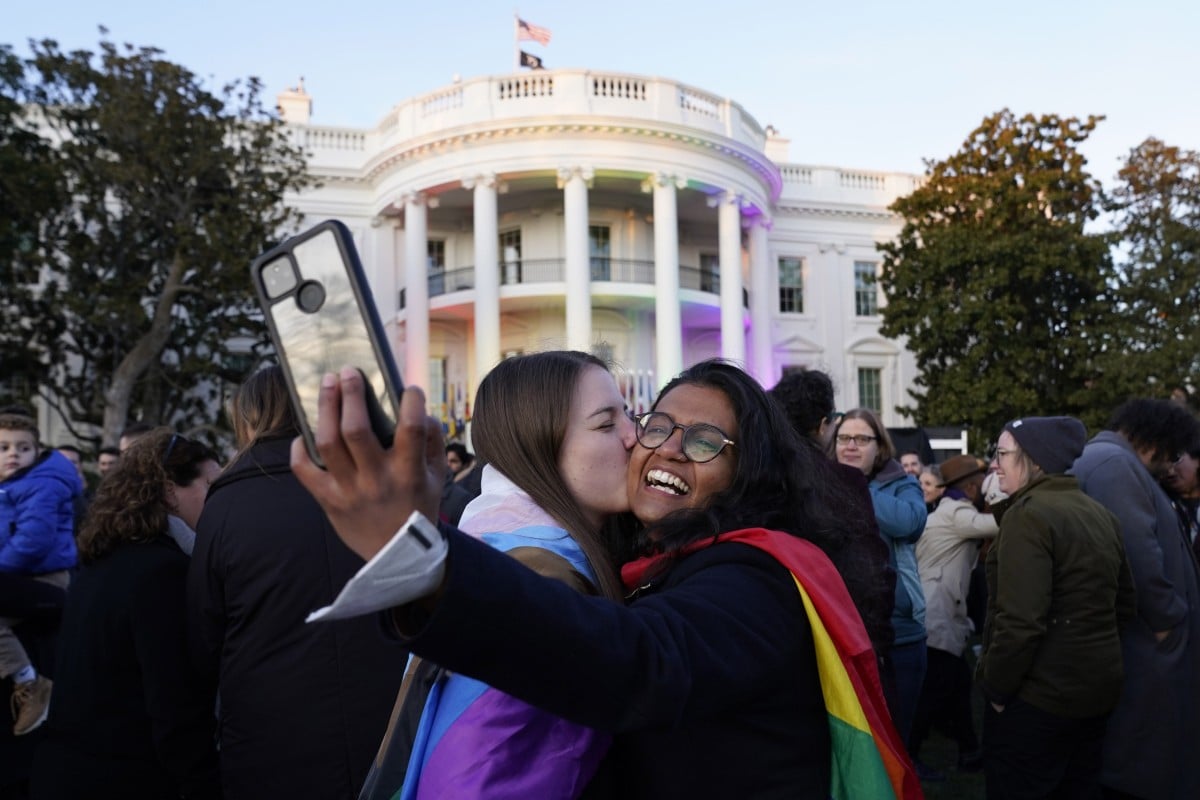 Aparna Shrivastava, right, takes a photo as her partner Shelby Teeter kisses her after President Joe Biden signed the Respect for Marriage Act on Tuesday, December 13, 2022. Photo: AP
Have some thoughts on this issue? Send us your response (no more than 300 words) by filling out this form or emailing [email protected] by January 4 at 11.59pm. We'll publish the best response next week.
Do you recognise the building in the picture? What might the colours projected onto the building represent?

Why might the couple in the picture be so happy?
US President Joe Biden signed the Respect for Marriage Act into law on December 13 at a celebration that featured singer Cyndi Lauper performing "True Colors" in front of thousands of supporters on the White House lawn.
The new law federally recognises same-sex marriages and was born out of concern that the Supreme Court could reverse its legal support of such relationships.
Although same-sex marriage has been legal in the US since 2015, the move was decided by a Supreme Court case and hadn't been written into law before now.
After Roe v. Wade – the case that guaranteed the federal right to an abortion – was overturned earlier this year, LGBTQ activists called on the government to pass a bill for marriage equality.
Cheers erupted from the crowd as Biden signed the bill.
"Marriage is a simple proposition. Who do you love? And will you be loyal to that person you love? It's not more complicated than that. The law recognises that everyone should have the right to answer those questions for themselves," Biden said. "Today's a good day."
Pop icon Lauper, famous for her 80s hit "Girls Just Wanna Have Fun," and British singer Sam Smith both performed at the event.
"This time, love wins," Lauper said before starting to sing.
"We can rest easy tonight because our families are validated and because now we're allowed to love who we love," said Lauper, an LGBTQ activist.
House Speaker Nancy Pelosi said the bill promoted equality.
"Everyone deserves to bask in the magical blessing of building a union with the person you love."
Senate Majority Leader Chuck Schumer, whose daughter and her wife are expecting a child, called it "a day of jubilation".
Reuters and Yanni Chow
To what extent do you agree with Biden's move to sign the bill into law, and why?

Do you think more countries in the world should implement such laws? Explain.
Prince Harry and Meghan Markle stand with King Charles and Queen Consort Camilla at Queen Elizabeth's funeral in London on September 19, 2022. Photo: Reuters
Valerie Shek, Independent Schools Foundation
I oppose Prince Harry and Meghan Markle's actions. It is disgrace to the British royal family. Their intentions are obvious – to generate publicity, fame and sympathy through scathing attacks on their family members. The public might have believed them if the couple stopped, but the ongoing accusations and possible exaggerations create resentment against the couple.
While their stories were alarming and newsworthy in the beginning, no one is really interested in them any more. The longer they repeat their claims, the more people will lose interest.
Moreover, I think it is inappropriate that they filmed their documentary series. Since they have severed their ties with the royal family, they should not linger on it and keep discussing the past so publicly. It leads to more hard feelings and invites intense public scrutiny over private, family matters.
I believe the royal family might have mixed sentiments about the docuseries; some may certainly feel proud of Harry and Meghan for openly discussing their challenges and the difficulties they have faced as a couple. However, many would consider their actions embarrassing for the family.
I disagree with Prince Harry and Meghan Markle's conduct. Their ulterior motive is to generate public sympathy and, more importantly, income, which brings discomfort and embarrassment to their family members. The pair should just delete their documentary and turn over a new leaf.
Prince Harry and Meghan Markle discuss their treatment by press, British royal family in new Netflix series
Sign up for the YP Teachers Newsletter
Get updates for teachers sent directly to your inbox
Sign up for YP Weekly
Get updates sent directly to your inbox