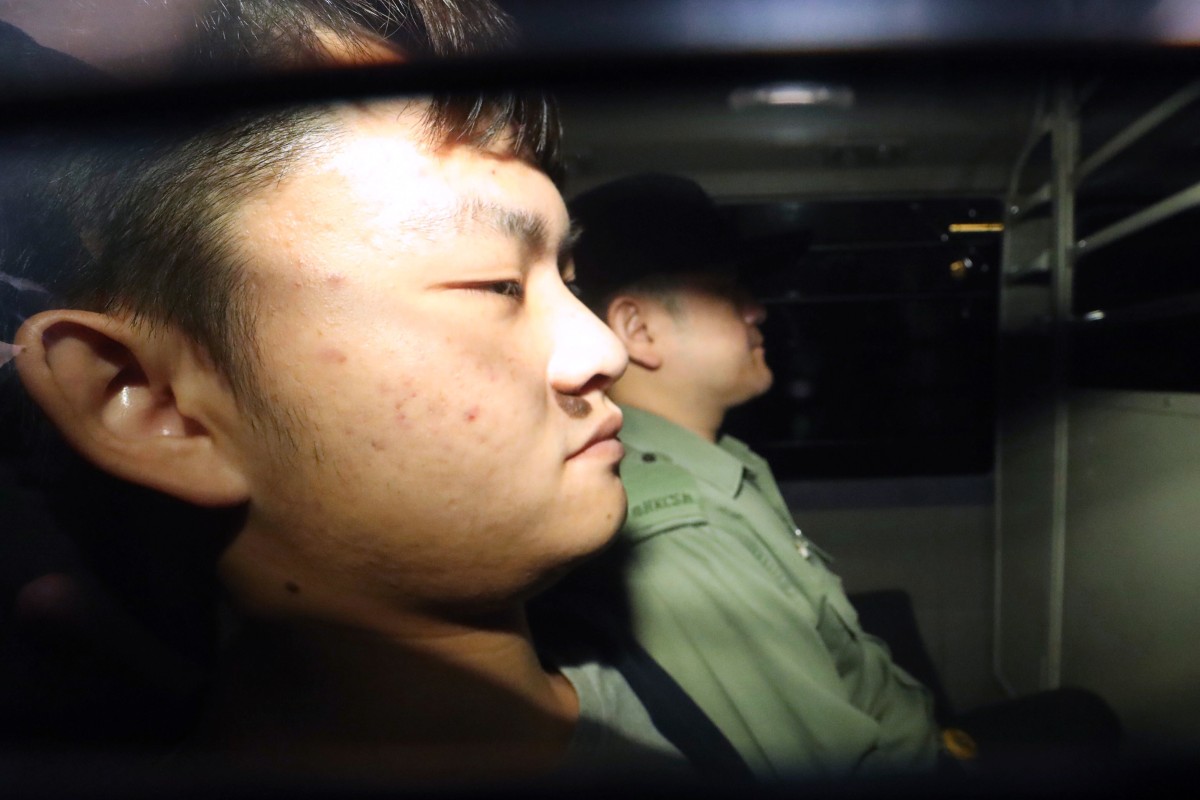 Chan Tong-kai arrives at the High Court on April 29.
Chan Tong-kai is the man in the middle of the Hong Kong extradition law row.
The former associate degree student at Polytechnic University's Hong Kong Community College, is the prime suspect in the of killing Poon Hiu-wing, 20, during their trip to Taiwan in February. Poon was three months pregnant at the time of her death.
Chan and Poon went to Taiwan on February 8, 2019, but Chan returned alone on February 17. Taiwan police say Chan was seen carrying a huge pink suitcase after checking out of a Taipei hotel earlier that day. They suspect Poon's body was inside it.
Police discovered Poon's body on March 13 in bushes near Zhuwei MRT station, on Taipei's outskirts. She had been strangled.
During his trial in Hong Kong for money laundering, the court heard that Chan and Poon had met while working part-time for the same company. In December, Poon confirmed that she was pregnant when Chan booked their trip to Taiwan.
She had told her mother on February 8 she would be visiting Taiwan with a friend and return on February 17 but offered no further details on her travelling companion.
Poon's mother received a WhatsApp message from her at 1.21am on February 17, saying she would be returning to Hong Kong later that night.
But Poon never made it.
Her mother made a missing-person report on March 5 while her father went looking for her in Taiwan and sought help from local authorities.
A copy of Chan's arrival and departure card for Taiwan was later discovered in Poon's flat, which identified their hotel in the Datong district and led to police interviewing him on March 13. 
Under caution, Chan told investigators they had quarrelled over how their luggage should be packed after buying a new pink suitcase from a night market on February 16. They made up but fought again hours later at 2am on February 17. Chan claimed Poon had revealed that he was not her baby's father. Agitated, Chan hit Poon's head against the wall, and strangled her.
He then folded her body into the suitcase, packed up her belongings and went to bed.
At 7am, Chan got up and disposed of Poon's belongings at different refuge collection points near the hotel. He then travelled 15 stations away and dumped the body inside a thicket of bushes at a park near Zhuwei station after a two-hour search for a suitable site on the outskirts of Taipei.
He threw away the empty suitcase and the last of Poon's belongings – except her iPhone 6, Casio digital camera and HSBC ATM card.
Using her password, Chan withdrew 20,000 New Taiwan dollars (US$647) to buy clothes. But he changed his mind about shopping and caught the 11.22pm flight home. Over the next two days, Chan used Poon's ATM card to withdraw HK$19,200 (US$2,450) to pay his credit card bills.
Chan was arrested for murder by Hong Kong police immediately after his admission on March 13, 2018 – the same day the Taiwanese authorities found Poon's decomposed body.
But he was only charged with money laundering and has not been sent to Taiwan, despite requests from the island authorities, because there is no formal extradition agreement between the two places.
Murder carries a mandatory sentence of life imprisonment, while the punishment for money laundering is capped at 14 years in prison and a HK$5 million fine.
Chan pleaded guilty to four counts of dealing with property known or believed to represent the proceeds of an indictable offence at the first available opportunity during committal proceedings at Eastern Court on December 31.
Hong Kong extradition law: More protests planned before bill heads to Legco; police to deploy 5,000 officers on streets
Sign up for the YP Teachers Newsletter
Get updates for teachers sent directly to your inbox
Sign up for YP Weekly
Get updates sent directly to your inbox