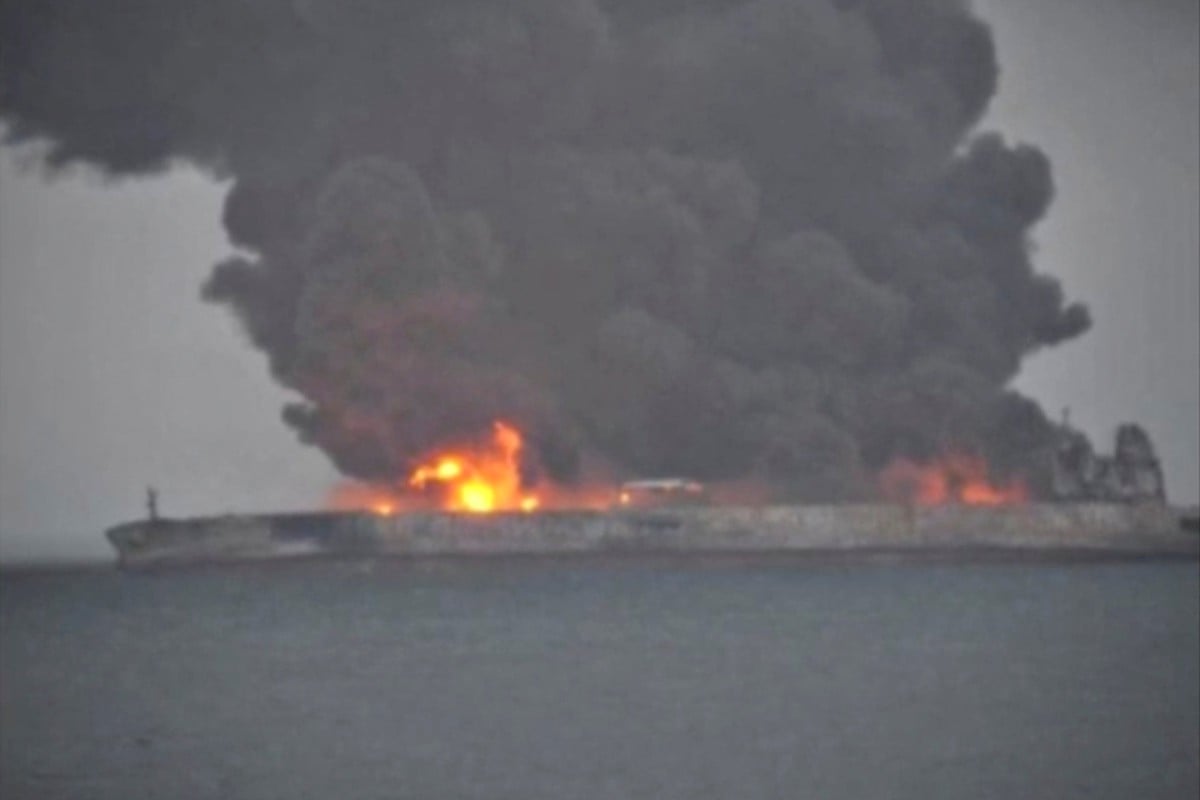 Panama-registered tanker Sanchi lies stricken the the East China Sea
An Iranian oil tanker collided with a grain freighter in the East China Sea over the weekend, erupting in fire and leaving its entire crew of 32 dead or missing.
The tanker Sanchi collided with the CF Crystal, a cargo ship carrying grain from the United States, about 160 nautical miles offshore to the east of Shanghai on Saturday evening.
The Panama-registered tanker was sailing from Iran to South Korea, carrying 136,000 tonnes of condensate, an ultra-light form of crude oil. Rescuers were prevented from searching for the crew of the tanker because of toxic fumes from its cargo. Here's what you need to know about the condensate:
Condensate is an extremely light form of oil which is mostly a byproduct of natural gas production.
It is usually composed of propane, butane, pentane or hexane but can also contain carbon dioxide, hydrogen sulfide, aromatics and naphthenes, known as impurities.
Whether or not condensate is liquid or gaseous depends on temperature and pressure.
It is mostly transparent and close to odourless.
Russia and the Middle East are the biggest producers.
More recently, US condensate output has risen sharply due to the shale oil and gas production boom.
Australia's condensate output is also rising due to its large offshore natural gas fields which are in the process of ramping up that also produce condensate.
Condensate is mostly used to make vehicle fuel, such as petrol. It is therefore sometimes called natural gasoline.
It can also be used to dilute heavier crude oils before they are used in oil refineries.
It is also used to make products like plastic in the petrochemical sector.
Before it can be used, condensate has to be stabilised by removing vapour pressure and other elements.
How dangerous is condensate?
Like all fossil fuels, condensate contains poisons which are harmful to the environment, animals and humans.
It is generally more flammable and explosive than normal crude oil.
Operating in areas where condensate has escaped is dangerous for crew because it can easily explode. It can also replace oxygen in recuers' blood, killing with only a few breaths. The condensate can also make a living organism not feel pain. 
Whether escaped condensate causes an oil spill or not depends on whether it has vapourised, burnt off, or escaped in liquid form.
When forming a spill, it is considered to be dangerous because it is so poisonous and because it is difficult to contain and manage. However, it scatters and breaks down more easily than heavier oils.
Sign up for the YP Teachers Newsletter
Get updates for teachers sent directly to your inbox
Sign up for YP Weekly
Get updates sent directly to your inbox