President Xi calls on more Hongkongers to live and study in mainland China
During a 40th anniversary celebration for Shenzhen, Xi said Hong Kong youth should live in China to 'bring their hearts closer to the motherland'

One opposition lawmaker said young people don't trust the government on the mainland because it suppresses the city's freedoms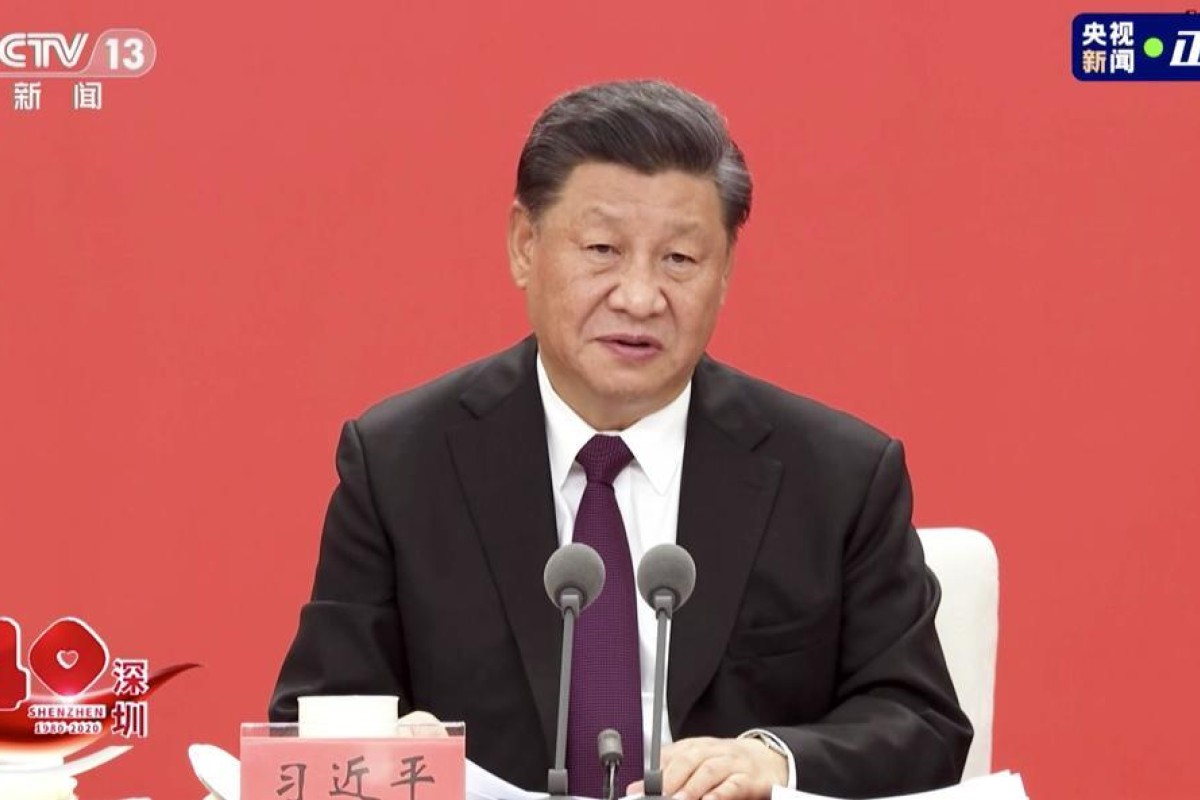 Xi called Shenzhen's rise a 'development miracle' and called on more Hong Kong youth to move to the mainland to study and work. Photo: CCTV
President Xi Jinping has urged more young Hongkongers to work, study and live in mainland China as he hailed Shenzhen's role as an "important engine" of the Greater Bay Area project, during celebrations marking the Guangdong city's 40th anniversary as a special economic zone. 
"We must foster the integrated development of the mainland, Hong Kong and Macau, and they must foster each other's development," he said.
"The party has high hopes for Shenzhen … It needs to push forward the bay area plan and enrich the new practices in the implementation of 'one country, two systems'. These are historic missions that the party is giving to Shenzhen in the new era."
Under the Greater Bay Area project, Beijing aims to turn Hong Kong, Macau, Shenzhen and eight other Guangdong cities into a technology and finance powerhouse rivalling California's Silicon Valley by 2035. 
Former Chief Executive names teachers arrested in Hong Kong protests 
Xi said the authorities must continue to encourage Hong Kong's young people and its businesses to seize the various opportunities available on the mainland. 
"We must attract more Hong Kong and Macau youth to study, work and live on the mainland, and boost interaction and communication between youth in Hong Kong and Macau with those in Guangdong, to bring their hearts closer to the motherland," he said.
"We must also continue to guide Hong Kong, Macau and Taiwan compatriots, as well as overseas Chinese, to invest in the area."
Professor Lau Siu-kai, vice-chairman of the Chinese Association of Hong Kong and Macau Studies, a semi-official think tank based in Beijing, said Xi's speech showed Hongkongers needed to have a stronger "sense of crisis".
Hong Kong Chief Executive Carrie Lam and a number of other top city officials travelled to Shenzhen on Wednesday to attend events with Chinese President Xi Jinping. Photo: Reuters
"The central government now depends on Shenzhen as an engine of the Greater Bay Area and the nation's development. The role of Hong Kong, due to political reasons, is being weakened," he said.
Lau said he believed Beijing remained concerned about social unrest and foreign interference in Hong Kong.
"Hong Kong people are resistant to mainland integration, and its government has not been especially keen on helping its young people to embrace opportunities on the mainland," he added.
"Now, the city's government must educate its people about the reality, create a sense of crisis ... and a collective consensus that we need to cooperate with the mainland and tap into its market."
Secretary for Education says more teachers could see lifelong ban
Lau also said that Hong Kong still enjoyed advantages over Shenzhen due to its status as a finance hub and its international nature.
"Shenzhen and Hong Kong need to help each other ... in areas ranging from education and healthcare to shipping," he said.
"Opportunities in Hong Kong are also too limited for young people, the city's government needs to help them."
Hong Kong student pleads guilty to assaulting pro-government classmate
Pro-establishment lawmaker Alice Mak Mei-kuen, meanwhile, said she agreed that Hong Kong's young people should learn more about China.
"We are not just asking them to study, but helping them widen their horizons and broaden their minds. When our youths have a clearer picture of the global competition, they will know Hong Kong's status as part of China is an undeniable fact."
But opposition legislator Wu Chi-wai, chairman of the Democratic Party, said it was "ridiculous and laughable" to suggest that Hong Kong youth would be more patriotic if they worked or studied on the mainland.
"When the mainland government suppresses Hong Kong's freedoms, and Hong Kong young people don't trust it, how can they be attracted to work or live on the mainland?" he asked.
Sign up for the YP Teachers Newsletter
Get updates for teachers sent directly to your inbox
Sign up for YP Weekly
Get updates sent directly to your inbox