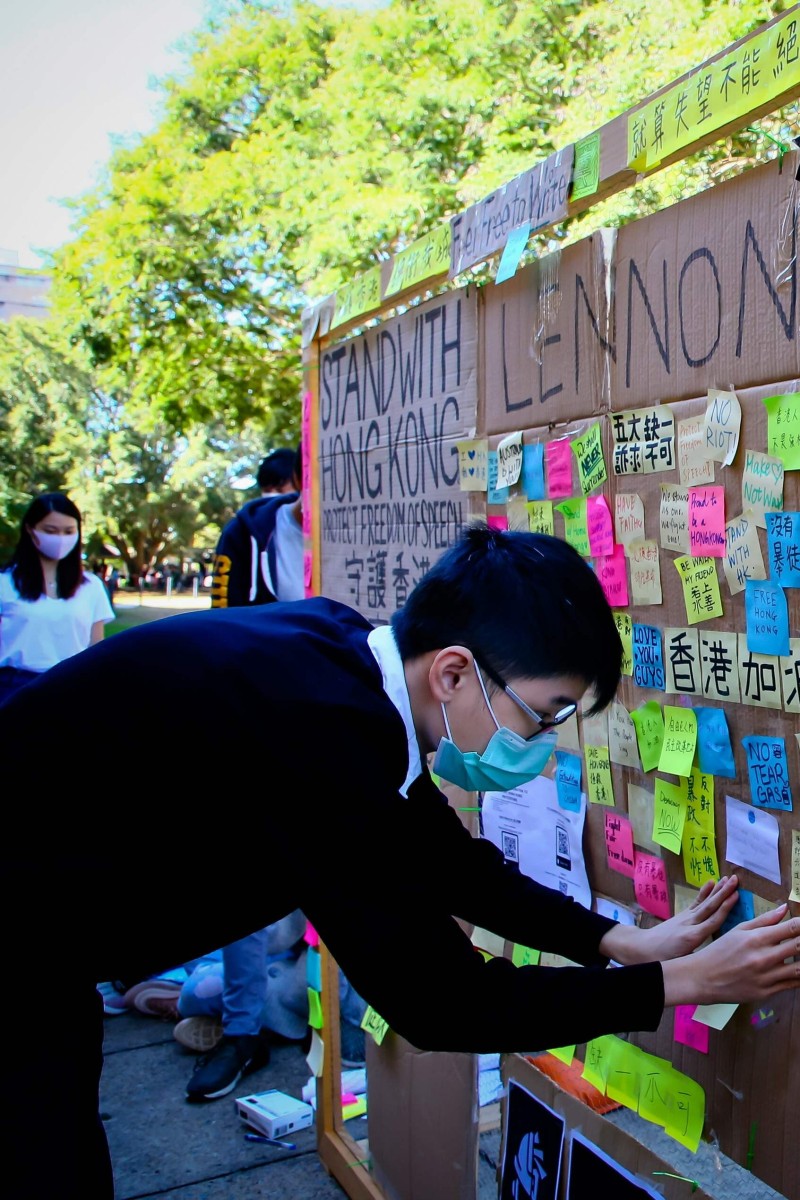 Universities in Australia move to protect Hong Kong students from national security law
Professors are conducting class audits to determine whether Hongkongers are at risk of being reported by mainland Chinese classmates

Proposed precautions include anonymous discussions, content warnings and banning students from taping classes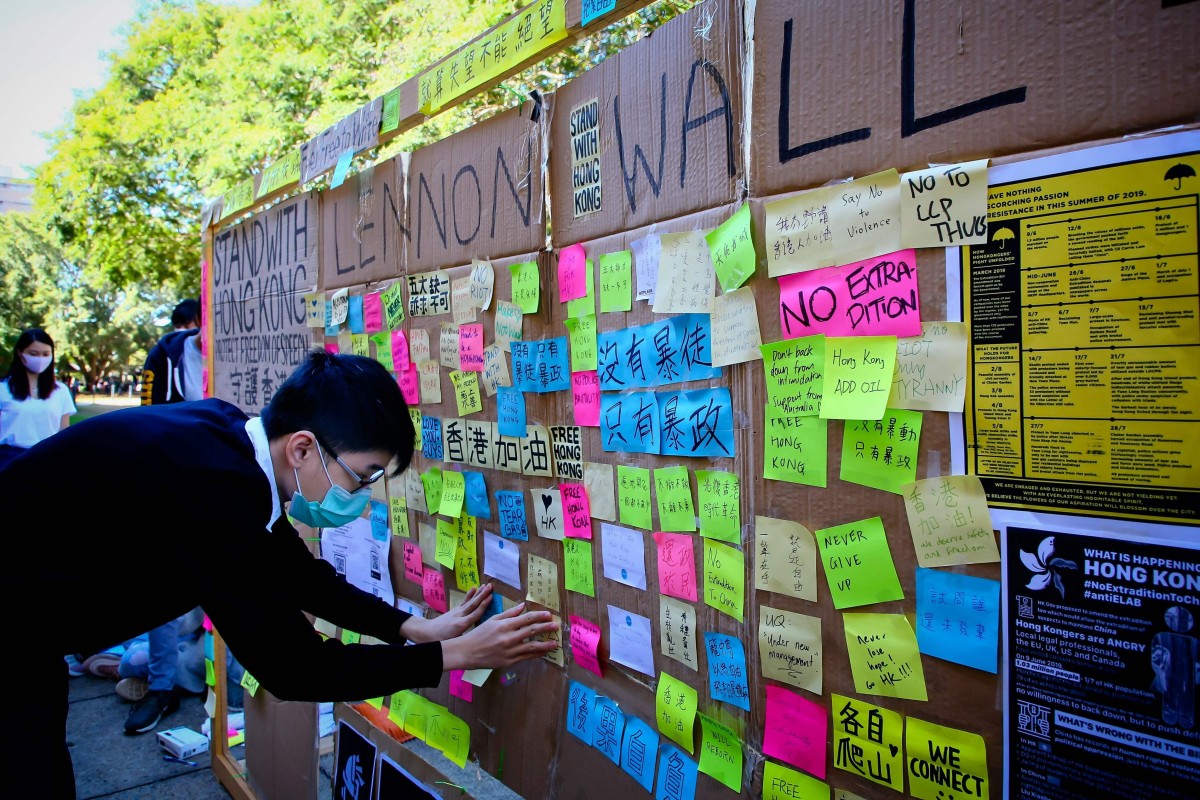 This photo taken on August 9, 2019 shows a supporter of the Hong Kong pro-democracy protests posting a note on a makeshift "Lennon Wall" at the University of Queensland in Brisbane. Photo: AFP
At least five major universities in Australia have said they are taking precautions to protect students from Hong Kong's sweeping national security law, with at least one institution scrutinising courses where it is concerned Hong Kong students could be reported to authorities by their mainland Chinese peers.
Measures the lecturers are taking include warning Hong Kong and mainland students about the scope of the law, allowing anonymous submissions of assignments, and in general treading more carefully on topics considered sensitive by Beijing, they said.
Kevin Carrico, a senior lecturer in Chinese Studies at Monash University in Melbourne with a focus on nationalism and identity, said Hongkongers studying in Australia were concerned that comments they made overseas would get them into trouble with the city's authorities.
National security police launch hotline for gathering intelligence
At La Trobe University in Melbourne, an email circulated on August 20 by vice-chancellor John Dewar among senior university officials led to what a faculty member familiar with the situation described as an "audit" to identify courses where Hong Kong students could be reported under the law.
Dewar's email raised concerns about the law in the context of a Wall Street Journal article published a day earlier that described how staff at US universities – including Harvard and Princeton – were taking precautions such as anonymous discussions and introducing content warnings on courses, said the faculty member, who requested anonymity.
In September, The Guardian reported that Oxford University students specialising in the study of China were being told to submit some papers anonymously to protect them from being subject to the new legislation. Students were also expected to be warned that it would be a disciplinary offence to tape classes or share them with outside groups.
Clashes between Hong Kong and mainland Chinese students were not uncommon during last year's pro-democracy protests. Photo: Twitter
The La Trobe faculty member said the "overreach of the national security law" was a deep concern for him.
"I think universities need to take some actions to ensure they are not putting these students in harm's way," they said. "For my university, at least we're starting that and that's positive."
The faculty member said the audit had only found one course in which Hongkonger and mainland students were enrolled together, and no further action had been taken as the course had already ended. They said the process would be repeated in the upcoming semester, but teaching staff had yet to reach a consensus on what to do about courses where mainland Chinese and Hongkongers mixed, with differing views on whether proactively asking students about their concerns or intervening if problems arose was a better approach.
5 ways the national security law has affected Hong Kong
The faculty member also stressed that they believed the national security law was likely a "quite minimal" issue at La Trobe, and was also concerned about an overreaction stirring up Sinophobia at a time of increasingly acrimonious relations between China and Australia.
La Trobe University had 2,125 mainland Chinese students enrolled in 2017, the most recent year for which figures are available. The university did not report figures for students from Hong Kong, although they were not among the five biggest groups of international students.
Nick Bisley, dean of humanities and social sciences at La Trobe, said he was aware of many universities "developing plans to protect students" but wanting "to keep it quiet for a range of reasons, mostly due to the pretty grim state of Australia-China relations".
New ESF guidelines say the classroom is 'not a safe space' for debates on HK politics
"There's no question of this affecting what or how we teach, it's a matter of helping protect our students," he said.
La Trobe University confirmed it had discussed "possible consequences of Hong Kong's security laws" along with other Australian universities, but declined to comment on specific precautions or whether students had raised concerns.
"Protecting our students is paramount, as are free speech and enabling a diversity of views," a spokesperson said.
International students form about 20 per cent of Australia's university population, with about 14,000 Hongkongers and 216,000 mainland Chinese students enrolled across the country's 43 tertiary institutions in 2020.
Sign up for the YP Teachers Newsletter
Get updates for teachers sent directly to your inbox
Sign up for YP Weekly
Get updates sent directly to your inbox