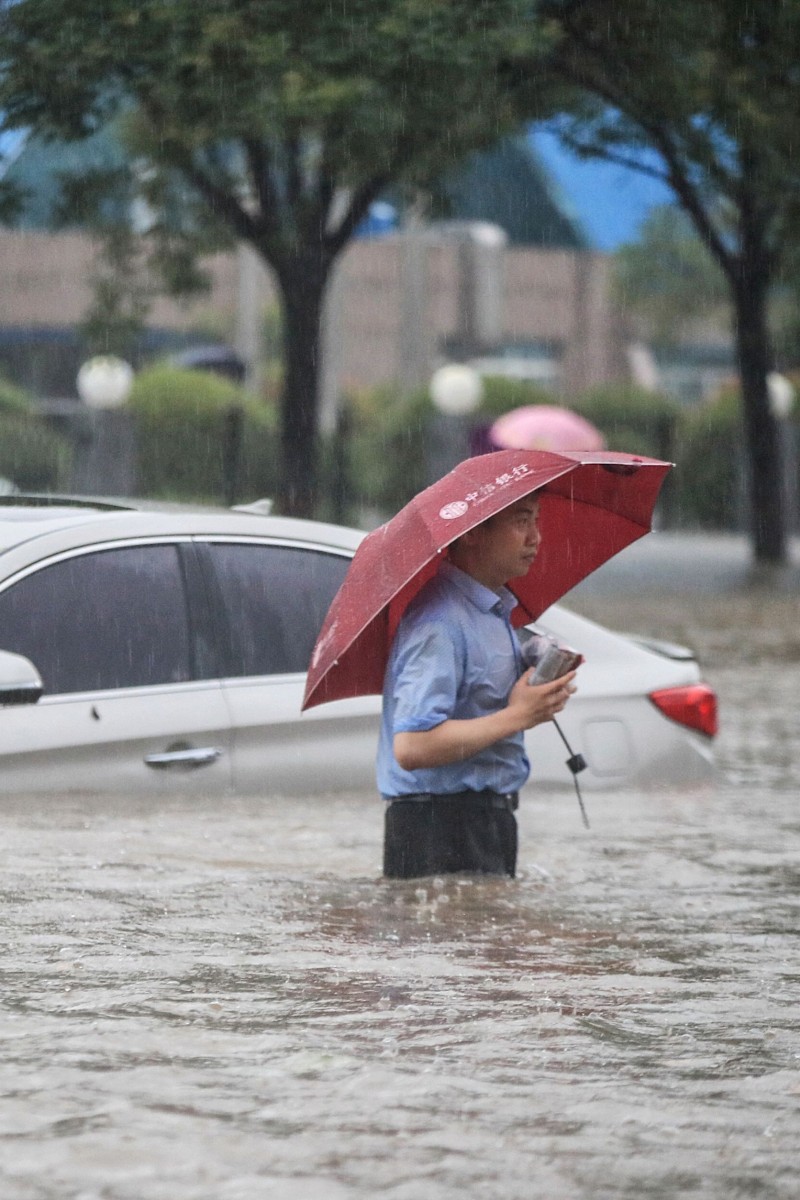 Images show streets and subway tunnels submerged in the city in Henan province, as people are trapped on trains and hospitals have no electricity

In the last three days, the Zhengzhou region has seen almost a year's worth of rainfall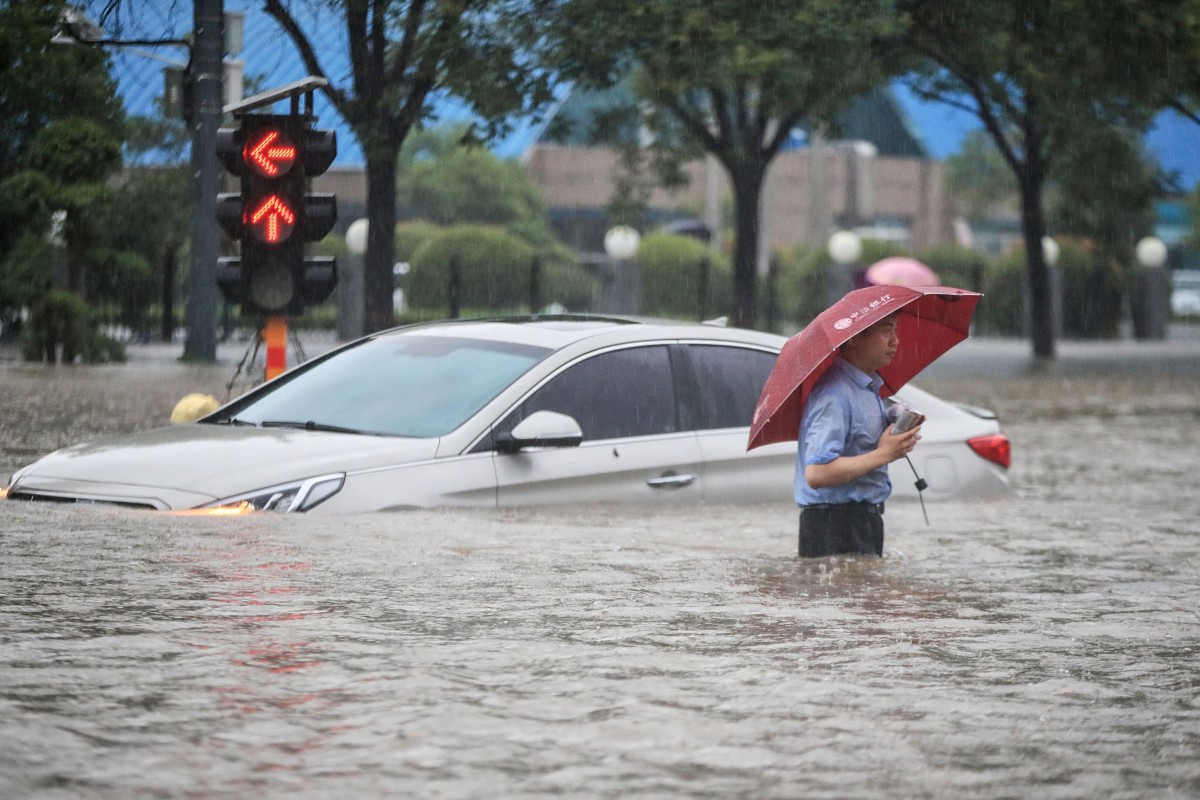 A man wades past a submerged car along a flooded street following heavy rains in Zhengzhou in China's central Henan province. Photo: AFP
Floods in one of China's most highly populated regions have killed at least 18 people and displaced 200,000, as the death toll continued to rise on Wednesday.
An overflowing dam in provincial capital Zhengzhou added to the growing disaster in Henan in central China.
Entire avenues and subway tunnels have been submerged in the city, a railway hub with a population of 12.6 million. 12 people died when their subway train was hit with rapidly rising floodwaters on Tuesday night. Two people were also killed when a wall collapsed.
Weather forecasters described the extreme event as the heaviest rainfall in decades, while Chinese state media shared videos and written accounts of residents trapped inside subway trains, with water rising to their chests. Other reports say hospitals have run out of electricity.
99 of the world's 100 cities most environmentally at risk are in Asia
Heavy rains have also hit other parts of Henan, disrupting rail and other transport links across the province, where many areas are raising their emergency response levels.
In Gongyi, 80km west of Zhengzhou, at least four deaths have been reported due to landslides and floods, and some villages have been without power for more than 24 hours.
One train, travelling from Fuzhou in the south to the industrial city of Luoyang, has been trapped for almost 40 hours with 900 anxious passengers on board, according to the Henan Public Security Department.
The area has seen the heaviest rains it's had in 1,000 years. Photo: AFP
The Zhengzhou flood control headquarters issued a text message on Wednesday, warning residents there was a "grave safety hazard" in the Guojiazui reservoir and calling on them to evacuate the southwestern part of the city immediately.
Zhengzhou recorded 209.1mm (8.23 inches) of heavy rains in just one hour. This compares to the 154mm (6.06 inches) recorded in 24 hours in the German city of Cologne which has also been hit by severe flooding.
What has China achieved in its fight against extreme poverty?
Henan, in the centre of China, is known as a collection place for the large amounts of water vapour generated and guided by typhoons and subtropical air currents which regularly condense into heavy rains. But, in the past three days, Zhengzhou has seen almost a year's worth of rainfall.
The city's meteorological bureau said the 617.8mm (24.3 inches) recorded over the past three days is the largest precipitation in 60 years.
In just three days, the area has seen nearly a year's worth of rainfall. Photo: AFP
President Xi Jinping said on Wednesday that the People's Liberation Army and the paramilitary would help local relief efforts, and also called on local authorities to be mindful of the potential for a Covid-19 outbreak once the effects of the natural disaster are brought under control.
As Zhengzhou struggles to hold back the floodwaters, other cities in Henan are bracing for similar problems. The major agricultural centre of Zhoukou, with almost nine million inhabitants, expects to face its worst floods in 40 years.
Sign up for the YP Teachers Newsletter
Get updates for teachers sent directly to your inbox
Sign up for YP Weekly
Get updates sent directly to your inbox