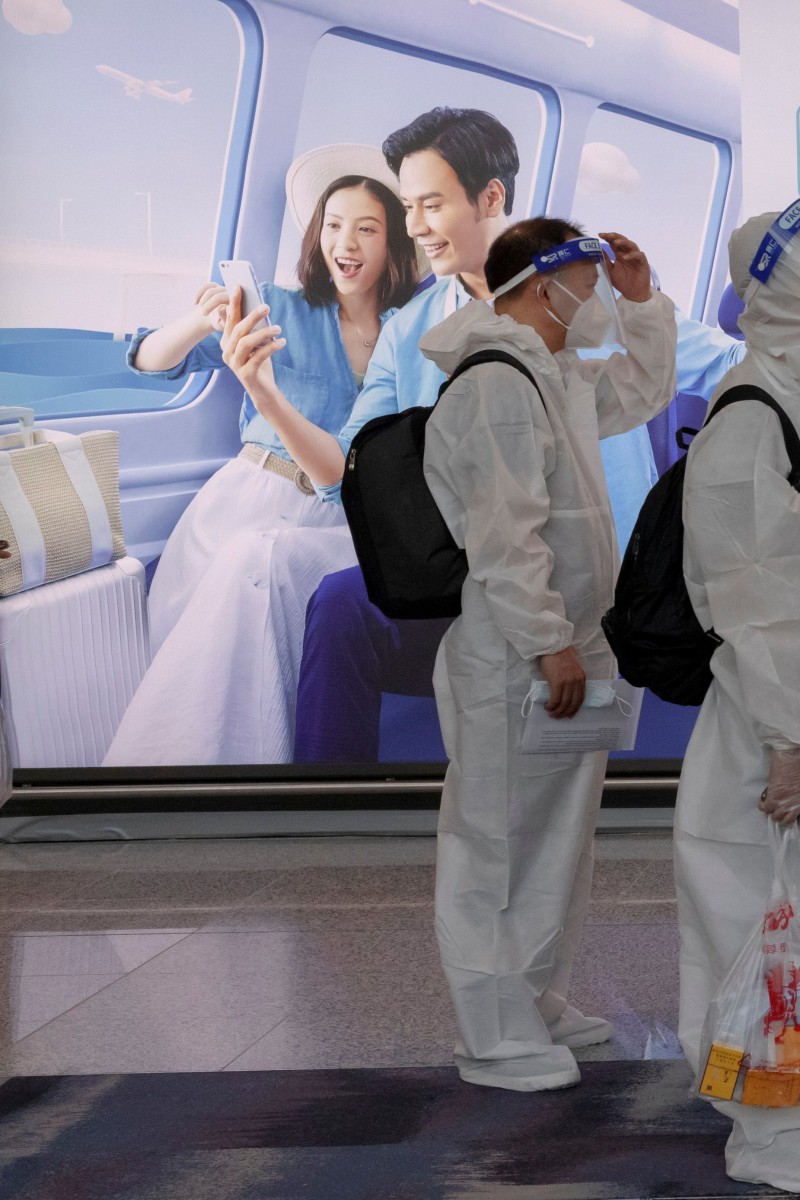 The city moved 15 countries to the 'high-risk' category, meaning tougher entry requirements and longer isolation times

Hongkongers who went to Phuket as part of the "Sandbox" scheme, which previously required only a week in a hotel, are among those affected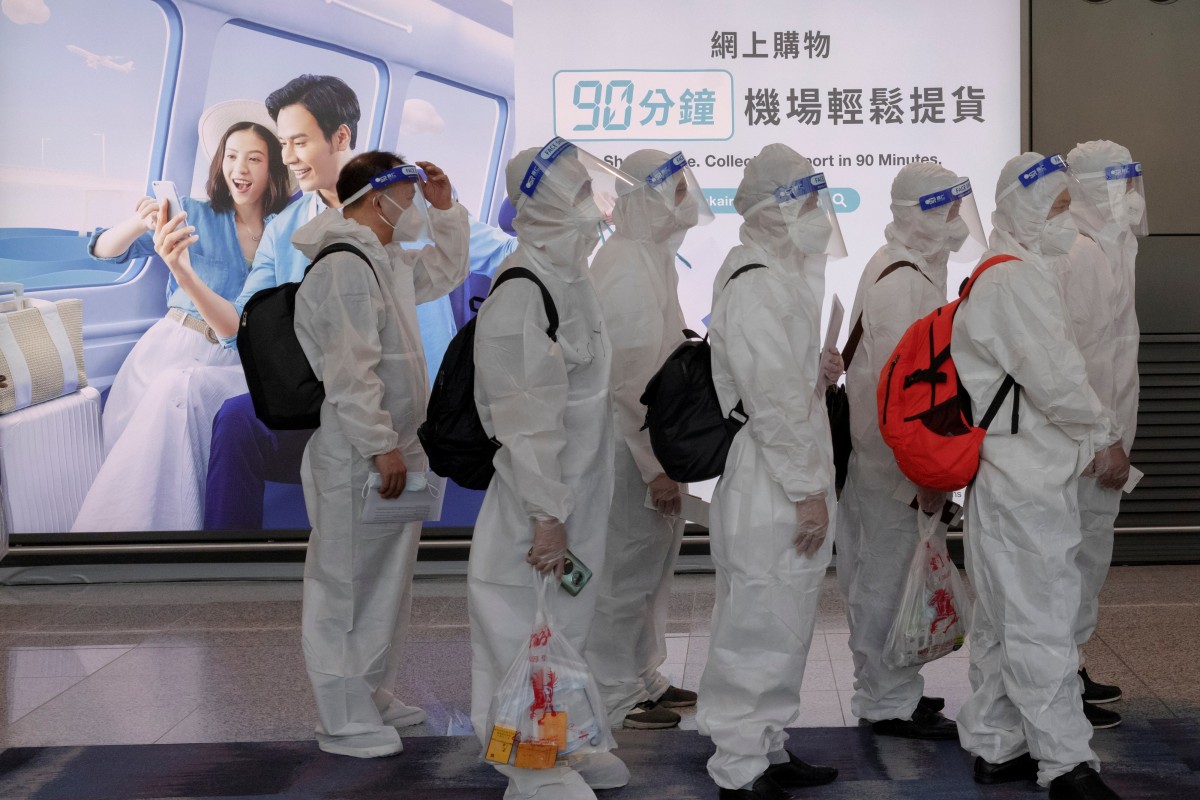 Passengers wearing protective suits (PPE) line up to board their plane for an international flight at Hong Kong International Airport amid the spread of the coronavirus in July 2021. Photo: Reuters
Travellers hoping to enter Hong Kong have been thrown for a loop after the city elevated 15 countries to its "high-risk" category for Covid-19, meaning significantly tougher entry requirements and longer quarantine periods for anyone arriving from those destinations.
The move, announced on Monday afternoon, comes amid a recent global surge in coronavirus cases sparked by the more infectious Delta variant.
The world may never reach herd immunity against Covid-19
The changes mean travellers from the 15 new high-risk nations must be fully vaccinated for at least 14 days before boarding a flight to Hong Kong, then undergo 21 days of quarantine in a designated hotel upon arrival, with four tests during isolation and another one on the 26th day after landing in the city.
Cassi Thomas, 29, is one such traveller who needs to rethink her plans. Thomas flew to Phuket from Hong Kong as part of the "Sandbox" scheme , which allows vaccinated individuals from low-and medium-risk places to go to the island without needing to quarantine for two weeks. She is fully vaccinated, staying at a special hotel, and getting tested every five days. The whole reason for the trip is so she can go to Chiang Mai and visit her elderly father, who she is very close to but has not seen in a year and a half.
A sign reading "Face Masks Required" pictured on Patong Beach in Phuket. Photo: AFP
"My original plans were to spend two weeks in Phuket, then go to Chiang Mai until mid-September, then come back to Hong Kong and do seven days in a hotel – getting out just a couple of days before my 30th birthday," she said.
After the new rules were announced, she decided she would extend her stay in Thailand so she could spend her birthday with her father, rather than isolated in a hotel room in Hong Kong. She is unsure what her plans are after that.
"My whole life is in Hong Kong," she said. "I don't know anyone in Phuket. It's also not cheap, as beautiful as it is. While I'm super thankful to be here, it's still lonely and I miss home."
Unvaccinated people are more likely to be reinfected with Covid
Thomas said she is having trouble finding a hotel in Hong Kong where she can do three weeks' quarantine – they are often fully booked, or prohibitively expensive.
"It's a huge financial burden," she said. "It's just not feasible for someone to pay rent and also HK$15,000+ for a hotel room for three weeks."
Not to mention that being stuck in a room for nearly a month can be taxing for your mental health – in Phuket, rooms often have balconies, and after you get a negative test result on your 5th day, you can generally access public areas of the hotel and even relax by the pool in shifts.
In Hong Kong, more often than not, you cannot even open a window in your room.
Can I get long Covid even if I've been vaccinated?
Thomas thinks it is unfair that Sandbox travellers are being lumped into the same high-risk category as people travelling from the US, France, or even Bangkok, which accounts for a majority of Thailand's cases.
According to local paper The Phuket News, the island has seen a total of 464 local cases in the last seven days, though only 58 Sandbox travellers have tested positive for the virus since the scheme began on July 1. Thailand as a whole has been reporting around 20,000 new cases a day for the last week.
People wear face masks on Patong Beach in Phuket, where tourists can take advantage of the "Phuket Sandbox" programme for visitors fully vaccinated against Covid-19. Photo: AFP
"There's so many precautions being put into place for Sandbox travellers," Thomas said, saying she needs to abide by curfews and that an app on her phone tracks her location. She is even travelling to Chiang Mai by car, a 20-hour trip, to avoid flying through Bangkok, and will undergo regular testing in Chiang Mai as a precaution for her father.
If she does end up testing positive for coronavirus, she will immediately be sent to hospital for at least two weeks. Even after recovering and testing positive for Covid-19 antibodies, she would still need to quarantine in Hong Kong for three weeks.
Vaccinated people who get the Delta variant can still be very contagious
While she understands that she may not fall into the same category as other travellers, since she is leaving the island to visit a different part of the country and heading back to Hong Kong shortly after, she thinks people who spend two or three weeks in Phuket before returning to the city should be allowed to follow the original plan for Sandbox travellers.
"They [the government] should allow sandbox people to come back and do the seven days' quarantine, since they've been so cautious."
What is a vaccine breakthrough case?
Thomas commended the sandbox scheme, saying it was a great idea that allowed many people to see their families, and she wished Hong Kong would consider a similar plan.
"I'm really grateful that I was able to travel at all," she said.
In all, 15 countries saw their status changed from medium to high risk: the United States, France, Malaysia, Thailand, the United Arab Emirates, Bangladesh, Cambodia, Greece, Iran, the Netherlands, Spain, Sri Lanka, Switzerland, Tanzania and Turkey.
Sign up for the YP Teachers Newsletter
Get updates for teachers sent directly to your inbox
Sign up for YP Weekly
Get updates sent directly to your inbox