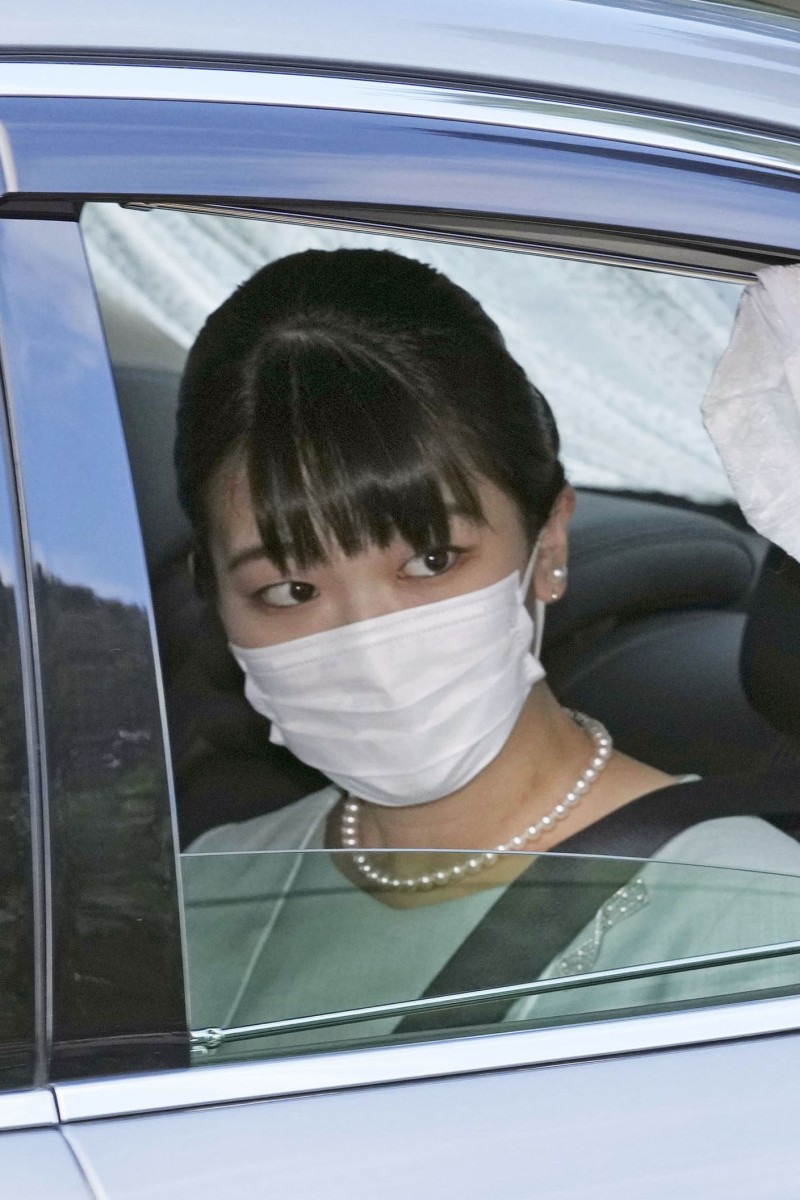 Explainer: Who is Japan's Princess Mako, and why has she lost her royal status now that she is married?
The royal finally married her college sweetheart Kei Komuro after a four-year engagement, but not everyone was happy about it

Princess Mako reportedly suffered mental health trauma due to stress and public criticism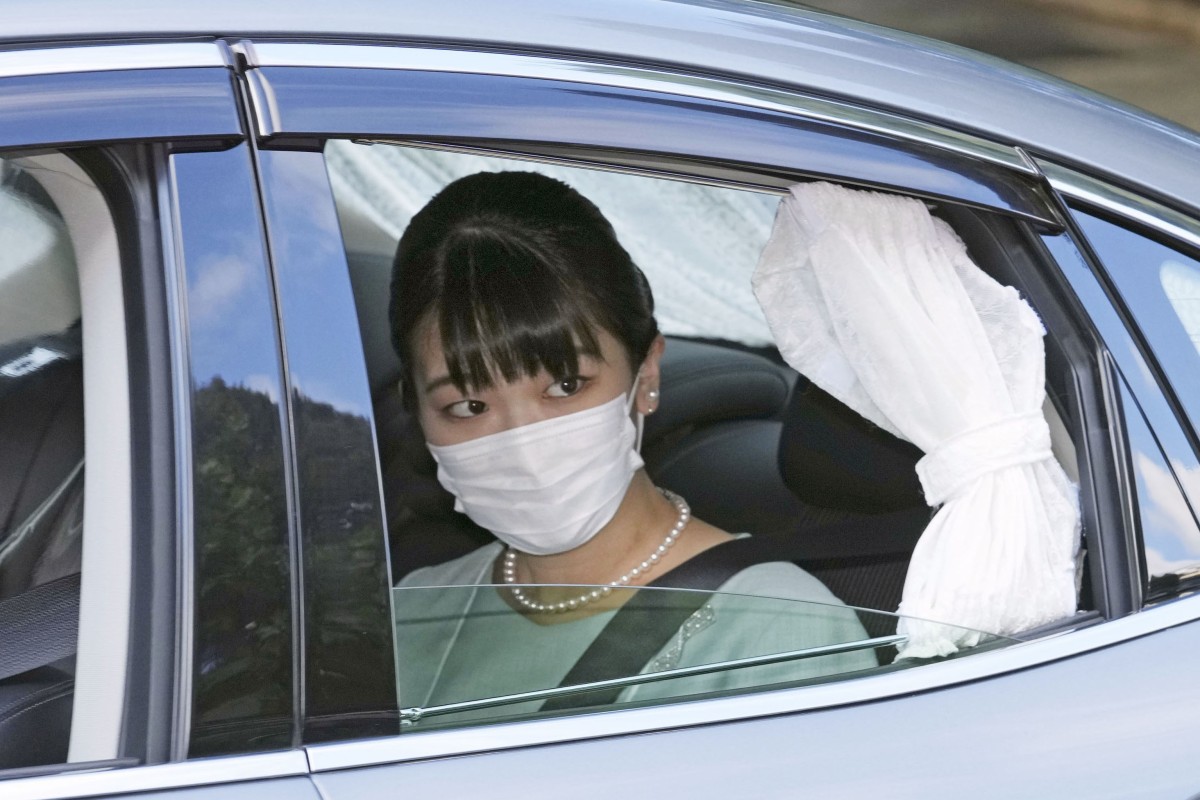 Japanese Princess Mako leaves her family's residence in the Akasaka Estate in Tokyo on Oct. 26, 2021. The Imperial Household Agency submitted legal paperwork the same day to register her marriage to her commoner boyfriend Kei Komuro on their behalf. Photo: Kyodo
After knowing each other since 2012 and battling through three years of a long-distance relationship, including a 13-hour time difference, Japan's Princess Mako finally married her college sweetheart, Kei Komuro, on Tuesday.
Sounds like a fairy tale, doesn't it? Well, it's far from that.
Princess Mako has lost her royal status after getting married with Komuro, a commoner. Public criticism, stress, and mental health trauma surrounded the wedding.
Here's what you need to know about the saga.
Meet this 13-year-old Japanese gold medal winner
Who is Kei Komuro?
Kei Komuro, 30, is an aspiring lawyer who took the New York state bar exam in July and is reportedly working at a law firm in the US. He earned his law degree from Fordham University, also in New York.
Kei Komuro leaves his house in Yokohama, Kanagawa Prefecture on October 26, 2021. Photo: AFP
When did Princess Mako and Kei Komuro get engaged?
Princess Mako, niece of Emperor Naruhito, first met Komuro in 2012 when they were both students at Tokyo's International Christian University. They got engaged in September 2017 and planned to marry the following year.
Memories of the 2011 Japan tsunami and earthquake
How did Japan react to their decision?
The public was not pleased with the match, as Komuro was deemed unfit for a royal daughter after scandals involving his mother emerged in 2018 and the wedding was postponed.
Crown Prince Akishino, Mako's father, begrudgingly approved of the marriage in 2020.
"If they are really serious about getting married, I think that as parents, we should respect their feelings," Crown Prince Akishino said in a 2020 press conference.
Some members of the public protested the wedding, with many holding posters that expressed their objection towards the marriage.
Protesters hold banners during a march against the marriage between Japan's Princess Mako and her fiancé Kei Komuro. Photo: Reuters
What is the scandal surrounding Komuro?
The controversy began when reports surfaced regarding a financial disagreement between Komuro's mother and her former boyfriend.
It was reported that Komuro's mother failed to repay her ex US$35,200 (HKD$273,643) that he lent her to cover Komuro's university education. Earlier this year, Komuro released a 28-page statement explaining that his mother thought the money was a gift, but the damage was already done.
Another recent scandal involving Komuro was that he recently returned to Japan sporting a ponytail – with the public saying that his hairstyle was not suitable for a man about to marry a princess.
What happened to the princess during the engagement?
Princess Mako reportedly developed complex post-traumatic stress disorder as a result of the pressure she received from the public, and from the intense media scrutiny targeting her engagement, the Imperial Household Agency said in a news conference held earlier this month.
It is not the first time a woman in the imperial family has had mental health issues because of the public.
Princess Mako (R) is hugged by her sister Princess Kako (2-R) as she leaves her home. Photo: EPA-EFE
What happened at the royal wedding?
There was no big, fancy wedding. Due to public scrutiny, the usual rituals – Nosai no Gi, the official engagement ceremony, and Choken no Gi, when the couple officially meet and thank the emperor and empress – were cancelled.
Princess Mako submitted her marriage registration through a member of the Imperial Household Agency on Tuesday morning, and the newly-married couple held a news conference at a hotel in Tokyo later in the day.
Princess Mako and her husband Kei Komuro at a press conference on Tuesday. Photo: EPA-EFE
During the press conference, the princess said Komuro is an "irreplaceable" person and that their marriage was "a necessary choice."
Following the wedding, Princess Mako's parents - Crown Prince Fumihito and Crown Princess Kiko - said in a statement that their eldest daughter's marriage was "unprecedented for the imperial family," but that they hoped she would cherish the feelings she built up over time and make a happy family with her new husband.
Princess Mako was also the first person to turn down a royal dowry worth around US$1.4 million (HKD$10,883,530), a one-off payment the government gives women from the imperial family who are stripped of their noble status.
Japanese Prime Minister declares war on ink stamps
What happens next?
Under Japan's male-only royal succession law, Princess Mako forfeited her royal status when she married a commoner. She recently spent her last birthday as a member of the royal family, as she turned 30 on Saturday.
It has been reported that Princess Mako, now called Mako Komuro following her marriage, has moved out from her imperial family home and is currently living in a condominium in Tokyo before moving to the United States at the end of the year. As Japanese imperial family members don't have passports, she will need to apply for hers as an ordinary citizen.
Will they live happily ever after? We'll see.
Japan's Crown Prince Akishino, Crown Princess Kiko and Princess Kako wave to Princess Mako as she leaves her home in Tokyo. Photo: Kyodo
Who were the other royal women in Japan that suffered due to media pressure?
Former Empress Michiko, the first commoner who married into the imperial family, received backlash from the media for not strictly conforming to certain aspects of imperial life after making home renovations and wearing too many different outfits.
Michiko even lost her voice for seven months in the 1960s and once more in 1993 due to severe stress from the public and her mother-in-law, and cancelled many of her official duties in 2007 due to the mouth ulcers, nosebleeds and intestinal bleeding she developed as a result of the psychological stress of her position.
Current Empress Masako, despite being a high achieving Harvard graduate with a previous career as a diplomat, was also the victim of public scrutiny because of her trouble getting pregnant. In 2001, the empress gave birth to Princess Aiko. However, the public was still disappointed when a male heir was not produced.
In 2004, Empress Masako was diagnosed with a stress-related illness that hindered her from performing her public duties for over a decade.
Sign up for the YP Teachers Newsletter
Get updates for teachers sent directly to your inbox
Sign up for YP Weekly
Get updates sent directly to your inbox