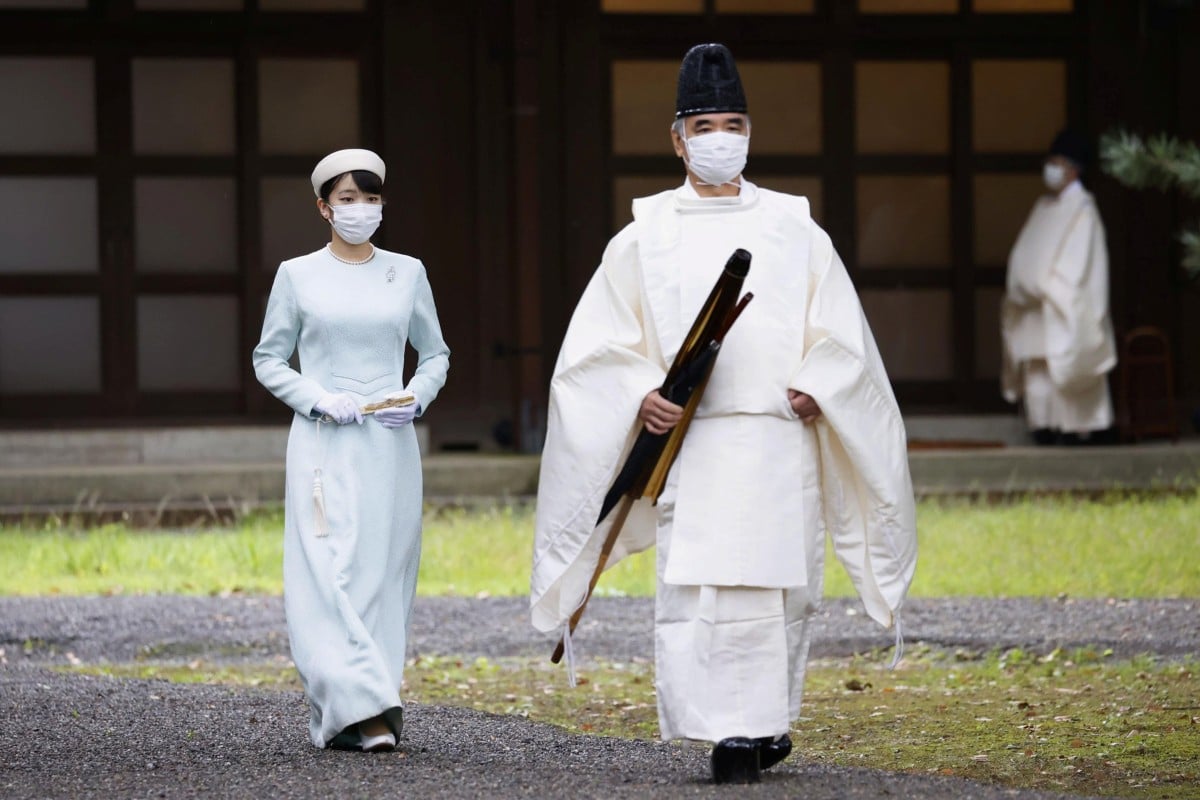 Princess Mako heading to offer prayers at the Imperial Palace Sanctuaries in Tokyo earlier this month, ahead of her marriage. Photo: Kyodo
Japan will maintain tradition in the imperial household even if it means the end of the monarchy.
After a four-year engagement, Princess Mako, the niece of 61-year-old Emperor Naruhito, married her long-time boyfriend, Kei Komuro on Tuesday. And because Japan's imperial law strips women of their royal status after marriage, the Princess will exit the family, leaving behind just 12 women and five men.
In addition, following controversy over their engagement, Mako turned down a 152.5 million yen (US$1.3 million) dowry that is traditionally given to women in the royal family who've married, making her the first to do so since World War II.
Former Japanese princess Mako and her husband Kei Komuro attended a news conference to announce their marriage registration on October 26. The princess became Mako Komuro under a family registry with her husband. Photo: Reuters
"It's a radical departure from what is expected from women of the imperial family," said Shihoko Goto, deputy director for Geoeconomics at the Wilson Centre, a Washington-based think tank, and an Asian affairs specialist. "She is prepared to make financial sacrifices and uproot herself from the comfort, safety, and privileges of her life to pursue her own path."
There were 67 members of Japan's royal family after World War II. As of Tuesday, there will be just 17, and only three heirs to the throne among them: The emperor's 85-year-old uncle, Prince Masahito; his brother, Crown Prince Fumihito, age 55; and his nephew and Princess Mako's brother Hisahito, age 15. Japan is among a handful of modern monarchies, including Saudi Arabia, Oman and Morocco that limits succession to men.
Explainer: Who is Japan's Princess Mako, and why has she lost her royal status now that she is married?
Princess Mako's wedding has spotlighted previous calls to allow women to be part of the line of succession, as a way to shore up the world's oldest hereditary monarchy, and to bring it in line with more modern ideas about gender equality.
It's an overwhelmingly popular idea, according to a Kyodo News poll taken in March and April, in which 85 per cent of respondents said they were in favour of a female emperor, and almost as many – 79 per cent – said they'd support letting the empress pass the throne on to her own children.
A photo from 2002 shows Princess Mako (left) during a walk with Crown Princess Masako as she holds her daughter Princess Aiko. Photo: Kyodo
Ironically, the imperial family cannot do anything about it. The role of the monarchy, including its line of succession, is governed by Japanese law. In the past two decades, several top political officials have considered changing the rules, to no avail.
In 2006, proposed legislation to allow female heirs to be in line to the throne was shelved after the birth of Prince Hisahito, the first male child in almost four decades. In 2012, then-premier Yoshihiko Noda considered allowing princesses to create their own royal branches and keep their status when they marry, an effort that stalled when he was replaced by Shinzo Abe.
This photo taken in 2011 shows Japan's Prince Hisahito (bottom centre) wearing traditional ceremonial attire as he is accompanied by his father Prince Akishino (second left), mother Princess Kiko (centre right) and sisters Princess Mako (left) Princess Kako (right). Photo: AFP
More recently, ex-premier Yoshihide Suga launched an expert panel to look into the matter. However, his successor, Prime Minister Fumio Kishida, opposes passing down the throne through an empress.
As Princess Mako loses her royal status, the newlyweds plan to live in the US, without financial support from the royal family or the Japanese government. Her husband has reportedly secured a job with a Manhattan law firm, while Princess Mako – who has a master's degree in art museum studies – has not announced her plans. The move may prove a welcome reprieve for the couple after years of tabloid scrutiny.
Meghan Markle and Prince Harry discuss racism and mental health with Oprah Winfrey
Earlier this month, the Imperial Household Agency, the government office that oversees the royal family, said that the princess had been diagnosed with post-traumatic stress disorder as a result of online abuse directed at the couple and their families.
"She has been experiencing a persistent fear that her life is going to be destroyed, which makes her pessimistic and makes it difficult for her to feel happy," the statement said.
Sign up for the YP Teachers Newsletter
Get updates for teachers sent directly to your inbox
Sign up for YP Weekly
Get updates sent directly to your inbox