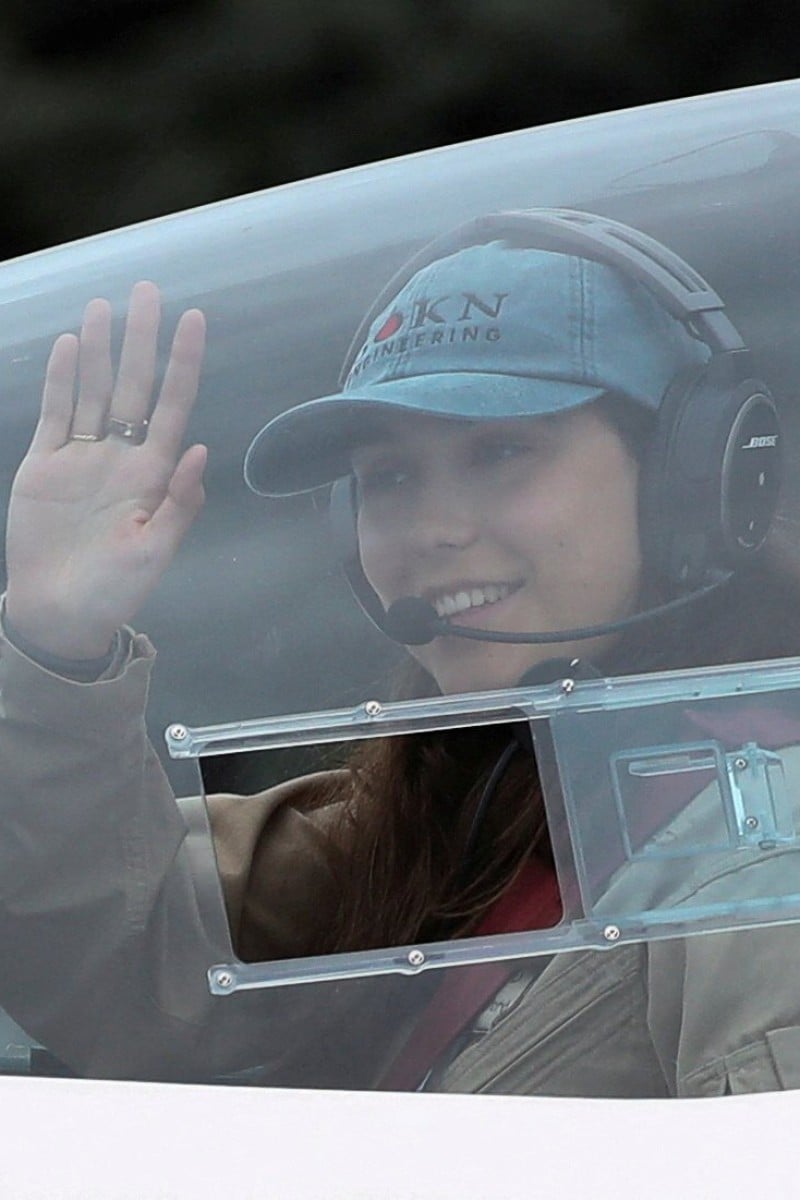 Teen pilot lands in Seoul on historic solo flight
Rutherford set off on a 32,000-mile journey on August 18

When the 19-year-old completes her trip, she will be the youngest woman to fly solo around the world, breaking the previous record held by Shaesta Wais who accomplished the feat at the age of 30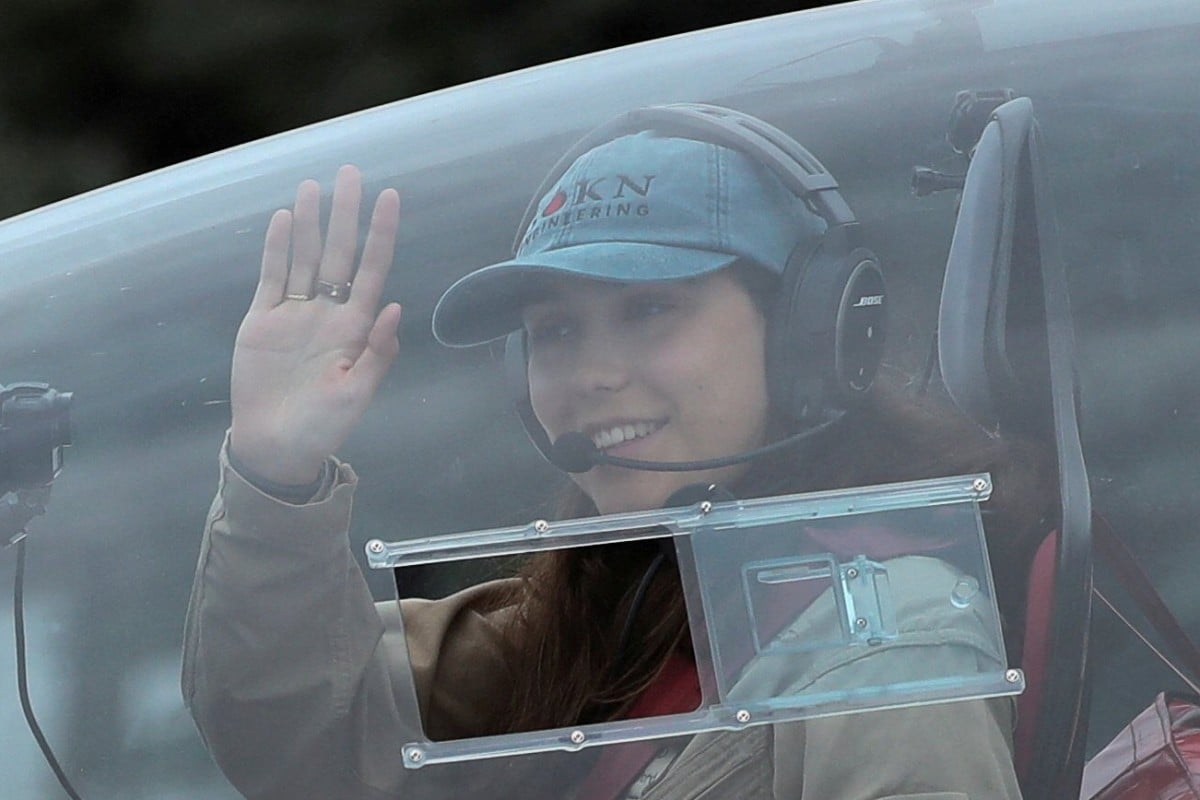 Belgian-British pilot Zara Rutherford as she departs for a round-the-world trip in a light aircraft on August 18. Photo: Reuters
Zara Rutherford, a 19-year-old pilot challenging the world record for the youngest woman to fly around the world, landed in Seoul's Gimpo Airport, Saturday, marking her first stop in Asia.

She flew the Shark ultralight plane from Vladivostok, Russia, for six hours before landing in Seoul. The Belgian Embassy in Korea welcomed the Belgian-British pilot at the airport, which was nearly deserted due to Covid-19 travel restrictions.

"Today's flight was six hours with five hours above water. [The most challenging part of the flight] was probably coming into Korea because there was a lot of haze and it was harder to see, but that was fine," Rutherford said at an interview with The Korea Times at Gimpo Airport upon her arrival.
Game to stay: Female gamers share why they are optimistic about women in esports

Rutherford, whose parents are also pilots, stepped inside a plane for the first time when she was just three months old and began learning to fly when she was 14. After graduating from high school, Rutherford decided to attempt a solo flight around the world instead of going straight to college.

"For me, it was always a dream to fly around the world. I just never thought that it would be possible. But finally, I was finishing school and I thought, 'I can try and do this,'" she said.

Her adventure-loving spirit comes from her family.

"We are always talking about adventures and stepping outside of your comfort zone, doing new things and learning new things. That's definitely where I got it from," Rutherford said.
The 19-year-old arrived at Seoul's Gimpo International Airport on Saturday as part of her attempt to fly solo around the world. Photo: Reuters
The teen aviator organised the trip in about three months, after emailing many different companies for sponsorships and sorting out a route and logistics.

"My route fulfils the requirements from the Guinness World Records and that includes crossing two antipodal points. I chose a point in Colombia and a point in Indonesia. Because my plane is quite small, I can't fly straight over the Pacific or the Atlantic, which means I have to go very far north, like Alaska. So then for my route, I literally took a map of the globe and I had Colombia and Jakarta, and then I kind of just drew where I wanted to go and it was very fun," she explained.

Rutherford began her round-the-world solo flight journey at Kortrijk-Wevelgem Airport in Belgium on August 18 and has been to Iceland, Greenland, Canada, the United States, Colombia and Costa Rica, before heading back to the US to cross the Bering Strait to Russia.
Indonesia's hijab-wearing all-female heavy metal band gaining attention from rock music's biggest stars

Her original trip was planned to last 45 days, but weather and visa issues led to delays in Alaska and Russia.

"I was a bit anxious in Alaska and northern Russia because there's a point when it's too cold to keep going. I had to think about, 'Do I want to quit until it's summer or whether I try and keep going?'" she said.

"Luckily, I found a good weather window so I was able to keep going. Challenges come up and you just have to deal with them. There's nothing else you can do other than slowly keep going."
Her Shark is the fastest microlight plane, which can fly up to 300km per hour. When up in the air, Rutherford is totally on her own.

"It's like being in a small box for six hours straight and slightly nervous the whole time. But then, at the same time, you get to see the most amazing things. I flew over an active volcano in Iceland. Flying over Seoul, flying over New York City ― it's things like that which make it pretty amazing," Rutherford said.

"Once you're flying, you can't say I give up. You have to get to somewhere to safely land. In the air, you don't have a choice. You have to be brave."
In war-torn Somalia, a female taxi driver defies traditional gender norms

While flying alone, the teen aviator usually listens to music and Podcasts.

"It's quiet (in the plane). It's not quiet because the engine is very loud, but it is quiet after five or six hours. So it's quite nice having someone talking to you throughout the flight. It's quite comforting and music also motivates me," she said.

When Rutherford completes her trip, she will be the youngest woman to fly solo around the world, breaking the previous record held by Shaesta Wais at the age of 30. The youngest male record holder, Mason Andrews, was 18 when he made the journey.
Rutherford in her Shark aircraft as it departs the runway in Wevelgem, Belgium. Photo: Reuters
Rutherford hopes her adventure will inspire more young women to take interest in aviation and other fields of science, technology, engineering and mathematics (STEM).

"I've just been posting videos and photos on my Instagram and I'm very happy because sometimes I get a message from a girl saying, 'I want to fly too or I am learning how to fly.' That makes me very happy," she said.

She will go to university next year and study electric engineering or computer science with the dream of becoming an astronaut.

"I think space is just one of the last unexplored places and one of the greatest adventures is going to space. Going to space would be a dream come true."
Sign up for the YP Teachers Newsletter
Get updates for teachers sent directly to your inbox
Sign up for YP Weekly
Get updates sent directly to your inbox