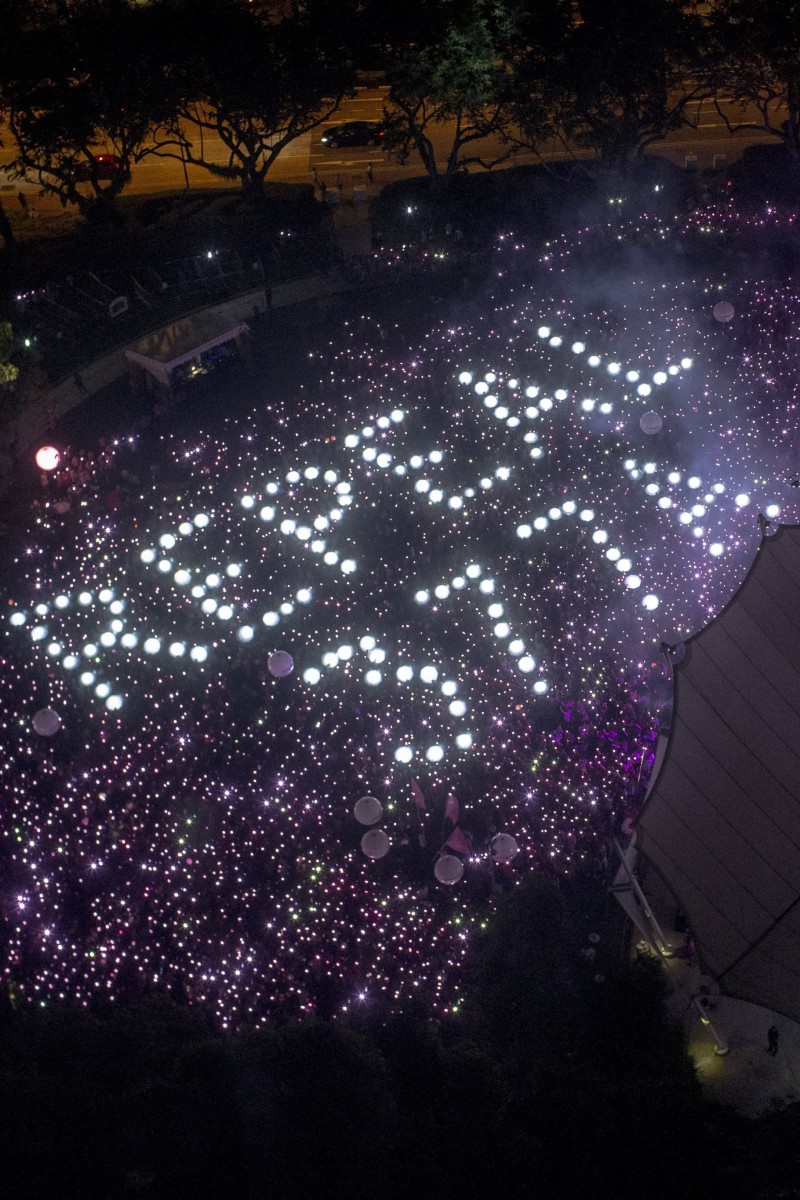 Prime Minister Lee Hsien Loong said in a speech on Sunday that the two moves would accommodate 'traditional' views with 'aspiration of gay Singaporeans'

The anti-gay sex law, Section 377A of the Penal Code, was introduced under British colonial rule in the 1930s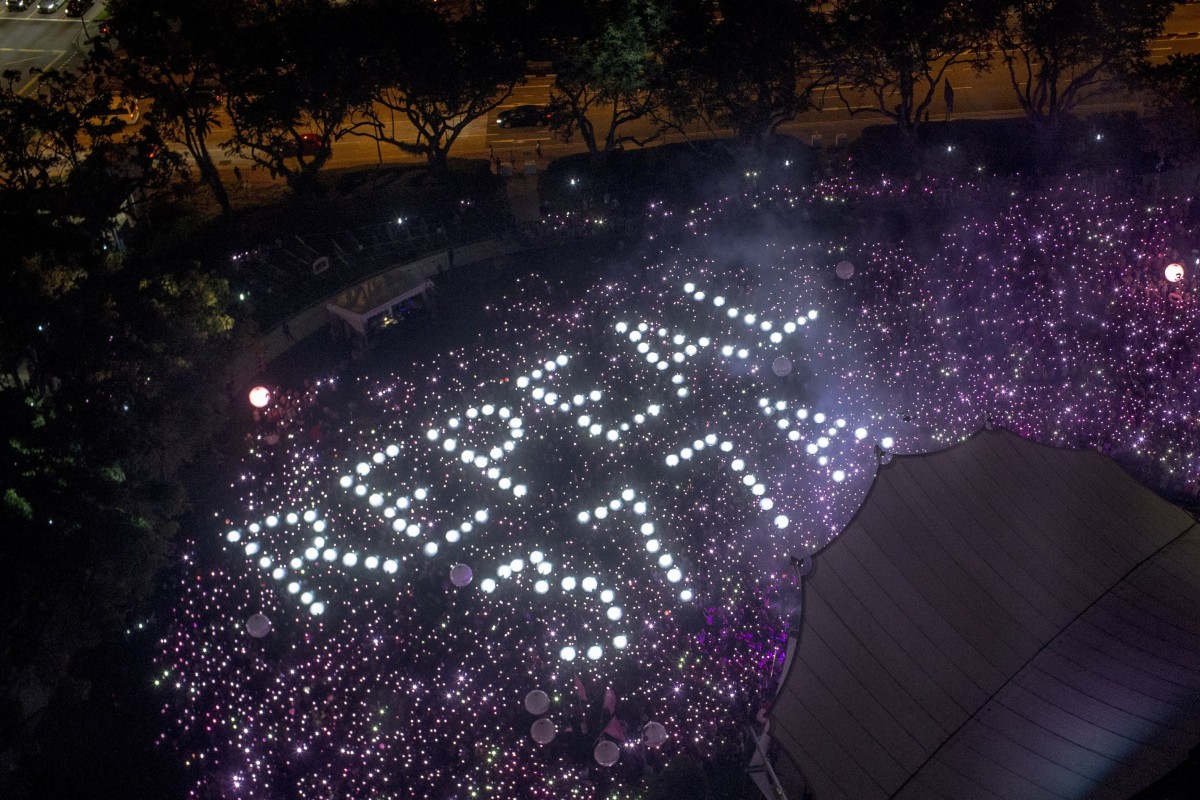 The words 'Repeal 377A' are formed by the crowd at the Pink Dot pride event in 2019. File photo: EPA-EFE
Singapore Prime Minister Lee Hsien Loong said the government would repeal a colonial-era law that criminalises sex between men, a major step forward in a region where homosexuality faces discrimination and prosecution.
Lee said removing the legal ban on sex between men, known as Section 377A of the Penal Code was "the right thing to do, and something that most Singaporeans will now accept".
He stopped short of recognising same-sex unions, saying the constitution would be amended to protect the definition of marriage as being between a man and a woman in a nod to religious groups opposing a repeal of the law.
"We need to find the right way to reconcile and accommodate both the traditional mores of our society, and the aspiration of gay Singaporeans to be respected and accepted," he said in a National Day Rally address Sunday.
Explainer: History of LGBT+ Pride in the US and Hong Kong
While abolishing the law may go some way in making Singapore a little more welcoming for companies actively supporting LGBTQ causes, the limits on marriage equality may continue to complicate matters for companies facing difficulties in obtaining visas for same-sex partners. Singapore has handled such requests on a case-by-case basis.
"Even as we repeal Section 377A, we will uphold and safeguard the institution of marriage," Lee said. "We have to amend the constitution to protect it. And we will do so. This will help us repeal Section 377A in a controlled and careful way."
Section 377A of the Penal Code was introduced under British colonial rule in the 1930s. British rule over the island ended in 1963 when Singapore became a state of Malaysia. It became independent two years later but retained the Penal Code, which made sex between men punishable by up to two years in jail.
Singapore's Prime Minister Lee Hsien Loong said the government would repeal a colonial-era law that criminalises sex between men. Photo: Reuters
Activists from the lesbian, gay, bisexual, transgender and queer community welcomed the plan to repeal the law, which comes with a maximum jail term of two years, but expressed disappointment in the government seeking to enshrine a traditional definition of marriage in the constitution.
"Such a decision will undermine the secular character of our constitution, codify further discrimination into supreme law, and tie the hands of future Parliaments," a group of LGBTQ groups said in a statement.
Over the years, these activists have mounted legal challenges against the ban on sex between men, prompting Law and Home Affairs Minister K. Shanmugam to say the law had to be discussed and decided in parliament and not in the courts.
Hong Kong teen challenges school's long hair ban on boys
The government is now looking to stop any constitutional challenges to the current definition of marriage in the courts with Lee's latest announcement.
"The provision is more to reduce the likelihood of any constitutional challenge succeeding and for such issues to be decided through the political process," said Eugene Tan, a political analyst and law professor at Singapore Management University. "The issue remains sensitive and potent."
One possible option available to marriage equality activists would be to make a public petition to parliament. In 2007, a petition to repeal the law against sex between men was submitted to the legislature.
Singapore is among the 69 countries that criminalise sex between men though the law has not been enforced in the city state for a decade. The Southeast Asian country has a vibrant LGBTQ community and hosts an annual pride rally that returned this year after pandemic restrictions had eased.
Thousands of people gathered at a park in Singapore for the annual Pink Dot gay pride event in 2017. Photo: AP
Singapore's latest moves follow similar changes elsewhere. India's top court legalised sex between men in a landmark ruling in 2018 while Taiwan is the only Asian jurisdiction that legally recognises same-sex marriage. Thailand this year has moved toward allowing these unions.
Hong Kong has allowed for gay expatriate workers to bring in their partners on dependent visas following a 2018 court ruling. However, a crackdown on social activism could hamper further legal challenges to promote equality.
Hong Kong teens show acceptance of gender identity, but lack sexual health knowledge
Attitudes toward gay rights are changing in Singapore. Nearly half of respondents in an Ipsos study published in June were more accepting of same-sex relationships than they were three years ago, while those who support the ban fell to 44 per cent, from 55 per cent in 2018.
The issue of whether Section 377A should be changed gained traction when the Court of Appeal dismissed a challenge by activists in February, ruling that it did not breach constitutional rights because authorities didn't enforce the law.
Any discussion on reviewing the ban in the past has drawn resistance from religious groups in Singapore who fear that repealing the law would lead to court cases that challenge the definition of marriage.
Sign up for the YP Teachers Newsletter
Get updates for teachers sent directly to your inbox
Sign up for YP Weekly
Get updates sent directly to your inbox