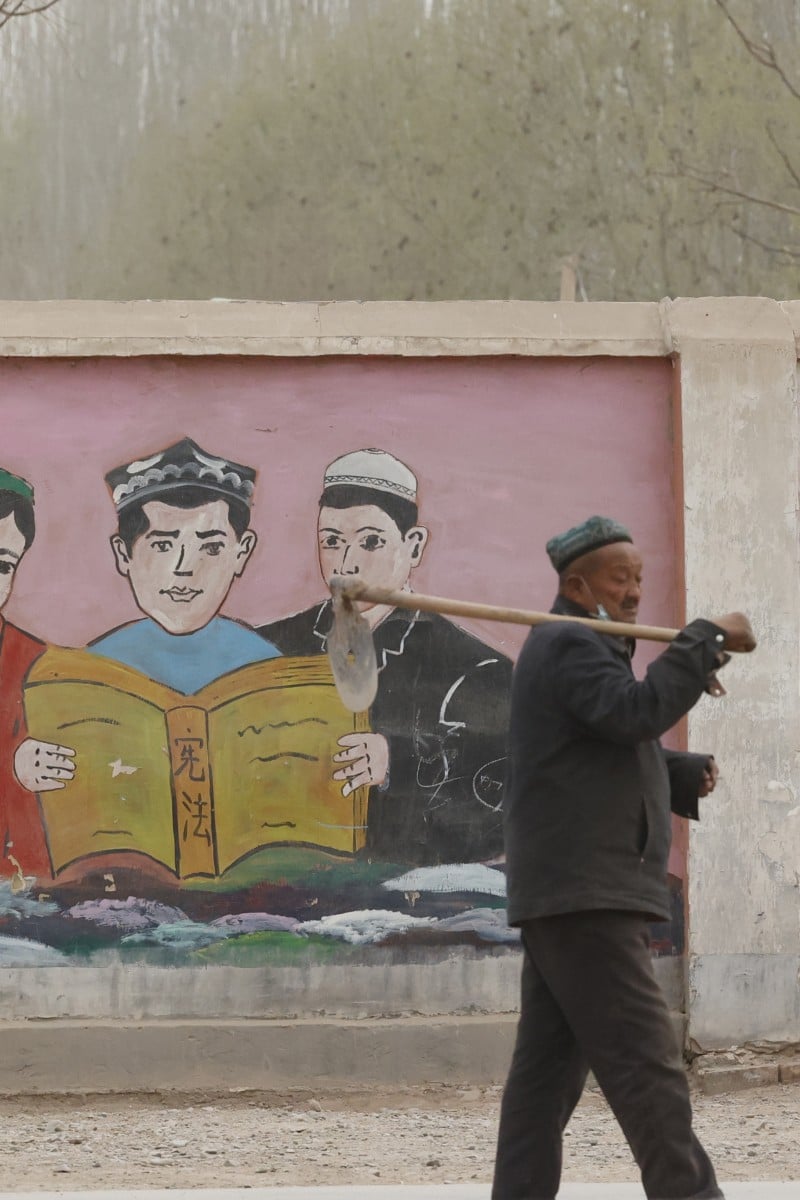 Report links employment policies to forced labour, notes evidence of torture in detention camps, and says the government may have taken coercive actions to lower region's birth rate

After controversial delay, findings and recommendations issued minutes before Michelle Bachelet's term as human rights chief ended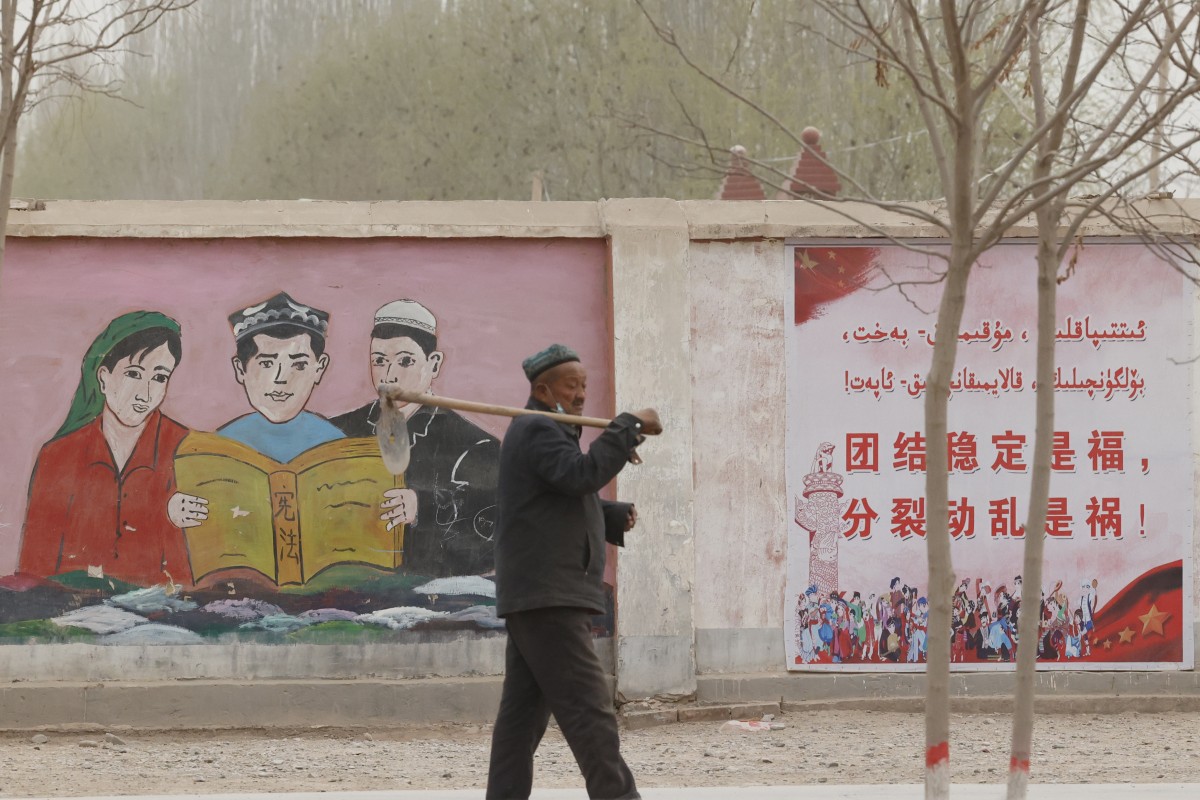 A farmer walks past government propaganda depicting ethnic minority residents reading the constitution with slogans that read, "Unity Stability is fortune, Separatism and Turmoil is misfortune," near Kashgar in northwestern China's Xinjiang Uyghur Autonomous Region in March 2021. Photo: AP
The actions of the Chinese government in Xinjiang, including the detention and persecution of Uygurs and other ethnic Muslim groups, "may constitute international crimes, in particular crimes against humanity", said a long-awaited United Nations report on conditions in the region.
Released just before midnight on the rights chief Michelle Bachelet's last day in office, the report said some of Beijing's policies had resulted in "serious human rights violations" in Xinjiang, and urged the Chinese government to repeal them.
It linked Beijing's employment policies to forced labour, found evidence of torture in detention camps that the Chinese government describes as vocational training centres, and pointed to "unusual" and "coercive" government actions that led to a starkly plunging birth rate in the Western region.
Uygur scholars in China's Xinjiang region being sent to prison or going missing
In short, the report dramatically shed light on a range of abuses that have been flagged by Uygurs and other minorities who had fled China.
It recommended "urgent action" by the Chinese government, the UN and the "international community more broadly" to address the human rights situation in Xinjiang, where Beijing is accused of operating a repressive system in which more than 1 million Uygurs and other ethnic Muslims are detained.
Addressing accusations of widespread forced labour in the region, the UN's human rights body found indications that actions the Chinese government describes as vocational training "appear to be discriminatory in nature or effect".
The United Nations High Commissioner for Human Rights Michelle Bachelet attends her final news conference at the UN in Geneva, Switzerland, on August 25, 2022. Photo: Reuters
These centres were "marked by patterns of torture or other forms of cruel, inhuman or degrading treatment or punishment", the report read.
It pointed to a "sharp decline in birth rates" in Xinjiang from 2017, with the rate dropping 48.7 per cent between 2017 and 2019. Over the same period, there was an "unusually sharp rise" in sterilisations and intrauterine device placements, UN investigators found.
Alongside the increase in these procedures, the report accuses the Communist Party of "coercive family planning policies enforced by strict measures, such as fines, referrals and threats of referral to [Vocational Education and Training Centres] or other detention facilities, in breach of the reproductive rights during the period 2017-2019".
Reports say China forces birth control on Uygur minority to curb Muslim population in Xinjiang
The Office of the High Commissioner on Human Rights (OHCHR) interviewed 26 former detainees at government facilities, finding that two-thirds had been "subjected to treatment that would amount to torture and/or other forms of ill-treatment".
"The extent of arbitrary and discriminatory detention of members of Uygur and other predominantly Muslim groups, pursuant to law and policy, in context of restrictions and deprivation more generally of fundamental rights enjoyed individually and collectively, may constitute international crimes, in particular crimes against humanity," the report stated.
It cited accounts of physical and psychological torture in the facilities, including beatings with electric batons, interrogations while water was poured in the detainees' faces, "constant hunger" that led to severe weight loss, sleep deprivation, "invasive gynaecological examinations" in group settings and rape.
A security person watches from a guard tower around a detention facility in Yarkent County in northwestern China's Xinjiang Uygur autonomous region. Photo: AP
The report added that detainees were not allowed to speak their own languages or pray.
One former detainee interviewed by the investigators described singing "patriotic song after patriotic song every day, as loud as possible and until it hurts, until our faces become red and our veins appeared on our face."
It urged third states from returning Uygurs to China at the request of the Chinese government, and recommended that international businesses implement "enhanced human rights due diligence" when operating in the region.
Along with its own assessment, the OHCHR published a lengthy rebuttal by China's UN mission, which rejected all accusations of human rights violations in Xinjiang and said the report was based on "disinformation and lies fabricated by anti-China forces" which "undermines the credibility" of the office.
TikTok suspends teen's account after posts about China's detention camps in Xinjiang
The report, titled "Fight against Terrorism and Extremism in Xinjiang: Truth and Facts" also reiterated Beijing's long-standing position that policies on Xinjiang are for "counterterrorism".
China repeated its assertion that the "vocational education and training centres" in Xinjiang were not "concentration camps".
In concluding its report, Beijing called for a UN investigation into "human rights disasters caused and numerous crimes committed by the US and some other Western countries both at home and abroad".
The report was released on the last day of Michelle Bachelet's tenure as UN High Commissioner for Human Rights, surprising analysts, activists and officials alike.
Disney's 'Mulan': How the Xinjiang Uygur camps and actress Liu Yifei's comments about the HK protests made it one of 2020s most controversial films
Bachelet, a former Chilean president and herself a political prisoner under the regime of dictator Augusto Pinochet, retired from her role after four years.
She said last week that she was "trying hard" to publish the report, but made no firm commitment to doing so.
The report became a subject of intense political scrutiny, with the debate growing in volume as the delays piled up.
Bachelet prioritised a visit to China in May over the report's publication. Afterwards, however, she confirmed she could not freely move around Xinjiang despite previously saying she would demand "unfettered access" to all sites.
Bachelet (L) attends a virtual meeting with China's President Xi Jinping in Guangzhou. Photo: AFP/ Office of the United Nations High Commissioner for Human Rights (OHCHR)
Last week, a year after saying the report was almost ready for publication, Bachelet said it had been shared with the Chinese government as is standard procedure.
Beijing returned it with "a big numbers of facts", she said, which the OHCHR needed to review and decide "if appropriate to include" in the report. Bachelet also spoke of "tremendous pressure" from both sides to either publish or withhold the document, but maintained that she would not be swayed.
China critics, human rights groups, and Western governments urged the commission to release it urgently, with EU officials saying privately that they hoped it would provide some irrefutably impartial evidence for the alleged abuses in Xinjiang.
Beijing, meanwhile, lobbied behind the scenes to prevent its publication. It enlisted "40 to 50" countries to sign a letter urging Bachelet to prevent its release, the former Chilean president said.
TikTok used by Chinese Uygurs to raise awareness of the 1 million detained in camps in Xinjiang
Caught in this tug of war, Bachelet spent the final days of her tenure defending herself from criticism that she was bending to the will of the Chinese government.
"I think it's unfair … because we have been speaking out on this situation and in Tibet, Hong Kong," Bachelet told German broadcaster Deutsche Welle this week.
"It will be a shame, not only myself also the whole office's work, that we could be look at only through the lens of one country when we have been dealing with hundreds of countries all this time."
China meanwhile said the "so-called assessment on Xinjiang is of grave concern to us", in a letter sent to Bachelet, seen by the SCMP.
Residents watch a convoy of security personnel armed with batons and shields patrol through central Kashgar in Xinjiang in 2017. Photo: AP
"The assessment, if published, will intensify politicisation and bloc confrontation in the area of human rights, undermine the credibility of the [office], and harm the cooperation between OHCHR and member states."
"We strongly urge Madame High Commissioner not to publish such an assessment," it read.
In her final address to the UN Human Rights Council on Tuesday, Bachelet bemoaned the "polarised" global political environment within which her organisation was working.
"We must do everything possible to avert a great fracture and maintain a universal system, a multipolar world with strong multilateral institutions and universal respect for international law," she told the council.
Sign up for the YP Teachers Newsletter
Get updates for teachers sent directly to your inbox
Sign up for YP Weekly
Get updates sent directly to your inbox