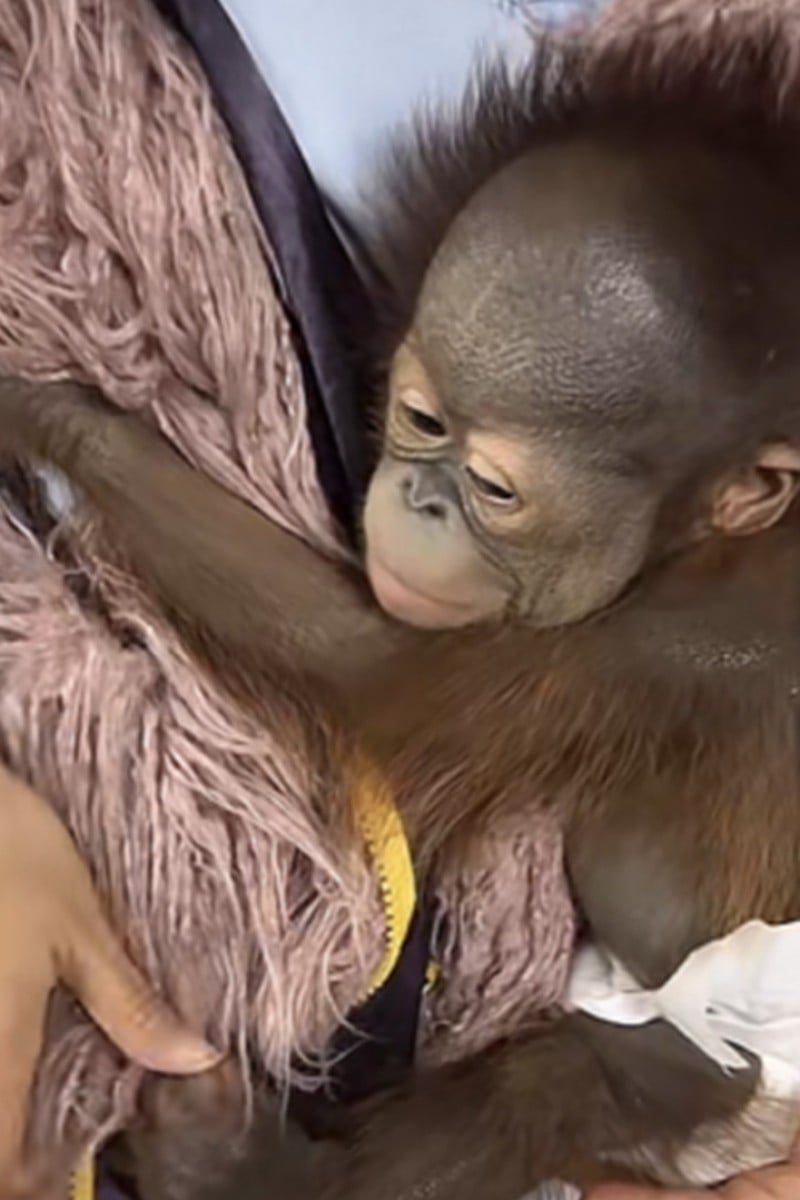 One private zoo in Jiangsu has turned to live streams and animal adoptions to stay afloat

The zoo lost more than US$4.1 million in 2020 alone, about half of its annual revenue, due to forced closures and lack of visitors
Hongshan Forest Zoo has found creative ways to raise funds for its animals. Photo: SCMP composite/Hongshan Forest Zoo
A privately run Chinese zoo has turned to social media live streams and is offering animals for public adoption to raise funds in the face of falling attendance rates caused by China's zero-Covid policy.
Hongshan Forest Zoo in Nanjing, Jiangsu in eastern China, said ticket sales account for 80 per cent of its income. However, visitor numbers had collapsed over the past three years amid China's stringent coronavirus controls. At the same time, it still has to buy feed for the thousands of animals it keeps, Red Star News reported.
The zoo reopened on Thursday following the most recent two-week closure required by the latest coronavirus restrictions in the region. "Hongshan Zoo is too poor to turn on the pot (a Chinese term meaning too poor to have any rice to cook meals)," an internet influencer named Qi Yingjun wrote on Weibo and called on the public to support the zoo. "It has zero income every day. It's in a tough situation, and it needs the public's help."
Chinese dog owner puts Post-it notes on corgi in bid to stop strangers from feeding it
The zoo declined to comment specifically on its financial situation. Still, it said it had lost more than 30 million yuan (US$4.1 million) in 2020 alone, about half of its annual revenue, after being shut for two months in the first half of that year.
"During the most difficult time, our zoo had only cash reserves of half a million yuan," director Shen Zhijun said. "To guarantee the animals' food supply, I had to delay the payment of staff bonuses."
The zoo is home to 3,000 animals, according to its website. It is popular on social media as it is one of only a few Chinese zoos to do live-streaming about the animals' daily life.
The zoo live-streamed several of their animals including koalas, wolves and pandas. Photo: Douyin
When it was closed, the zoo would do three streams per day, including koalas eating leaves on a tree, wolves sleeping and the zoo's employees preparing milkshakes for baby monkeys.
"During this special period, we thank everybody's company, but also need your help. Please click the blue heart-shaped button to donate. The donations we receive will all be used for animal protection," an employee told audiences in a recent live-streaming.
So far the zoo has raised 2.63 million yuan (US$360,000) from 180,000 internet users, the report said.
Chinese wildlife staff go viral for wearing panda suits covered with bear faeces and urine
Another initiative is to open a channel for the public to adopt animals by paying up to 2,000 yuan (US$275). So far 150 animals have been adopted, the report said.
The adopted animals stay at the zoo and adopters are entitled to go to the zoo and experience working as a zookeeper by helping feed the adopted animal and cleaning its enclosure.
A woman, named Xiaoli, adopted a wolf at the end of last year. Two months later, she was invited to have an "in-depth experience" at the zoo. "It's hard to distinguish individual wolves. When a zoo worker pointed to a wolf in the corner and told me 'That's the wolf you adopted', I felt excited," she said.
Sign up for the YP Teachers Newsletter
Get updates for teachers sent directly to your inbox
Sign up for YP Weekly
Get updates sent directly to your inbox