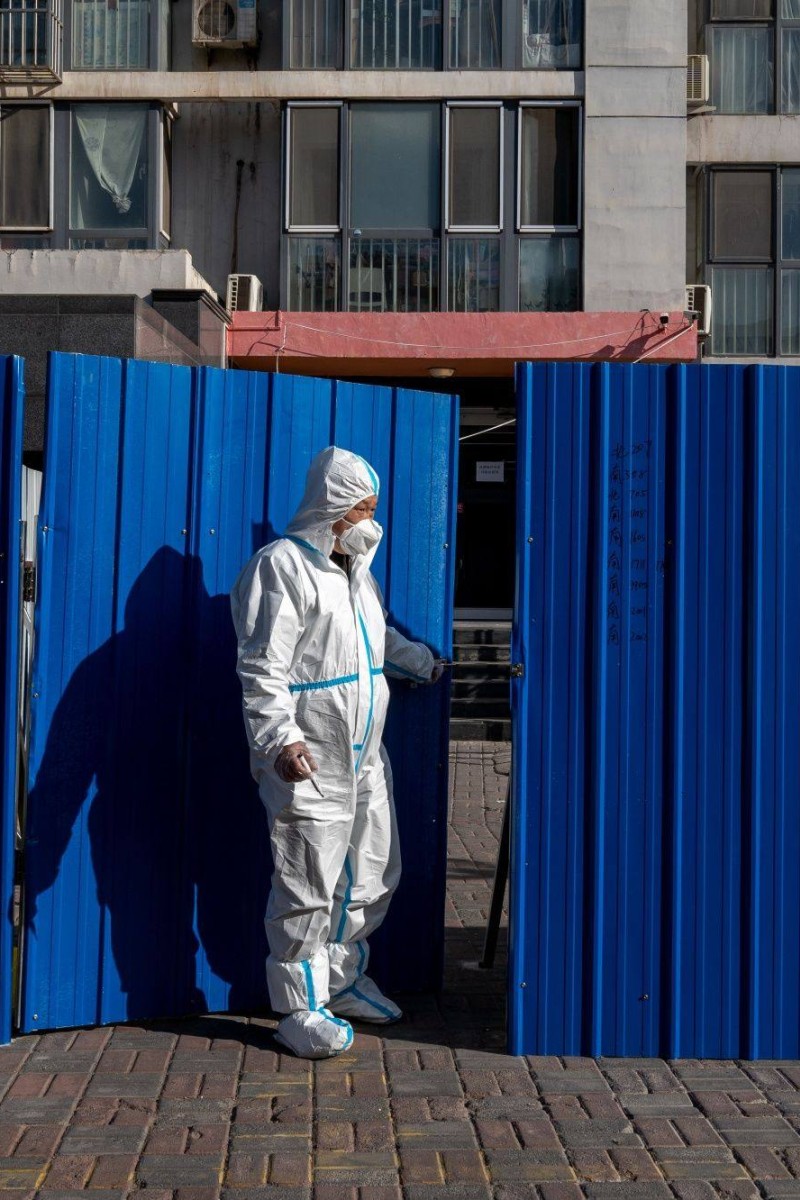 In step back from zero-Covid policy, Beijing allows positive cases to quarantine at home for seven days

State Council issues new nationwide instructions to protect health and keep social and economic impacts to a minimum
A worker in protective gear stands at a neighbourhood placed under lockdown due to Covid-19 in Beijing on Monday, November 21, 2022. Photo: Bloomberg
China has moved one step closer to reopening by relaxing its Covid-19 control measures and allowing some who test positive to isolate at home.
Although home isolation has already been quietly implemented for some in cities such as Beijing and Guangzhou, the official announcement by the State Council task force signals China's determination to back down from its zero-Covid policy.
"We will protect people's safety and health to the greatest [extent] and keep the impact on social and economic development to a minimum," the State Council Prevention and Control Mechanism said on Wednesday.
Frustration with China's strict Covid restrictions leads to rare protests in the mainland
Under the new nationwide instructions, people with mild or are asymptomatic infections may isolate at home for seven days, instead of being sent to a central facility.
Their close contacts may also quarantine at home for five days.
High-risk and low-risk areas will be designated at the building level, and residential complexes should not be totally sealed off.
China will also expand the use of rapid antigen tests (RAT) instead of polymerase chain reaction (PCR) tests, only giving PCR tests to those in high-risk areas and occupations, and testing others only on a voluntary basis.
Workers in protective gear collect a coronavirus test sample in Beijing. Photo: AP
People no longer need to show a negative PCR result or a health code to enter public venues or to travel, except when entering hospitals, schools and homes for the elderly.
Residential complexes should no longer be totally sealed off. Instead, high-risk and low-risk areas will be designated at building level, potentially affecting a single floor or even just one household.
The new policy stressed that basic social and medical services need to be provided. People's movements, work and production should not be restricted in low-risk areas.
Those working in hospitals, public security, transport, supermarkets, electricity and heating should be exempted from regular restrictions and managed differently, the State Council said.
Shanghai axes some testing requirements in latest relaxing of China's zero-Covid policy
Other measures include speeding up vaccination among the elderly, especially those over 60, increasing propaganda and educating medical staff on vaccination contraindications.
Schools without Covid-19 outbreaks should resume classes as normal, while supermarkets, cafeterias, gyms and libraries will also open up.
Under the new policy, if an outbreak does occur, the affected school should accurately designate risk zones and ensure normal teaching and social order continues outside the zones.
A Covid prevention worker guards the entrance of a residential compound placed under lockdown in Beijing on Tuesday, November 29, 2022. China said it would bolster vaccination among its senior citizens, a move regarded by health experts as crucial to reopening an economy stuck in an endless loop of harsh zero-Covid curbs. Photo: Bloomberg
The announcement comes as the most significant move since November, when the same task force announced a 20-point playbook for relaxing measures, including cutting quarantine and the isolation period for close contacts.
Following rare protests prompted by a fire in Urumqi, capital of the far western Xinjiang region, local governments have eased a series of Covid-19 restrictions.
The southern city of Guangzhou lifted lockdown measures, scrapped mass testing and resumed public transport last week.
Woman wraps herself in plastic bag to eat a banana on the subway, sparks conversation in China
Major cities including Beijing and Shanghai also relaxed access to public transport, shopping malls and office buildings. Commuters are no longer required to provide negative test results when boarding buses and trains.
In meetings with experts and frontline workers last week, vice-premier Sun Chunlan, China's top official in charge of Covid-19 controls, acknowledged the nature of the virus had changed, saying new variants were less pathogenic. She said the country was facing "a new phase and new tasks".
She also said the fine tuning of Covid-19 measures would occur "in small steps but non-stop" – signalling more changes on the way.
Sign up for the YP Teachers Newsletter
Get updates for teachers sent directly to your inbox
Sign up for YP Weekly
Get updates sent directly to your inbox