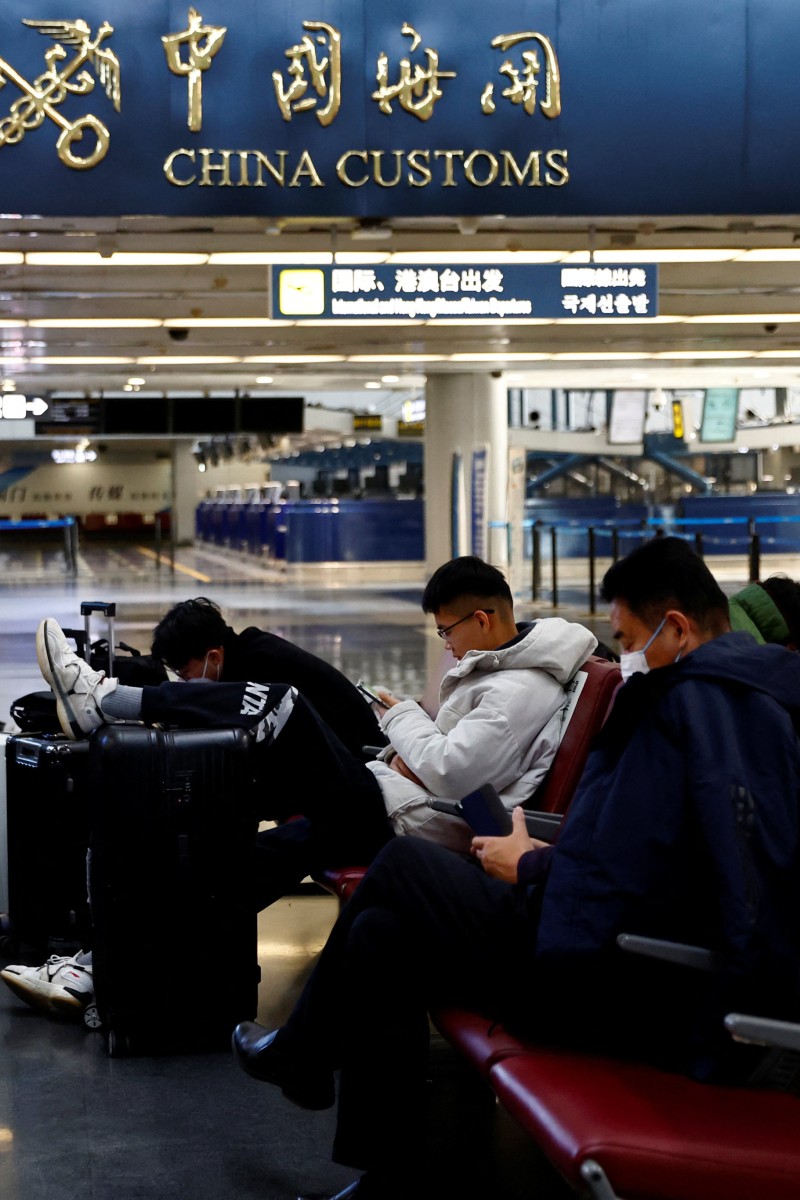 Virus has been managed as a top-category infectious disease since 2020, leading to tough restrictions like citywide lockdowns

Decision is the last step in the country's pivot from zero-Covid to living with the virus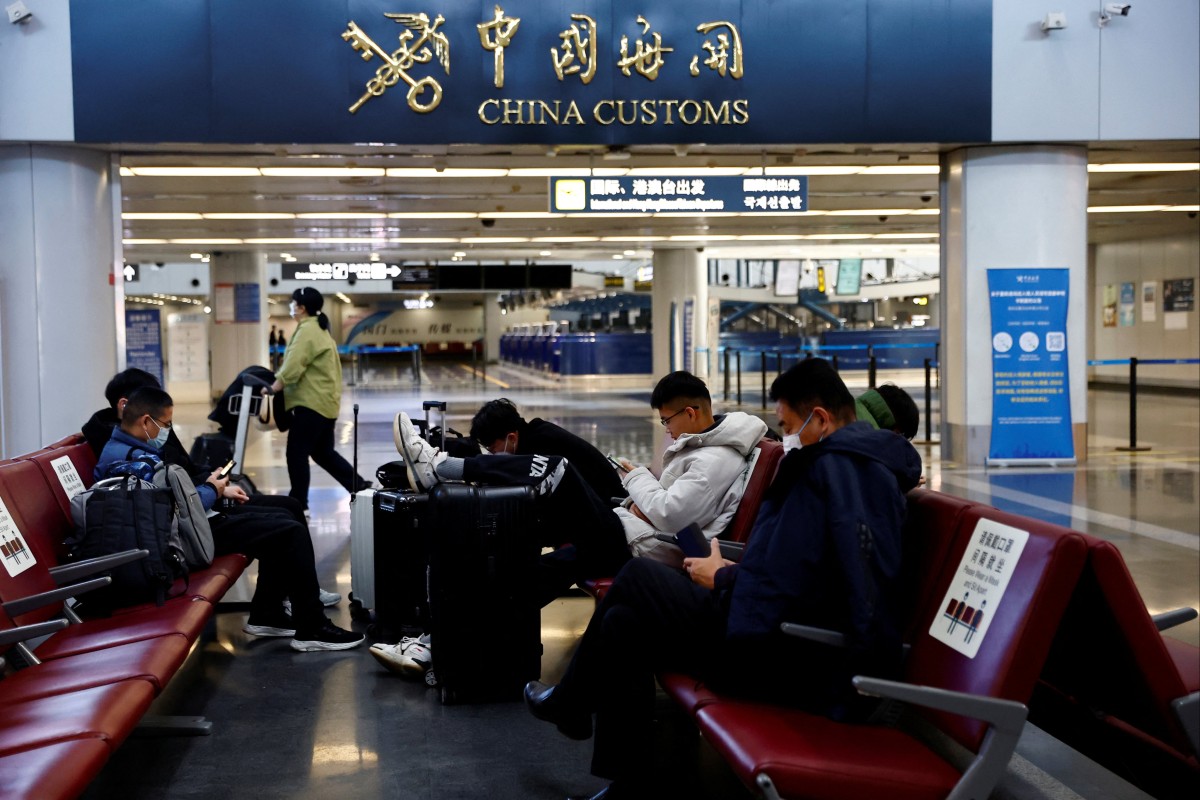 Travellers wait with their luggage at Beijing Capital International Airport. China announced it will reopen borders and abandon quarantine beginning January 8. Photo: Reuters
China announced it will reopen borders and abandon quarantine after it downgrades its treatment of Covid-19 on January 8.
The decision is the country's last step in shedding three years of zero-Covid and pivoting to living with the virus.
Covid-19 has been managed as a top category A infectious disease since 2020, putting it on par with bubonic plague and cholera. When the declaration was made to do so, authorities said it would be administered according to the Frontier Health and Quarantine Law.
Coronavirus hits Shanghai with patients crowding hospitals, businesses shutting down, schools closing
Under Chinese laws, authorities must impose the toughest restrictions such as quarantine and isolation of the infected and their close contacts, and citywide lockdowns to contain those diseases.
At the border, the infected must be isolated and those who might be infected quarantined, depending on the incubation period.
But three sources from provincial health authorities and hospitals in Guangdong, Fujian and Jiangsu said they were notified by the National Health Commission on Sunday, asking them to prepare for the downgrade to category B management from January 8.
That category means Covid-19 only requires "necessary treatment and measures to curb the spread".
China has lived under strict coronavirus rules for nearly three years. Photo: Reuters
The SCMP understands from various sources that strict control measures, including compulsory quarantine for travellers coming to China, will also be removed after the downgrade, since it is no longer a compulsory requirement in the category B management.
There are signs that China has been preparing for the pivot, with PCR testing no longer mandatory and Vice-Premier Sun Chunlan, who has been in charge of the Covid-19 response, urging lower level authorities to focus on treatment instead of infections.
The National Health Commission also stopped announcing daily Covid-19 cases on Sunday, and passed the baton to a disease control agency, a practice more in line with management of lower level infectious diseases.
Authorities will also no longer refer to Covid-19 as a form of pneumonia.
What comes next after China eases zero-Covid policy?
According to a senior hospital administrator in Xiamen in the southeastern province of Fujian, the NHC said Covid-19 would be known officially as a "novel coronavirus infection" instead of the present "novel coronavirus pneumonia".
"The name change is subtle but important," the administrator said.
"I think it is official recognition of the clear changes in the symptoms of infection with the Omicron variant, which is less deadly. It does not always trigger pneumonia-like symptoms."
While Covid-19 has always been a category B infectious disease in China – a class that also includes HIV, viral hepatitis and H7N9 bird flu – authorities have managed it as category A, empowering local governments to impose strong measures such as lockdowns, isolation and quarantine.
A medical worker conducts a pre-examination on a patient at Tongji hospital in Shanghai, China on December 26, 2022. Photo: Cnsphoto via Reuters
It also allows them to enlist law enforcement to aid with disease controls.
Confirming the new directive from Beijing, a health official from the southern province of Guangdong said it would help Guangdong prepare to reopen its border with neighbouring Hong Kong.
"It sets the direction going forward on China's Covid-19 control, which is more flexible and less disruptive to people's lives," he said.
Top Hong Kong officials met on Christmas Day to discuss details of a plan to fully reopen the city's border with mainland China, the first stages of which could be implemented as soon as the start of next month, sources said.
University of Hong Kong predicts 1 million deaths if mainland China reopens without fourth Covid booster
A health official from Jiangsu province in the country's east also said the new directive was "good news" as local governments were concerned that Beijing might change tack again in the face of the huge wave of Covid infections.
Cases have surged since China largely dismantled its zero-tolerance policy towards the coronavirus in recent weeks, inducing nationwide shortages of test kits and medication.
"With these instructions in black and white from the central government, we can proceed firmly towards opening and restoration of normal life, without worrying about reversal of Covid-19 policies," the Jiangsu official said.
Sign up for the YP Teachers Newsletter
Get updates for teachers sent directly to your inbox
Sign up for YP Weekly
Get updates sent directly to your inbox