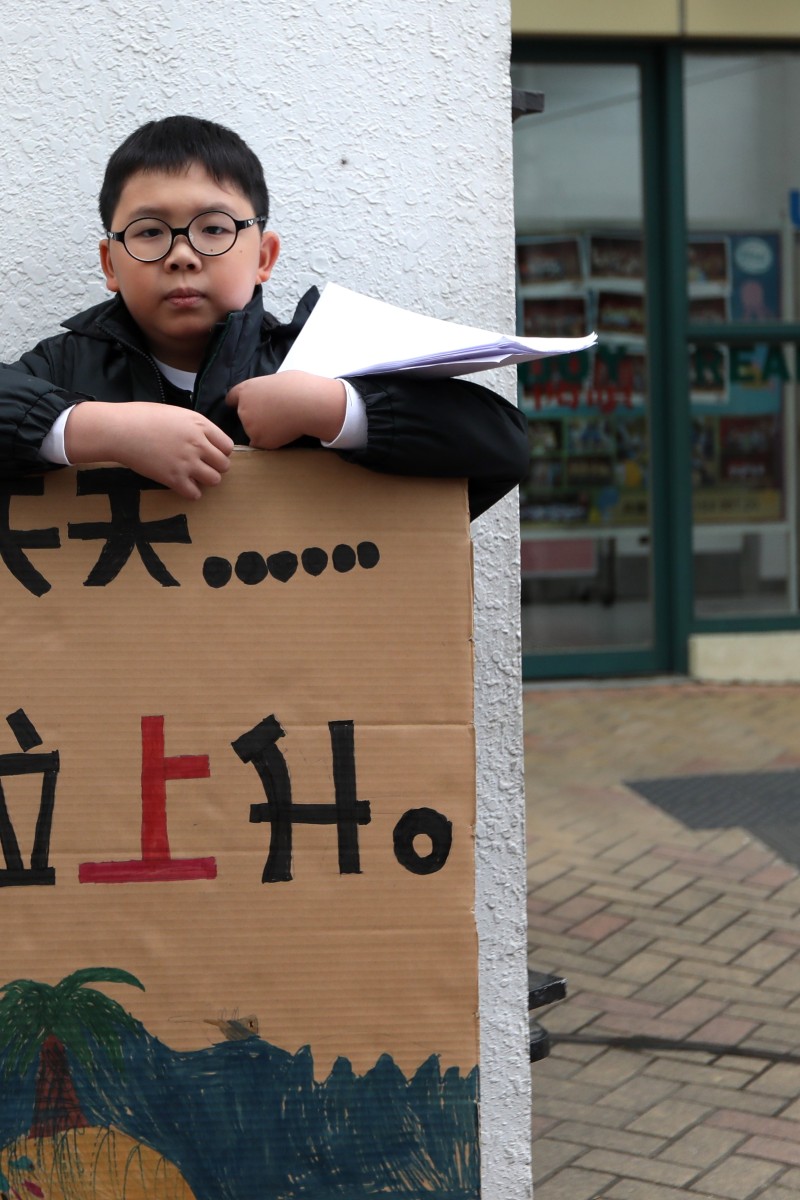 For this Hong Kong student, climate change activism begins at home
Meet Lance Lau, a local 10-year-old speaking out about the need for urgent action on the environmental crisis
South China Morning Post
|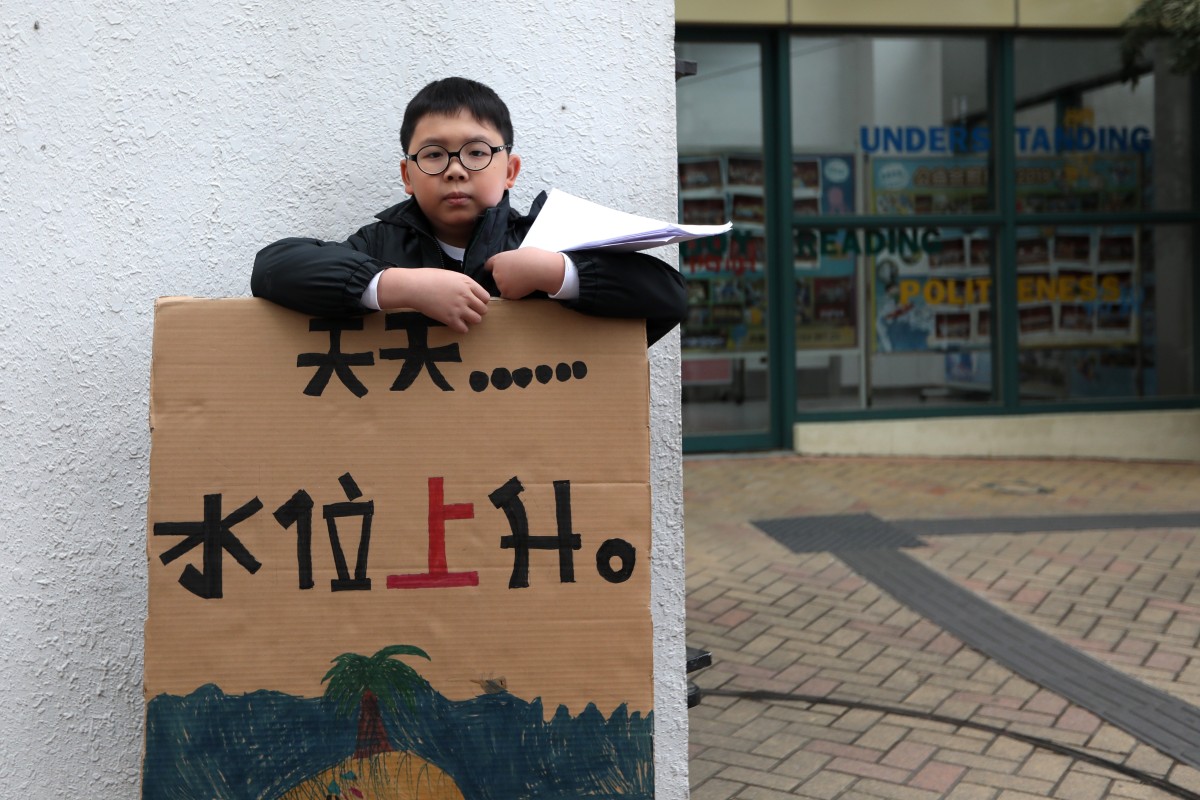 Lance wants to engage people in a conversation about the urgency needed to act on the climate crisis. He strikes before lessons every Friday morning, and speaks to anyone who will listen to his message as he stands by the school gates.
At just 10 years old, standing 148cm tall and gazing at the world through owlish spectacles, Lance Lau Hin-yi by no means conjures up the archetypal image of a passionate climate activist. Yet since September, he's been conducting a solo school strike in Hong Kong to draw attention to environmental degradation at home and around the world.
Stepping over two pet cats in the living room of his Tung Chung home, Lance's voice rises an octave as he picks up the protest placard he drew and, with a broad grin, brandishes it high above his head.
"People need to get to the recycling bins now or die," he says. "Too much greenhouse gas is being released into the atmosphere, from factories, aeroplanes, cars, motorcycles, basically anything that is related to burning fossil fuels. We have to call a halt [to it]."
From electric cars to metal straws: how environmentally friendly are these 'green' products?
Inspired by the teenage Swedish campaigner Greta Thunberg, Lance's campaign was initially greeted with ridicule by some students at his school, Ying Wa Primary School, in Sham Shui Po, who labelled him "stupid" and "crazy".
"Part of the problem was that while the English on my protest placard is quite clear – 'School Strike for Climate Action' – the Chinese reads 'If We Don't Have a Future, Why Should We Go To School?'," Lance explains.
"But my drawing's message is pretty clear: part of it is city, part of it is burning forests ... the tide is coming in and there's the deforestation."
A fluent speaker in English, Cantonese and Mandarin, Lance says he has been trying to engage anyone who will listen to his message as he stands by the school gates.
"Some people were neutral, some people were quite friendly. I had to keep telling everyone not to be scared. I'm not that sort of aggressive protester. I'm just protesting about the climate, not the kind of person who goes around burning things."
When Lance began his strike, there were concerns within the school that his activity would be disruptive. So he agreed to limit his activities to lunchtimes and recess, and has since scaled his protest back even further, to an hour before morning lessons begining on Fridays.
The reaction of Ying Wa's teachers has ranged from cautious neutrality to outright encouragement, led by the school's principal, Sylvia Chan Mei-kuen.
"Amazingly, Mrs Chan was very supportive," says Lance. "She's very environmentally aware. One of the first things she did after she took up the post was to introduce online lunch order forms, so nobody had to use paper anymore."
Greta Thunberg named Time's Person of the Year
Even students who had greeted his efforts with derision changed their minds when they saw how serious Lance was about his crusade.
"As a family, we've been leading a green life for quite some time," he says, "and then Greta came along. She really impressed on me that the environmental situation is very important. You have to do something about it. You can't just carry on as if it is business as usual."
Lance's school protest is not his only eco activity. He was an enthusiastic participant in last month's worldwide climate protests. With family and friends, he runs beach clean-ups, combing the mangroves near Tung Chung for rubbish, while admiring the mudskippers, horseshoe crabs and other wildlife. He also takes part in meditation sessions to find a sense of calm amid the city's current troubles.
Climate change strike: Hong Kong students skip school to protest against government inaction
"We are trying to create a grid of love and peace to get away from the disruption caused by the protests, as the future looks grim now," he says.
At home he runs a mini production line, crowding the family flat with recycled plastic bottles containing citrus peel, water and sugar, to create a natural cleaning fluid.
"You just need to stir it a couple of times while the ingredients blend together, test it with PH paper after three months, and – ta-da! – you're done."
Lance also makes cupcakes at home, and passes them out to people working in the community.
COP25: a guide to the jargon used at the United Nations climate change conference
"If you're a climate ambassador, you are also a love ambassador, because we are doing this out of love for the planet. So we hand out cupcakes to everyone who serves us in the community," he says.
Lance, who hopes to become an architect, has no intention of ending his strike, and is planning to meet recently elected Islands district councillor Randy Yu Hon-kwan.
Ticking off the points on his fingers with the passion of someone far older, his voice rises again.
"I want to tell Mr Yu we need more recycling stations, even for food, so it can be used as fertiliser, and we need to plant more trees and reduce carbon. And there should be more solar panels and wind farms," he says.
"In the meantime, I intend to carry on my strikes and campaigning for the environment until the world is no longer on the brink of extinction."
Sign up for the YP Teachers Newsletter
Get updates for teachers sent directly to your inbox
Sign up for YP Weekly
Get updates sent directly to your inbox