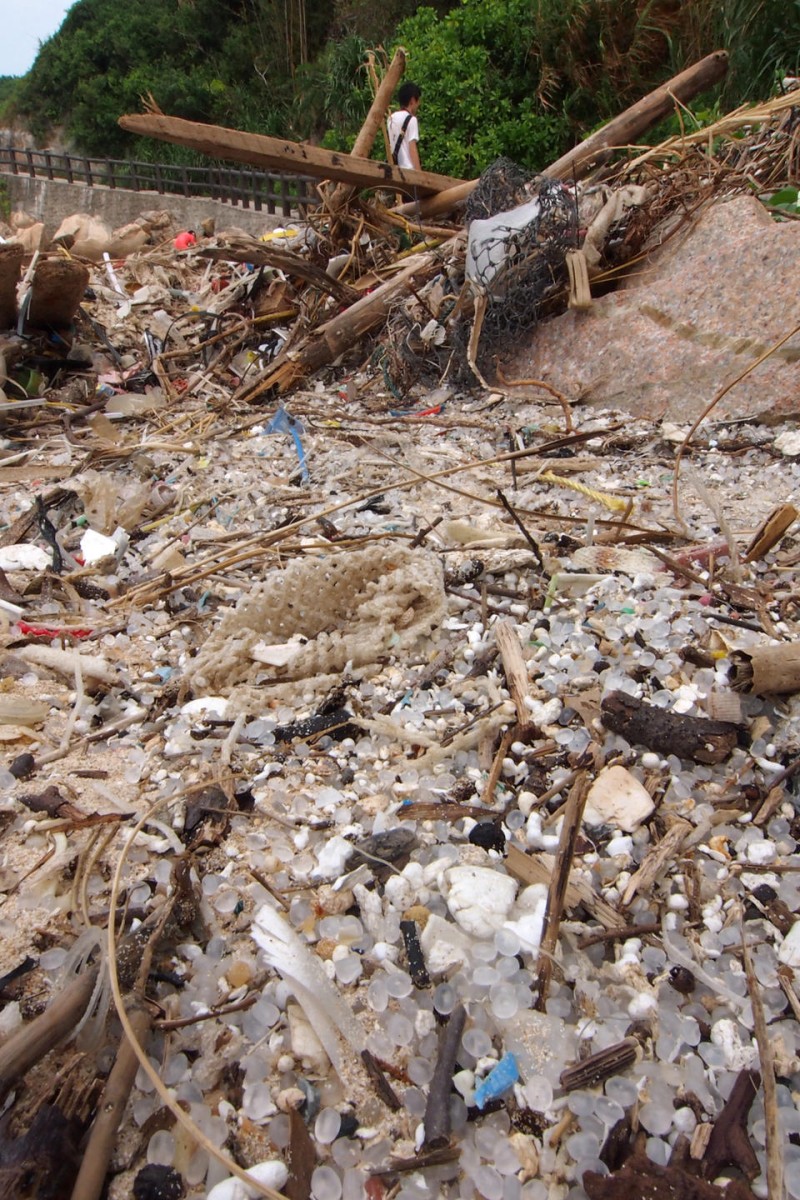 Hong Kong's beaches covered with polluting plastic litter
By staff writer, additional reporting by Young Wang
Researchers have found that the large amount of rubbish in the waters of Hong Kong is endangering the environment
By staff writer, additional reporting by Young Wang
|
Plastic rubbish is an all-too-common sight on Hong Kong's beaches.
Led by WWF-Hong Kong and six partners, the Coastal Watch Project found that the plastic in floating and underwater marine litter have put the environment in danger.
Researchers found fish bite marks on pieces of plastic litter, which means the plastic is getting into the food chain.
On an average five-metre stretch of coastline, researchers found about 400 pieces of litter bigger than 1cm. Around 62 per cent of the litter was made of plastic. It was mainly pieces of packaging, bottle caps, string, rope or ribbon, and cutlery. There were also many smaller pieces, mostly made of styrofoam.
Roughly 85 per cent of floating marine refuse was plastic such as packaging, bottles, cutlery, foam boxes and even large containers from wet markets.
"It is sick to see the beauty of ocean and natural habitat for many are being destroyed this way just because of convenience," said Harry Cheng, 19-year-old HKUST student. He blames it on people's laziness and irresponsibility. "We should help clean up the ocean or coastal areas to save our ecosystem. Otherwise, Hong Kong may die from ecosystem destruction."
Belinda Ng, 15, from South Island School (SIS), has noticed more floating litter, especially around beaches. "Not only is it disgusting to have to avoid litter when trying to have fun in the sea, it destroys the image of our beautiful beaches," she said.
She thinks the government should introduce tougher laws and regulations on waste management.
15-year-old Renaissance College Hong Kong student Anushka Purohit said Indians like herself sometimes throw post-prayer goods – including food, clothes, flowers, and even statues – into the sea, but says more awareness is necessary. "I kind of miss the clear blue sea Hong Kong had," she said.
About 1,125 volunteers collected data at 27 coastal sites ranging from mangroves and mudflats to beaches and rocky shore habitats between last July and May this year.
Fellow SIS student Tinaz Mirza, 17, took part in some of the recent beach clean-ups. "Something needs to change," said Tinaz, adding that "it should start with us realising that rubbish in the sea won't float away to a wasteland – it will come back to us."
Sign up for the YP Teachers Newsletter
Get updates for teachers sent directly to your inbox
Sign up for YP Weekly
Get updates sent directly to your inbox