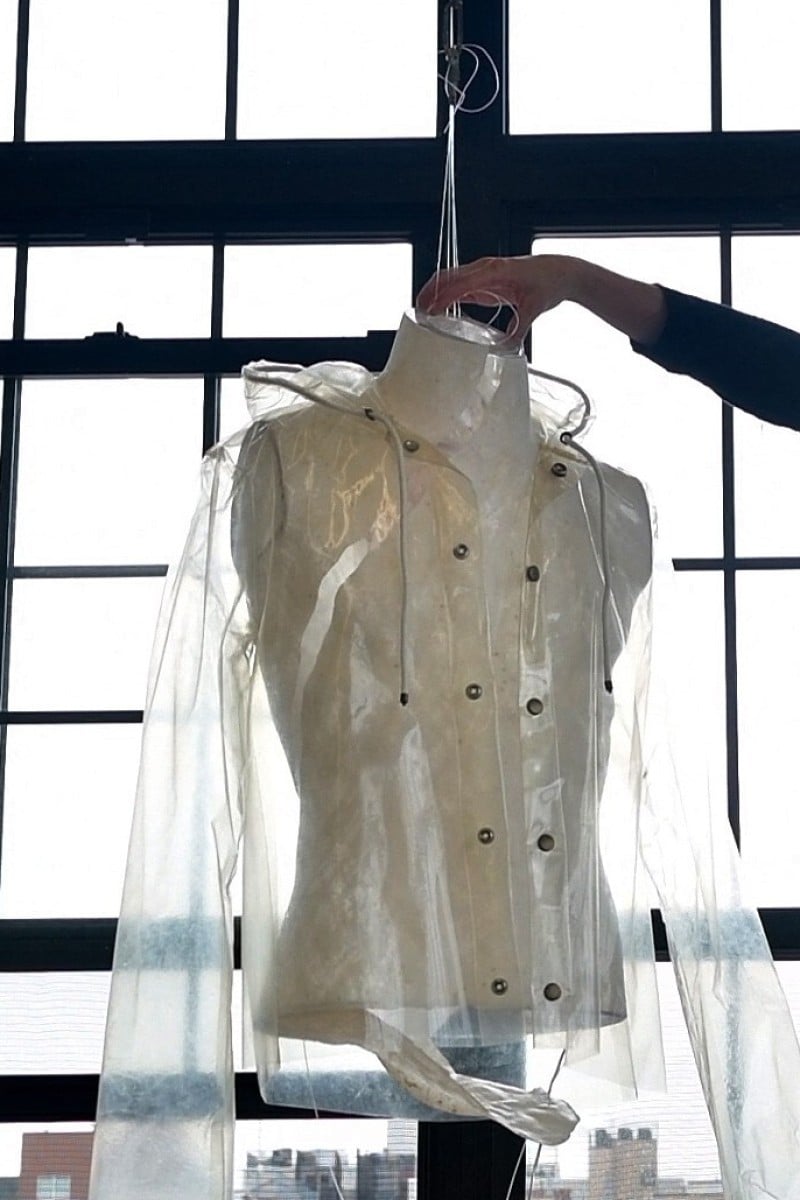 An eco-friendly future for fashion includes seaweed coats and mushroom shoes
Technology such as sequins made from algae and dyeing clothes with bacteria could help the fashion industry reduce its environmental impact

Designers are finding a way to cut back on the use of toxic chemicals and intensive water consumption to reduce their carbon footprint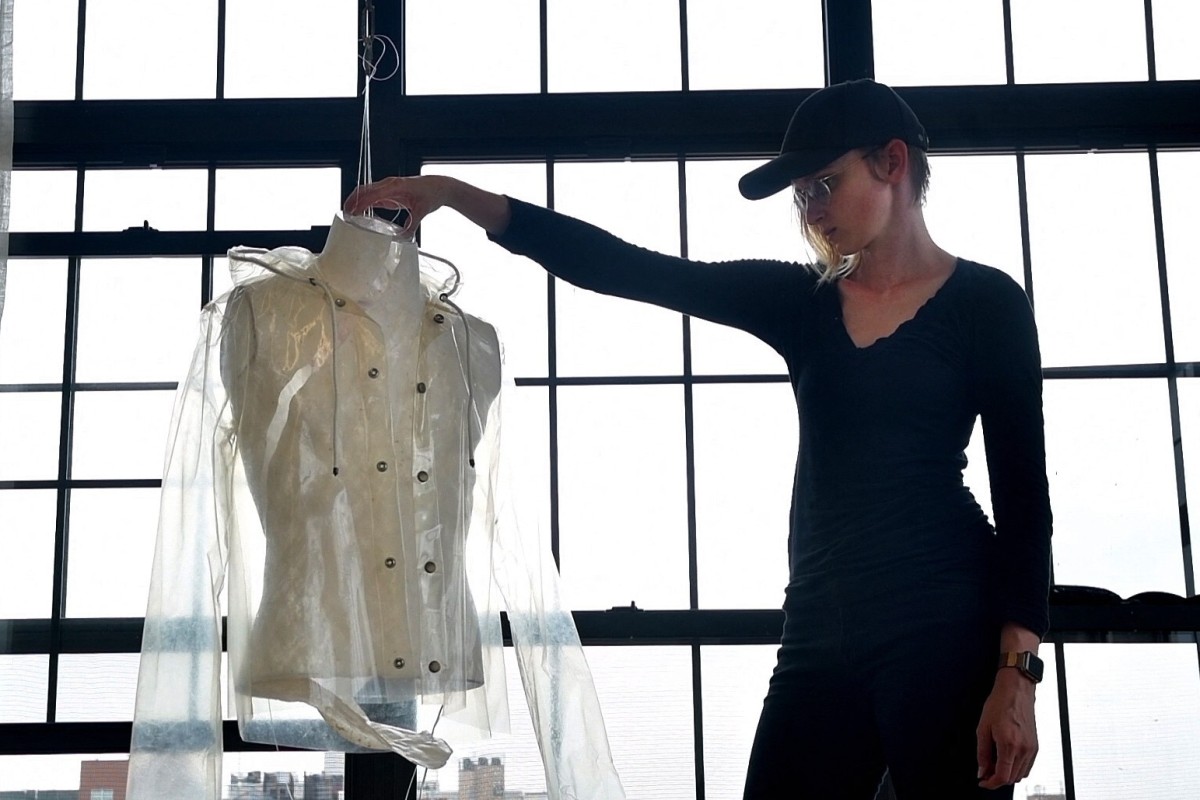 US designer Charlotte McCurdy presents a raincoat made of seaweed and algae in New York. Photo: AFP/Charlotte McCurdy
From making algae-sequin dresses to dyeing clothes with bacteria, and planting trackable pigments in cotton, emerging technological innovations offer the fashion industry a chance to clean up its woeful environmental record.
The industry consumes 93 billion cubic metres of water per year, dumps 500,000 tonnes of plastic microfibres into the ocean, and accounts for 10 per cent of global carbon emissions, according to the Ellen MacArthur Foundation.
Growing demands for change have generated ingenious responses, such as New York designer Charlotte McCurdy's seaweed raincoat made with shimmering (and carbon-free) algae-plastic.
Resources to help you learn more about climate change
Although the material she developed is unlikely to show up in department stores, she says, "I'm not trying to monetise it. I just want to plant a seed."
"Material development is so slow, and it's hard to compete for funding. Frankly, I take climate change seriously, and I don't have time."
Others, like Dutch designers Laura Luchtman and Ilfa Siebenhaar of Living Colour, are finding ways to reduce the toxic chemicals and intensive water consumption of dyeing clothes.
The environmental impact of single-use face masks
Certain micro-organisms release natural pigments as they multiply, and can dye fabric in striking colours and patterns.
Luchtman previously worked in fast fashion, and saw "the negative impact of that industry in terms of exploiting people and ecological problems". She is determined to stay small-scale.
But not everyone shares this approach. Californian start-up Bolt Threads recently teamed up with Adidas, Lululemon, and Stella McCartney to use Mylo, a leather made from mushroom roots.
Charlotte McCurdy works on an outfit made of seaweed and algae in New York. Photo: AFP/Charlotte McCurdy
Despite these technological advancements, some experts are sceptical that such initiatives can lead to large-scale transformation.
Mark Sumner, a sustainability expert at the University of Leeds School of Design in Britain, warns, "It's an incredibly diverse industry with thousands of factories and operators all doing different things. It's not like the car industry where you only have to convince six or seven major companies to try something new."
Sumner thinks the biggest impact will come from improving rather than replacing the existing systems, and he says pressure from consumers and NGOs means this is already happening.
Secondhand shopping is a great way to be eco-friendly - here's our thrifting tips
"Among responsible brands and retailers ... they are now considering sustainability as a business imperative," he explained.
The sustainability movement's strength comes from many actors pulling in the same direction.
"Technology won't resolve the issues on its own. It needs policy, culture, ethics," said Celine Semaan, founder of the Slow Factory Foundation which supports multiple social and environmental justice initiatives around fashion, including McCurdy's algae-sequin dress.
Adopting more sustainable practices, like natural dyes, could help the fashion industry be more eco-friendly.
But technology can address one area that most see as a priority: transparency about where a company's garments are made, and where its fabrics and raw materials come from.
A company called Fibretrace implants an indestructible pigment into the thread of clothes, which can later be scanned to find its origins.
"You can't find the environmental impact of anything unless you know where it was made," said Andrew Olah, Fibretrace's sales director.
Why minimalism should be the next big trend
Combined with data sites like SourceMap and Open Apparel Registry that give companies unprecedented clarity on their supply chains, it has become increasingly hard for companies to plead ignorance about their environmental impact.
"There's a lot of work to do," Olah said. "But I'm very optimistic."
Sign up for the YP Teachers Newsletter
Get updates for teachers sent directly to your inbox
Sign up for YP Weekly
Get updates sent directly to your inbox