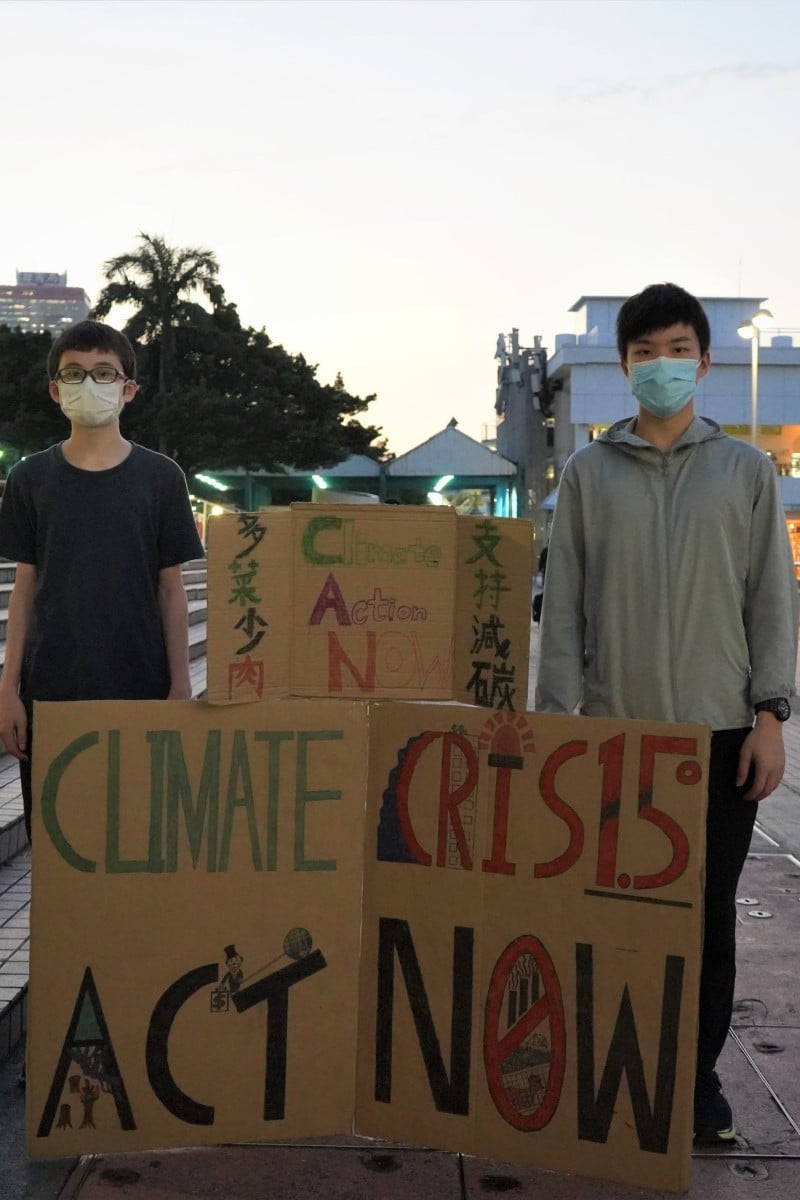 'There is still hope': Hong Kong teen climate activists on striking every week, asking city's McDonald's for vegan burger
Two young environmentalists, Ennan Qiu and Max Fung, both 15, are heeding Greta Thunberg's Fridays for Future call, even when they don't get much support

Every week, Talking Points gives you a worksheet to practise your reading comprehension with questions and exercises about the story we've written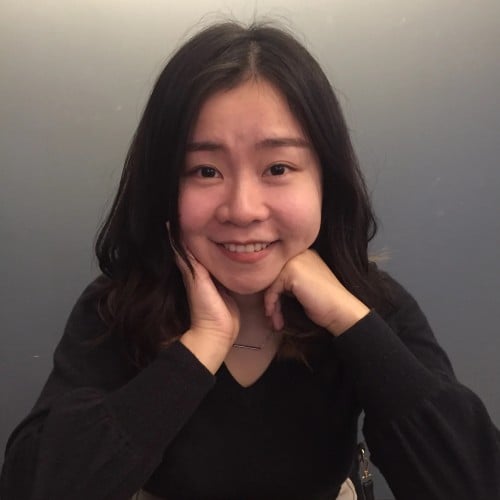 Kelly is a journalist from Hong Kong. She joined the Post in 2018, where she writes about Hong Kong's arts and culture, social welfare and the environment. She has a master's degree in Journalism from the University of Hong Kong.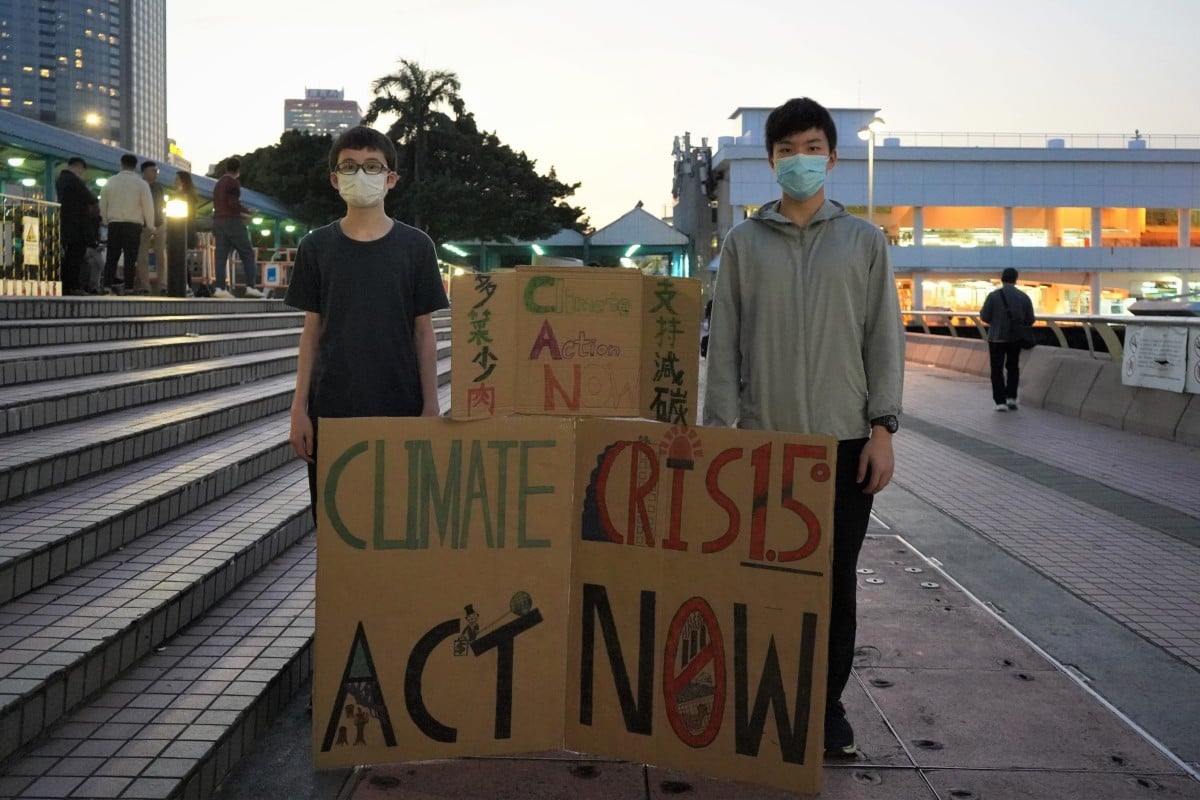 Every Friday after school, secondary school students Ennan Qiu (left) and Max Fung take to the streets of Hong Kong to raise awareness about the climate emergency. Photo: Kelly Fung
At the sight of a whole suckling pig during a traditional Chinese banquet, Ennan Qiu, eight years old at the time, had an epiphany.
The primary school student was not only shocked by his first time seeing the cooked animal in full form, but was also saddened by the large amount of meat consumed at that event. This moment led him to stop eating meat and eventually become the climate activist he is today.
Ennan, now 15, is one of a few young green activists in Hong Kong. Since last summer, the Renaissance College student has taken to the streets every Friday after school, rain or shine, as a nod to Swedish climate activist Greta Thunberg's #FridaysforFuture movement.
Meet Hong Kong's young climate activists striking every Friday
While he is also committed to ending animal cruelty, Ennan also believes the best thing the public can do to mitigate climate change is to eat less meat.
"People aren't going to do that unless there's some sort of government policy to make meat more expensive," he explained, adding that he thought the city should enact a tax on animal products.
According to a study published last September in the journal Nature Food, meat production accounts for nearly 60 per cent of all greenhouse gases from food production.
Last October, Ennan protested for about five weeks outside the government office at Tamar Park – that was until authorities told him he could get in trouble for violating the city's restrictions on public gatherings.
In front of the Hong Kong Legislative Council building, Ennan Qiu holds a sign that reads "climate emergency, act now", while the one on the ground says "rescue the climate, tax the meat". Photo: Ennan Qiu
"They [would] ... check my IDs and sometimes even my address," he recalled, adding that security guards took numerous photos of him.
Still, Ennan knows there is more to be done to fight for the environment.
His journey to climate activism started when he became a vegetarian after the fateful banquet. At the age of 12, he went vegan, meaning he does not eat food made from animals or animal products.
He said there were times he felt lonely in his dedication. So last July, his mother went on Facebook and found a vegan group based in Hong Kong. They told Ennan to connect with another teen climate activist, Lance Lau Hin-yi, who at the time had been protesting almost every Friday in the city's busiest districts.
For 'Hong Kong's Greta Thunberg' climate activism continues in Britain
That evening, Ennan messaged Lance on social media asking if he could join his campaign. Ennan brought along his friend Max Fung, 15, who was also discovering his passion for the environment.
When Max was in Year Nine, a personal project at Canadian International School of Hong Kong led him to decide he wanted to make an impact with his life.
While he also enjoys magic and dance, he explained, "I want to focus on helping young people and the environment. So I chose to do a waste audit."
At the time, he analysed the content of his school's recycling bins to examine Hong Kong's waste problem up close. After realising how many of his peers were misplacing their recyclables, Max became more devoted to protecting the Earth.
Everything you need to know about Hong Kong's waste-charging scheme
"The world needs more young people ... to help alter the problem and the current climate crisis," he said.
When he went to his first demonstration with Ennan and Lance last summer, it was no stroll in the park.
Standing on a corner, Max held a sign that said "Climate Action Now" and expected people to come to him. In the end, only one person talked to Lance, who was actively reaching out to passers-by.
When passers-by ask Max Fung why the ink on his sign is dripping, he says it represents a melting Earth. But he later explains that it is actually because of rain during a protest. Photo: Max Fung
"It was challenging when it came to approaching and connecting with the people around me," explained Max.
But over time, he became an activist with his own voice, taking initiative and becoming more comfortable engaging with people of all ages.
However, Ennan and Max's joint climate actions are not always well-received, with the two lamenting that many pedestrians would often walk right past them.
Climate change means Hong Kong to see more heatwaves and super typhoons
"People always start running, looking away or walking very quickly," Max said.
"We have a joke that we're making Hong Kong healthy," added Ennan.
Max said some people would mistakenly assume that the pair was asking for donations.
"No, that's never our intention. I don't want climate action to be associated with money," he explained. "I just want our climate action to be ... far away from those rich and powerful people who are dumping waste every day."
'Meat the Future' at this British exhibition about food and climate change
The activists' next step is to push the city's McDonald's restaurants to serve vegan burgers and sell them at the same price as the meat options. They hope the fast-food chain will also offer incentives for people to eat sustainably and to cut down on single-use plastics.
Despite often standing on Hong Kong's streets alone, the duo has not lost faith.
"We're still trying to do something," Max asserted. "I am trying to tell people that there is still hope, and we have not given up on the next generation."
Click here to download a printable worksheet with questions and exercises about this story. Answers are on the second page of the document.
Sign up for the YP Teachers Newsletter
Get updates for teachers sent directly to your inbox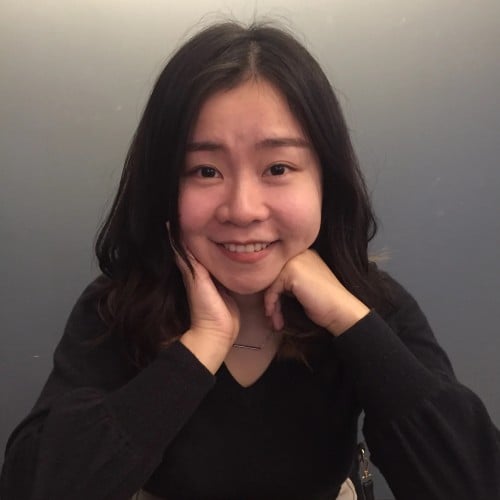 Kelly is a journalist from Hong Kong. She joined the Post in 2018, where she writes about Hong Kong's arts and culture, social welfare and the environment. She has a master's degree in Journalism from the University of Hong Kong.
Sign up for YP Weekly
Get updates sent directly to your inbox