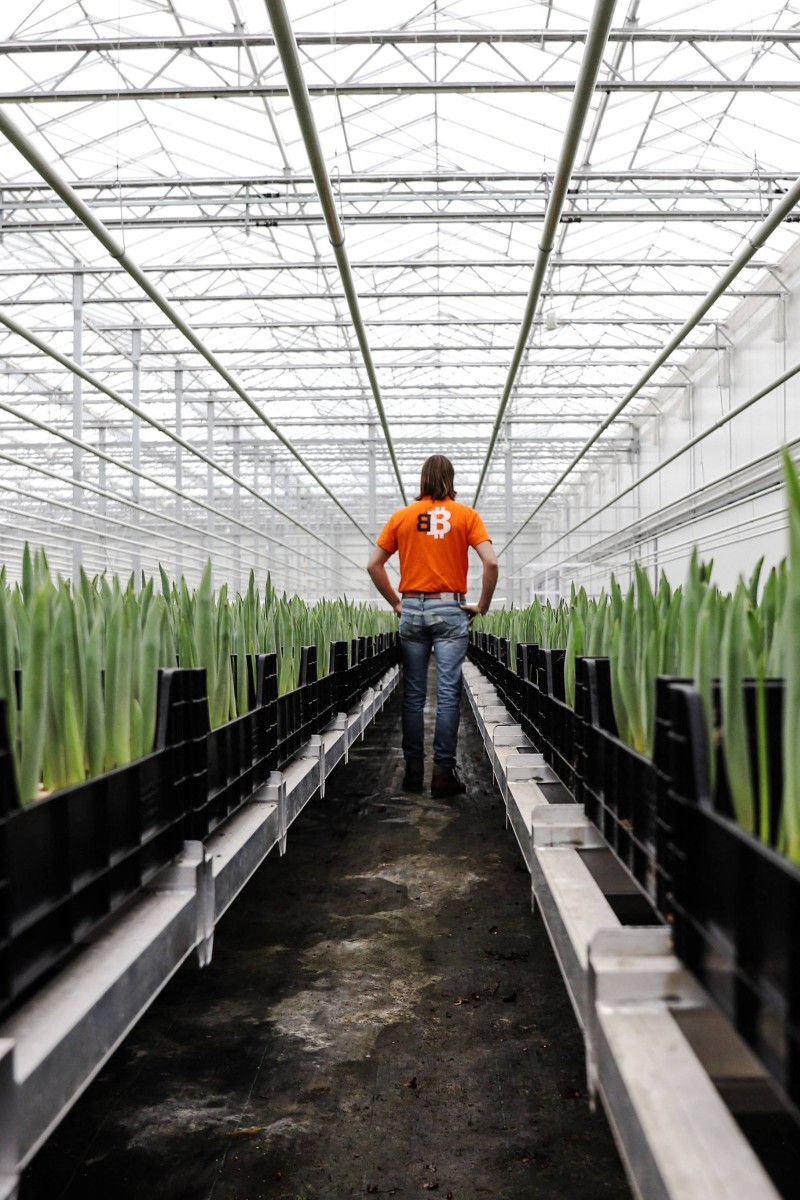 Hot tech: how bitcoin mining servers are helping tulips grow at a greenhouse in the Netherlands
Both the farmers and the cryptocurrency company running half of the servers in the greenhouse earn bitcoin

They say that this set up is better for the environment since the heat generated by the computers are being used to help the flowers grow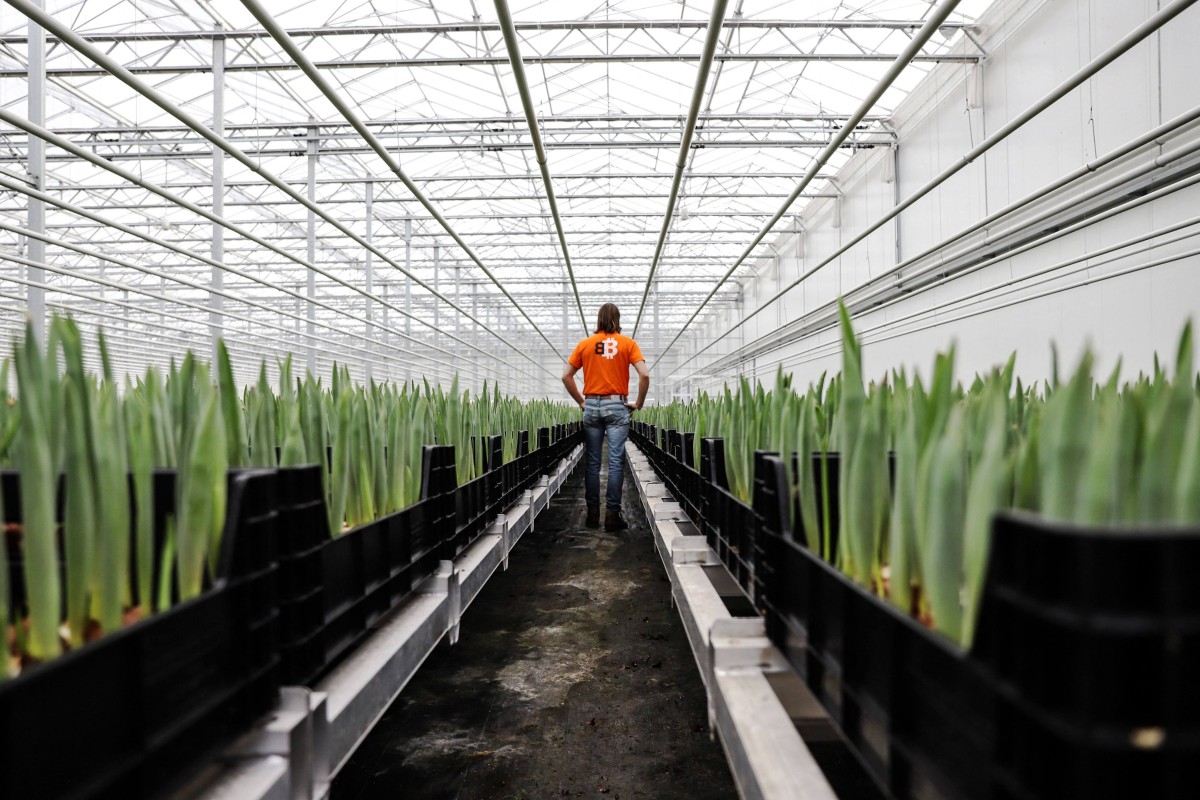 Bert De Groot, the owner of Bitcoin Brabant, walks among growing tulips in a greenhouse heated with bitcoin mining computers. Photo: AFP
In a giant greenhouse near Amsterdam, Dutch engineer Bert de Groot inspects six bitcoin miners as they perform complex sums to earn cryptocurrency, filling the air with a noisy whine along with a blast of warmth.
That warmth is heating the hothouse where rows of tulips grow, cutting the farmers' reliance on gas. Gas has become more expensive since Russia invaded Ukraine.
The servers in turn are powered by solar energy from the roof, reducing the normally huge electricity costs for mining, and cutting the impact on the environment.
Meanwhile, both the farmers and de Groot's company, Bitcoin Brabant, are earning cryptocurrency. "We think with this way of heating our greenhouse but also earning some bitcoin we have a win-win situation," flower farmer Danielle Koning, 37, told Agence France-Presse.
Brain Game: How would you explain cryptocurrency to someone from the 70s?
The Netherlands is the world's biggest tulip producer and also the second biggest agricultural exporter overall after the United States, with much grown in greenhouses.
But the low-lying country is keenly aware of the agricultural industry's effect on climate change, while farmers are struggling with high energy prices. According to Koning, huge energy costs have driven some Dutch agricultural firms that often rely on greenhouses to stop growing, while others have even gone bankrupt.
On the other hand, mining for cryptocurrency requires huge amounts of electricity to power its computers (see graphic), leading to a massive environmental impact amid global efforts to tackle climate change.
De Groot, 35, started his business last year. Now, he has 17 clients including restaurants and warehouses. He said bitcoin and tulips were a perfect fit for each other.
"This operation is actually carbon negative, as are all the operations I basically build," said the long-haired de Groot, sporting an orange polo shirt with his firm's logo. "We're actually improving the environment."
The tulip collaboration started when Koning saw a Twitter video that de Groot had made about bitcoin mining, and called him up.
Young Egyptians battle plastic pollution by recycling waste into bricks
Now there are six servers at their greenhouse – Koning asked to keep the exact location a secret to avoid thieves targeting the HK$124,000 machines.
Koning's company owns half of them and keeps the bitcoin they produce, while de Groot is allowed to keep his three servers there in exchange for monthly visits to clean dust and insects out of the servers' fans.
With a 20-degree Celsius difference between the air entering the machine and leaving them, this provides the heat needed to grow the tulips and dry the bulbs that produce them.
"The most important thing we get out of it is, we save on natural gas," said Koning. "Secondly, well, we earn bitcoin by running them in the greenhouse."
Agence France-Presse
Bert De Groot uses his smartphone to show graphics that represent the bitcoin miners' activity. Photo: AFP
What else makes cryptocurrency mining bad for the environment?
Besides generating heat, cryptocurrency mining produces large amounts of carbon dioxide and e-waste, while also consuming excess water.
According to research published in 2019 in the journal Joule, bitcoin mining alone produces 22 to 22.9 million metric tons of carbon dioxide emissions in a year. This is equivalent to the carbon emissions generated by 2.6 to 2.7 billion homes in one year.
Greenidge Generation is a former coal power plant in New York that switched to natural gas and began bitcoin mining. Based on an article published by Columbia Climate School, when Greenidge became one of the largest cryptocurrency mines in the US, its greenhouse gas emissions increased almost tenfold between 2019 and 2020.
Power plants such as Greenidge also consume large amounts of water to help them cool down. Greenidge draws up to 526 million litres of fresh water out of Seneca Lake each day. The water it discharges back into the lake is hotter than the lake's average temperature, endangering wildlife.
There is also the problem of e-waste, or discarded electronic appliances. To be competitive, miners need to use the most efficient hardware. However, this becomes obsolete about every 1.5 years and cannot be used for other purposes, adding to the world's existing e-waste problem.
Sign up for the YP Teachers Newsletter
Get updates for teachers sent directly to your inbox
Sign up for YP Weekly
Get updates sent directly to your inbox