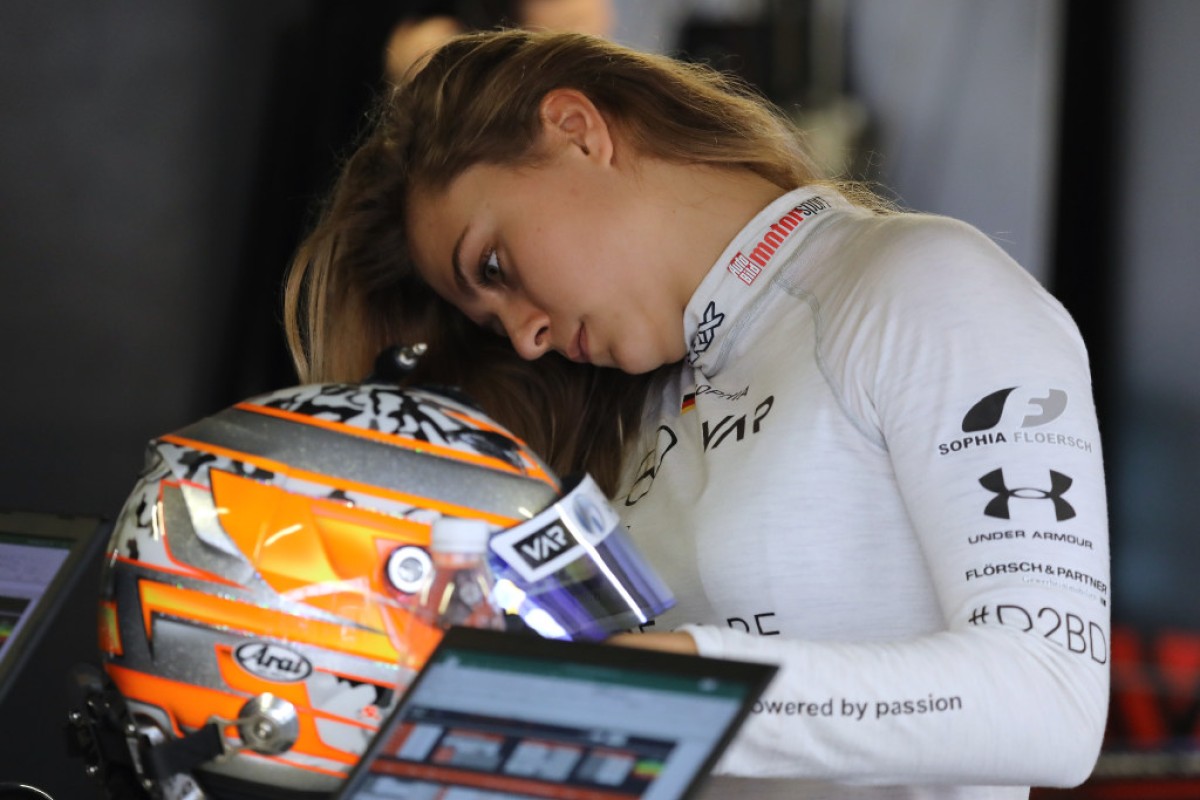 Sophia Floersch at the Macau Grand Prix, two days before horror crash.
Sophia Floersch has vowed to come back from her Macau Grand Prix horror crash after undergoing 11 hours of surgery on a fractured spine.
The German teenager was catapulted off the Guia Circuit track, over the crash barriers and into a photographer's tribune at more than 275 kilometres per hour (171 miles per hour) in Sunday's Formula Three race.
She is "lucky to be alive", according to her Van Amersfoort Racing team owner Frits van Amersfoort, who revealed there had been fears the 17-year-old might suffer paralysis.
What happened: Macau Grand Prix crash leaves teenage driver Sophia Floersch with a fracture spine 
"I'm going to come back," Florsch wrote in an update on her Facebook page.
"I survived the operation which took 11 hours well. Hope from now on it only gets better. I have to stay a few more days in Macau until I'm transportable.
"I want to thank all of my fans for every single get-well wishes, which I now start reading. This really motivates me and gives me courage."
Floersch was taken to the emergency room at Conde S. Januario General Hospital along with fellow driver Sho Tsuboi – whom she crashed into before being launched 12 feet in the air – as well as two photographers and a marshal who were caught up in the incident at Lisboa corner.
Write here: A poem dedicated to the pain of a football injury
"My thoughts are also with everyone who was involved in the accident. I hope everybody is healthy," she added.
"At the accident were really nice people, which I still have in my mind. Thank you for all the encouraging, calming words in these tough minutes in my car.
"A real big thanks to the medical staff here in Macau for the friendly and professional treatment."
Albinism has affected his vision, but this HK teen athlete is still a judo pro thanks to hard work and a great mentor
According to The Guardian, Tsuboi was taken to hospital with back pain; photographers Chan Weng Wang and Minami Hiroyuki suffered a lacerated liver and concussion, respectively; and marshal Chan Cha In suffered broken facial bones and lacerations.
Her father Alex Floersch has said that he would not try and stop his daughter racing again.
How the young talent of HK took risks and overcame injury to make dystopian play 'Flood' a success and spectacle
"We have not yet spoken about whether she will race again – it is too soon for that – but from my point of view there is nothing I would do to stop her," he told Britain's Daily Mail newspaper.
"The doctors say that if everything continues to progress satisfactorily that she will be in hospital in Macau for six or seven days before flying back to Germany."
A red flag immediately halted the race for around an hour after the crash, as Floersch's fellow drivers came back to the pit lane, with spectators at the track and viewers watching from home clueless as to her condition.
"Those 30 or 40 minutes after the crash were the hardest minutes of my life," he added. "Trying to find her was very difficult. I did not know what was going on. All sorts of concerns come into your mind at a time like that.
"The FIA and all the medics did a great job and I would like to thank them for everything they did."